Budget Special - Nick Lane's Suzuki SJ413 and Mark Sugden's Suzuki SJ410
Originally Published: June 2005
Words: Tim Gibson
Pictures: Steve Taylor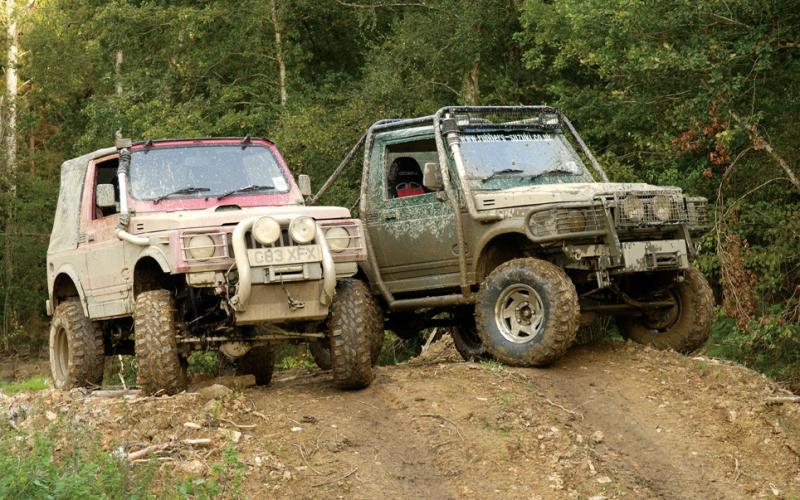 <
>
All of us enjoy off-roading but few can afford to spend huge quantities of money on their hobby. It's all right, though, because as these three trucks demonstrate, you don't have to be loaded to enjoy a piece of the mud-plugging pie…
Peals of laughter can be heard above the straining of the one-litre Fiat engine. All around stand off-road enthusiasts who own a variety of big-engined, well-modified beasts yet every one of them is transfixed by the sight of three vehicles that bring an entirely new meaning to the word budget. Their owners are trying to cover ground that has just been surmounted by the likes of a 3.5-litre bobtailed Range Rover and a V8 90 with masses of suspension travel, and just watching them is enough to bring a broad smile to the grumpiest of faces.
Ivor Daniels, behind the wheel of the diminutive Panda, leans out of the window and grins at me. 'I'll give it one more go,' he giggles, 'and then I suppose the others will want a shot.' His eight-year-old son Isaac chuckles from the passenger seat and rolls his eyes knowingly – he's been here before and doesn't doubt for one minute that his dad will ultimately triumph over the challenging terrain.
This is off-roading with a difference – off-roading on a shoestring, I suppose you'd call it – and it's a hoot. We've invited three owners of vehicles that operate on the tiniest budgets along for a day in the mud and we're realising in the first five minutes that they are, in every conceivable way, excellent value for money.
Of course, some people will be tut-tutting as they read this feature, claiming that only 'proper' vehicles should be used for serious off-roading. Yet anyone who is familiar with the East Devon Off Road Club (EDORC) will tell you that far from showing a lack of respect for the off-road fraternity, Ivor is one of its most pivotal members. He's a mobile mechanic and fabricator of some repute and, when we catch up with him, is on the verge of securing an impressive class victory in the EDORC Trials Championship… behind the wheel of another Fiat Panda 4x4.
Nick Lane and Mark Sugden, who own the Suzukis that are just preparing to follow Ivor's Panda into the abyss, are serious about their off-roading too. It may just be a hobby, but they have a keen eye for good practice and take great pleasure from the numerous fun days they attend.
'Driving a lower-specced off-roader is actually extremely rewarding,' remarks Nick. 'After all, covering tough terrain in one of these things is much more involved than cruising through in a vehicle with all the bells and whistles.'
The point is that people like Ivor, Nick and Mark take nothing away from off-roaders who operate with fewer financial constraints. Indeed, they are one end of a spectrum that stretches into tens of thousands of pounds of investment and there is a place for both types – and everyone in between – on the scene.
What is important is that the essential elements of the pastime – fun, good-natured leg-pulling and the pitting of human and machine against a variety of challenges – are evident in each.
Finally, despite the encouragement of the throng of enthusiasts stood at the top of the hill, Ivor pops the Panda into reverse and opts to take the escape route. 'He would've done it,' says one bystander, 'if only that big lump of rock hadn't been in his way. It was fun watching him try, anyway!'
As the Panda disappears in search of another challenge and the group of spectators heads off in hot pursuit, these sentiments sum up everything that today has been about. These budget off-roaders may not have the wherewithal to compete on the same level as the bigger, more expensive trucks, but it isn't half fun when they have a go.
♦♦♦
Nick Lane – Suzuki SJ413
The philosophy behind this truck is simple: if a modification costs over £50, Nick doesn't regard it as worth the expense. This rule is obviously easier to stick to when you're a professional welder, but it nonetheless gives some indication of the kind of budget on which the car was produced.
The base vehicle, a Suzuki SJ413, was bought for £650 when Nick first became keen on off-roading about 18 months ago. 'I started out with green laning and then gradually became more interested in fun days,' he says. 'They give you a real opportunity to see what you can do, and it's a good way of comparing your vehicle and its performance with others.'
When Nick purchased the SJ it was already fitted with a spring-over-axle conversion courtesy of Rubbers Suzuki in East Sussex. This mounts the front leaf springs on the top-side of the axle rather than underneath it, creating a great deal more articulation and increasing ride height. Following the advice of a friend, he chose to replace the then standard Suzuki springs with a set taken from a Bedford Rascal panel van. It's a straightforward and highly cost-effective way of getting a two-inch lift, although installing them involves a bit of work.
Because the springs are a couple of inches longer than the original parts, their mounting points need to be altered. That's no problem at the rear, but it becomes a problem at the front where there is no room for a new mount. So in the case of Nick's truck they had to be mounted in the only place they would fit – on the underside of the bullbar.
'These Suzuki jeeps are basically glorified quad bikes,' remarks Nick. 'They'll go absolutely anywhere you point them.' To demonstrate this fact, Nick follows Ivor's trail marks with ease and goes off on his own routes around the challenging course. At one point he and Mark gain a great deal of amusement from encouraging one of their Range-Rover-driving contemporaries into a particularly boggy section and then tiptoeing out while the Solihull machine wallows about like a hippo. There's nothing malicious in this, you understand: it's just part of the fun.
And what a great deal of fun there is to be had with an SJ like Nick's. Bearing in mind the minimal expense, this would be an ideal vehicle for an off-road enthusiast who needs a normal road-going car for the week but enjoys a bit of muddy fun at the weekends. By keeping the axles standard and replacing the transfer case with one from an SJ410, Nick has found a straightforward solution to the gearing problems that come from the lifted suspension and over-sized tyres.
It's a mod that's useful not least because of the 255x75R15 Colway Mud Terrains fitted to the rims sourced from a local scrapyard. 'The Colways are cheap and easy to replace,' explains Nick, 'so you don't have to worry about trashing them. What's more, when they're being used predominantly off-road, the fact that because they are remoulds they wear quicker is kind of irrelevant.'
Although the SJ runs with the standard 1.3-litre Suzuki engine, Nick has fitted an SU carb conversion in order to keep the vehicle going when it's on steep slopes. 'It'll run upside down nowadays,' he jokes, 'although I don't intend ever putting it to the test!'
Another modification that keeps the engine happy in extreme off-road conditions is the home-made stainless steel snorkel. Nick put his welding skills to work on the exhaust too, making it totally unique all the way from the outlet on the engine. Sleeved in an extra layer of aluminium, Nick's also ensured it's completely waterproof.
The roll cage and wheel spacers were fitted to the truck when Nick got it, and so was the bullbar. This has since been adorned with a Ramsey winch from another Suzuki. 'I had to buy the jeep in order to get the winch,' explains Nick, 'but I'm sure the spare parts will come in handy.' The winch is powered by the standard battery and alternator and this seems to work fine for the level of use it receives.
Other modifications include the rock sliders, again home-made, and a bucket seat for the driver. Nick also transformed the body from a convertible to the pick-up you see in the pictures by chequerplating the rear and fitting a bit of scrap metal over the truck cab to serve as a roof.
It's heartening to see such a back-to-basics approach on this fully road-legal vehicle which, according to Nick, offers a safe, affordable means of off-roading. Indeed, the point about this truck for its owner is less to do with its budget and more to do with the fun it brings. 'I could probably afford to spend a bit more on an off-roader,' says Nick, 'but when it's possible to have so much fun with this one, why should I bother?'
Mark Sugden – Suzuki SJ410
Like Nick Lane, Mark Sugden works in the exhaust business, although he is involved with design rather than fabrication. Together, the pair are part of a wider circle of about eight Suzuki owners who enjoy off-roading on a limited budget, and all their SJs feature a similar set of modifications. Mark's vehicle uses the same Bedford Rascal springs as Nick's to give about two-inches of suspension lift, for instance.
However, Mark's SJ did not have the convenience of a front bullbar to serve as a home for the spring mounts. The solution was to use standard components for the top leaf and then fit four of the Bedford leaves below that, with the set-up being augmented by standard SJ shock absorbers. This means that the top of the springs are exactly the right length, while the benefits associated with the heavy-duty modification are achieved in terms of an improved ride height and greater articulation.
Another suspension-related job was the spring-over-axle conversion. Mark did this with Nick's help in about 24 man hours – not bad when you consider that, as well as the work to the axles themselves, a spacer had to be made for the propshaft in order to compensate for the increased distance between the transmission and the axles.
Mark's jeep was completely standard when he first got it and he has performed all the modifications himself. In fact, Mark had no intention of modifying the truck for extreme use when he first purchased it. 'I bought it three years ago to use as my daily runner and it didn't cross my mind to lift it or even to drive it off-road,' he explains. 'Then one day it snowed and we took it out for a play. After that I was completely hooked and it wasn't long before Nick bought one of his own to join in the fun!'
The most serious job that Mark has carried out on the SJ is installing a 1.3-litre engine in place of the original one-litre unit. This is a big undertaking because the engine mounts in an SJ413 are staggered, whereas in an SJ410 they are directly opposite one another. Mark therefore had to reposition the mounts on one side to make the larger power plant fit. Transmission is via the standard SJ413 gearbox that came with the engine, and Mark has left the SJ410 transfer case and axles in place to reduce the gearing ratios.
This was necessary because, like many of his SJ-owning friends, Mark runs with 255x75R15 Colway Mud Terrains to maximise ground clearance. These are mounted on steel rims that were made by an Armenian company Mark contacted through a friend in the industry. Spacers are used all round in keeping with the 'go higher, go wider' rule familiar to most owners of lifted SJs.
A home-made snorkel, A-bar, steering guard and straight-through rear exhaust section demonstrate how a bit of skill with a welder can come in extremely handy when building a budget off-roader, while the scoop in the bonnet was fitted because without it the carburettor of the larger engine would not fit beneath it. The winch is a Sagittarian SA8000, again sourced because it was cheap, and like Nick's this runs through the standard battery and alternator configuration.
Inside, the only modification Mark has performed is the fitting of Corbeau bucket seats. These are a reflection of his desire to have some modicum of comfort when he is behind the wheel, and this has led him to set his sights on a Vitara as his next low-cost truck.
In fact he's already got hold of the base vehicle, an early short-wheelbase version that he picked up for £400. His intention is to set about lifting it in a way that will astound others who have spent a fortune on modifying the set-up of their own independently sprung vehicles. Whether he will be successful or not remains to be seen but, on the basis of his SJ, you have to say that if anyone can lift a Vitara for less than a hundred quid, it'll be Mark Sugden.
To read about Ivor Daniels' budget-friendly Panda, click here...
SJ, COLWAY MUD-TERRAINS, SPRING-OVER SUSPENSION, BEDFORD RASCAL SPRINGS
Share this article