Budget Special - Ivor Daniels' Panda 4x4
Originally Published: June 2005
Words: Tim Gibson
Pictures: Steve Taylor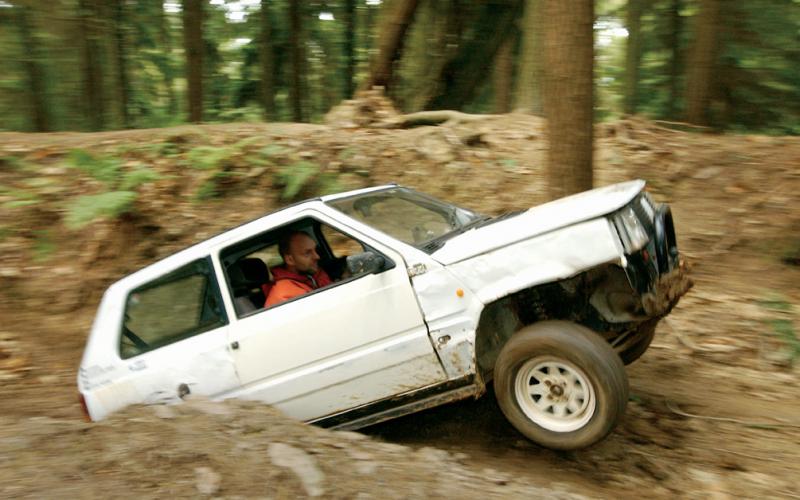 <
>
All of us enjoy off-roading but few can afford to spend huge quantities of money on their hobby. It's all right, though, because as these three trucks demonstrate, you don't have to be loaded to enjoy a piece of the mud-plugging pie…
Peals of laughter can be heard above the straining of the one-litre Fiat engine. All around stand off-road enthusiasts who own a variety of big-engined, well-modified beasts yet every one of them is transfixed by the sight of three vehicles that bring an entirely new meaning to the word budget. Their owners are trying to cover ground that has just been surmounted by the likes of a 3.5-litre bobtailed Range Rover and a V8 90 with masses of suspension travel, and just watching them is enough to bring a broad smile to the grumpiest of faces.
Ivor Daniels, behind the wheel of the diminutive Panda, leans out of the window and grins at me. 'I'll give it one more go,' he giggles, 'and then I suppose the others will want a shot.' His eight-year-old son Isaac chuckles from the passenger seat and rolls his eyes knowingly – he's been here before and doesn't doubt for one minute that his dad will ultimately triumph over the challenging terrain.
This is off-roading with a difference – off-roading on a shoestring, I suppose you'd call it – and it's a hoot. We've invited three owners of vehicles that operate on the tiniest budgets along for a day in the mud and we're realising in the first five minutes that they are, in every conceivable way, excellent value for money.
Of course, some people will be tut-tutting as they read this feature, claiming that only 'proper' vehicles should be used for serious off-roading. Yet anyone who is familiar with the East Devon Off Road Club (EDORC) will tell you that far from showing a lack of respect for the off-road fraternity, Ivor is one of its most pivotal members. He's a mobile mechanic and fabricator of some repute and, when we catch up with him, is on the verge of securing an impressive class victory in the EDORC Trials Championship… behind the wheel of another Fiat Panda 4x4.
Nick Lane and Mark Sugden, who own the Suzukis that are just preparing to follow Ivor's Panda into the abyss, are serious about their off-roading too. It may just be a hobby, but they have a keen eye for good practice and take great pleasure from the numerous fun days they attend.
'Driving a lower-specced off-roader is actually extremely rewarding,' remarks Nick. 'After all, covering tough terrain in one of these things is much more involved than cruising through in a vehicle with all the bells and whistles.'
The point is that people like Ivor, Nick and Mark take nothing away from off-roaders who operate with fewer financial constraints. Indeed, they are one end of a spectrum that stretches into tens of thousands of pounds of investment and there is a place for both types – and everyone in between – on the scene.
What is important is that the essential elements of the pastime – fun, good-natured leg-pulling and the pitting of human and machine against a variety of challenges – are evident in each.
Finally, despite the encouragement of the throng of enthusiasts stood at the top of the hill, Ivor pops the Panda into reverse and opts to take the escape route. 'He would've done it,' says one bystander, 'if only that big lump of rock hadn't been in his way. It was fun watching him try, anyway!'
As the Panda disappears in search of another challenge and the group of spectators heads off in hot pursuit, these sentiments sum up everything that today has been about. These budget off-roaders may not have the wherewithal to compete on the same level as the bigger, more expensive trucks, but it isn't half fun when they have a go.
♦♦♦
Before he could hand over the £50 asking price for his fully road-legal Panda, Ivor's mum stepped in and bought it for him as a birthday present. Regular TOR readers will have come across Devon-based mechanic Ivor before, and won't be surprised to hear he has completed a fair amount of work on the vehicle himself. 'It's all bespoke stuff,' he explains proudly, 'because not many firms offer aftermarket accessories for off-road Pandas!'
The 1.5-inch suspension lift was achieved by modifying the top suspension mounts with spacers. This gives a little extra ground clearance and helps to make room for a set of 165R13 Colway Mud and Snow tyres, which are mounted on FSO Wella steel rims. These are as big as it is possible to go and, because they are remoulds, are very cheap to replace. 'I would like to have something a bit more aggressive,' says Ivor, 'but you can't get hold of anything else in this size. The Mud and Snow tyres just about do the job.'
Given the lower ride height of the Panda and its owner's love of extreme off-roading, you won't be surprised to learn that a lot of effort has gone into protecting the underside. A custom-made sump guard and heavy-duty rock sliders are the most conspicuous additions, and these give Ivor the chance to bounce over bumps that other vehicles don't even notice. 'The sump guard takes up what the suspension doesn't!' he exclaims, and observation of his driving style affords an insight into what this means. 'Drive the car like it's been stolen' is Ivor's motto behind the wheel, and it seems to be a winning formula.
His success in EDORC's Trials Championship is just one outlet for the Panda's off-roading abilities. As well as tackling some of the West Country's toughest green lanes, Ivor also uses the Panda in the pictures as a road car for local journeys.
His biggest expense has been the £90 it cost to have the gearbox strengthened, but this has prevented the differential from breaking so there's no question it was money well spent.
'I'd certainly recommend Panda power to other people,' says Ivor. 'It's cheap as you like and gives a real sense of driver involvement.' His current project is based on a Daihatsu, which he hopes to use for trialling, and this too will be completed on a strict budget.
Of course, when he eventually graduates to a vehicle that many people regard as a more serious four-wheel drive, Ivor's talents as a driver are likely to yield even more impressive results. For the meantime, however, he's happy to relax in the comfort of the Volvo 480 seats he's fitted to the Panda's interior as he defies the expectations of all around with his ability to surmount extreme obstacles.
To read about Nick Lane and Mark Sugden's budget-friendly Suzukis, click here...
PANDA 4X4, DIY SUMP GUARD, DIY ROCK SLIDERS
Share this article