Beat Box
Originally Published: December 2005
Words: Alan Kidd
Pictures: Steve Taylor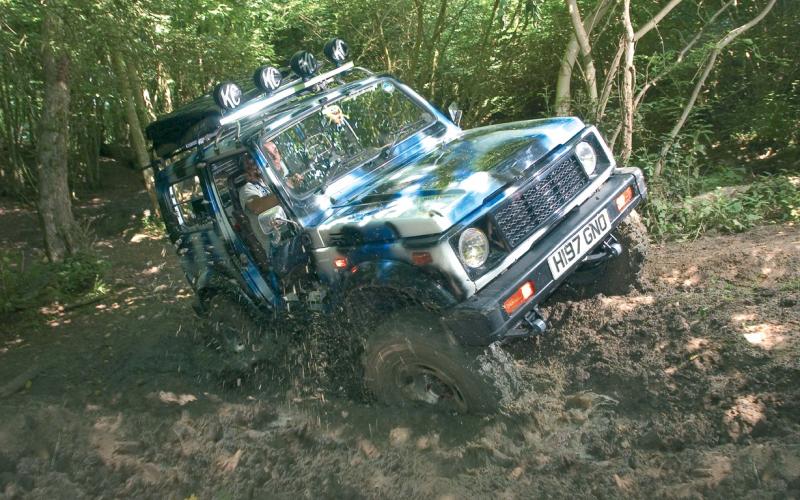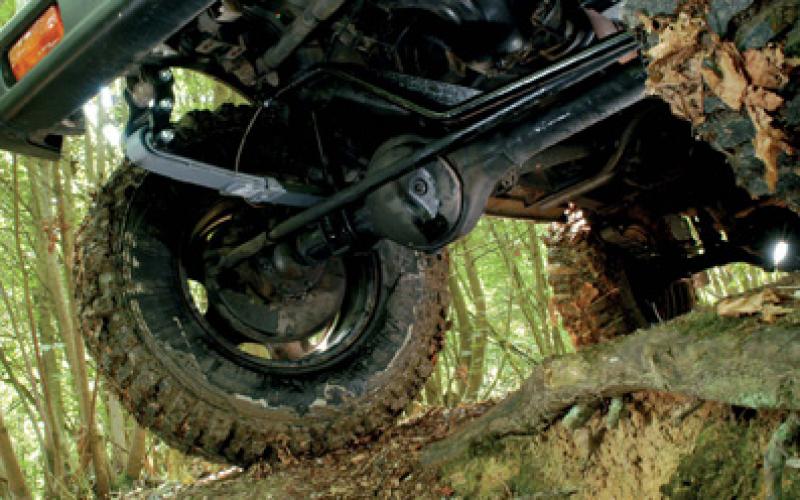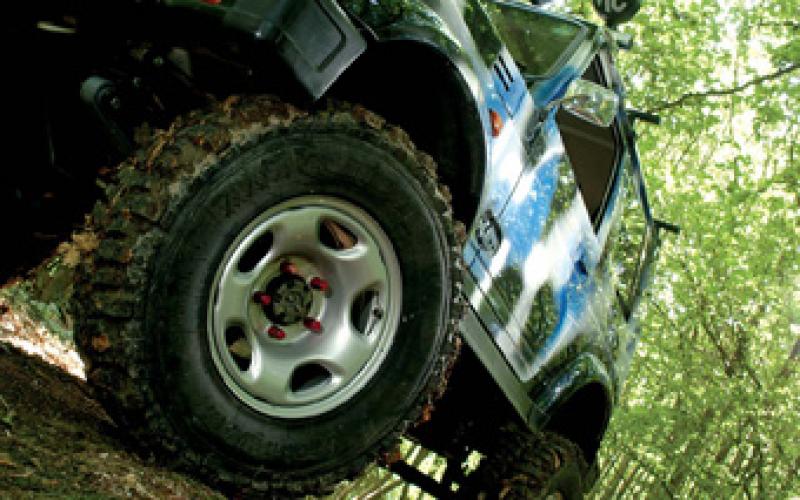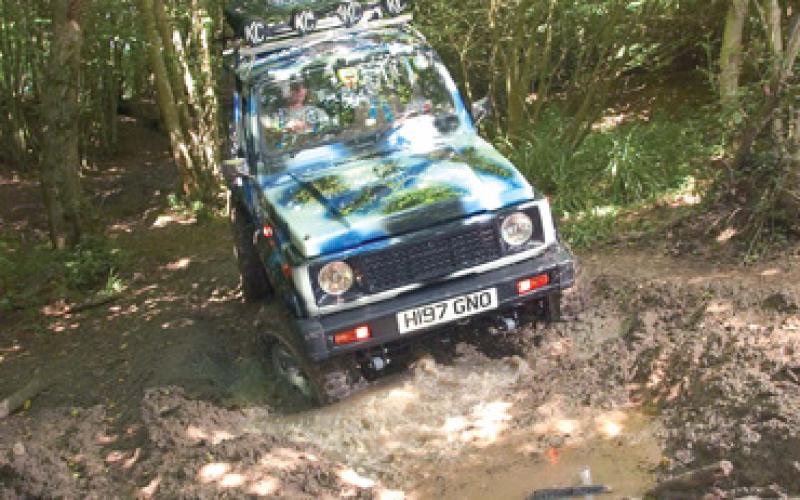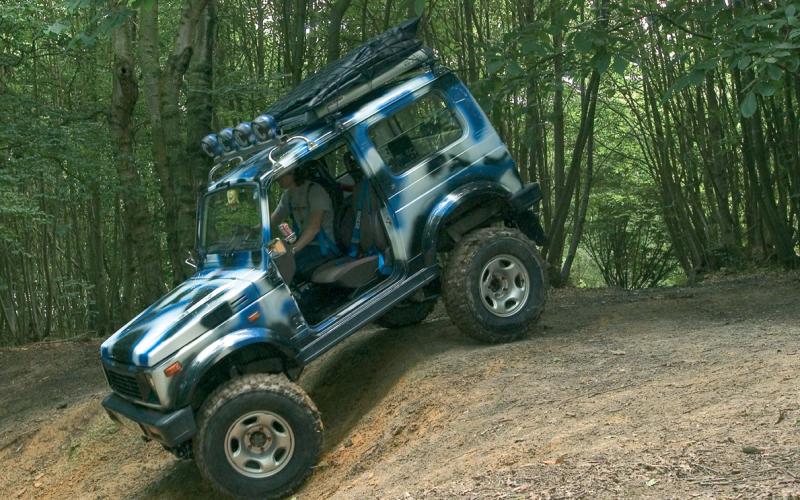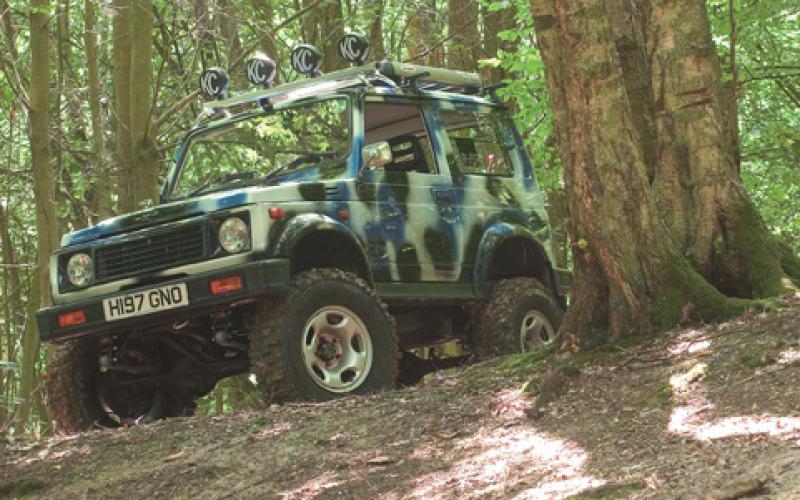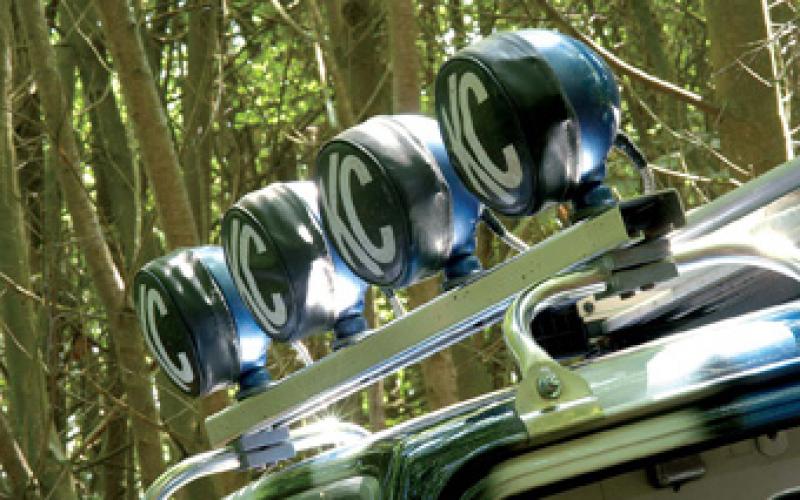 <
>
Larry Perfect's Samurai may look more like an urban warrior than a serious mud-basher, but underneath the paint job lurks some serious off-road hardware. And Mr Perfect is just learning how to use it in anger…
For every seasoned off-road enthusiast, there is a beginner who is just learning the ropes. Such people get involved in the pastime for a variety of reasons and often it becomes a consuming passion that dominates their every thought.
It's exciting to see this process beginning, and the catalyst is often something quite unexpected.
Take, for example, Larry Perfect, whose SJ you are looking at in these pictures. He purchased the vehicle because he liked the way it looked and wanted something a bit out of the ordinary to replace his Subaru Impreza.
'I drove the Subaru a bit hard,' he laughs, 'so I thought something like the Samurai would help to slow me down.'
Being a lover of eye-catching vehicles, however, Larry did not want the SJ's lack of sportscar performance to detract from its aesthetic credentials.
As such, he set about turning the rather tired truck that he purchased at a knock-down price into a sparkling urban warrior that would grab attention wherever it went. At the time, he didn't think this would include anywhere more extreme than his local seafront in Essex… but he didn't reckon on a day spent in the company of Total Off-Road.
We heard about the vehicle via Rob Butler, who owns Rubbers Suzuki in Sussex. Rob is famed for the extreme off-road modifications he performs to the full range of Suzuki 4x4s. For instance, he recently completed a Toyota Land Cruiser axle conversion for a challenge-spec SJ, which we featured in the October 2005 issue.
Rubbers is a serious off-road modification business, therefore, and it may seem somewhat surprising that Rob should put us in touch with an owner whose primary goal is not playing in the rough stuff but simply giving his truck a hardcore appearance. The thing about Larry's vehicle, however, is that, notwithstanding his intentions in commissioning Rob to modify it, the specification is comparable to that of any number of extreme SJs currently doing the business off-road throughout the UK. And since here at TOR we spend our lives hunting down such vehicles, it seemed only fitting to go and have a closer look at Larry's motor.
Besides, we were pretty confident that once he caught sight of the mud, he wouldn't be able to resist the chance to have a little play. We're pleased to say that our instincts proved to be spot on and, despite some initial reservations, Larry's SJ finished a morning in the company of the TOR team having proved its worth as a vehicle in possession of genuine off-road potential. Moreover, as we expected, its owner's off-roading fancy had been well and truly tickled.
As an auto electrician, Larry knows a thing or two about the car trade. He saw the SJ parked up outside a nearby house looking sorry for itself. It was painted white back then and, after biding his time, he eventually went in for the kill and made an offer of £300. The vehicle was soon in his possession, and the hard work of turning it in to his dream machine got under way.
First up was an engine transplant.
The unit fitted to the SJ when Larry purchased it was in a bad way, so he sourced a replacement 1.3-litre Suzuki unit from a breaker's yard. With the help of his friend Nicky – who is also responsible for the distinctive paintwork – Larry installed the new lump and got the vehicle up and running again. 'I'm pretty pleased with the engine,' he remarks, 'and it's a lot faster than I expected. I had some fairly impressive speeds out of it before the suspension upgrade!'
Thoughts of zooming around soon vanished once Rob got to work on this aspect of the car, however. When we meet Larry, he has only just picked up the truck from the Rubbers workshop, and he is still getting used to the different driving dynamic that comes from oversized tyres and raised suspension. Matters have not been helped by the fact that a steering damper has not yet been fitted, so he is driving the vehicle without this component in place… it's what you might call a baptism of fire.
This image seems particularly apposite when we arrive at the off-road site we've secured for the day's entertainment. The camouflage blue metallic paint shimmers in the bright sunshine, prompting us to send a forward party to assess the state of the undergrowth. We want to give Larry a sense of what his truck can do off-road, but it's not worth wrecking the paint job on its first ever outing as a serious mud-plugger.
Once ascertaining that the route is clear, the SJ's Janspeed exhaust rasps as Larry heads up a steep hillclimb. Even on the strength of this display it is clear that the SJ has all the credentials of a serious off-road truck. Larry fitted the exhaust himself when he performed the engine transplant and he has been pleased with the difference it makes to the truck's power output.
Also aiding its abilities in the rough is a spring-over-axle conversion – a modification for which Rob has carved out an enviable reputation. 'It makes a massive difference to ground clearance and articulation,' he states. 'I reckon it is probably the most popular suspension modification among SJ owners at the moment.' Rubbers must take at least some of the credit for this popularity, as it was one of the first firms to offer the upgrade at an affordable price.
Because the condition of the existing leaf springs reflected the overall poor state of the car, Rob ordered a new set of standard replacement units from Pro-Comp. These are complemented by ES1000 shock absorbers at the front and ES3000s at the rear. A further increase in ride height comes virtue of the Rocky Road extended shackles, which Larry ordered himself and asked Rob to fit. These increase the distance between the springs and their mountings, which enables larger tyres to be fitted.
This element of the vehicle is all-important to Larry given his concern for its cosmetic appearance. He originally hoped to fit a set of 33-inch tyres but a combination of factors prevented this. First, the body lift he ordered, which would have created sufficient room beneath the arches, got lost in the post. Second, the tyres he wanted did not fit on the wheel rims, which made it necessary to think again. As such, the SJ is currently running with 265x75R16 Greenway Anacondas mounted on a set of Grand Vitara wheel rims.
'I'm pretty happy with this set-up,' Larry comments, 'so I'm beginning to wonder if I need to fit the body lift.
I think I'll see how things go in the coming weeks.' One complaint he does have relates to the on-road performance of the tyres, which have a fairly aggressive mud pattern. He thinks he will source a set of road-biased tyres for everyday use, although things may improve a  little once a steering damper has been fitted to the car.
Meanwhile, Larry tentatively gets used to the changed character of his Suzuki. The on-road performance is improved by a ring and pinion modification, which utilises Vitara components and leads to a 40% reduction in gearing. This ameliorates the negative impact of oversized tyres and, given that Larry uses the truck as his work van, is an important element of the build. The rest of the running gear is completely standard, with an SJ413 gearbox and transfer case in place along with stock brakes.
One thing that certainly has not remained standard is the interior specification of the Samurai, which features unique cup-holders and Sparco pedals and harnesses. Larry's professional skills are in evidence throughout and there are enough trick bits in the car's electrics to keep any gadget lover amused for hours. A remote control alarm also links in to the central locking system that Larry has installed. Even better, this incorporates a remote start control, which means that he can fire up the engine without being anywhere near to the car. This provides hours of entertainment in busy car parks, where passing pedestrians are often bemused by this eye-catching 4x4 that apparently starts of its own accord.
The alarm automatically calls Larry's mobile telephone if it is triggered, which gives him valuable early warning in the event of a break-in. There is also a GPS system, although it is geared more towards on-road navigation than off-road use. Nonetheless, as the off-road bug starts to bite during our time with him, Larry contemplates fitting an OS compatible set-up as well, in order to help out on laning trips and the like. 'I've always fancied the idea of green laning,' he enthuses, 'and now I feel I've got just the right vehicle to try it in.'
A further electronic device in the Samurai's cabin is a speed-trap detector. It emits a warning whenever there is a Gatso or other fixed camera in the vicinity and is also capable of discerning the presence of mobile radar guns and other traps. 'There's not much chance of me speeding in this thing,' he laughs, 'but it's a valuable piece of safety equipment as much as anything else.' This sentiment is often overlooked by those who regard such devices as bending the law. If it is true that speed cameras are only used in accident blackspots, then rather than regarding these detectors as an aid to not getting caught, shouldn't they be regarded as a means of warning drivers of areas that are known to be particularly dangerous. And, as the manufacturers frequently remark, what can possibly be unlawful about that? As an addendum to this, the law is likely to be changed in the near future to make radar detectors illegal, but GPS-driven devices warning of camera sites will remain untouched by this legislation.
Aiding the visual impact of the truck is the roof rack, which is adorned with a set of KC Daylighters. These give it a purposeful appearance that Larry says is deliberate. 'If you're going to build a 4x4 that looks the part,' he remarks, 'you've got to go to town with auxiliary lights!' They also provide a huge amount of illumination which, along with the American-spec headlights, makes for a technical as well as a cosmetic upgrade.
It is the former category that becomes increasingly important to Larry as our time with him progresses. Having started the day primarily concerned with the aesthetic characteristics of his vehicle, he steadily comes to appreciate its off-road potential as well. The greatest delight comes when, with the doors removed to let in the air, he takes on a deep puddle and emerges with a thick covering of mud. Now, at last, both he and his vehicle have an appearance that does justice to the range of modifications performed on it.
As if this isn't enough of a sign that Larry's future lies in serious off-roading, we ran into him a couple of weeks later at the Suzuki Rhino Rally. He had entered the SJ into the Show'n'shine category of the councours d'elegance, but the judges clearly decided it belonged with the off-roaders instead. As such, Larry was awarded second prize in the Show'n'grime class, and his car was commended for its hardcore credentials.
It all goes to prove that no matter what prompts you to own a modified 4x4 truck, in the end you will be drawn inexorably towards the mud.
Long may it be so…
Share this article