A Cut Above
Originally Published: July 2006
Words: Tim Gibson
Pictures: Steve Taylor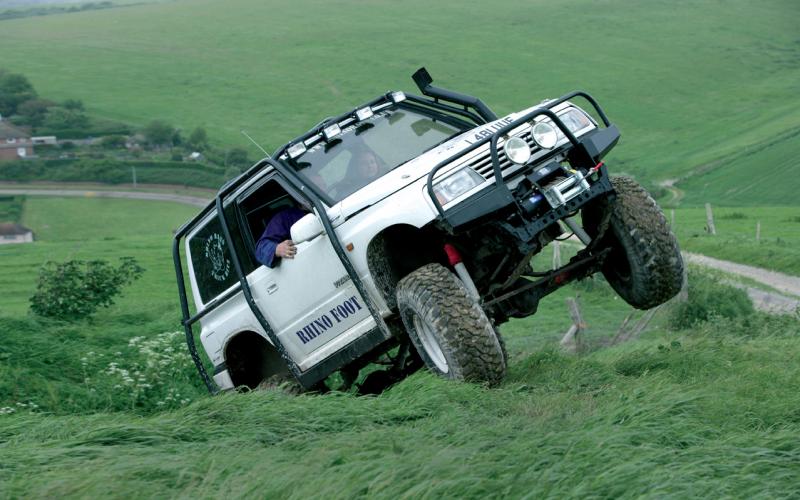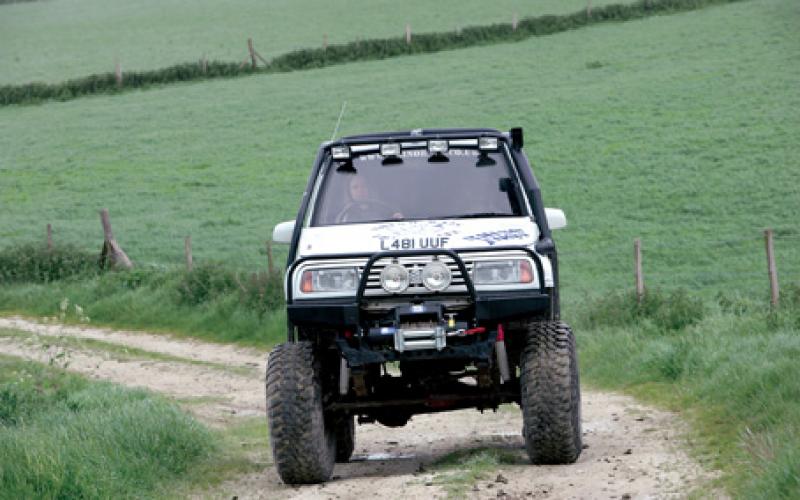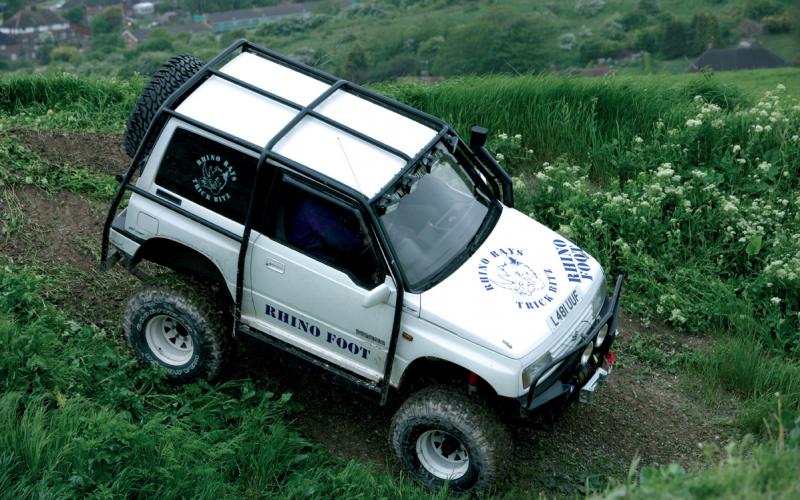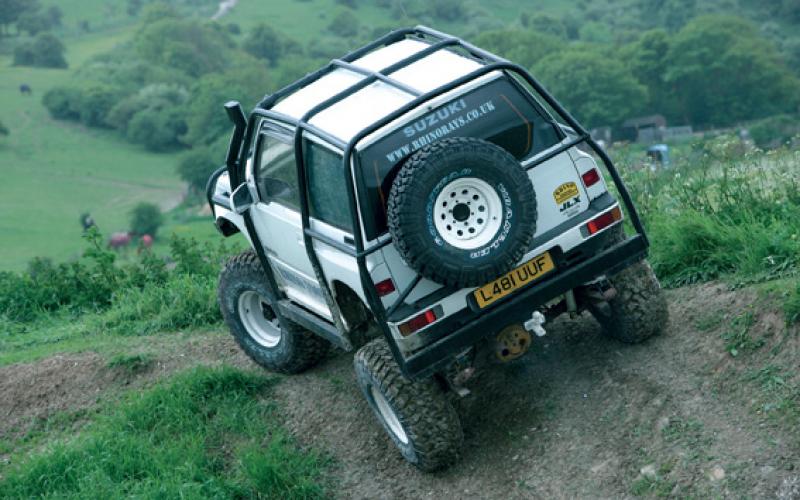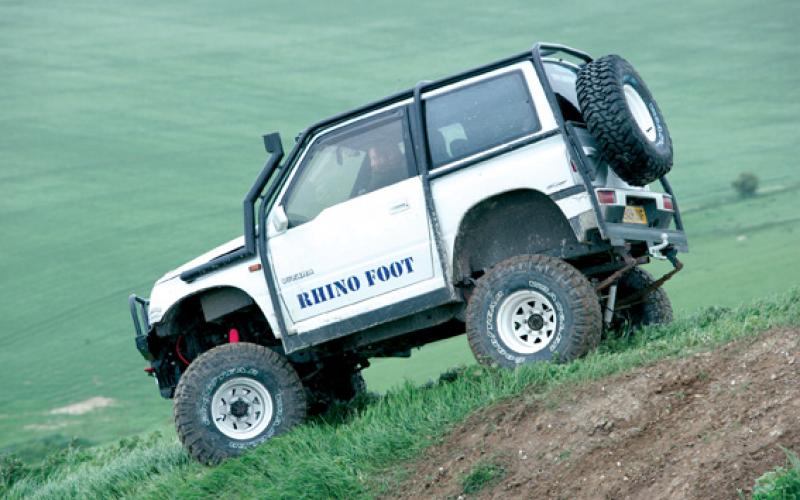 <
>
Meet Rhino Foot – the latest vehicle to emerge from Rhino Ray's workshop. Standing at over seven feet in height, this is one mean truck. And what it lacks in axle articulation, it more than makes up for in 'look-at-me'pose value…
Anyone who knows Suzuki modification supremo 'Rhino' Ray Edwards will be aware that he is a man whose word can usually be taken literally. So when Georgina Newland asked him about the tallest Vitara he could build, she should have regarded his answer as fair warning of what to expect when she travelled to his East Sussex workshop for a closer look. 'I'm building a Vitara that's about eight feet tall,' he answered. 'Is that big enough?'
It's fair to say that Georgina wasn't entirely prepared for the sight that greeted her when she turned up at Rhino Ray's a few days later. In the workshop was a half-built short wheelbase Vitara mounted on a Toyota Hi-Lux chassis – so tall it barely fitted beneath the ceiling. At seven-foot-eight-inches, its roofline was about two feet higher than her head, and she didn't hesitate in staking her claim on the truck.
'I love its attention-grabbing appearance,' she enthuses. 'I knew the minute Ray showed it to me that it was the Vitara for me.' Once a suitable price had been agreed, and Ray had secured use of the truck for promotional purposes at shows, the mechanics got down to finishing the build in double-quick time.
It wasn't long before Georgina picked up her gleaming white Vitara. By the time TOR catches up with her she is well accustomed to life among the loftier echelons of the UK's road users. 'It's rather novel to be at the same height as truck drivers,' she laughs, 'but I'm enjoying it. I've lost count of the number of double-takes I've caused on my local high street!'
This just about sums up the raison d'etre of the vehicle, which goes by the name of 'Rhino Foot'. The Vitara may look like it could eat an average off-road track for breakfast, but Ray would be the first to admit that its appearance is somewhat disingenuous in this respect. 'It's not intended to be the last word in off-roading,' he explains. 'But it's perfect if you want to get noticed.'
This explains his eagerness to retain Rhino Foot's services as a promotional vehicle, of course. It also means that it pushes all the right buttons for Georgina, whose main purpose in contacting Ray was to source a vehicle that was anything but run-of-the-mill.
In terms of the intricacy of its build, the truck is the epitome of all the values upon which the Rhino Ray brand has been built over the last 20-odd years. First among these is the firm's desire to push the envelope – and 4x4s don't push it much further than this particular Vitara.
Beneath the body work is a Hi-Lux rolling chassis, from which 18 inches have been removed in order to make it the appropriate length. On to this is mounted a standard short wheelbase Vitara bodyshell, with standard factory-fit interior. Spacers have been created to fill the gaps between the chassis and the shell, but these are only noticeable once you are up close to the vehicle. Indeed, from a distance it looks just like any other three-door Suzuki Vitara that's been raised by a few feet and fitted with 35-inch tyres.
That's right, Rhino Foot is fitted with a set of 35x12.50R15 Kumho Mud-Terrain tyres, which are mounted on 10x15" offset rims machined by Ray himself. The gearing has been reduced through use of a 6:1 Yukon ring and pinion gear and axle conversion, and this ensures that the larger-than-life appearance of the vehicle does not make it unmanageable on the road.
The axles come from the donor Hi-Lux and the suspension is therefore leaf springs all-round. This is extremely stiff, and the pictures indicate precisely how little flexibility there is in the set-up. This makes the Vitara somewhat prone to wheel waving on undulating terrain, but at least it has only rolled over once. 'It's hardly surprising,' Ray laughs, 'but not something you want to happen with too much regularity.'
Don't be fooled into thinking that Georgina's love of Rhino Foot's cosmetic credentials means she won't be taking it away from the asphalt, however. She's owned the truck for about three months, and has already enjoyed the odd foray off-road. 'I hope to get involved with some local fun days,' she enthuses, 'although I'll be keeping away from side slopes!'
It goes without saying that a standard 1.6-litre Vitara engine would be insufficient to power the bulk of this vehicle. In consequence, Ray fitted a 2.0-litre diesel lump, which came from a Vauxhall Brava pick-up. This is an Isuzu engine and therefore offers the reliability associated with Japanese car manufacturers. It provides plenty of low-down torque to get Rhino Foot up and running, and even manages to deliver fairly healthy fuel economy.
The Brava theme continues with the gearbox, which is a five-speed manual unit from the same vehicle as the power plant. This decision was taken for convenience, but Georgina is very pleased with how it operates on the road. 'I'm used to driving a van,' she says, 'so I'm not fussy about going anywhere too quickly. A more sedate driving style is perfectly suited to Rhino Foot.'
A major point in favour of travelling at a steady pace is that it gives passers-by more of an opportunity to work out what the vehicle is. A similar challenge faced the insurance firm Adrian Flux, which Georgina approached after seeing its advert in the pages of TOR. 'I sent them a picture of a standard Vitara at first,' chuckles Georgina, 'and they couldn't believe it when I sent an updated photo of the finished build!' In typical Adrian Flux fashion, the firm did not turn a hair at the thought of insuring such an unusual vehicle, and Georgina's premium is, she reports, well within the bounds of affordability.
Given the one-off nature of the project, it is hardly surprising that many components had to be custom-built in the Rhino Ray workshop. The propshafts are completely unique, for example, and the body-on-chassis mounts are also the result of a process of trial and error. 'I like to make sure everything works as it ought to,' Ray explains. 'That is important not least on grounds of safety.'
One component that could be purchased straight off the shelf is the front winch. This is a Superwinch X9, and it is mounted on a Rhino Bumper that has been heavily modified to suit. This retains the distinctive appearance of the winch bumpers that are a mainstay of Rhino Ray's business, but is nevertheless the result of a great deal of intricate work.
It is a similar story at the Vitara's rear, where Ray has positioned a custom-made steel bumper beneath the standard Suzuki component. This occupies the gap between the body and the chassis rail, and also forms part of the six-point external roll cage. This has been fabricated to suit Rhino Foot, but as with the front bumper it is a beefed-up version of a product that any customer can order direct from Rhino Ray and his team.
No 4x4 truck with pretensions to being a diehard off-road hero would be complete without a snorkel, of course, and this vehicle has a particularly eye-catching example. The component was again manufactured by Rhino Ray, and it is constructed out of steel tubing. It certainly adds to the Vitara's hardcore image, but that shouldn't detract from the fact that it serves a useful purpose as well.
In fact, there is a danger that, because of Rhino Foot's undoubted attention-seeking character, its off-road hardware gets ignored. Close examination reveals that the vehicle has many features which wouldn't be out of place on a full-house challenge truck. The Vitara may be first and foremost a style statement, therefore. But that doesn't automatically mean it is completely incapable off-road, and even a brief amount of time behind the wheel indicates that its live front end and impressive ground clearance bring some clear advantages. Indeed, in comparison to a Vitara running with Suzuki's standard independent front end, this vehicle is a dream when it comes to tackling deep ruts.
And besides, to hold Rhino Foot's failings as an off-roader against it is to misunderstand its whole purpose. It was intended from the outset to be a promotional tool, similar in spirit to the other fun vehicles for which Rhino Ray is renowned. These include a reverse-steer Vitara and an SJ on which both axles are attached to a steering column and the drivers sit back-to-back in the cabin. What all three vehicles demonstrate is that as well as having a keen eye for self-promotion, Rhino Ray also has a very well developed sense of humour.
Rhino Foot is all about having a good time in a 4x4 vehicle that stands out from the crowd, therefore, and it is this which appeals to Georgina. 'I owned a Vitara before,' she says, 'but it just doesn't compare to my current vehicle.'
This utter incomparability with any other vehicle just about captures the essence of Rhino Foot. It really is a unique off-roader, even by Rhino Ray's standards of originality. And when you consider his status as a leading innovator in Suzuki modification, that is by no means an insignificant claim.
KUMHO MT TYRES, RHINO RAY BUMPERS, TOYOTA HI-LUX CHASSIS, VAUXHALL BRAVA ENGINE CONVERSION, SUPERWINCH X9, RHINO RAY ROLL CAGE
Share this article