Smiles Per Mile
Originally Published: October 2009
Words: Robin Turner
Pictures: Steve Taylor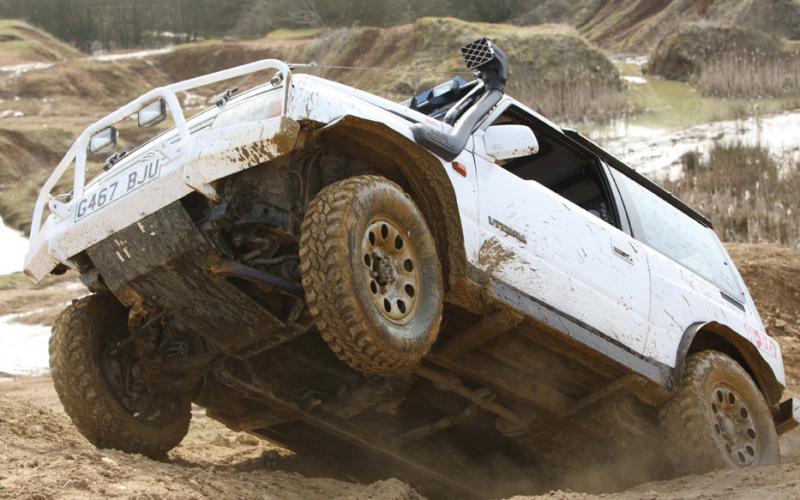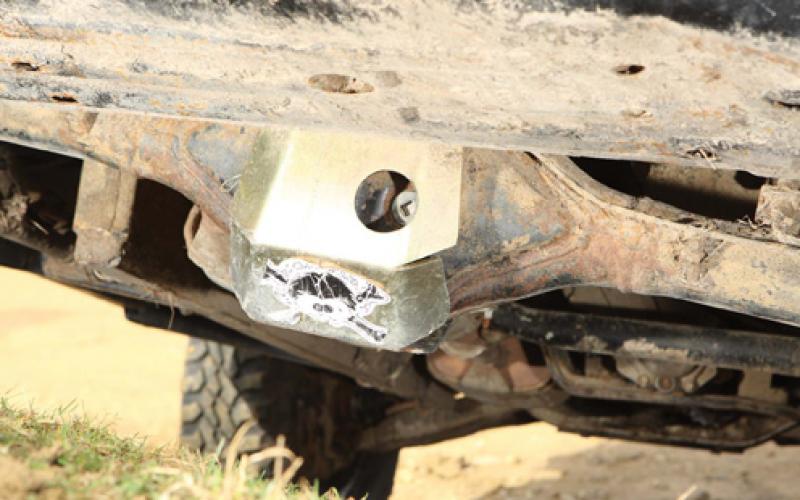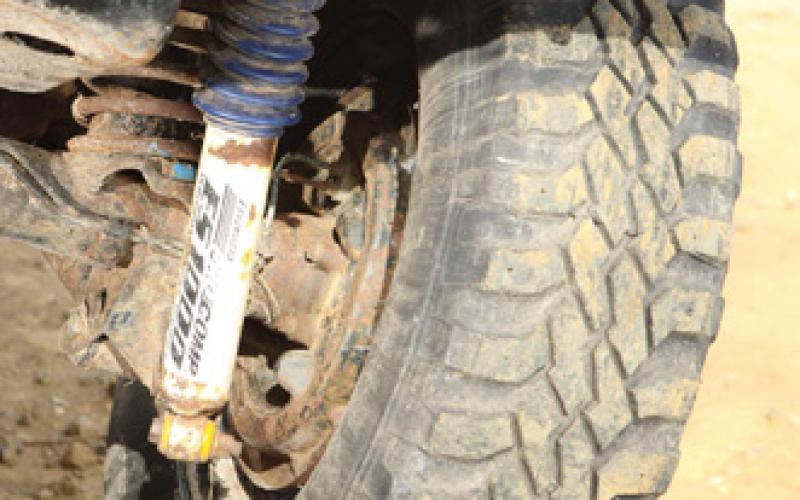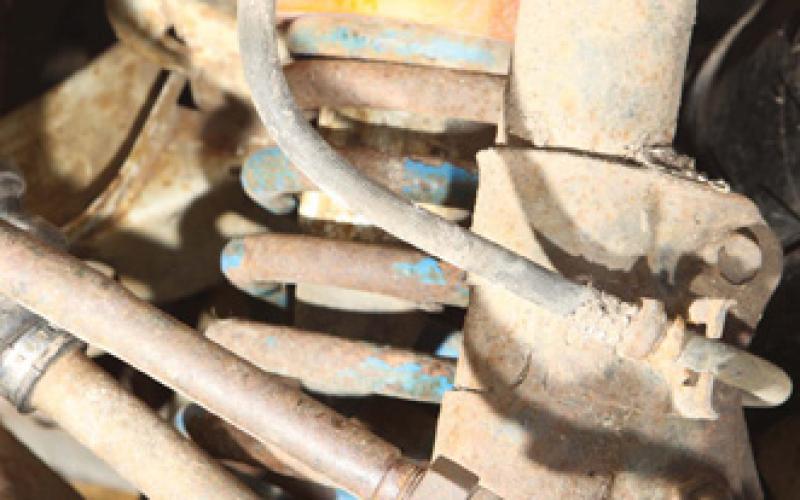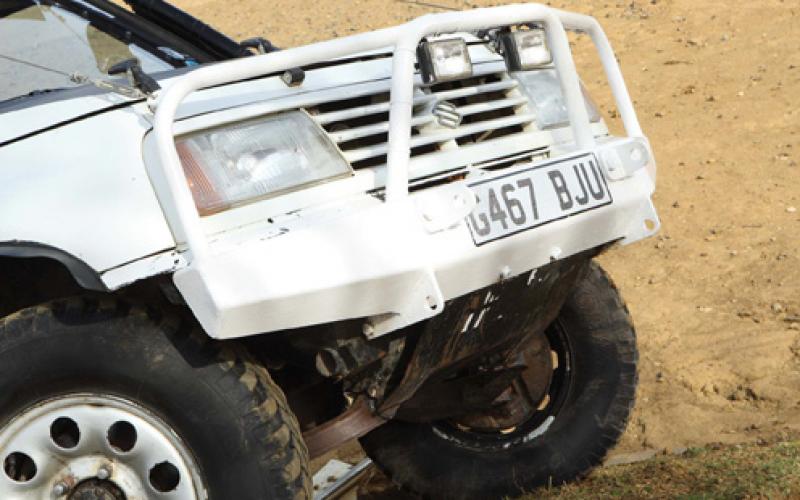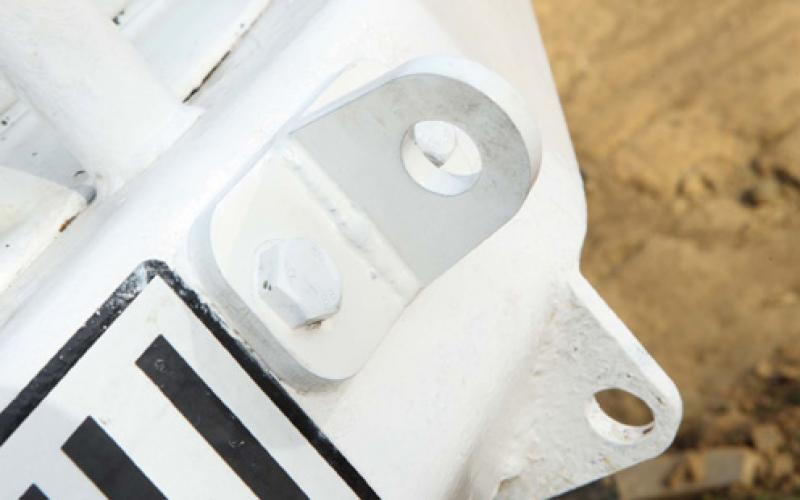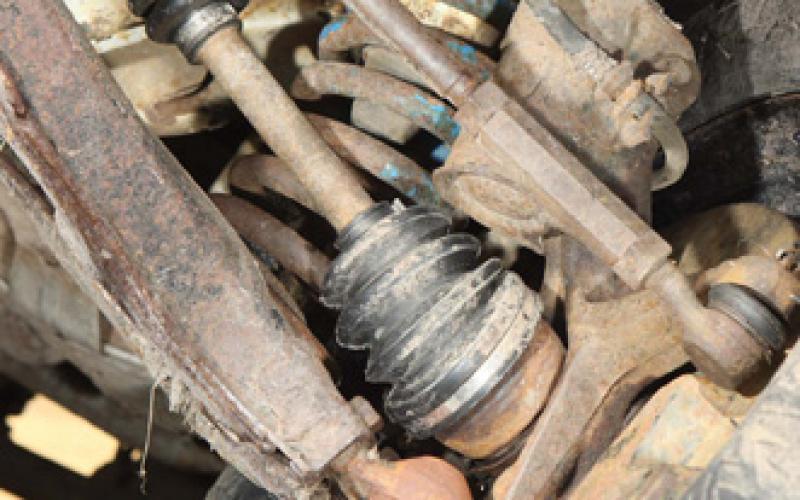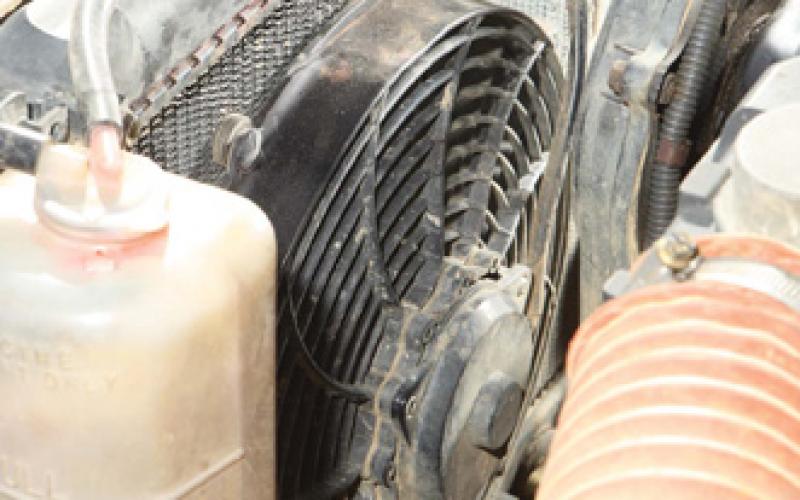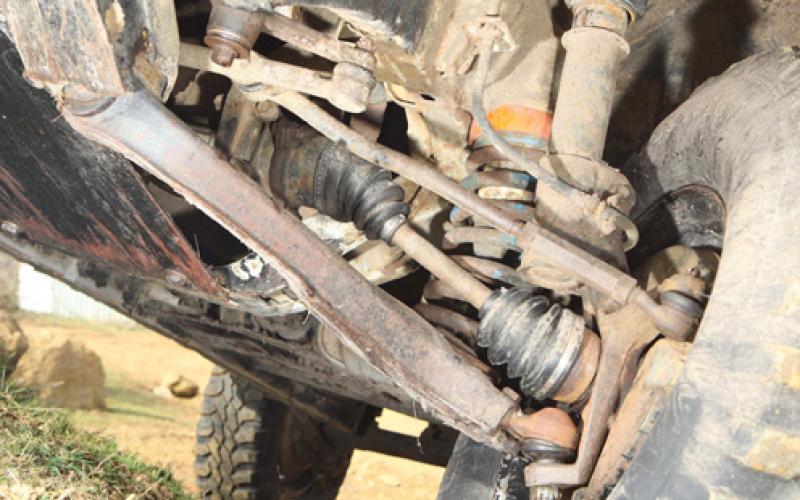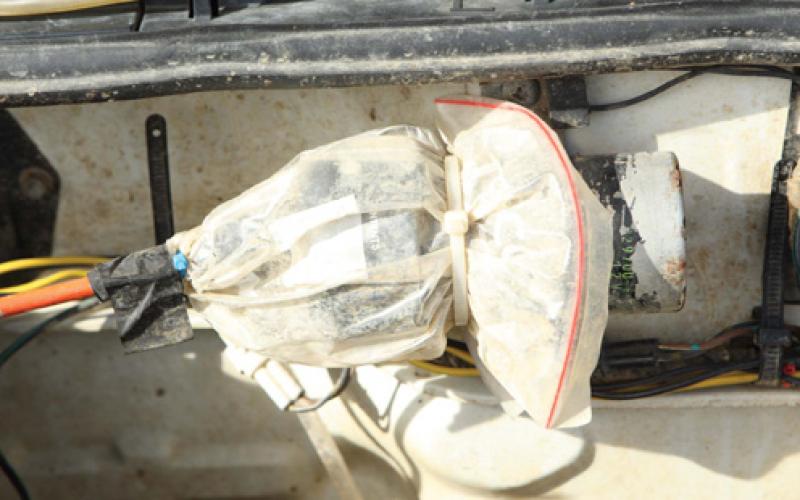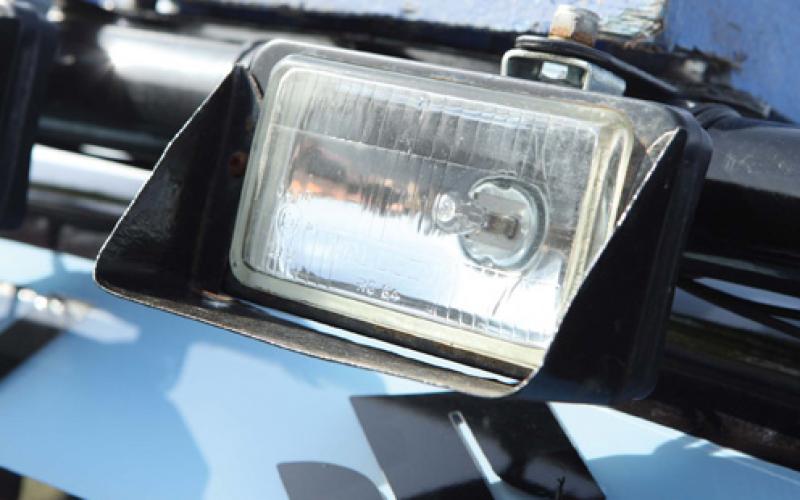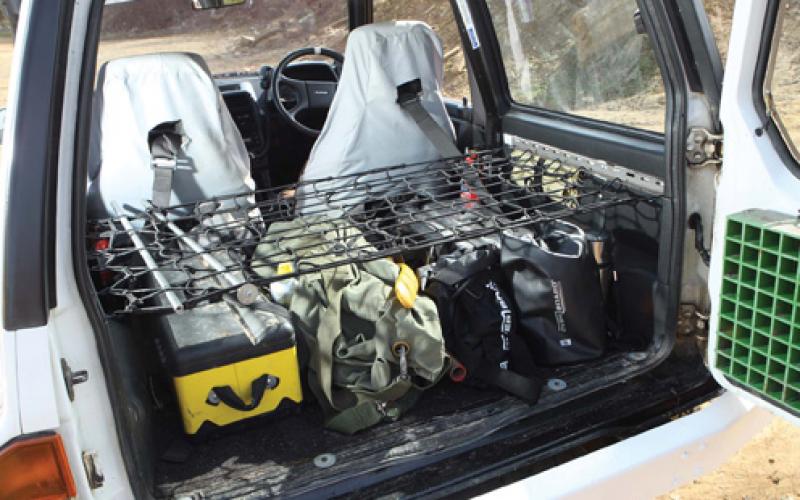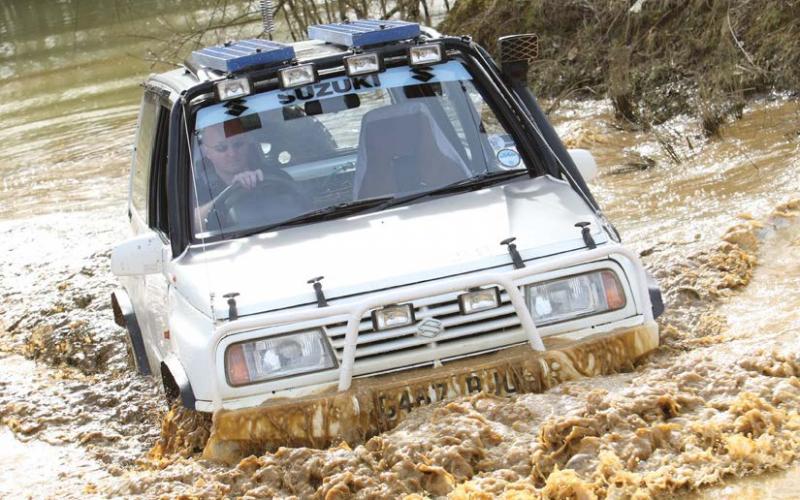 <
>
Many people embark on off-road projects convinced that they're going to build the greatest vehicle the world has ever seen. Simon Cox, on the other hand, has made his mods and improvements along the way, all the while learning about the vehicle he's been doing them to. And that vehicle is now one of the neatest prepped Vitaras you'll see anywhere.
'If anybody is thinking of getting into off-roading but think it's beyond them,' says Simon Cox, 'it's not. Just do it.'
'But, please, spend time to choose a vehicle that really suits you, depending on your type of off-roading you're planning on doing. And spend time first on considering the mods you wish to do.'
Simon (who, we should say by way of clarification, hasn't just signed for West Bromwich Albion in a deal the board of Swindon Town will one day come to see as the greatest mistake of their lives) speaks with the experience of a man who bought his 1989 Suzuki Vitara JLX all of five years ago. Having previously owned sports cars of one sort or another, he was first lured into the murky world of 4x4s when family considerations put him behind the wheel of a Freelander. This led to a bit of green laning, which led to membership of the Freelander Owners' Club, which led to his first set of mud tyres… and now here he is with a tidily prepped Vitara which sees regular playday action and laning trips across most of England and Wales.
Simon chose to go down the Suzuki route as the Freelander was getting damaged too often – and the damage was proving expensive to fix. Many people would have remedied this by investing in a decent Series III or pinning their hopes on a dog-eared Discovery, but then, many people don't have the convenience of mum and dad wanting to get rid of their three-door Vitara. 'They'd had it for a few years,' Simon recalls, 'so I knew its history well. The vehicle was completely standard and their pride and joy – little did they know what was going to be done over the years of my ownership!'
That was in 2004, and the vehicle has been evolving more or less continuously ever since. It all started with a visit to Rhino Ray, who fitted a 1.5-inch Pro-Comp lift with SuperPro bushes all round, and heavy-duty bumpers at each end. While it was away, Simon sourced a set of steel wheels which he shod with 215R15 Colway MTs.
That kept him happy for a couple of years, during which time the Vitara's duties were nothing more serious than the odd playday and laning trip. But as time passed and his confidence grew, Simon put in a call to Scorpion Racing and the vehicle sprouted a snorkel. 'On my second AA lift home, due to water and electrics not liking each other, I decided that waterproofing had become essential. Vaseline on the HT leads to the distributor and the coil, plus two Tesco sandwich bags zip-tied on to both, solved the problem. I tried using rubber gloves, but these quickly perished.'
The AA was no doubt relieved by this, but Simon wasn't finished with them yet. Another lift home was necessary due to overheating after the radiator had become blocked with mud; cue a Pacet electric fan, leaving enough access for the rad to be flushed out with a hose in future.
And so it went on. 'I found that I wanted to go out more often than my laning mates, so I joined the All Wheel Drive Club and started RTV trials. Initially completely out of my depth, I soon got the hang of it. A great club and a great bunch of lads, all out to have fun and happy to share driving ideas, which allowed me to be more competitive in my class.
It also allowed him to become familiar with the sound of grinding from underneath his vehicle, this being rather more damaging than the green laning he was used to. Hence a repeat appointment with Rhino Ray, who fitted a front bash plate and a pair of rock sliders. 'While the car was away,' says Simon, 'I fashioned my own tree sliders for the roof. The ones you see for Land Rovers are too expensive, so a visit to B&Q and a couple of nights in the shed and I had my own ready to fit.'
More mods meant yet more confidence, and more confidence meant a couple of close calls of the brown-trouser variety. 'I spent a lot of time looking at different alternatives for a roll cage,' he says. 'I felt that Protection and Performance had the system for me, as it can be installed at home. Well, when I say "at home," I cashed in some brownie points and used my father-in-law's garage! Well, it was December, and al fresco at home was not on the cards…'
The cage is an internal/external affair running around the outside of the windscreen and coming through the roof to marry up to an internal hoop. It's mounted to the front bulkhead, while the hoop is bolted to the floorpan via spreader plates. Not as complex to instal as some, but not as heavy, either – and still more than capable of protecting the vehicle's occupants in the sort of accidents an RTV competitor should be thinking about as a feasible level of risk.
With the Vitara now caged up and, more to the point, cosily snuggled up in father-in-law's garage, Simon took the chance to get some more jobs done. 'While I had the opportunity, I ripped out the back seats to create a storage area for recovery gear and tools. I exchanged the regular belts for three-point harnesses from OMP, figuring that these would feel much more secure as I take the car to ever-greater angles thanks to the confidence the cage gives me.
'At the same time, I fitted a rear propshaft spacer, a two-inch articulation block for the rear axle and a set of spring spacers from Bits4Vits, extending the lift Ray had fitted to just under three inches all round. Getting into green laning more and more, I followed these with roof lights and home-made brush wires. I also painted the bonnet matt black and fitted light shades to concentrate the lights' beam forward (an idea I pinched from an article I'd seen in a previous TOR!) and stop the glare from the bonnet and screen.'
Behind the roof lights, Simon made up a set of brackets allowing him to mount a set of long waffle boards – for which there was no room inside the vehicle. Short waffles, meanwhile, are housed on the inside of the rear door, again on home-made brackets; they had to be cut down to fit here, but the ends didn't go to waste as they were the perfect size to be used as high-lift jack bases.
That and a custom rear diff guard just about bring the vehicle's history up to date, but at the time of writing Simon had a set of Fedima Extremes on order as his existing Colways were worn out. These will be the same size as before, 215R15: 'There's no need to go larger. I'd only need to do major mods to accommodate them.'
As this illustrates, unlike so many people Simon isn't bothered about trying to create the ultimate off-roader. He's happy just to keep improving his Vitara, enhancing what it can do and protecting it as much as possible against the damage that's an inevitable part of the game. 
For this reason, much of the time he's spent on the vehicle would be classed as everyday car maintenance rather than off-road vehicle prep. He's changed his share of prop UJs, renewed the steering bush, ball joints and track rod ends, fitted a recon PAS box and serviced the brakes so often he can do it with his eyes closed. He's wired up a new light for the number plate, replaced the 50mm tow balls with shackle recovery points from Tornado and welded on new rear shock mounts which he had fabricated to replace the old ones when they went rotten. 'These will outlast the rest of the car,' he says. 'They're seriously over-engineered.'
Elsewhere, he's happy to stay standard and accept that this will mean a certain amount of regular work. 'The front has standard driveshafts,' he explains. 'But because of them failing regularly, I purchased a second pair off eBay and reconditioned them. Now I have a spare set – I can strip the axle down and have a new shaft in, and be back on the road in fifty minutes.'
As you'll have sussed from all this, Simon is a man who undoubtedly loves working on his vehicle every bit as much as he loves driving it. 'It's the sense of achievement from doing and learning something new,' he says. 'This has also become invaluable as I now know the vehicle inside out.'
Not that it's ever been a go-it-alone sort of project, even if Simon does do all his own spannering ('it's surprising what you can do with a Haynes manual and a mallet,' as he puts it). 'My father was a mechanic in his working years,' he says, 'so a lot of his knowledge has rubbed off on me. He also gets panicked phone calls from time to time! My brother deserves to be thanked, too, for the electrics, as does my neighbour for teaching me to service and repair the brakes and change the front bearings. Without their help, the vehicle would not still be going.'
The fact that it is still going – and, more than that, thriving – speaks volumes about Simon's dedication. More than that, too, it's an object lesson in planning a project and knowing what you really want to achieve – where so many people aim high and give up early, Simon has always known where he intended to go and never strayed from that path. 'All the mods have been added for specific reasons, either to help the car to work better or protect it more. They've all worked out well, too – because I spent a lot of time sourcing them to meet my specific requirements.
'I'm always looking to improve the car, but strictly to keep it as near to a Vitara as possible. It's an ongoing project – five years to date, and I've learned to do most things along the way. It has been a labour of love, fun and a pain at times, but I wouldn't change a thing. It's all about smiles per mile!'
Simon's Vitara carries a wide variety of kit to keep it moving off-road – and help ensure it gets home again afterwards:
High-lift jack
Spade
Tree strop
Recovery straps (4 different lengths)
Kinetic rope
4 shackles
Ground anchor (ex-army)
Bow saw
Tree loppers
Axe
Waffles (2 pairs, long and short)
Electric tyre inflator
12-volt, 14-litre low-pressure            washer for rad and wheels
Jerry can
First aid kit
Wheel chock
Haynes manual
Spare HT leads, distributor cap and rotor arm
Spare spark plugs
Assorted tools
Rubber and 5lb mallets
Jump leads
PRO-COMP SHOCKS, VITARA, PRO-COMP SPRINGS, RHINO RAY SUSPENSION, RHINO RAY BUMPERS, PACET FAN, PROTECTION AND PERFORMANCE ROLL CAGE
Share this article