Pick Up Tricks
Originally Published: October 2005
Words: Tim Gibson
Pictures: Steve Taylor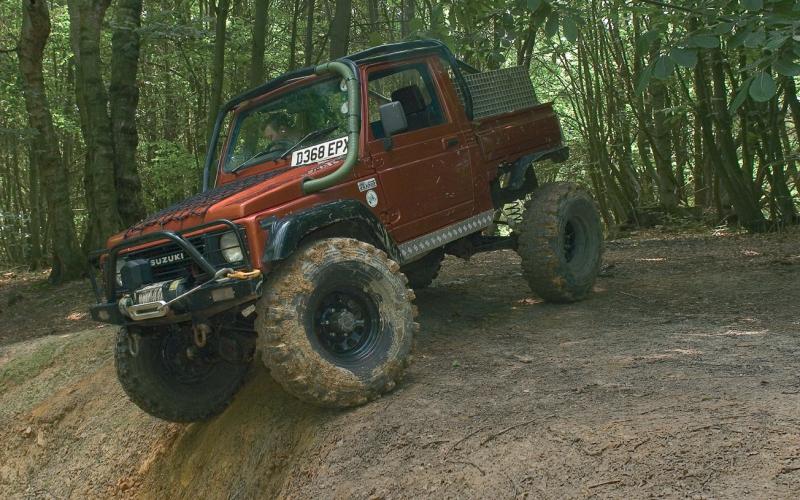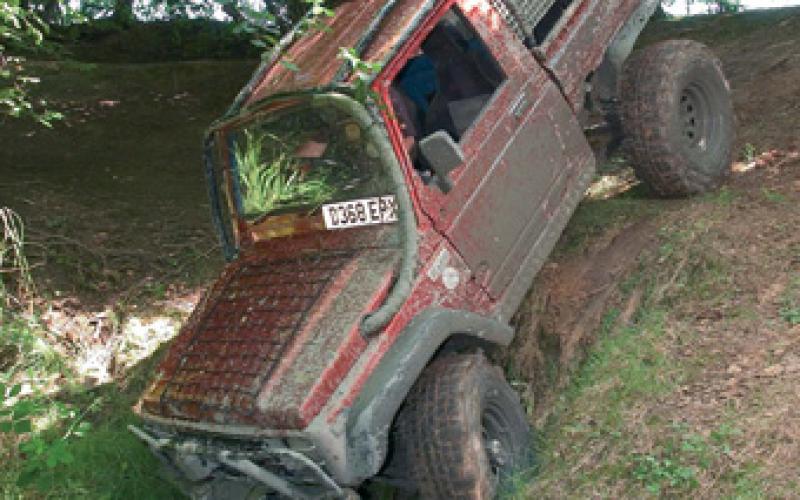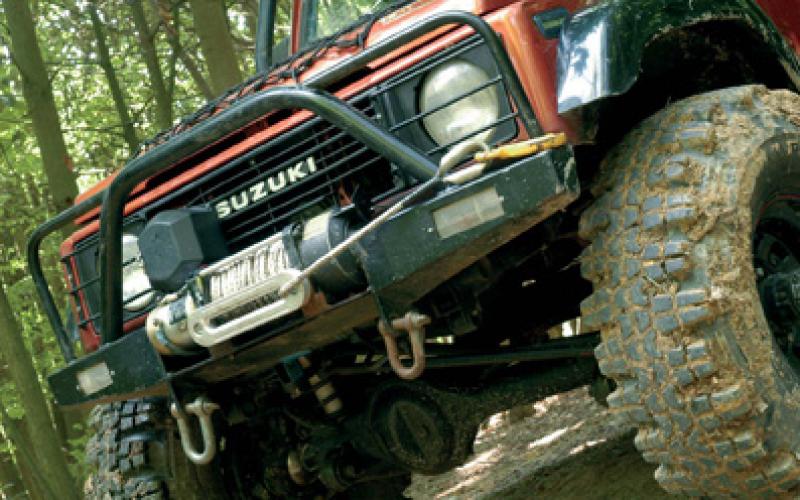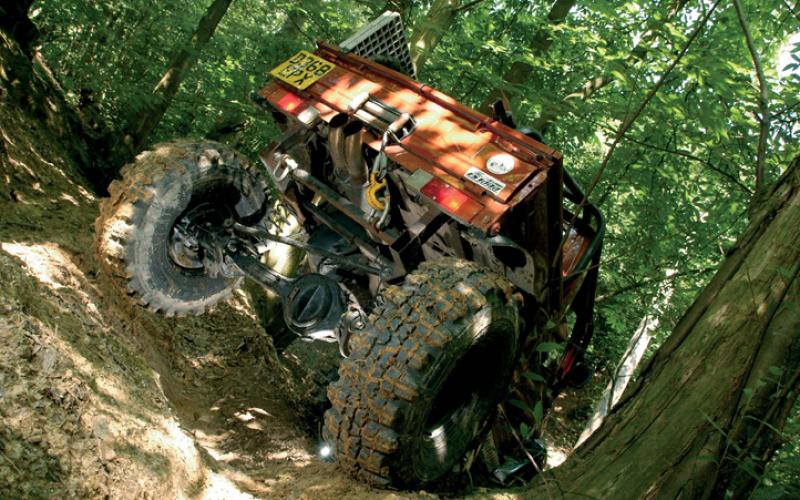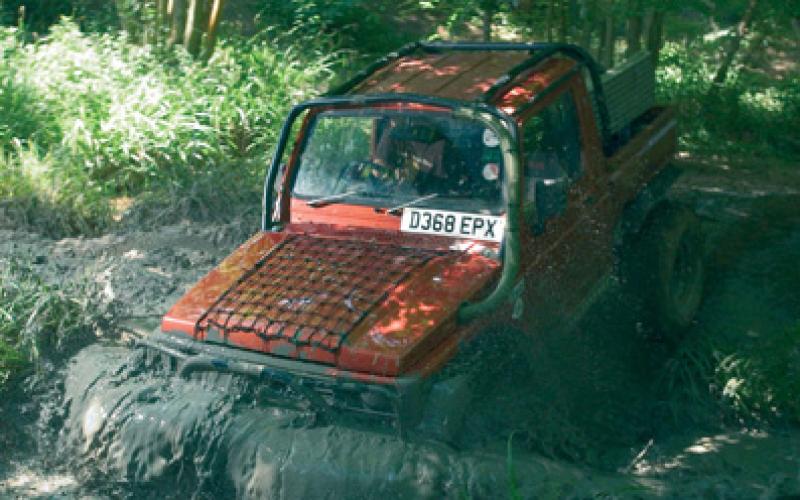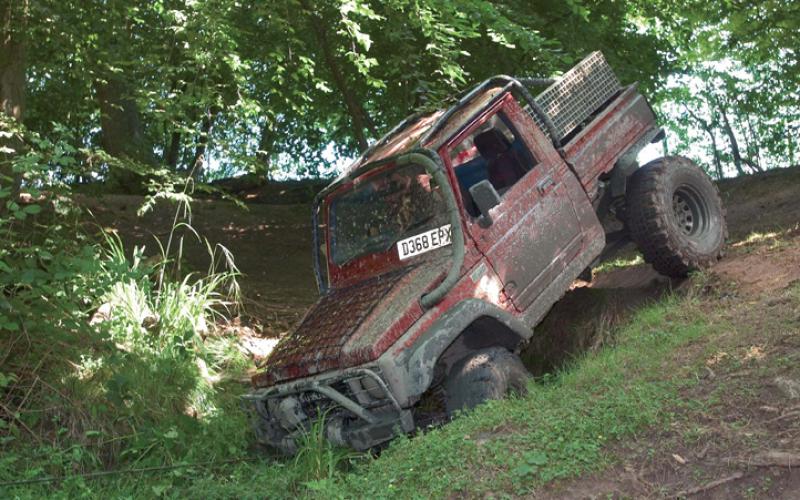 <
>
Just when you thought the range of modifications for Suzuki SJs couldn't get any wider, along comes Rob Butler with yet another piece of imaginative engineering. We headed to Sussex to get the lowdown on his latest truck…
The Rubbers Suzuki workshop is always an exciting place to visit. It's not a vast shiny space full of immaculately overalled mechanics busily tightening bolts and spraying cars. In fact, it's a pretty small building down a farm track in Sussex.
But five or so minutes wandering around is enough to fill any off-road enthusiast with new modification ideas and a strong urge to build something crazy.
Rob Butler, who owns Rubbers, makes his living out of satisfying these urges. He is a Suzuki specialist whose work features on a number of impressive vehicles throughout the country. His reputation for good value and high quality workmanship is well deserved, and he is famed for his creative approach to off-road modification.
Take his latest vehicle, for example. This is a long-wheelbase Samurai pick-up – one of only 500 or so imported to the UK. This fact alone makes it something of a rarity, but take a closer look and you'll notice that this vehicle is a one-off in every sense of the word. If the shortened rear overhang doesn't give the game away, then surely the 34-inch tyres will alert you to the fact it's somewhat out of the ordinary.
The most exciting element of Rob's SJ only becomes clear upon closer inspection, however. In place of the leaf-sprung suspension that would have been standard on the vehicle, you'll notice it is running with coil springs. Look even more attentively and you'll see that the axles are by no means stock Suzuki components.
In fact, they come from a 70-Series Toyota Prado: what you or I would know as an early 1990s-era Land Cruiser. Like most Toyota components, these are regarded as indestructible by those in the know, which accounts for Rob's decision to fit them.
It's not that he is gung-ho in his driving style, you understand, but Rob is certainly not afraid to take things on. This stands him in good stead on the challenge circuit, where he is making a name for himself as an eager competitor who always has a friendly word to share.
'I'm really keen on challenge events,' he reports, 'because they give you so much time behind the wheel. It's nice to come away from a motorsport competition having spent most of the day driving rather than hanging around.'
The SJ was built with the challenge discipline in mind, therefore. What is more, Rob built it to be his own vehicle rather than one that gets sold on to a customer. 'You have to earn a living somehow, though!' he laughs. 'If someone offered me the right price I doubt I'd be able to resist.' This is something of a feature of Rob's off-roading career, actually. He tends to build a vehicle that is really capable and take it to a few competitions before someone offers to buy it. He duly strikes the deal and finds himself without a car to drive.
Fortunately, he gets as much pleasure from developing new ideas in the workshop as he does from off-road driving. It is thanks to this willingness to innovate that the SJ first saw the light of day. A local Toyota breaker was selling the axles and, knowing how hard they are to source, Rob snapped them up. He was intending to fit them to a Jimny but, in typical style, he sold it before the job was started.
Sick of breaking the front axle of his own J-reg Vitara, Rob's thoughts turned to creating a hardcore SJ-based off-roader. This would utilise the strength and flexibility of the coil-sprung Land Cruiser axles along with the lightness and manoeuvrability for which the Samurai is renowned. His mind was made up, and work started on the pick-up forthwith.
The base vehicle was originally finished in blue, but Rob soon changed all that with some Daewoo metallic copper paint. This new colour gives the SJ a striking appearance that, at first glance, belies its owner's serious mud-bashing intentions. 'I'm not worried about scratching the vehicle,' Rob reports, 'but it's nice to have it looking good to begin with.'
By removing 1.5 feet from the rear tub, Rob created a near vertical departure angle which is a real boon in extreme off-road conditions. This combines with the already impressive proportions of the SJ's front end to create a vehicle that is more than capable of competing on level terms with the toughest trucks in the challenge scene. Indeed, Rob's most recent event was the Winchman in Somerset and he finished a creditable eighth overall. Not bad when you consider the Suzuki only emerged from the workshop the evening before the event got underway.
In order to achieve parity with his competitors, Rob opted to fit a set of 34x11.50R15 Simex Extreme Trekkers to the eight-inch Daytona rims. The wheels cost £10 on Ebay but the tyres were a little dearer. They represent a worthwhile investment, though, because they are fast becoming standard items on serious challenge vehicles.
Surprisingly, Rob experienced no problems in fitting the Prado axles to the SJ chassis. The wheels protrude a little bit, of course, but this is accounted for by Jeep Wrangler extended arches on the front and home-made rubber components on the rear. A vehicle will fail its MoT if the tyres stick out beyond the wheelarches, so this apparently minor detail is well worth attending to.
Because Toyota Land Cruisers are substantially larger than Suzuki SJs, the all-round disc brakes are more than capable of bringing the pick-up to a halt. 'I've never owned a car that stops so well!' Rob exclaims. He had to fit 10mm spacers to the front wheels in order to clear the large callipers, but this is the only modification that was necessary to get everything working as it should.
When it comes to suspension, the SJ is still very much a work in progress. At the moment it runs with rear Land Cruiser coils springs on the front and rear Vitara components on the back. These are a lot softer than the Toyota springs and deliver a greater degree of flex. Articulation is improved further by custom-made radius arms, which have been modelled on the original Land Cruiser parts, and Range Rover bushes that allow for greater movement. Rob isn't completely happy with the amount of articulation currently available, however, and will develop a new set-up in the coming months using his usual method of trial and error.
Pro Comp ES1000 shock absorbers have been used throughout the vehicle because they are the slimmest units Rob could find. He's mounted them inside the coil springs for the sake of neatness, and it was essential, therefore, to find ones with a narrow enough diameter to leave the springs unencumbered.
Traction is maintained by virtue of a Loc-rite in the rear axle. This is the equivalent of having a diff-lock permanently engaged – great in deep mud but less than ideal on the road or when it comes to cornering. The front axle is running with an open differential. 'I think the positives of this set-up outweigh the negatives,' Rob reports. This is the case not least because he rarely drives the SJ to an event, preferring instead to trailer it so he does not need to worry about sustaining damage.
Bearing in mind the pick-up's rough-and-ready credentials, you may be surprised to learn that its runs with the bog standard 1.3-litre engine that was fitted by Suzuki. Rob claims to be perfectly content with the performance offered by this unit and doesn't think it worth the hassle to fit a bigger engine. In fact, even though, sitting unused in his workshop he's got a two-litre Grand Vitara engine, which could slot nicely into the SJ, he's genuinely not interested in performing the modification. 'The 1300cc lump has all the power I need,' he explains. 'It would just be a waste of time to fiddle around with a transplant.'
One thing that assists the diminutive engine is the lower ratio differentials that come as standard with the Land Cruiser axles. This, in addition to an 80% reduction in the transfer case ratio, means the vehicle copes perfectly with the oversized tyres, having more than enough low-down grunt to clamber over most obstacles.
When it does fail, however, there are winches at both ends to pull it out of trouble. A Superwinch X9 with an uprated motor is used on the front, while a Superwinch X6 does the business at the blunt end. Rob uses synthetic rope on both units, largely because it enables him to carry more length. Most winches are fitted with about 30m of cable since there is no room for any more on the drum: because the rope Rob favours is lighter and thinner, he can carry about 40m, which usefully increases his options during winching exercises.
Providing juice for the winches and auxiliary lights are two high-amp caravan batteries, chosen for their reasonable price tag. These are charged through a Vitara alternator, which came with the power-assisted steering system that Rob fitted to reduce the strain on his arms during long days behind the wheel.
Arguably the least polished feature of the SJ is its snorkel, which consists of a bit of bendy tube tied to the custom-made roll cage. This was a last-minute job that Rob performed in the run-up to the Winchman but, as he says, it does the job and cost practically nothing to install.
In contrast, the custom-fabricated exhaust was a major undertaking that Rob was eager to get right. It utilises a straight-through design in order to maximise the engine's revving ability. Rob is happy that it delivers on this, and the use of just one box – at the rear – for the whole length also means that there is less to get damaged on uneven terrain.
The cabin is near-standard, although the Suzuki seats have been replaced with more comfortable alternatives from a Honda CRX. It proved quite a job to get hold of suitable replacement seats, actually, because the pick-up bulkhead restricted the size that would fit.
After much searching, Rob eventually found the CRX seats and is pleased with the level of support they offer.
The waffle boards and spare Simex are mounted in the rear tub and Rob has made liberal use of aluminium chequerplate in order to protect various parts of the SJ's body. He also built a new crossmember to fit to the rear when he shortened the chassis. This incorporates recovery points and ensures that the truck's structural integrity remains intact despite its reduced length.
Despite his willingness to experiment with new ideas, therefore, Rob is also sufficiently grounded to resist outlandish modifications that do nothing to enhance a vehicle's mud-bashing potential. His SJ has been built with sights set firmly on challenge events, and it has plenty of potential to trouble the most tricked-up vehicles currently on the scene.
Rob will certainly enjoy vying with them as he enters more competitions in the coming months and you can guarantee the pick-up will continue to evolve as he continues to develop new ideas. That all depends upon him hanging on to it, of course… if his record to date is anything to go by, the vehicle could well have a new owner before too long.
SJ, SUPERWINCH, BOBTAIL, LOC-RITE, PRO-COMP, SIMEX, PICK-UP
Share this article