Grand Design
Originally Published: September 2005
Words: Tim Gibson
Pictures: Steve Taylor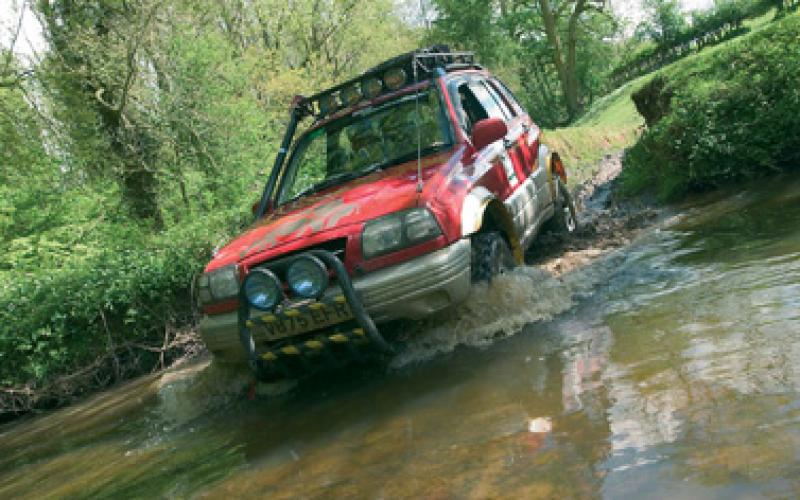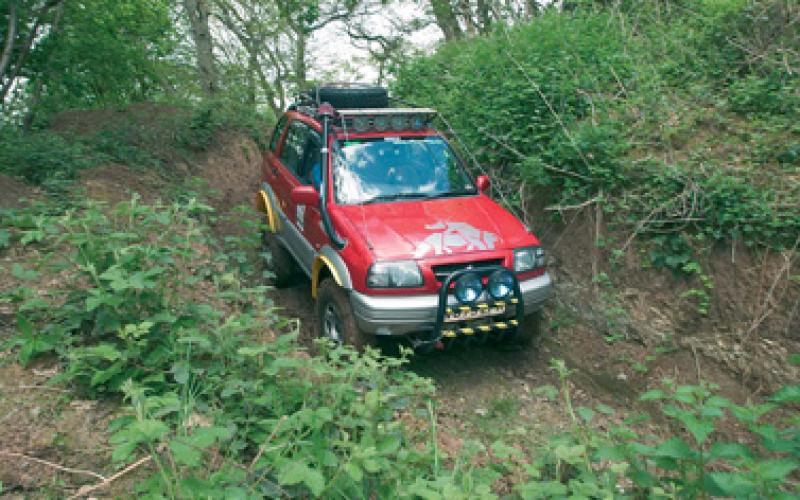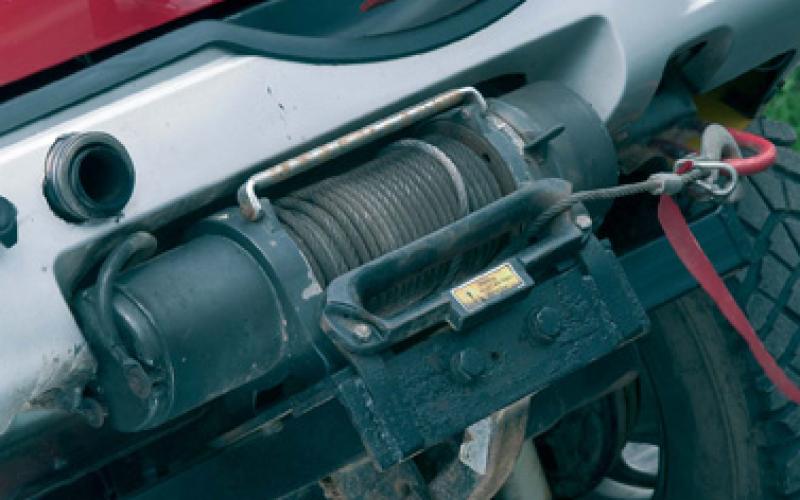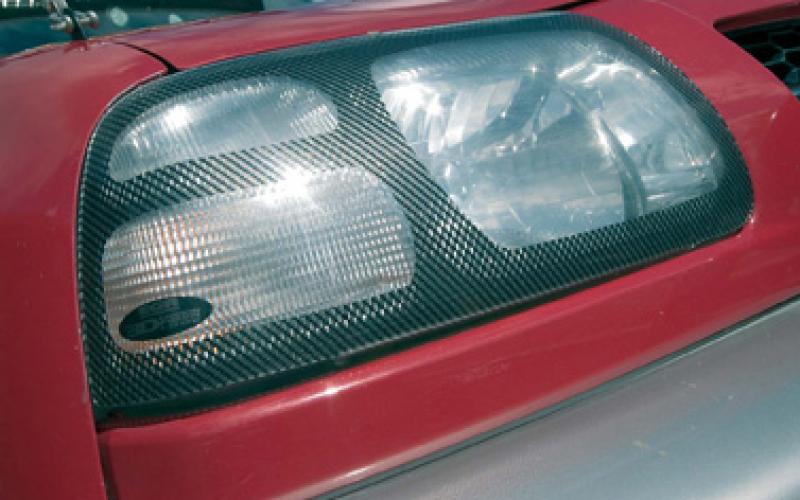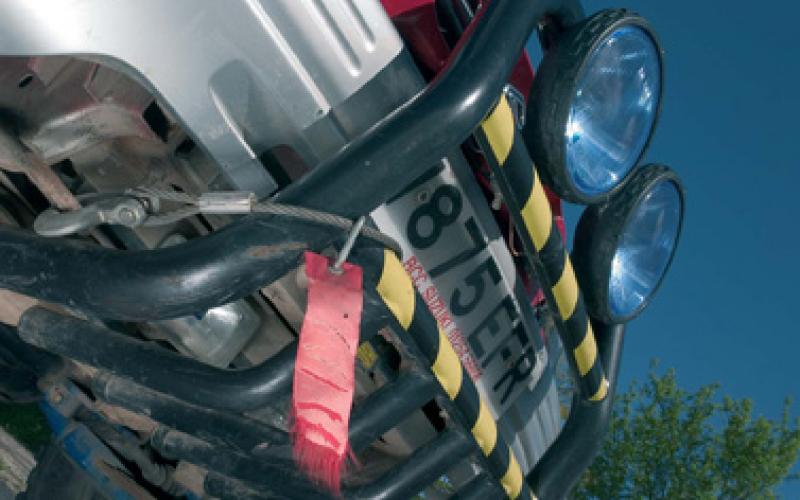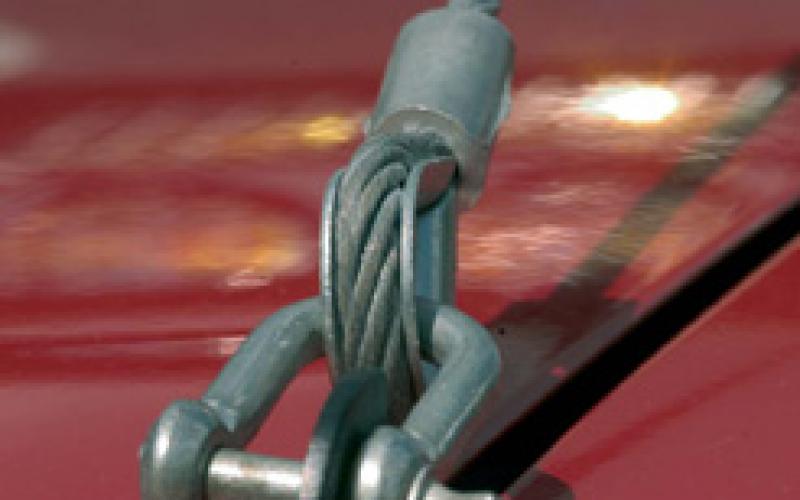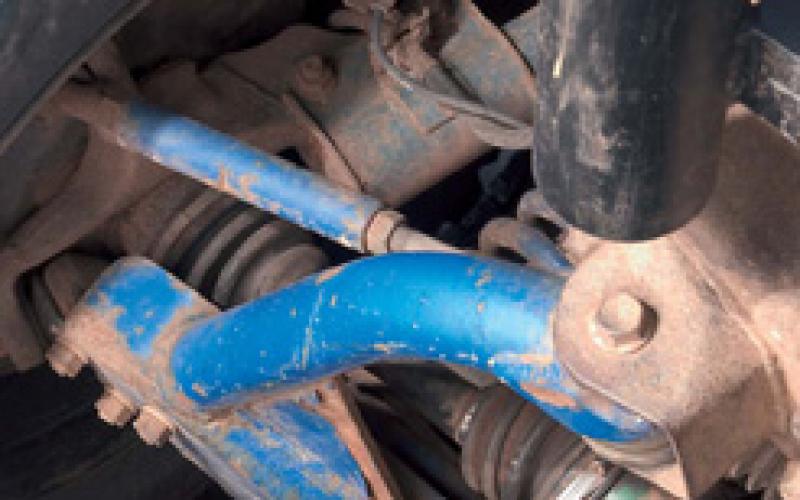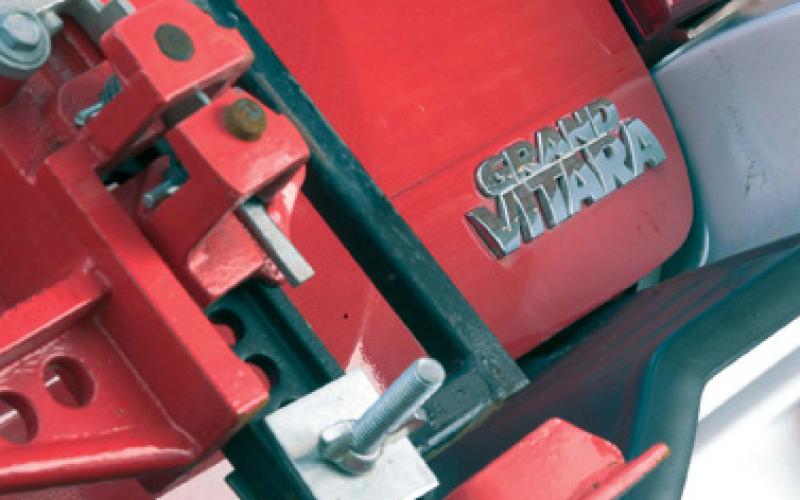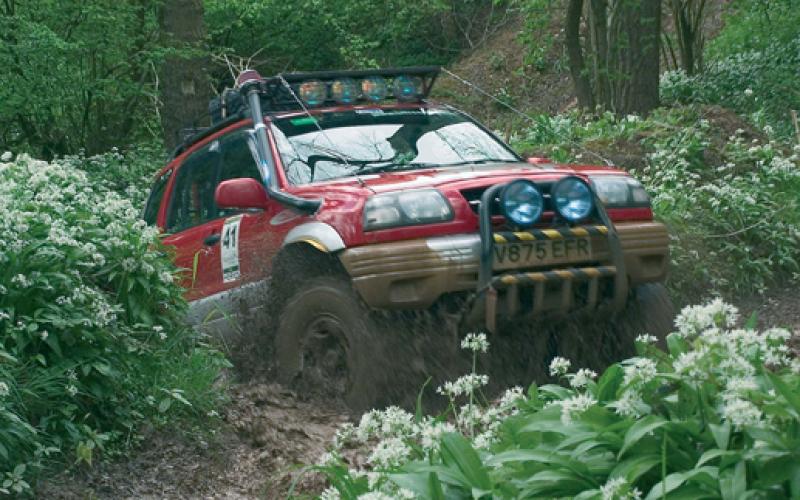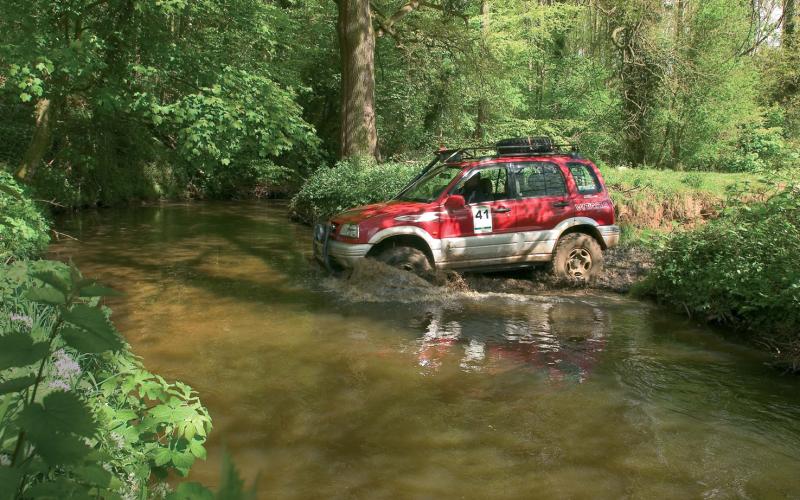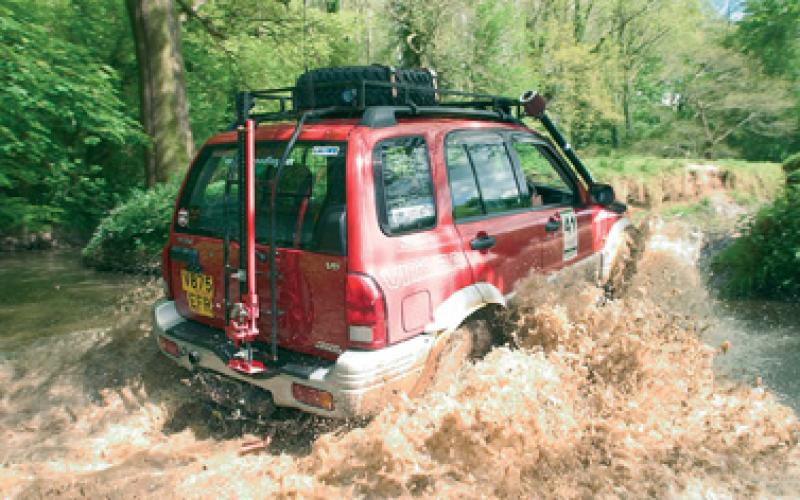 <
>
You don't see many highly modified Grand Vitaras, and five-door examples are especially rare, which makes Richard Thompson's vehicle a bit different. Reason enough, we thought, to give it a closer look.
Richard Thompson hadn't intended to become an off-road enthusiast. It never occurred to him when he bought his five-door Grand Vitara that, three years later, it would have turned into a mud-bashing monster that features some of the most extreme modifications available. Boats were more his cup of tea, you see. In fact, the only reason he bought the Suzuki in the first place was because his Toyota Supra wasn't very suited to the job of tow barge for his wakeboard-pulling motorboat.
But something snapped inside of him when he took the vehicle to an off-road fun day about six months after buying it. He fitted a set of 205R16 off-road remoulds in preparation for the event and within minutes his love of being pulled through the sea while hanging on to a piece of polystyrene was forgotten. He had a new enthusiasm, and it was soon to cost him an awful lot of time and money.
The once-standard Grand Vitara has now become one of the more extreme examples of the vehicle we've seen, and Richard is a regular at fun days and laning trips throughout the UK. 'I love green laning,' he reports, 'because it's an excellent way of enjoying the countryside.'
It comes as no surprise to learn, therefore, that one of the first jobs Richard performed on the vehicle was to upgrade the suspension to improve ground clearance and axle articulation. He opted for a three-inch Calmini lift kit, which is manufactured especially to suit the Grand Vitara and features springs and shock absorbers as well as replacement front wishbones and a bracket to lift the panhard rod.
Although the kit is reasonably expensive to purchase, Richard's training as a motor mechanic saved him having to pay for fitting as well. He wouldn't recommend such a course of action to anyone who doesn't have a fairly high level of practical ability, though: 'It wasn't a particularly straightforward job,' he says, 'so the average owner may struggle with it.'
Although the vehicle is currently running with the Calmini shock absorbers that came with the kit, Richard has sourced a set of Pro-Comp ES900s because he thinks they will suit the vehicle better. He's also got some heavy-duty springs for the rear axle because it is beginning to sag. Mind you, when you consider the amount of weight it is carrying in the form of bolt-on equipment, that's hardly surprising.
Augmenting the raised suspension is a three-inch Overland Components body lift, which was fitted by Jim Malkin in his Knutsford workshop. This is a custom-made modification which Jim designed specifically to suit Richard's truck, and it features eight separate mounting points in order to maintain the vehicle's structural integrity. A corollary of the body spacers is the extended gear levers and brake lines, necessitated because of the increased distance between the body and the car's running gear.
The combination of body lift and suspension upgrade creates enough room beneath the arches for a set of 235/85R16 Greenway Machos. Grand Vitaras come with 16-inch rims as standard and Richard has fitted spacers to the rear axle in order to improve stability in light of the lift. He'd do the same at the front, but doesn't want to upset its steering geometry.
Lifting Suzuki off-roaders is by no means a minority activity, and Richard was advised from many quarters that the modifications he was making to the standard drivetrain would most likely compromise the Grand Vitara's reliability. So he's modified the front driveshafts to make them symmetrical, which means that he only has to carry one spare as it can be fitted to either side. It's a clever modification that saves a lot of hassle and demonstrates the level of thought Richard has put into developing his vehicle.
Another modification made to the axles is the installation of Vitara differentials. This is an effective means of reducing the gearing, so that the impact of the oversized tyres is ameliorated. 'Before I fitted the new diffs, I was struggling along semi-aggressive lanes in first gear,' Richard comments. 'Now I've done the switch I can engage second and even third gears on similar terrain. It's made a real difference.'
He's well aware of the strain that the lift and large tyres place upon the remaining standard axle components, and always tries to avoid really aggressive terrain so as to limit the chances of damaging the truck. For Richard, any satisfaction gained from surmounting tough ground is not worth the stress of driving over it. His car also serves as a daily driver, so he would prefer to protect it from harm and concentrate on enjoying the scenery.
For this reason, Richard is toying with the idea of replacing the Grand Vitara with a more extreme truck. The idea of a V8 Land Rover 90 is particularly appealing, and he is keeping half an eye open for a suitable example. It will involve parting with the Suzuki, but he thinks that is a sacrifice worth making in order to enjoy some more extreme off-roading.
Many people would regard the Grand Vitara as extreme enough, and you couldn't blame them. Powered by a standard 2.5-litre V6 petrol engine, it has plenty of grunt both on and off the road, and a home-made snorkel ensures that wading is never a problem. The axle and gearbox breathers have been raised up to the head-lining to protect them from the damaging effects of water and mud, and a pair of home-fabricated rock sliders provide welcome protection for the sills.
The wheelarches have also been extended in order to prevent mud from flicking all over the sides of the car, and Richard says they work extremely effectively. 'It may look good to have a car covered with mud, but it's better to keep it as clean as possible for the drive home, I think.' Given that he often travels from his Midlands home to as far afield as Wales and the Lake District for laning trips, this seems a reasonable attitude to take.
Indeed, on such trips he is grateful for the creature comforts offered by the Grand Vitara. Inside, the cabin is a genuinely pleasant place to be and journeys are passed by listening to music through the ten-disc autochanger and following the route on a laptop-based navigation program which operates in conjunction with a Magellan GPS system.
Richard has constructed a plinth on the passenger side to which the laptop is screwed, and this integrates it very neatly into the car's interior layout while preventing it from sliding around. Another neat touch is his use of aircraft-style switches for the winch controls, which brings a genuine feeling of class to the cabin environment.
Should the vehicle get stuck, two 9000lb winches are on hand to haul it out of trouble. These are identical units that Richard sourced over the internet, but he says he can't recall the manufacturer… and they are so well tucked away behind the vehicle's standard bumpers that it's impossible to identify them.
Indeed, everything is kept deliberately very tidy to keep the Grand Vitara's appearance as discreet as possible. Without close inspection, you'd never know there were two beefy winches hanging at either end of this truck, nor that it was riding some six inches higher than standard.
User-friendly details include the exhaust, which has been re-routed to make way for the winch fixings at the rear. Control plug-ins are located on the floor of the loading bay and, for the front winch, beneath the bonnet. Both are powered by a Ford Cargo battery, which is housed in a recess in the boot and is covered by a false floor. Richard opted for the cheaper commercial Ford battery which, along with the Suzuki battery in the engine bay, is charged through the car's standard alternator.
It's the ideal set-up, feels Richard: 'If I used the car for competitions, I would spend more money on these things,' he states. 'Since it's only used for leisure activities, though, there doesn't seem to be much point.'
Given the impressive home-built roof rack, which is mounted on standard Suzuki rails, and the high-tech navigation equipment, Richard's truck is all kitted out for an extended overland trip. But like so many he is constrained by work and home commitments so has to content himself with briefer jaunts to different locations in the UK and, possibly, into Europe.
Numerous auxiliary lights reflect Richard's belief that 'you can never have too many lights on an off-roader' and the CB is vital for keeping in contact with fellow enthusiasts during laning trips and fun days. He's also disconnected the ABS sensors on the brakes because they malfunctioned when clogged up with dirt during an early off-road trip. The job was a simple one, and it has saved Richard having to worry that the brakes are going to behave strangely after a foray into the rough stuff.
Such apparently straightforward modifications have the cumulative effect of making this Grand Vitara feel like an extremely well-prepared off-roader. Richard has deliberately tried to maintain an overall feeling of refinement throughout the car and this has been achieved by clever installation of off-road hardware and a close attention to interior comfort and convenience.
It's rather ironic, really, when you consider Richard's original reasons for getting the vehicle, that he should now be contemplating selling it in order to buy something more suited to extreme off-roading. It might all seem rather a long way from the world of wakeboarding and speedboats – but however you first come to the 4x4 scene, there seems to be a certain inevitability to your progression through the ranks of extreme vehicles. And given Richard's proven ability as a modifier and builder, who knows where his particular path will lead?
GRAND VITARA, CALMINI, OVERLAND COMPONENTS, GREENWAY MACHOS, PRO-COMP
Share this article