Suzuki Grand Vitara ♦ Vehicle Test ♦
Originally Published: October 2011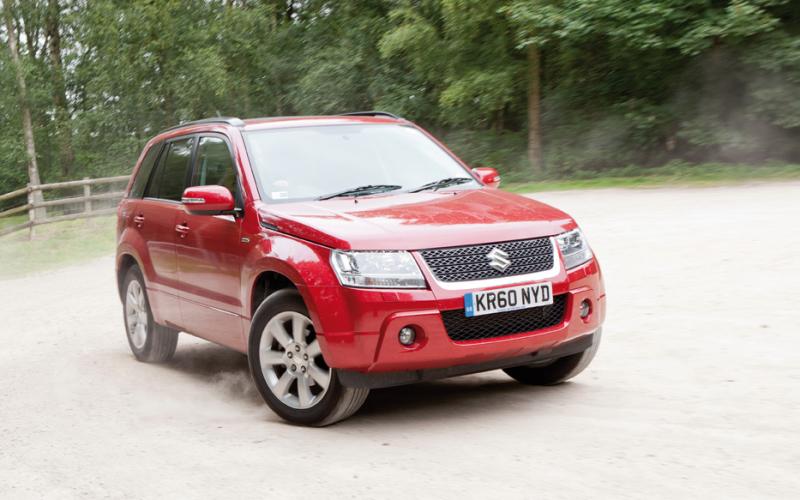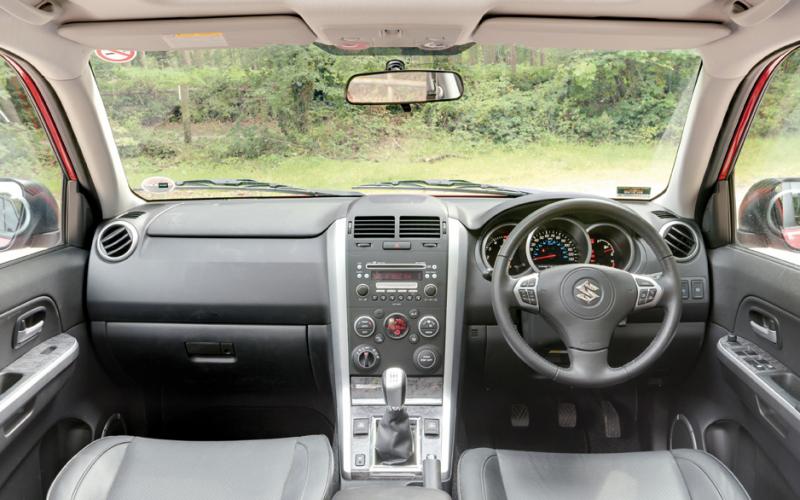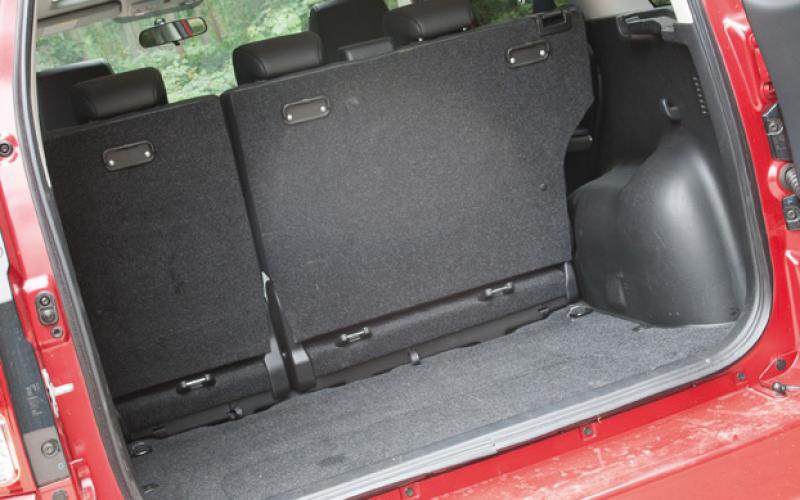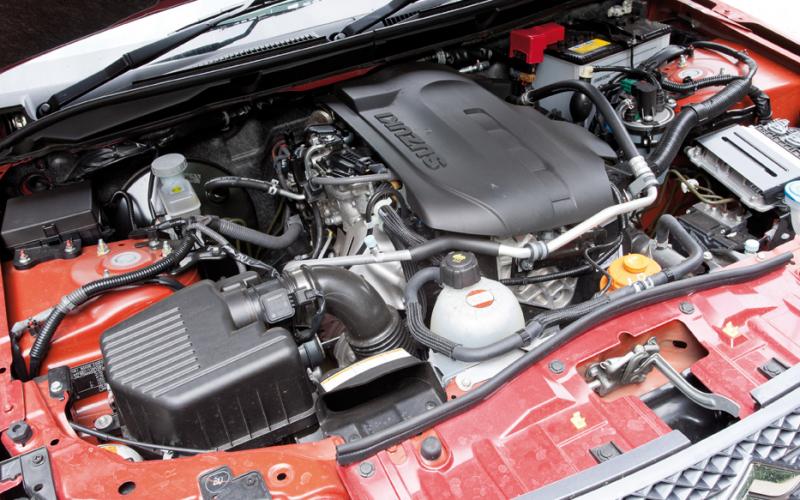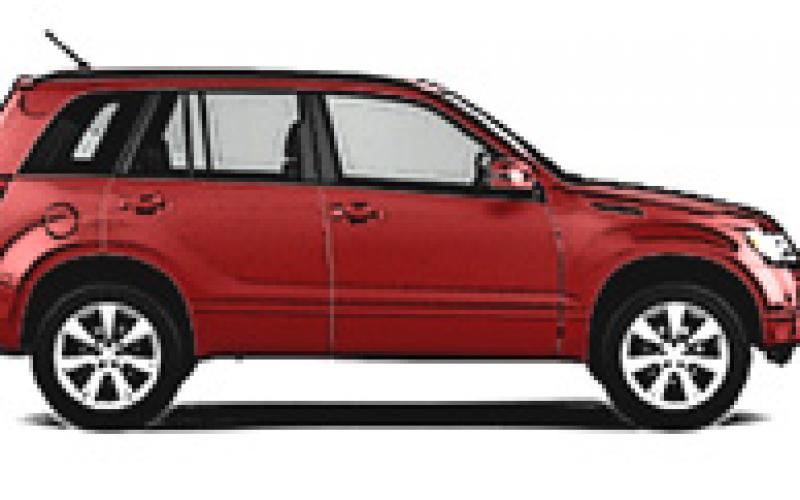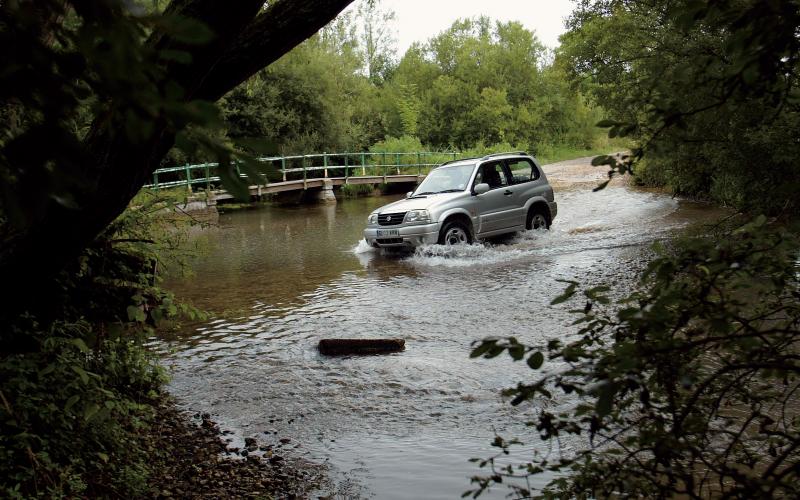 <
>
The Grand Vitara has been improving steadily ever since it was first launched. It needed to, but the arrival of a diesel engine, plus a series of detail updates which between them amount to something worthwhile, have turned what was once a bit of a stinker into what's now a decent bet in the junior SUV market.
That's so long as you avoid the petrol options, which remain as bad as ever, and go for the 1.9 DDiS. The models in which this is offered seem to change with the phases of the moon, but right now you can only get it in the range-topping SZ5 five-door. This has cruise, climate, leather and the biggest alloys in the line-up (18-inch, since you asked), as well as a stereo that combines a 6-disc CD changer with proper iPod and Bluetooth connectivity. In other words, this is the loaded one.
The list doesn't include sat-nav or parking sensors, but both are available from Suzuki dealers. A sixth ratio for the manual gearbox, on the other hand, ain't happening. There's no auto option, which isn't in itself a hardship as the standard unit is perfectly nice to operate, but in this day and age a five-speeder feels kind of last-generation. 
Updates for the latest model year have been modest, but have helped take the vehicle in the right direction. Its brakes have been improved, with vented discs now standard all-round on the 1.9 model, and additional sound insulation measures have been added to improve its manners at motorway speeds.
This has never been an area in which the Vitara has excelled, so it's pleasing to report that without doing anything scientific and pointless involving decibel meters, it does seem quieter and more composed at cruising speeds. The diesel engine, which is never gruff as you encourage it through the gears, settles down nicely, to the point where the main sound at real-world motorway speeds is from your tyres.
Talking of tyres, even on 225/60R18s there's little sign of the crashy, bashy ride that beset earlier versions of the current Grand Vitara. It's a long way ahead of the standards Suzuki used to set itself, drawing the sting from the sort of pot holes and surface corrugations which would once have provoked wide-eyed fear. It's quite nicely settled, really, and though undulating roads do set up a bit of a heave-ho action in the suspension which can toss the body around, there are far more expensive SUVs which fare little better in similar conditions.
As this suggests, the Grand Vitara is not an expensive vehicle. Its list price of £23,265 is somewhat misleading, as Suzuki dealers are almost unique in this section of the market in refusing to offer any sort of discount, but in real-world terms you're talking about a truck which mixes it on a more or less even footing with the Citroen C-Crosser, Ford Kuga and Honda CR-V. The difference is that you don't have to battle for discounts or subject yourself to endless junk mail from online brokers you've visited for quotes in the process.
So, does the ever-improving Grand Vitara do enough in its latest guise to merit comparison with these and other SUVs like them? The short answer is yes, though with Kia and Skoda lining up to give it a stiff kicking in the value stakes, you'd buy one not so much for its price as for its appeal.
Unlike the first Grands we drove, this latest 1.9 DDiS does have some. From the outside, it's still one of the best looking vehicles in its class, and there's an unpretentious charm to its cabin which makes it, by the standards of today's soft-roaders, almost endearingly truck-like.
That could be read as a veiled criticism for being old-fashioned, and it's certainly the case that the Grand's interior is less adventurous than its bodywork. But it's laid out sensibly enough, and though the materials are from the cheaper end of the scale it feels adequately screwed together.
Having used our test vehicle for a couple of long journeys, however, we'd say that Suzuki cut a bit of a corner with the seats. Everyone who drove it on the motorway found themselves shifting around uncomfortably after an hour and aching after two. Seat heaters and leather covering are all very well, but when there's not enough padding they count for little. We wouldn't have grumbled about trading the hide for a good lumbar support system, either.
In terms of practicality, the side-hinged rear door has a whiff of yesteryear about it and won't keep you dry when you've got a trolley of shopping and a wet afternoon to contend with. The rear seats are quite straightforward to operate, though, folding down to create a cargo bay that's sufficiently large and flexible for most needs, albeit nothing like as clever as the most modern interiors.
And what's it like off-road? Well, ground clearance has never been Suzuki's strong point, and it's very easy to rub the Vitara's chassis rails (and therefore, by extension, its sills) on breakovers. It doesn't do badly for traction, but driving it on anything more than modestly uneven terrain is an exercise in trying not to do it any damage.
It's also quite an easy vehicle to stall, even in low box. We had a number of embarrassing moments on the road (once, memorably, when changing up into second gear), and this too conspires against it being a relaxing experience off-road. It can get there, but despite being one of the few soft-roaders left with dual-range gears, it feels less at home in the rough than some which don't.
We'd not, therefore, be quick to recommend the Grand Vitara if an all-road, all-surface vehicle is what you want. Its strengths lie elsewhere – in the provision of safe, attractive, decently equipped and adequately usable family transport at a sensible price.
What's evident is that this is a vehicle with many more up to date rivals, and there's probably nothing that it does that someone doesn't do better. As an overall package, though, it still appeals – and Suzuki continues to improve it as time goes on. Buy sensibly, by which we mean buy the diesel, and the Grand Vitara remains as relevant as ever.
---
Verdict 
The new Grand is rugged, well equipped and the real deal off-road, and you could do the odd thousand miles in it without noticing. We just wish they'd been braver with its cabin design, which feels stuck in the past 
+ Lots of kit on all models. Easy to drive, comfortable and capable off-road 
- Cabin feels dated and cheap.  Five seats only. Other 4x4s use their space much more cleverly 
Share this article