Champagne Off-Roader
Originally Published: October 2006
Words: Alan Kidd
Pictures: Steve Taylor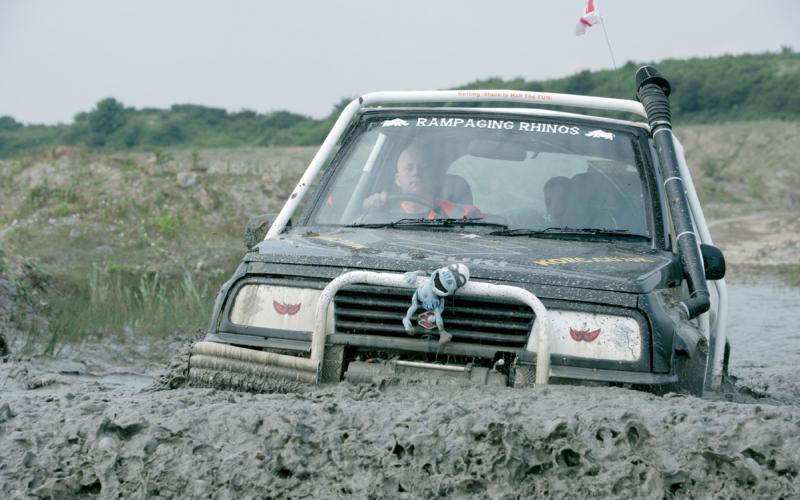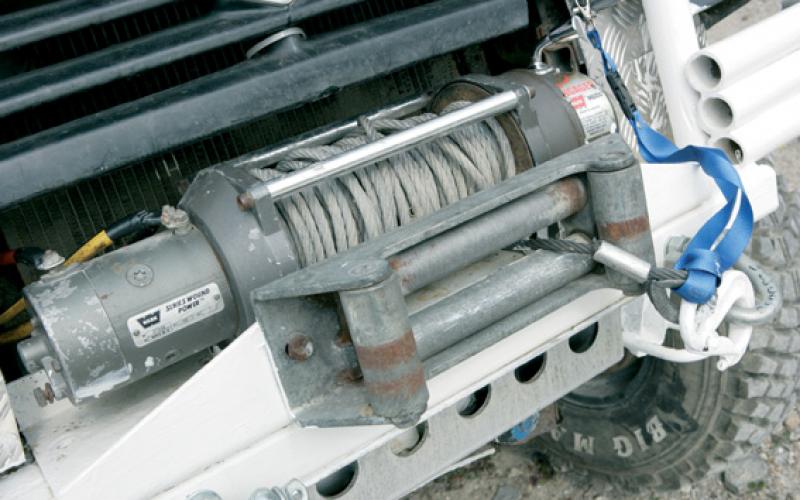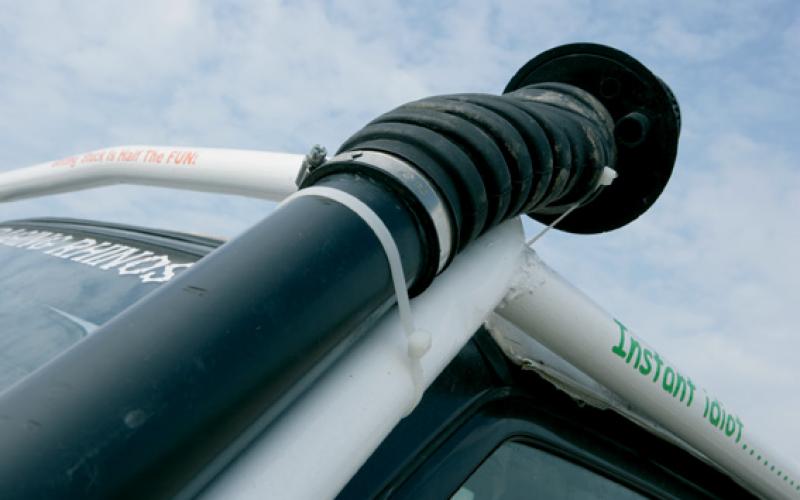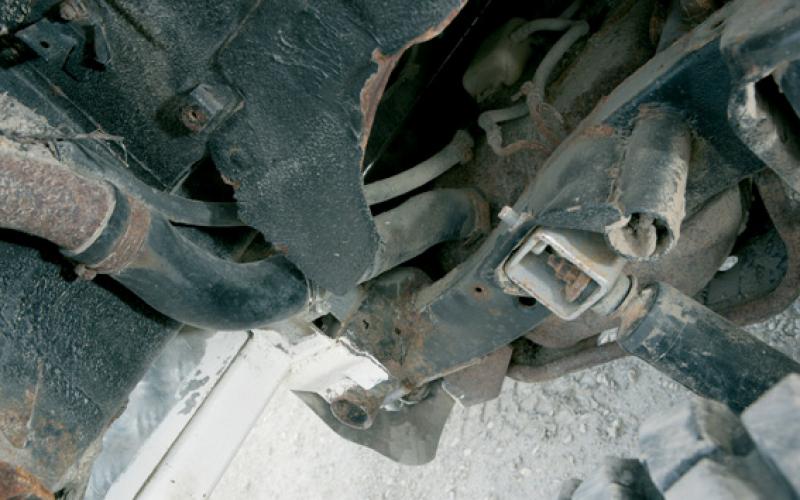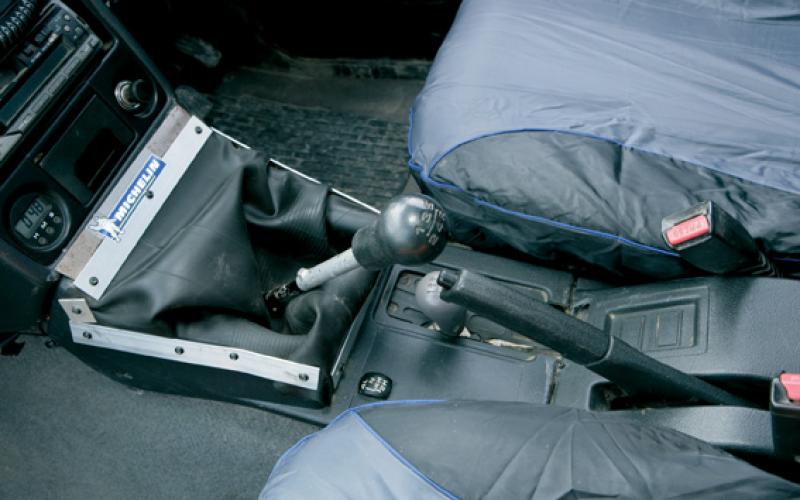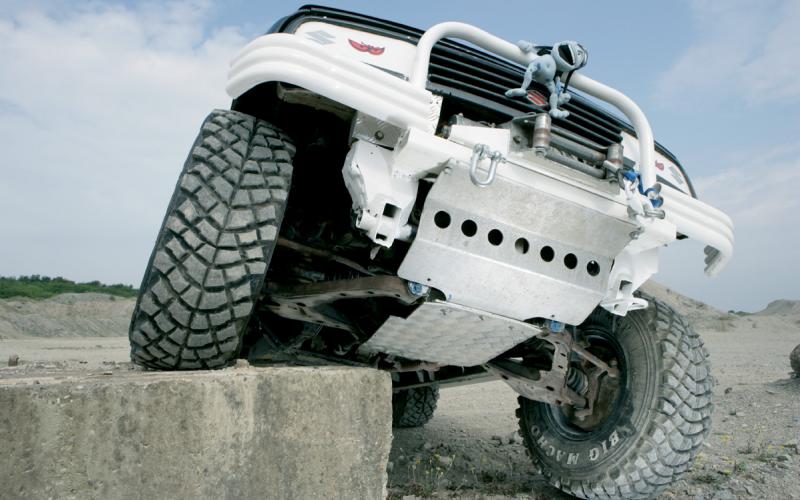 <
>
It's unlikely that Glyn Ellis' Vitara has ever been compared to the favoured drink of the chattering classes before. But that's what he paid for it… about the same price as a bottle of Moet.
When you set out to build yourself an off-road toy, it's essential to have a budget in mind. The cost of the modification work can vary enormously, depending on how far you want to go and whether you're able to do it yourself, but one thing that's more or less the same for everyone is the price you have to pay for the vehicle itself.
If your off-roader is going to double as a family car, chances are you'll expect to pay between five and ten grand, maybe more. If you're among the lucky few with money to burn, you might lash out twice as much as that on the base vehicle and the same again on the mods. But if your purposes will be adequately served by a non-runner or MOT failure which you plan to tinker with yourself and trailer to events, chances are you won't be looking at an initial outlay of more than about a thousand pounds.
Glyn Ellis did a bit better than that. When he bought the Suzuki Vitara you see here, it was in standard condition but had an electrical fault which meant the engine wouldn't run. You'll still see JLX soft-tops from 1993 changing hands for more than a grand and a half, but Glyn saved this one from the scrap man for the princely sum of £25.
That was about a year and a half ago. Since then, Glyn has turned his new toy into a classic example of what you can achieve with an old 4x4 without breaking the bank; even now, he reckons the whole project, including a set of tyres and a winch, stands him no more than £600.
First, he had to cure that engine fault. 'I bought it as a complete non-runner,' he recalls. 'I'd never heard it run, I didn't drive it or anything. I towed it away, put it on my drive, tinkered around for a few weeks and got it running – it actually cost me fifty pence to fix. One of the EFi sensors had gone down – I bypassed the sensor, because it wasn't going on the road so I didn't have emissions to worry about, and it worked a treat.'
His original plan hadn't been to modify the vehicle, but his mind was more or less made up after an initial visit to Kirton Off Road Centre, where he's now a marshal. 'It was still standard, on little all-terrain tyres. But even in standard form, they're quite an amazing little truck. I had a cracking day.'
Figuring that if it was that good in standard form, it would be even better with bigger tyres, Glyn started putting together a programme of mods for the vehicle. His primary aim was to create space for a set of 31x10.50R15s, but he certainly wasn't about to take the route some Suzuki owners have gone down and simply throw a lot of money at the problem. 'It has all been built on a budget,' he says. 'All the work, including fabricating the cage, has been done by me, with the welding done by my brother.'
That's not to say that he hasn't gone out and bought things where necessary. But rather than doing so with a credit card and a glossy catalogue, he's been remarkably creative about sourcing bits – and getting hold of them. The suspension lift, for example, was a birthday present from his parents and brother.
This isn't a branded kit – he thinks they're a home-built affair which the builder sells on eBay. Consisting of two-inch poly spacers for the coil springs and strut tops, it's backed up by a four-inch body lift made from steel box, with strengthening plates welded in place, which simply bolts through the body and piggy-backs on to the original chassis mounts.
With the kit in place, the Vitara was ready to accept a set of 31x10.50R15 Greenway Machos. 'Now I've got a bit of height as well as the articulation,' remarks Glyn, who's definitely happy with the way his vehicle is performing as a result. The tyres have already lunched one of the Vitara's famously fragile front diffs thus far, but aside from that and a set of brake pads and shoes, no maintenance has been necessary.
Not that that's the limit of what Glyn's done to his vehicle. Possibly another reason why the front diff decided to let go is that this Vitara is rather heavier than standard, what with the amount of heavy metal that's welded to its chassis.
Starting from the bottom, the vehicle's most vulnerable bits are protected by a couple of hefty bash plates. The more visible one of these two is actually a Lada Niva part – Glyn's brother used to off-road one of the fabled Russian 4x4s, which is what got him into the hobby in the first place. 'He never got round to fitting it, so when he sold his Lada I had the plate off him, bent it slightly and it fits a treat.' That's the kind of ingenuity you don't learn by simply opening your wallet to a bolt-on parts supplier.
As for the lower plate, Glyn went one step further and formed it himself from a piece of 6mm aluminium chequer plate. It's attached to a 50mm angle crossmember, which in turn is mounted to the back of the front suspension bolts.
Having sold his Niva, Glyn's brother moved nearer to home and bought a Series II Land Rover. This had the advantage of qualifying for classic insurance, but his underwriters didn't think much of the vehicle being fitted with a winch and hiked his premium to comedy levels.
Thus the Landy's old Warn M6000 now resides on Glyn's front bumper. And what a front bumper it is. Another example of his own handiwork, it was fashioned from 4x2-inch box and welded to the ends of the chassis rails; a similar arrangement is in place at the back.
The quarter-bumpers to each side of the winch mount on the front bumper are made from 42mm diameter, 4mm thick CDS tube, seam-welded into triple lengths which are strong enough to take the vehicle's weight. Glyn knows this because when one of them went on very slightly squint, he decided to right it with a gas torch and a high-lift jack – and succeeded only in raising the truck off the ground.
The same combination of 4x2 box and 42mm tube makes up the rock sliders and roll cage which add yet more protection to the vehicle and its occupants. The box lengths are welded to the chassis outriggers, creating massively strong sills on which the cage is mounted; Glyn shaped this at home using a 16-foot bender, before his brother took over and arc-welded it all together. 'I ran it for four or five months without a cage at all,' he remembers. 'You just adapt your driving to suit. But with it being a soft-top, and having my wife and kids in the truck when I go out, I wanted that element of safety there.'
Having removed the original rear bumper to make way for his trimmer box-section replacement, Glyn was left with a large gap. 'It was a bit of an eyesore,' he admits. 'But I didn't want the original bumpers back on, I wanted something durable and that I can actually use.' His solution was to shape some chequer plate to fit the gap – he bent the curve on to the ends of it using the roll cage as a former, then screwed it into place.
Further sections of plate below the chequer infill are also there for cosmetic reasons. These are bolted on to ends of chassis rails and run down to the original towbar, which was there when he bought the truck. 'I could have cut it off,' says Glyn, 'but it's another towing point if I ever need it, and with the lift I've got I don't worry about it grounding out and getting in the way.' All the same, the bar sticks out a remarkably long way without the standard back bumper in place – which makes you realise how much harm the lower bodywork does to the approach and departure angles of a vehicle in factory trim.
Another piece of home-made ironmongery is the high-lift mount, which has been appended to the standard spare wheel carrier. Made from a piece of plate with a length of tubing welded to it, it simply drops behind the spare and is secured using the same bolts.
Talking of the spare, this is one of the original tyres that came with the vehicle. Glyn carries a full set on his trailer, meaning he can keep going even if he wipes out one of his Machos.
The fact that he only bought four of these provides a strong clue about why he chose them. 'It was down to cost. I wanted something that was 31-inches in diameter, just to give me a bit of lift, and I found that they were the cheapest. I found a dealer that had done us a great deal when we got the tyres for my brother's Lada, and I went back to him and bought these.' The rims, meanwhile, came from eBay: 'eBay's been a great source of bits and pieces!'
One of the most popular mods for DIY 4x4 builders is a snorkel, so it's no surprise that Glyn made his own. It's formed from a length of drainpipe, with a K&N air filter on top to help keep dust out; given that it's possible to spend more on a snorkel than Glyn has on his entire truck, you'd be hard pushed to see a commensurate difference between its performance and that of the most expensive professional units.
Inside, the skill with electrics that helped Glyn get the vehicle running again in the first place came in handy when he was fitting the winch. The vehicle has twin batteries, with a marine switch on the dash to control their operation; either can be used to power the winch or start the vehicle, or both can be combined in the event of a more taxing recovery. 'It's a bit of running cables here there and everywhere,' he admits. 'But it's been worth it because now if I get a flat battery, I can switch to the other one and I'm away again.'
Elsewhere on the inside, a Mustang CB1000 is linked to a four-foot whip on the back door. There's a switch on the dash for operating the winch, as well as waterproof seat covers, and the remnants of a lorry inner tube form a shroud around the extended gearstick required by the effects of the body lift. 'I can get all five gears and reverse,' Glyn reports, 'though the 4wd/2wd selector is still a bit short. I could do with extending that a bit, but it's functional. I do tend to drop it into 2wd when I'm loading it on to the trailer, because with the grip on the tyres I'd soon smash a CV joint.'
Plans for the future include not a lot more than simply enjoying the vehicle. 'It does have a hole in the rear silencer,' says Glyn, 'so when it does finally fall off, I've got an eight-inch cherry bomb which is going to go in place. I'll re-route it up through the chequer plate back bumper then, just to lift it up that bit more. But I'm not going to do that until it actually falls off.'
That's the sort of pragmatism that marks out a true budget 4x4 builder. 'Other than the winch and the tyres,' reflects Glyn, 'nothing on the truck has cost me a mega amount of money. I've kept the cost down as much as I can. I'd rather do it myself and struggle for a week or two and persevere than pay somebody to do it. If I was paying somebody, I couldn't afford to do this – it's just a fun hobby.'
DIY ROLL CAGE, DIY ROCK SLIDERS, DIY BUMPER, VITARA, K&N AIR FILTER, DIY SNORKEL, GREENWAY MACHOS, WARN M6000 WINCH
Share this article