Going Live
Originally Published: January 2005
Words: Tim Gibson
Pictures: Steve Taylor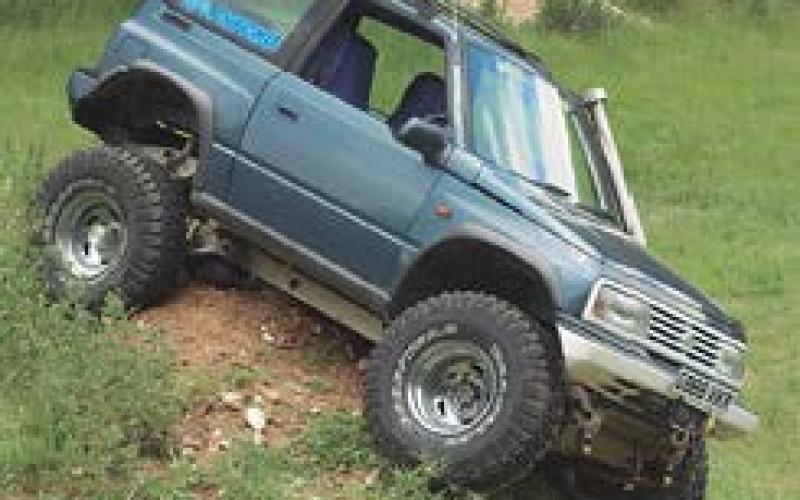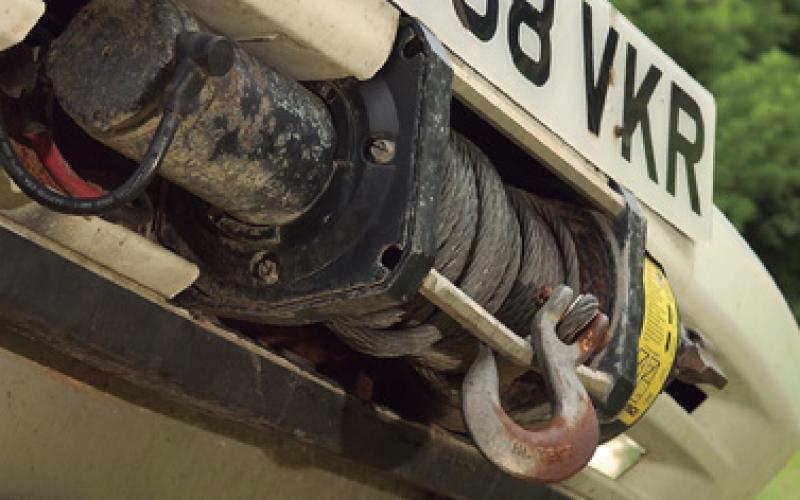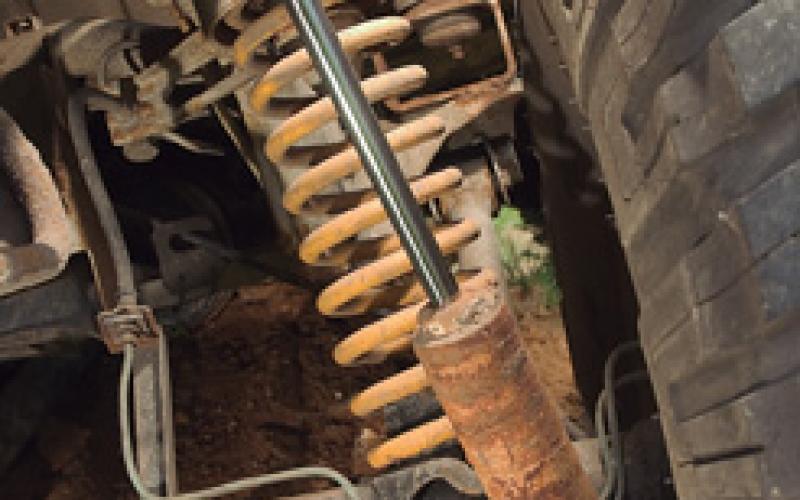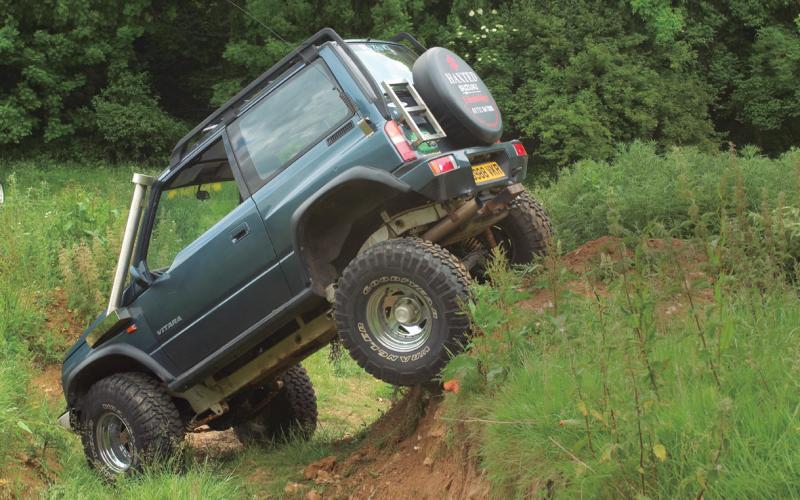 <
>
Everyone knows that independent front suspension has its limitations off-road, and everyone knows that despite this, the Suzuki Vitara is a giant-killing vehicle in the rough stuff.   Imagine, then, how good it would be with a live front end…
During a conversation with a spectator at a recent challenge event, I mused upon the apparent contrast between the high number of modified Vitaras seen on fun days and the relatively low number that compete in extreme off-road competitions. Of course you come across the odd one or two, but by and large the chief Suzuki representation in challenge circles is from the trusty old SJ.
My interlocutor's proposed explanation for this was based on the virtues of all-round live suspension. Because the Vitara has an independent front end, he suggested, it needs such a lot of work to lift the wishbones clear of the ground that enthusiasts might as well buy a Land Rover or save their money and compete in an SJ.
The reasoning behind this argument seems pretty sound. Speaking as a Vitara owner who spends a great deal of time on the embarrassing end of a towrope, I jump at the opportunity to shift the blame from my poor driving to a design fault in the vehicle. But seriously, the front suspension of the Vitara is one of its weakest elements when it comes to slow-paced off-roading. With minimal overhangs, a beautiful breakover angle and diminutive weight, the three-door Vitara would be a perfect off-road truck if only it had a beam axle at the front.
Steph Love's 1990-registered Vitara, seen in the pictures, does feature a live front end and is a remarkably capable off-roader as a result. When he bought the vehicle two years ago for £400, it consisted of the body shell and the running gear but there was no engine and a great deal of work was needed to get it back up to scratch. This suited Steph fine as he has been fiddling with 4x4s for years. 'I used to own SJs,' he reports, 'but as I got older I decided I could do with the comfort of a Vitara.' 
Since he knew there would be a lot of work to complete on the Vitara anyway, Steph thought he might as well turn his attention to the problems associated with the front suspension setup. His friend and fellow Raging Rhinos member Leigh Catherick is a Suzuki breaker and was actively involved in developing the axle conversion you can see on Steph's truck. It entails the installation of a Samurai front axle that is used in conjunction with a 12-inch offset on the front wheels to ensure it matches the width of the car.
Heavy-duty leaf springs, which Steph had made especially for his vehicle by a local fabricator for just £60, are fitted to homemade mounts on the chassis via standard Samurai shackles. The effect is to give the Vitara an SJ front end, with a few minor alterations due to the difference in size of the two vehicles and more lift on the springs, and it has a striking impact on off-road performance.
For a start, the vehicle is much less prone to grounding-out in ruts than in independent form because there are no wishbones to get caught up with the terrain. Moreover, Steph reckons the leaf springs, from which he removed one of the four leaves to provide a softer ride, give greater axle articulation and therefore keep the wheels in contact with the ground for more of the time. They are aided by the Pro Comp ES3000 long-travel shock absorbers that are utilised on every corner of the vehicle.
The wheels are shod with massive 35x12.50R15 Goodyear Wrangler Mud Terrains and an eight-inch offset on the rear rims complements the one on the front to even-out the vehicle's height-to-track ratio and reduce the risk of it toppling over. 'If you go high you should also go wide at the wheels,' explains Steph. 'That's my motto.'
It seems to work well and there is no indication that the Vitara is unstable, despite a massive increase in ride height. This comes courtesy of both a bodylift and a four-inch Pro Comp suspension lift on the rear axle which was, incidentally, taken from a five-door Vitara because Steph regards them as stronger than the three-door components.
Combined, these modifications ensure there is plenty of room beneath the wheel arches – with a bit of cutting – for the massive tyres. The bodylift served a dual-purpose as it also created room for the components associated with the suspension modifications. Steph's Vitara therefore has a considerably enhanced ride height in comparison to stock vehicles and can cover most terrain with ease.
But the modifications don't stop there. As befits a serious off-roader, the truck underwent a significant power boost in the form of an engine transplant. Strictly speaking, of course, it wasn't a transplant that Steph performed because there was no engine in the vehicle to remove. He filled the hole amply, though, with a 1.6-litre, sixteen-valve Suzuki Swift carburettor engine. This lump generates a lot more power than the eight-valve Vitara unit that would have been fitted as standard to the vehicle and delivers plenty of power to those massive tyres.
Despite the revvy engine, Steph still found it necessary to reduce the gearing in order to regain fuel consumption and have acceptable levels of power in the appropriate gear. So he married the Swift engine to a lower-ratio, manual gearbox and transfer case from a 1300cc Samurai which, because they're Suzuki components, were relatively easy to source and fit to the engine. Now, Steph claims the vehicle drives perfectly acceptably on the road and has power in all the right places during off-roading.
When the combination of gearing, power, ground clearance and tyres fails, though, help is at hand in the form of a Superwinch 6X. This is powered by a single tractor battery that Steph sourced at a knockdown price and comes in useful for self-recovery and helping his companions in times of need. 'The winch doesn't get used a great deal,' he remarks, 'but it's good to know it's there in case things go awry.'
Underbody protection is not a major issue because of the Vitara's increased ride height, but Steph has taken the precaution of fitting a homemade steel sump guard just to be on the safe side. Axle and gearbox breathers are fed to a stainless steel snorkel and raised air intake in order to waterproof the truck's vital components. With a length of the same three-inch tube used to make the snorkel, Steph fashioned a tailor-made exhaust to suit the engine.
Another homemade component on the car is the stainless steel fuel tank, which has an 80-litre capacity – twice the standard size. Although this adds to the weight of the vehicle when fully laden and takes up more room, Steph believes the improved driving range it provides makes it a price worth paying. Indeed, Vitara owners are often the first to interrupt a day's laning in order to refuel, so it is easy to understand why Steph regarded the work as worthwhile.
While on the subject of worthwhile jobs, he draws my attention to the air-conditioning that he installed. 'This is marvellous on hot days,' he enthuses. 'When everyone else is getting a face full of muck and fumes through their open windows, I can trot around in air-conditioned comfort with the outside world shut away.' With a CB radio onboard, Steph hasn't cut himself off from the outside world entirely, though.
Keeping cool is obviously something of a priority in this car, and Steph paid £5 for a sunroof from a local scrapyard in order to bring more ventilation and light into the cabin. He measured the size of the hole that would be needed to fit the glass and cut the roof with a jigsaw before putting in rubber seals to ensure it did not leak. All that needed doing after that was fixing the glass in place – a job that sounds deceptively straightforward when Steph describes it…
Of course, it is easier to take on these jobs if you don't rely on your off-roader as everyday transport. Steph uses a BMW Seven-series and a 1200cc motorbike on the road, and keeps the Vitara purely for play – whether that means driving it or fiddling with it in the workshop. 'I can always think of something I would like to do to the car,' he observes. 'At the moment it's little things like fitting wind deflectors and side runners, but I'm sure something big will occur to me in due course!'
Until that point, it is worth noting that, because he has completed all the work himself and restricted his use of big-money, off-the-shelf modifications, Steph's total spend on the Vitara, including the purchase price, has been about £3000. Not a great deal of money to pay for a vehicle that has all the natural characteristics that make standard Vitaras excel off-road as well as a whole lot more besides.
With a leaf-sprung beam axle at the front, massive tyres and a throaty engine, I think this is a Vitara that could comfortably hold its own in some of the finest off-roading company going. With that in mind, it must only be a matter of time before the entry lists of challenge competitions and the like become peppered with Vitaras that have undergone similar alterations. Meanwhile, my fellow spectators and I will almost certainly have to find a new topic of conversation.
PRO-COMP SHOCKS, VITARA, PRO-COMP ES3000 SHOCKS, SUPERWINCH, PRO-COMP SUSPENSION, LEIGH CATHERICK LIVE AXLE, GOODYEAR WRANGLER MTS, SUZUKI SWIFT ENGINE, SUZUKI SAMURAI TRANSFER BOX, SUPERWINCH 6X
Share this article