Worth Weighting For
Originally Published: February 2005
Words: Anthony Singer
Pictures: Anthony Singer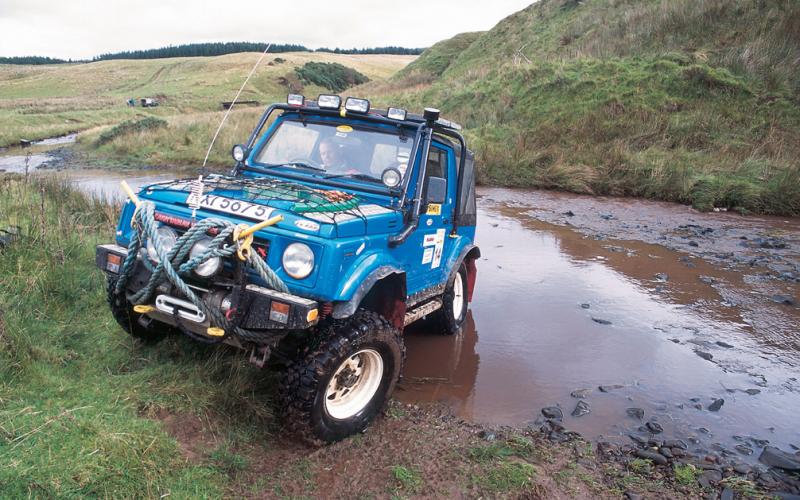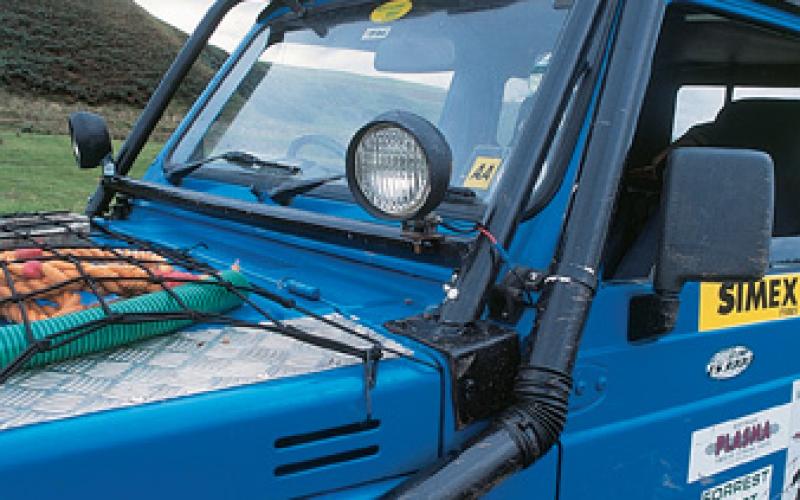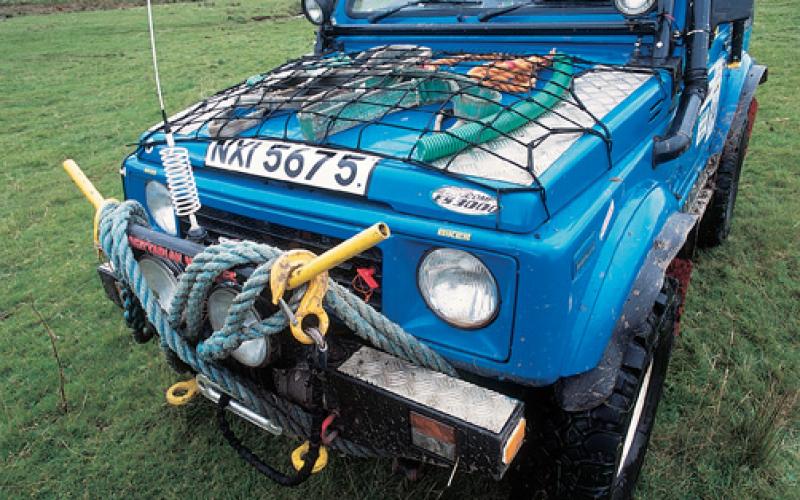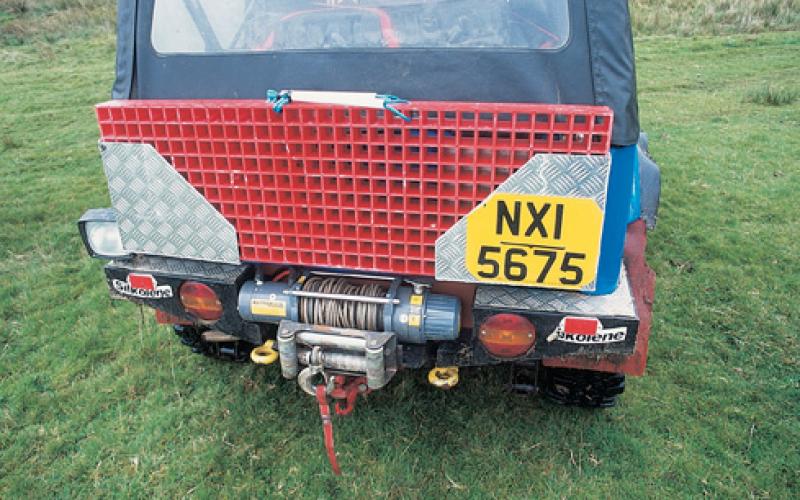 <
>
Grant Taylor originally decided to build a modified Suzuki Samurai because it was the lightest 4x4 around.  And he's happy with the result… even if his days of trying to save weight are already well in the past.
'Where I stay on the West Coast of Scotland,' says Grant Taylor, 'a lot of the ground is very soft. That's why I decided to modify a Suzuki Samurai – because it was light enough to cope with the boggy conditions. That's what started it all off.'
Having owned various other Suzukis, as well as a Toyota Hi-Lux and a couple of Isuzu Troopers, Grant was well versed in the difference between heavy vehicles and light ones. That was six years ago, and in the intervening period, he's put together one of the smartest modified Samurais you'll see. 
And we're talking 'smart' in every sense of the word. Not only does the vehicle look the business in its bright blue paintwork, but it's also a perfect example of how grey matter beats green matter every time when it comes to planning a project. A bit of lateral thinking has created some uniquely clever touches on the vehicle, while a willingness to go looking for solutions rather than simply buying them off the shelf has saved Grant thousands of pounds. 
Having lived and worked on farms for most of his life, Grant has always used his 4x4s for the sort of work they were built to do. The Samurai, however, is the first he's modified – and it's all the more impressive for it. It's not a daily driver (a Mitsubishi Pajero takes care of that), but it is road taxed and does do its share of tooling around, though a combination of two-inch Pro-Comp suspension lift and 31-inch Bronco Grizzly Claws means on-road handling, never a Samurai strong point at the best of times, is to all intents and purposes absent.
The Pro-Comp lift was already in place when Grant bought the vehicle, and it's something he's never touched. He did, however, lift the body through four inches in order to help accommodate the bigger tyres, using a home-made kit fashioned out of two-inch steel box. 'I looked at lots of pictures on websites and decided I could do that myself. It was just basically the two-inch box sections welded together and bolted up – a bit agricultural, but that's my background! It's crude, but effective.'
Even so, there was a small hitch when he went to put the kit in place. 'There were two mounts I didn't discover until I actually started jacking the body up, and I wondered why it wasn't moving…'
The vehicle's original tyres were a set of Colway MTs. 'I soon found that they're good, but they're not as good as the Grizzly-Claws for what I'm doing. I waited a few months for them – it was just after they'd come out – but since I got them, I've not looked back.'
The Grizzlies are mounted on SJ410 steel rims, chosen because they can be reversed for more offset. Repositioning them in this way involves welding up the valve hole and putting another one in on the opposite side but, once turned round, the wheels allow bigger tyres to be mounted without interfering with the springs. You do need to follow Grant's example and extend your wheelarches, however, as the original bodywork no longer covers the entire tread area.
To help the tyres' famously chunky tread blocks maintain better contact with Mother Earth, Grant's future plans include augmenting the Pro-Comp lift with a set of D-Flex shackles for better articulation. But that's not all, because waiting in the wings is a 1.8-litre diesel engine from a Peugeot 205. Not just any old Peugeot 205, either, but Grant's very own, which he decided to sacrifice after coming to the conclusion that, with the Samurai and Pajero also in the stable, he had one car too many.
The engine that will be moving out to make way for the oil-burner is a standard 1.3-litre unit, which runs an auxiliary electric fan and has been warmed up with a Weber carb. This, reports Grant, is 'alright, but not great. It's better than what was there.' Like most SJ owners running this set-up, he finds that, although the engine is more responsive, it tends to be starved of fuel on steep climbs.
Even though it's only naturally aspirated, the Peugeot unit should put an end to this problem. 'I've heard a lot of stories about them blowing turbos,' says Grant, 'because they get so hot and then you shoot into the water.  Anyway, so long as it's got low-down torque, I'm not worried – I'm not going anywhere in a hurry, not in that thing!'
The conversion, when it goes in, will make use of a Rhino Ray technique involving cutting and welding the Peugeot and Suzuki bell-housings together.
Downstream of the engine and gearbox is a gear reduction kit from Rubbers Suzuki, which lowers the vehicle's overall gearing by 87% and is backed up by a couple of Vitara diffs. This more than makes up for the effect of the taller tyres, which has put a stop to the Samurai's predilection for toasted clutches.
'With the Grizzly-Claws,' says Grant, 'you've got too much grip. Something's got to give, and it was the clutches. But the gear reduction seems to help, touch wood. I've been through two or three clutches, but this has helped no end.'
Once the diesel is in place, another modification will really start coming into its own. This is Grant's home-made snorkel, which was fashioned from 50mm pipe and some flexible hose and is held together by jubilee clips. 'It took a lot of courage to get a big drill and put a hole in the nice new wings, but I did it!' He's also fitted extended breathers to the axles, working on the assumption that with a diesel in place, the snorkel is definitely not going to be just for show.
Even with its 1.3-litre petrol unit, however, the Suzuki has had water more than halfway up its doors. 'It was actually starting to float,' recalls Grant. 'I thought "if this conks out, I'm in trouble…"'
Helping keep the vehicle out of other favourite kinds of off-road trouble are a home-brewed roll cage, a brace of winches and a variety of underbody protectors which perfectly embody the art of the 4x4 engineer. Starting at the top, the cage was added prior to the vehicle's inaugural competitive debut at last August's Argyll Forest Challenge. 'I'd seen a few people having rolls, and I though I should do something about it. So I finally borrowed a bender and made it up from 50mm seamless.'
Unencumbered by the need to meet MSA requirements, the cage is mounted to the vehicle's body rather than its chassis. It's no less solid for all that, though, being laid down on L-shaped plates between the windscreen and bonnet and bolted through to further plates under the dash. The plates in question are made from 10mm aluminium, as are those which carry the rear stays – though in this case they're backed up by a substantial portion of angle iron as well.
The 10mm aluminium dates from the time when, with thoughts of weight-saving still to the fore, Grant sourced some of the material for making up a sump guard. 'I know this guy who runs aluminium-bodied lorries, and he has 8x4ft sheets of the plate for repairs. So I asked him if he could cut me a bit.'
Further protection beneath the vehicle includes 6mm alloy plate and angle iron under the petrol tank and 3mm chequer-plate under the transfer box, mounted on brackets Grant welded to the chassis. 'I spent about £300 on this new gearing for the transfer box,' he says, 'so I thought I'd better look after my investment.'
Then comes the pièce de résistance, in the shape of the vehicle's side steps. No ordinary side steps these, though, because they're also a ground anchor. Yes, really. 'They're too big to go inside the vehicle, so I thought "where can I put them?" And then I thought they'd fit in between the front and rear wheels, so they could double up as side steps.' The steps sit on angle iron, with a pin retaining them, and can be lifted off with just the removal of an R-clip. They're then lashed to the ground, using a set of three-foot pins which live in a length of six-inch drainage pipe in the back of the vehicle, before the winch hook is secured to an eye Grant welded to one of them. 'It's quite simple,' he says, 'and it's never let me down.'
This is the kind of thinking that marks out of the difference between a real-world vehicle modifier and a chequebook jockey with all the toys. And it doesn't stop there, either, because whereas many people prepare their credit card for a sound thrashing when it comes to winch bumpers, Grant instead went to work with another kind of card – cardboard, to be precise, which he used to make templates before tasking a local fabricator to weld up the finished article. Cost? Seventy quid apiece. Read it and weep.
The winches actually sit on additional 10mm steel plates which Grant welded on himself. 'Crudely,' he says, 'but it's on… and it hasn't been pulled off yet.' This despite the best efforts of a Warn M8000 on the front and a Come-Up DV9000 on the back; Grant reckons the former has the edge, being slightly quicker, though obviously each tends to have a very different job. The Warn unit is also the only one with Plasma instead of the infernal steel cable, but this is something that will be remedied as and when funds allow. The winches run on a split-charge system, at the heart of which is an enormous 600-amp Varta battery. 'It's never let me down,' says Grant. And given that it's about the same size as the Suzuki's engine, nor should it.
Further essential off-road equipment includes a brace of waffles, which are carried in alloy holders on the back door. 'I saw the idea in a magazine and decided to copy it,' admits Grant, 'because they need to be accessible quickly and easily. So I removed the spare wheel and again made up cardboard templates, though this time I cut up the alloy sections myself and gave them to the fabricator.'
Inside, there's the usual recovery kit – a couple of snatch blocks, half a dozen shackles, various towing strops and tree strops (housed under a net on the bonnet), a high-lift jack, spare alternator and fanbelt and a basic toolkit. The original seats have long since been discarded, as 'you might as well have been sitting on the floor' according to Grant. In their place is a pair of Vauxhall Astra GTE buckets which, he reports, are a big improvement.
These are the kind of modifications a real-world off-roader like this is made of. And when they're done well, they help turn the raw material into the sort of prepped-up motor anyone would be proud of. Grant's Samurai may not be a big-budget challenge truck that instantly grabs everyone's attention, but it certainly doesn't hide its light under a bushel, either. Once you start looking at the way it's been put together, you realise what a cleverly thought-out bit of kit it is, too.
That's with one honourable exception, however. As we said at the outset, Grant chose the vehicle for its light weight, and he studiously followed this ethos until he was well into the build. But two winches, a roll cage, huge tyres, lots of protection and an integral ground anchor can only mean one thing, as Grant confirms: 'Saving weight went out the window a while ago. Unfortunately, now it's about as heavy as a Land Rover…'
DIY ROLL CAGE, DIY ROCK SLIDERS, SJ, DIY BODY LIFT, PRO-COMP SUSPENSION, WARN M8000 WINCH, D-FLEX SHACKLES, DIY SNORKEL, GRIZZLY-CLAWS, WEBER CARB, VITARA DIFFS, DIY SUMP GUARD, SAMURAI
Share this article