The X Factor
Originally Published: August 2005
Words: Tim Gibson
Pictures: Steve Taylor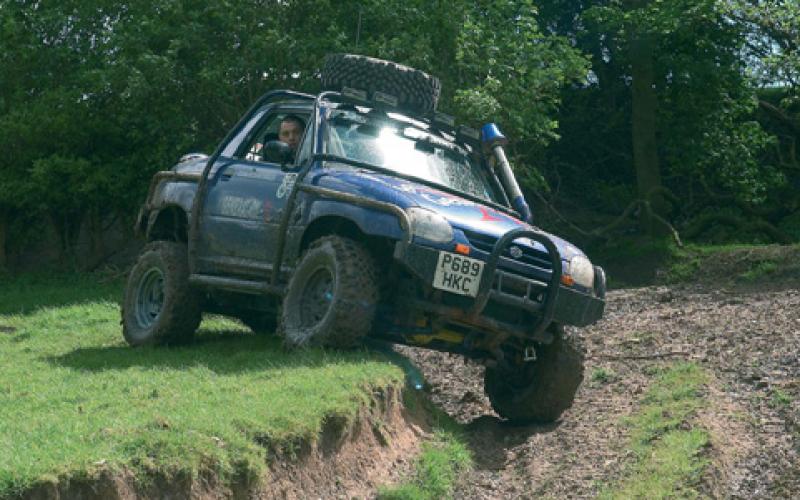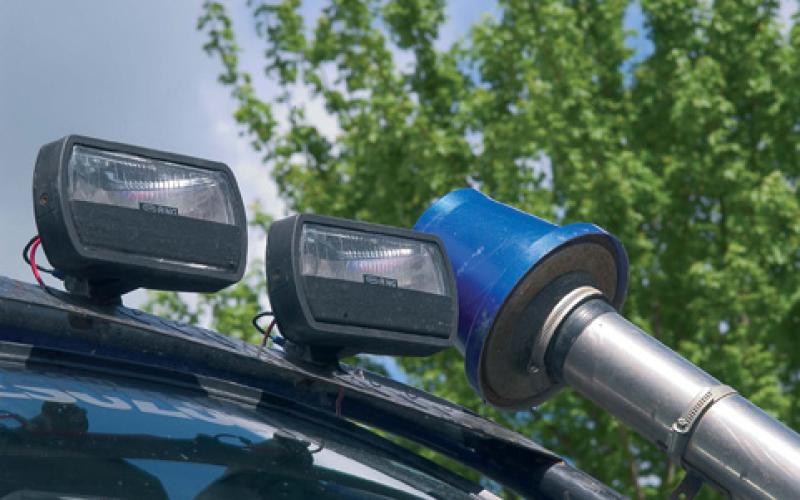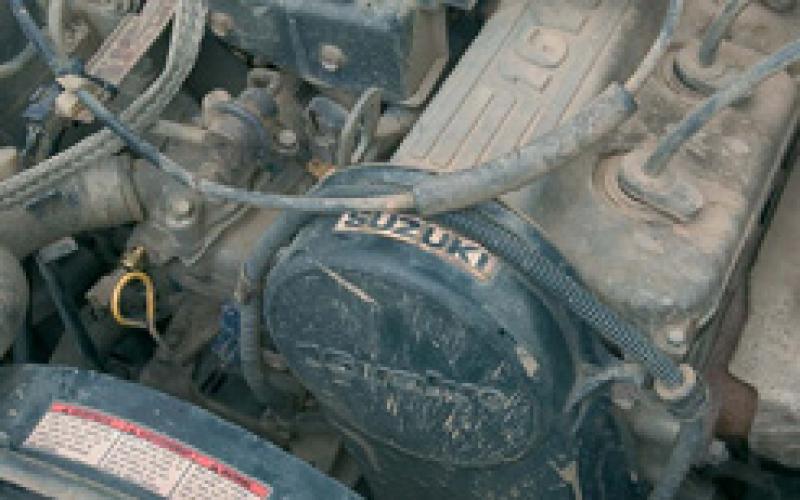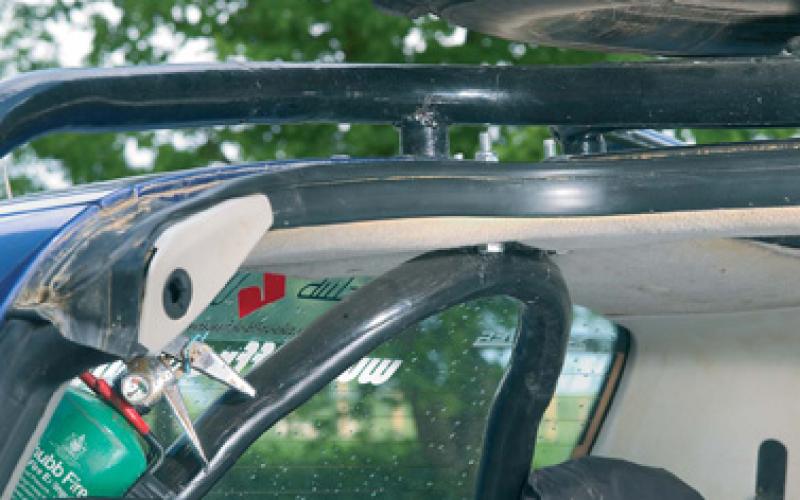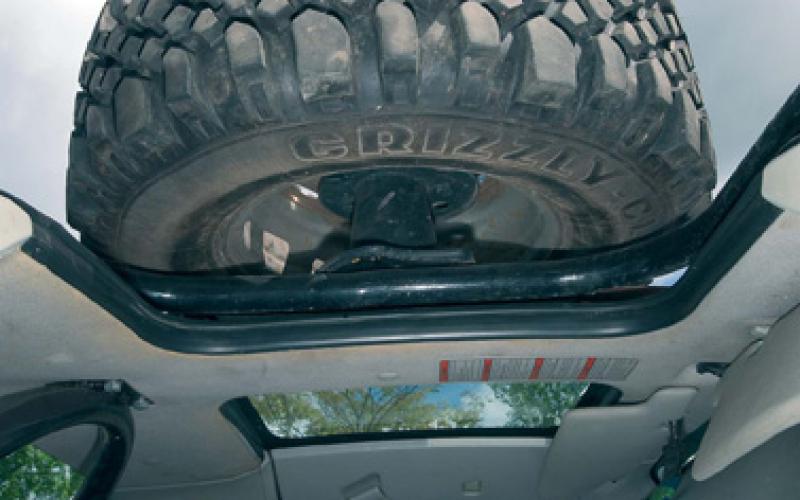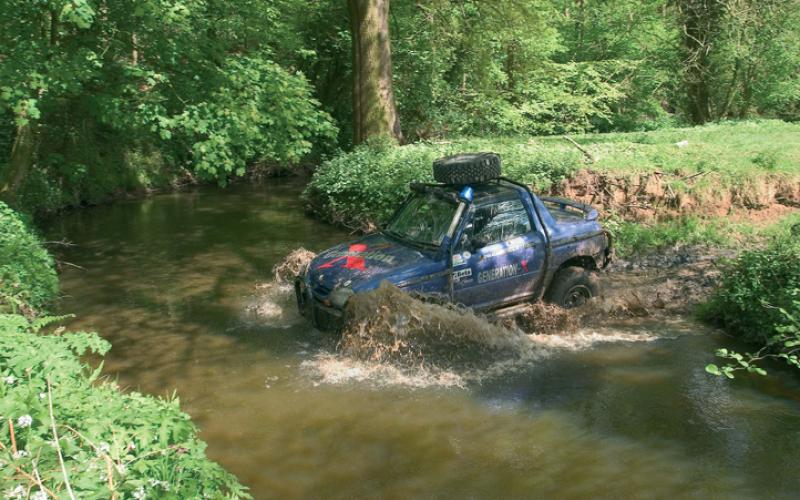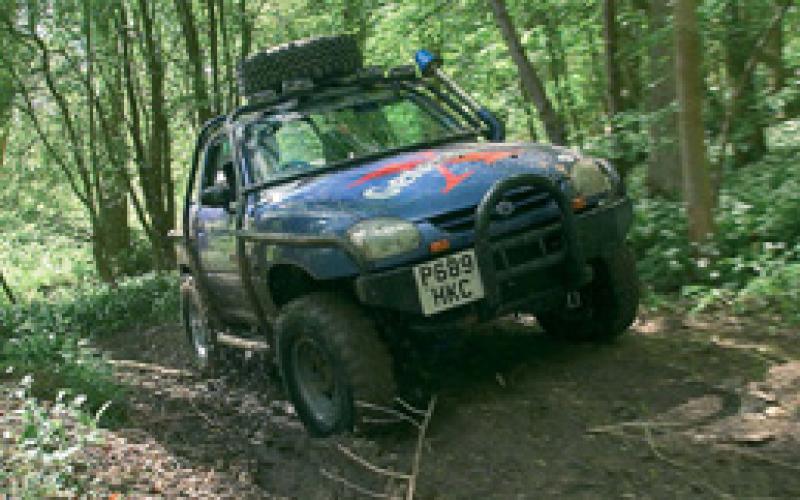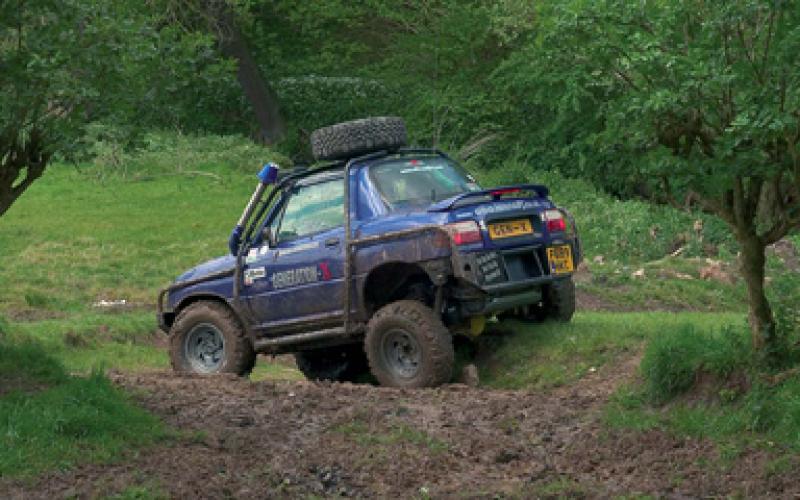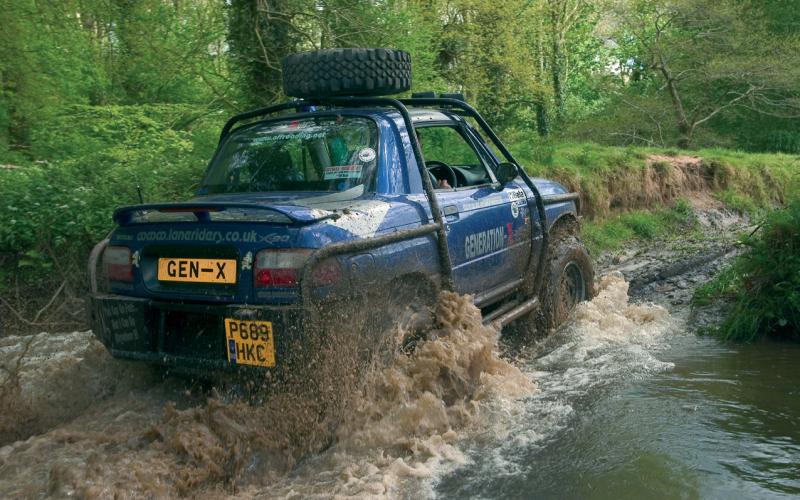 <
>
It's not every day you come across a Suzuki X90 with 31-inch Grizzly Claws, six inches of lift and a custom-made roll cage. And it's not often that a vehicle provides us with such a golden opportunity to use one of the corniest headlines in history.
Since this magazine launched in 2002, we've featured a host of different off-roaders. There have been Land Rovers, Suzukis, Suzukis built on Land Rovers, Isuzus, Toyotas and even a Ford Fiesta. But in all that time, two particular marques have appeared in these pages more than any other. The first, and perhaps most obvious, is Land Rover, whose 90 is regarded by many as the ultimate off-road truck.
The second, of course, is Suzuki. Once derided as a 'hairdresser's car,' the SJ is now famous for its amazing off-road ability – and the Vitara, which came on to the mud-bashing radar at about the same time as we did, has become the vehicle to own if you want a cheap but reliable 4x4 that'll take you shopping but still be up for some serious off-road action.
That's fantastic news if you spend your time writing about such vehicles, and even better if you're an enthusiast who wants to get their hands on one. An entire modifications industry is now supported by the Vitara alone and there are innumerable clubs and internet forums dedicated to the marque.
Just occasionally, however, you come across an enthusiast whose desire for something different puts them off following the tried-and-tested Vitara route. Three years ago, sticking one on oversized tyres and fitting a suspension lift represented something out of the ordinary; now you've got to be fitting a live axle to the front end or installing ARB diffs if you want to beat a different path.
Alternatively, you could follow Simon Touron's lead and buy a vehicle that has the same mechanical underpinnings as a Vitara… but a completely different body and image. Then you could install a variety of off-road goodies that come from the Vitara market to create a truck that has all the virtues of an extreme Vitara but an appearance all its own.
The vehicle you see in the pictures is a Suzuki X90. Mechanically, it is identical to a short-wheelbase Vitara, but few people have ever thought to treat one as a serious off-roader. In all honesty, they've got a bit of a soft image for that… in its day, even hairdressers in their pink soft-top Vitaras thought the X90 was a bit on the girly side.
Like Frank Bruno in his days as a pantomime dame, however, the X90 was still more than capable of packing a punch. Combine this with its toy-spacecraft image and the fact that even the best examples struggle to fetch more than three grand, and you've got the perfect off-roader for the extrovert.
Simon, for example, bought his X90 knowing it would make an attention-grabbing off-road plaything, not least because its presence alongside vehicles like Vitaras, Samurais and Land Rovers would be totally unexpected. 'I used to run SJs,' he explains, 'but was eager to have something different. The X90 offers the perfect combination of Suzuki reliability and off-road prowess and is also a little bit unusual.'
Given its close relation to the Vitara, you won't be surprised to find that the X90 is powered by a 16-valve 1.6-litre petrol engine that delivers an adequate turn of speed both on and off the road. Transmission also comes via the same five-speed manual gearbox used in the Vitara.
'I want the truck to be the biggest and best around,' Simon declares. He has christened the vehicle 'Generation X' and is a popular presence on various Suzuki internet sites, as well as the founder of Shropshire Suzuki Club. With his lofty ambitions for the vehicle in mind, he used a three-inch Calmini lift kit to upgrade the suspension. This is a Vitara set-up that bolted straight on to the X90 by virtue of the similarity of their components. 'Calmini doesn't manufacture an X90-specific upgrade,' he says, 'but it was no trouble to fit the Vitara kit.'
Simon was aware of a Rocky Road design intended specifically for the X90, but opted against this because it only provides a 2.5-inch lift. This would have made room for nothing taller than 30-inch tyres, and he had his heart set on fitting 31-inch rubberware.
Augmenting the raised suspension is an Overland Components three-inch bodylift, again intended for the Vitara but easily transferred to the X90. Simon installed this himself – taking a total of eighteen hours to fit both the body spacers and the suspension lift in one marathon workshop session. Once this was achieved, he'd created sufficient room beneath the wheelarches for a set of 31x10.50R15 Bronco Grizzly Claws on fifteen-inch alloy rims. He's really pleased with these for both their cosmetic appearance and their off-road performance.
As far as Simon knows, there is only one other similarly modified X90 in the UK, so the car scores pretty highly in the individuality stakes. He intends to fit one-inch spacers to the coil springs in order to generate even more clearance, which will push his ride height up by seven inches in comparison to standard derivatives.
As an experienced off-road modifier, he is aware that this will put a lot of strain on the remaining Suzuki components, and regards this as placing limits on the extent of future modifications. 'I want a big truck,' he ruminates, 'but I also want it to be reliable. In the end, the project's confines are dictated by the strength of the standard parts that I leave unchanged.'
Having said that, only one differential has broken in the 18 months that Simon has owned the X90. Given that he started modifying it the month after picking it up, and has been off-roading it regularly ever since, that isn't bad going. This seems to justify his decision not to upgrade the axles in an effort to compensate for the increased strain of aggressive and oversized tyres. He feels the cost of a second-hand axle is cheaper than performing any modifications, so he is happy to keep things as they are for the meantime.
Another corollary is that the X90 continues to run with open differentials and Simon has no plans to change this either. 'I don't very often struggle to maintain traction,' he reports, 'and I think the installation of lockers would be a case of over-engineering.' At the moment, the car's weak spot is its front axle, and even if this breaks the part-time transfer case means it is still possible to drive the car home. Even a relatively tame modification such as a limited slip diff would put increased strain on the halfshafts, and it's a risk Simon is as yet not prepared to take.
An estimated 70 members belong to Shropshire Suzuki, and Simon built the club around Generation X. Regular club activities include green laning trips and fun days, and Simon is always on the lookout for new members who share his passion for all things muddy. He and fiancée Vicky are regulars at the annual Rhino Rally and always look forward to meeting Suzuki owners who share their passion for modifying and driving off-road.
Although Simon has kept faith with the standard X90 engine and gearbox, he has removed the airbox and fitted Ford Sierra HT leads. These are cheaper than the Suzuki components and are also proving to be considerably more reliable. 'I went through eight sets of Suzuki leads in eight months,' he laughs. 'I haven't had to change the Sierra parts since fitting them.'
He's also fitted a Centreforce clutch for smoother gear changes, along with a Samurai transfer case. This cancels out the gearing effect of the taller tyres to bring the overall drive ratio back to normal; Simon thinks it is an effective and reasonably inexpensive modification to make to both X90s and Vitaras.
One modification Simon is considering performing in the future is the installation of a Lobster transfer box (available from Rob Store), which offers the option of two-wheel drive while in low range. As far as he knows, there isn't even an X90 in the USA with this modification, so it would have the extra benefit of adding to the vehicle's uniqueness.
Standard brakes reflect Simon's lack of concern for the disc conversions that are popular among Vitara modifiers, while the roll cage is yet to be used in anger. Simon spent six months designing it and enlisted the help of a friend in fitting it to the car. That took place in March 2005 and he is still reluctant to damage the cage by rubbing against trees during tight cornering off-road. Nonetheless, he is pleased with the valuable peace of mind it delivers and expects to become bolder as the vehicle ages and the steel tubing picks up a few battle scars.
Another custom-made feature of the car is the front winch bumper. This will soon be adorned with a Warn 6000, which Simon currently has on order. Once that is fitted, he will augment the standard battery with a larger auxiliary unit and fit a split-charge system in place of the current Suzuki alternator. This will also deliver more reliable support for the other electrical extras that are fitted to the X90, including a CB radio and a range of driving and work lamps.
Including a full rebuild of the engine and the initial purchase price, Simon estimates that Generation X has cost him no more than £4000 to date. That's not bad when you consider that it is a highly capable off-roader as well as a perfectly usable daily driver. Despite his belief that he's close to reaching the limits of what is achievable without going over the top in terms of modifications, he is genuinely pleased with the vehicle's performance. 'I can't think of anything else that I'm desperate to do to the vehicle,' he remarks. 'I'm happy just to concentrate on enjoying driving it for a while!'
Such sentiments reflect the sensible approach Simon adopts towards his pride and joy. He is aware of its limits – something reflected in his responsible driving style as well the modifications he's willing to perform – and he is happy to stay within them while enjoying the many benefits associated with owning an off-road-prepared X90. These include the usual pluses of Vitara ownership, of course – cheap parts, plentiful mods, a great club scene and excellent off-road ability. In addition, however, Simon also has the satisfaction that comes from driving a vehicle the like of which is rarely seen in serious mud-plugging circles.
Generation X may have a similar technical specification to many of the Vitaras we've featured in this magazine over the years… but, on appearances if nothing else, no one could deny its credentials as a truck that is just a little bit different.
DIY ROLL CAGE, DIY BUMPER, CALMINI SUSPENSION, X90, OVERLAND COMPONENTS BODY LIFT, CENTREFORCE CLUTCH, SAMURAI TRANSFER CASE
Share this article