Standard Bearer
Originally Published: October 2002
Words: Alan Kidd
Pictures: Alan Kidd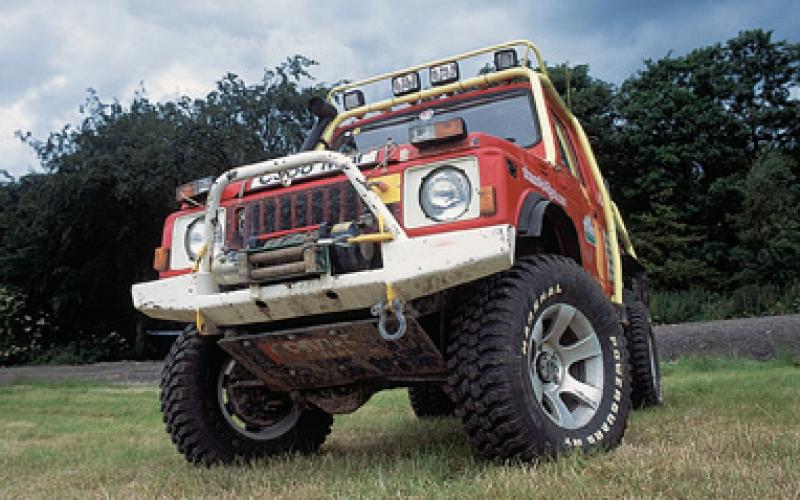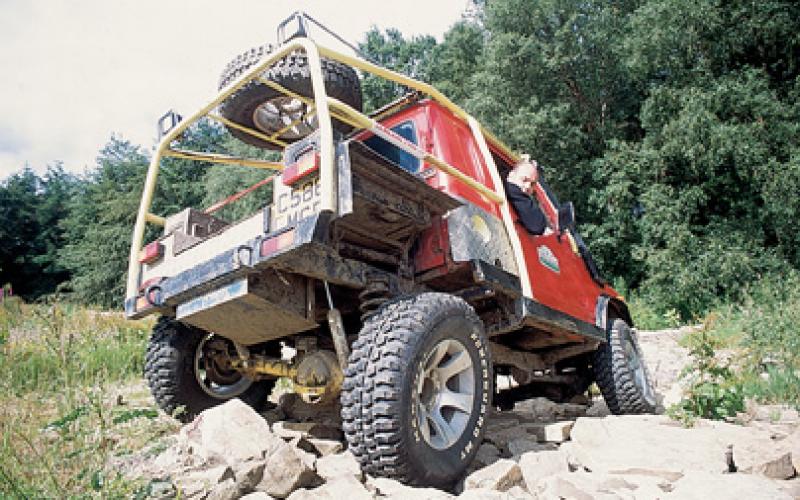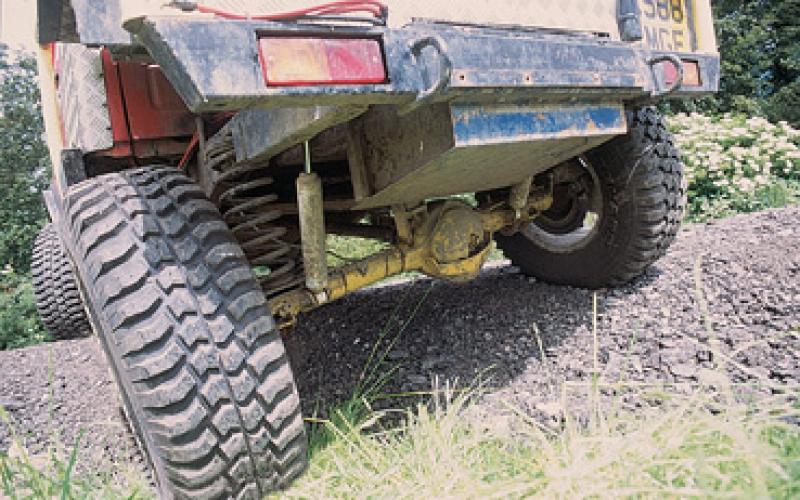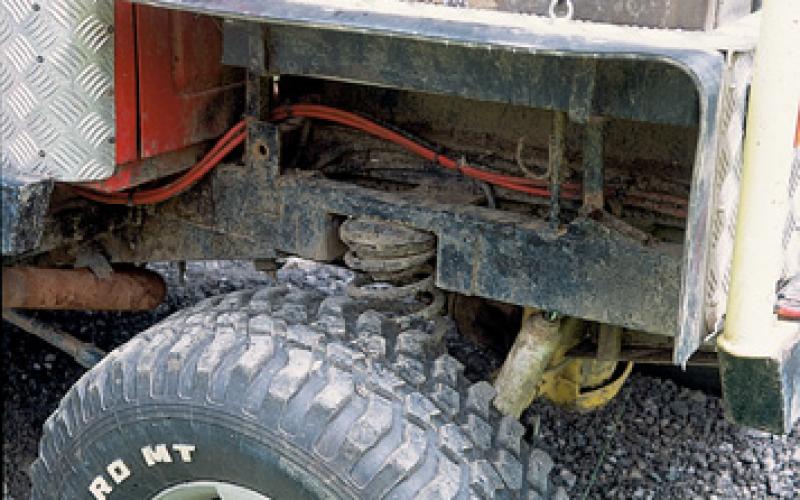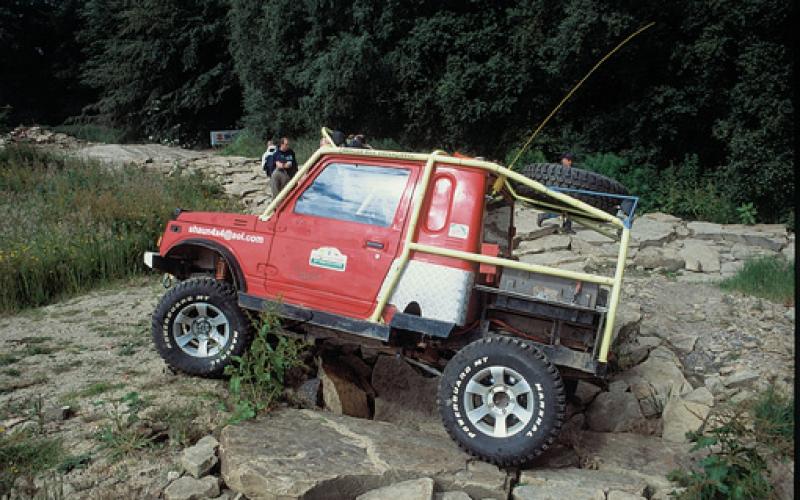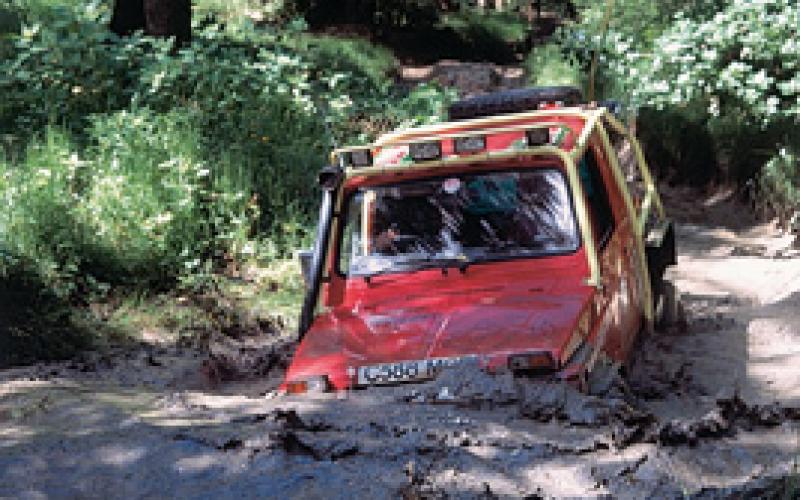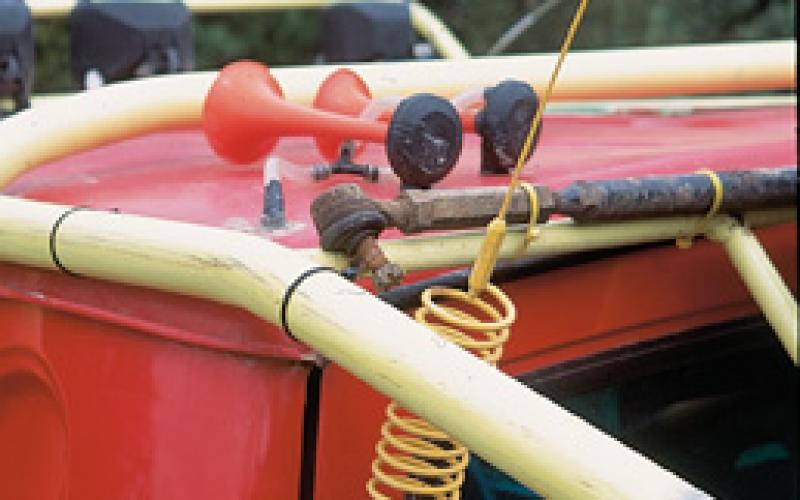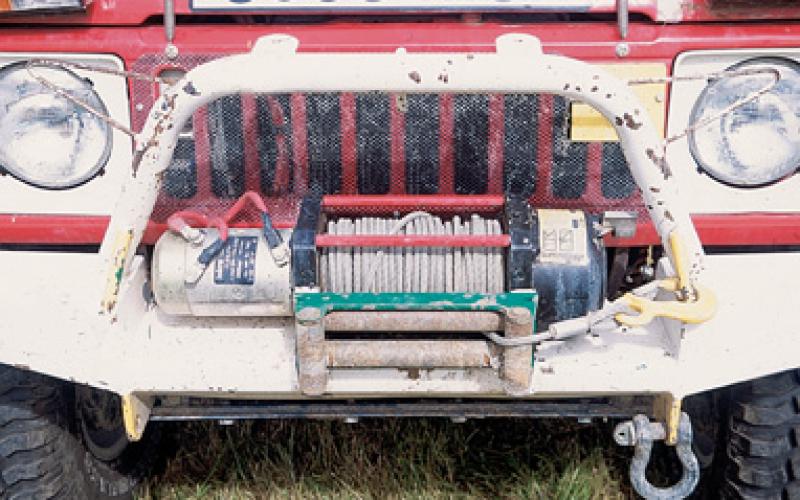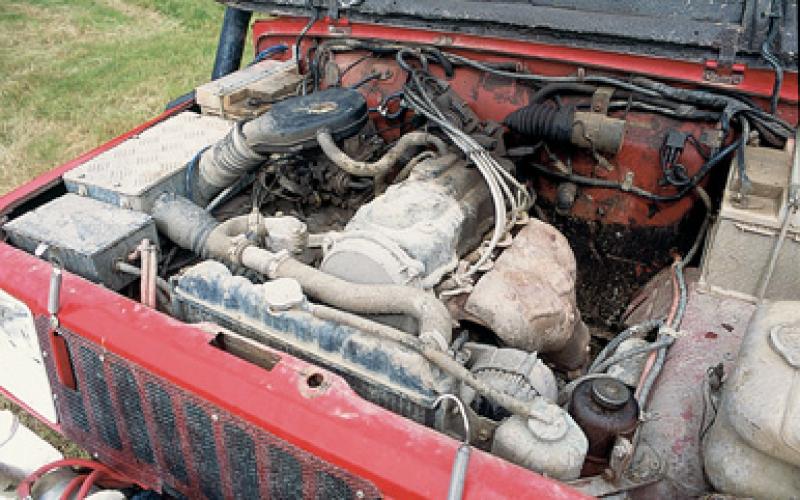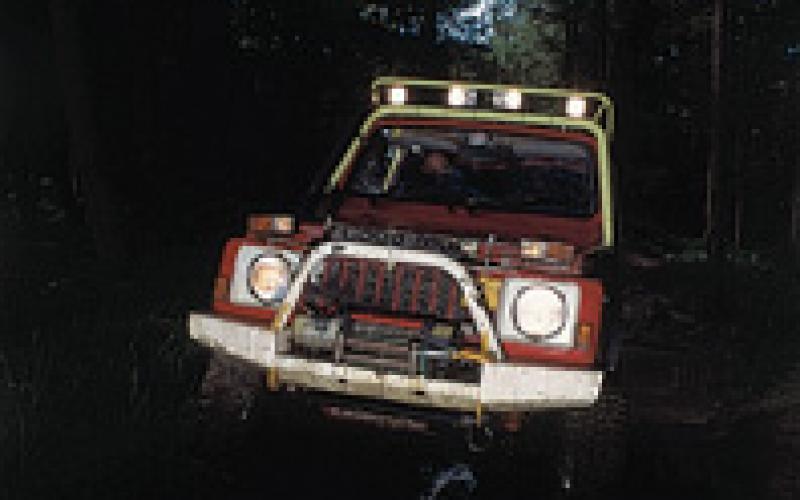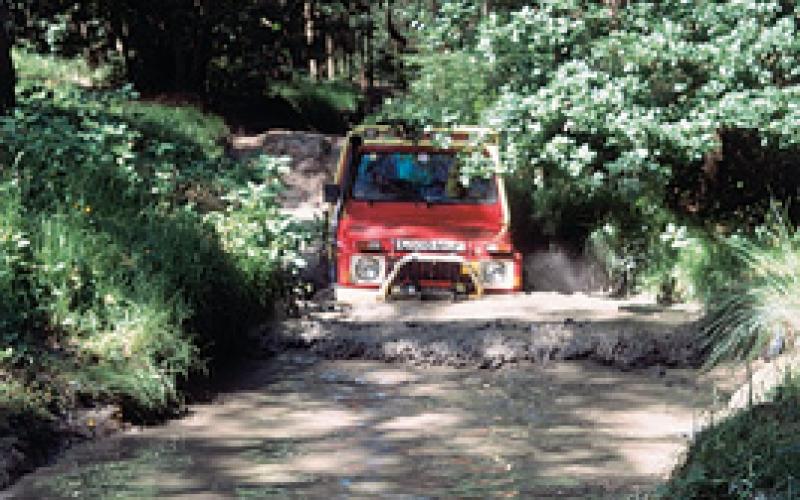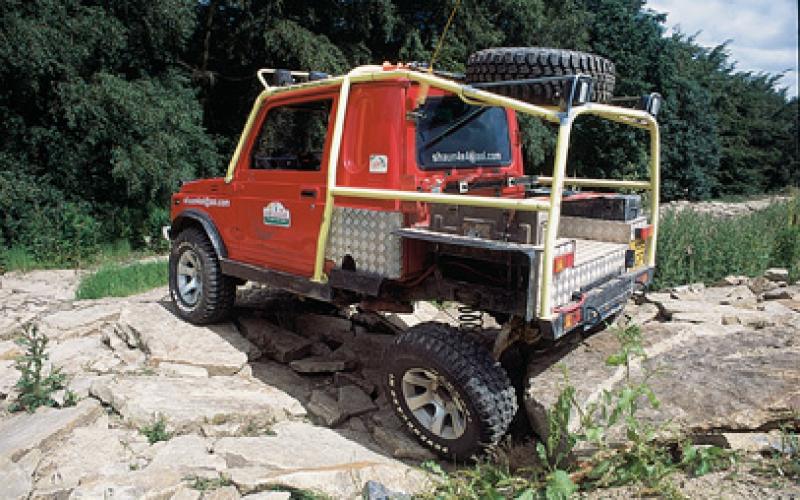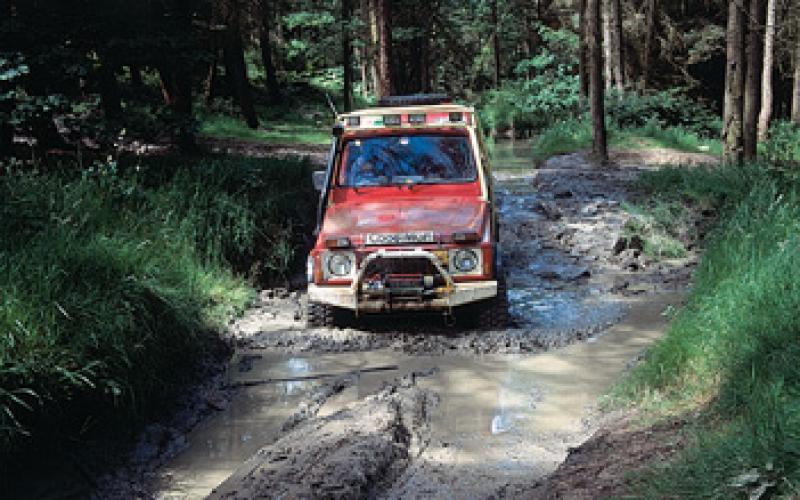 <
>
Building a serious off-roader isn't always about using off-the-shelf conversion kits. Shaun Briggs' Suzuki SJ has been modified in every way – but by and large, the bits it's made from are straight from the factory's own parts bin.
Four-wheel drive and a sense of humour.' That's Shaun Briggs' prescription for successful off-roading. And he should know. An auto-electrician from Essex, he's worked on most makes of 4x4 – as well as competing in some of Britain's toughest events. And when he's not out there getting covered in mud, you'll find him in his workshop, modifying Suzukis to cope with the sort of off-road action that would push most people's sense of humour to the limit.
Shaun's workshop was responsible for the heavily modded Grand Vitara that appeared on the front cover of last month's Total Off Road. He's also built a number of SJs – including his own, which is what you're looking at here.
In keeping with so many 4x4s, Shaun's Suzuki entered the world of heavy modification after one visit to off-road land. That's 'off-road' in the 'someone had better call an ambulance' sense of the term… in this case, a long-wheelbase SJ pick-up had been rolled, trashing its body and leaving Shaun with one very nice, and suitably cheap, basis for a project.
With the vehicle already in pieces, part one of the project had been very thoughtfully completed by the SJ's previous owner. But that did leave Shaun needing to sort out some new panels – his solution was to take the body from a short-wheelbase SJ hard-top and cut a foot out of its length to create a windowless king-cab, minimising the likelihood of ugly experiences with trees while at the same time leaving enough space to stow off-roading gear out of the reach of pond life.
All the same, simply truck-cabbing your 4x4 is by no means a guarantee that it's going to remain free from expensive incidents, especially when you use it for the sort of extreme off-road challenge events Shaun's into. Besides, once a vehicle's been rolled once…
Hence the cage, which Shaun made up himself. He's a firm believer in externally mounted cages for this kind of off-roading, for the very good reason that their main task is to protect the bodywork when you're sliding a tree along the side of the vehicle. All the same, they can also come in quite handy if you decide to stuff the vehicle upside-down into Planet Earth, which is why it goes all the way to the chassis in the approved fashion.
Welded to the other side of the chassis is a set of suspension mounts the likes of which you won't have seen before on a vehicle like this. That's because this is that rarest of beasts, a coil-sprung SJ.
There are those in the world who've built coilers out of everything from VW Beetles and MGBs to old Land Rovers and Jeeps, and even the odd SJ, using the tried and trusted technique of shoving a Range Rover chassis underneath them. Not so Shaun; this is a coil-sprung SJ on its original chassis.
The suspension layout is roughly similar to that of a Land Rover 90, with coil-over shocks at the front and separate units at the rear.
The former came from Scorpion Racing, while the shocks at the back are from Explorer Pro-Comp. Using standard Suzuki axles, modified to accept the Range Rover radius arms by which they're located, the system lifts the vehicle by four inches, accommodating its 31x10.50R15 Marshal Powerguards and giving it fourteen inches of travel at the front and a massive nineteen at the rear.
Inside the axles, it's all stock-as-a-rock Suzuki. 'I've tried to keep everything so that if I break something, I've got a chance of finding it,' explains Shaun. 'So it's standard Suzuki axles, standard halfshafts, standard props, standard diffs… everything else is standard, so that if I'm away and I break a diff, if I break a halfshaft, I can try and source one.'
Not that Suzuki transmissions are known for breaking. Upstream from the axles and props are the gearbox and transfer box from a 413, while beyond that the vehicle's original 1.3-litre Samurai engine has been replaced by the 1.6-litre unit from a Vitara. This is fed from a custom 86-litre fuel tank and runs a waterproofed Weber carb, which gets its air through a home-made snorkel. The engine also drives a Vitara power steering box, whose mountings have been modified to suit its new home, and gives vent to its feelings courtesy of a Pipercraft exhaust – in true sportscar style, this exits at the side of the vehicle to help liberate a few more horses from beneath the bonnet.
Nothing about the drivetrain has been modified to cope with the extra power, though from what Shaun has found, it's unlikely to need it. As we noted last month, he's turned up several stories of people using Vitaras off-road and breaking their front diffs, and has found that the answer is to use an SJ unit instead – despite the smaller vehicle's comparatively puny power output, it's built for far more serious work and as a result its diffs are stronger.
With so much more go than the average SJ, it also makes sense to have that much more stop. This is taken care of by a neat conversion using front discs and calipers all-round – as well as being better at bringing the vehicle to a shuddering halt in a shuddering hurry, there are obvious benefits in having common parts at every corner when it comes to taking a spares kit with you on an event.
If you read last month's article on Craig Langley's modified Grand Vitara, it won't surprise you even one little bit to know that Shaun hasn't skimped on electric power for his SJ. Whereas there are vehicles twice its size that make do with one battery and one alternator, the Suzuki has no less than four of the former and two of the latter – it has a 12-volt system for itself and a 24-volt circuit for its front-mounted winch, for the extremely good reason that when you're taking part in the kind of event that requires you to do the sort of stuff most sane drivers would take a 500-mile detour to avoid, the last thing you want is for your electric system to run out of juice.
The winch itself is mounted on a bumper supplied by Rhino Ray's Trick Bitz… if you weren't expecting Mr E to put in an appearance sooner or later, it's because you're new to all this, in which case don't worry, you soon will. This is part of a hybrid armouring system which also includes rock-slider sills, home-made by Shaun, and further DIY parts in the shape of front and rear diff guards and underbelly protection.
These, like the rest of the vehicle, were tested in the most unscientific manner available at the time, which basically means Shaun fitted them up then went out and had a good time trying to knock them off again.
'We finished it on the Monday, put in on the boat on Tuesday and basically thrashed it for seven days in Portugal. I kept expecting something to break; I was really surprised that it came through unscathed.' And you thought it was only major manufacturers that took their vehicles to exotic foreign locations for endurance testing. One critical problem Shaun did have to face up to at this point, however, was that there are no decent radio stations in Portugal. He was, therefore, compelled to fit a CD player – not exactly the stuff of serious off-roading, but an important accessory nonetheless if you intend to get involved at an international level. After all, there are still countries where David Hasselhoff is a big star.
Moving swiftly on, the CD player shares a dashboard with those altogether more familiar off-road staples, a CB radio and GPS navigation unit. Not that there's too much on the SJs original dash, because Shaun built a second one to house the switches for all the vehicle's various ancillaries.
Apart from that, and the small matter of a pair of Toyota Corolla GTi seats, the vehicle is pretty standard inside. Which of course means it's not standard at all, especially when you remember the fact that you're sitting in an SJ that's halfway between being a pick-up and a van.
It's easy to be seduced by spectacular 4x4 modifications, but for every loadsamoney 90 there's a dozen or more everyday off-roaders like Shaun who've done it all themselves using a bit of knowledge and a lot of imagination. He's modified some parts, scratch-built others and put together a very capable truck that's got 'real world' stamped all over it. He swapped a set of tyres for those Vitara alloys, for example: no need to buy new when you can get something just as good with a bit of wheeler-dealing.
As Shaun says, it's all about four-wheel drive and a sense of humour. You don't have to look very far in the off-road world to find people who have plenty of one and absolutely none of the other, and putting your sense of fun before your competitive spirit might not win you many trophies – but this is an SJ that's been more places than most, and one that's given its owner a lot of good laughs both in the workshop and halfway up many a Welsh mountain.
And it's built almost completely from standard parts and home-made accessories – which means that you, dear reader, can emulate Shaun's feats without being either an engineering genius or heir to the Getty billions. If you don't want your kids to starve but you do want to be inspired in the quest for ultimate 4x4 fun, Shaun Briggs is the perfect standard bearer for off-roaders just like you.
Share this article