Park Life
Originally Published: July 2007
Words: Alan Kidd
Pictures: Steve Taylor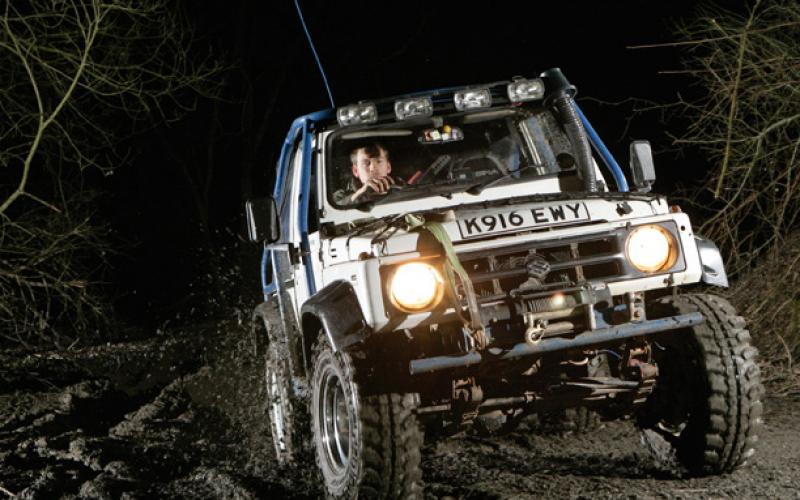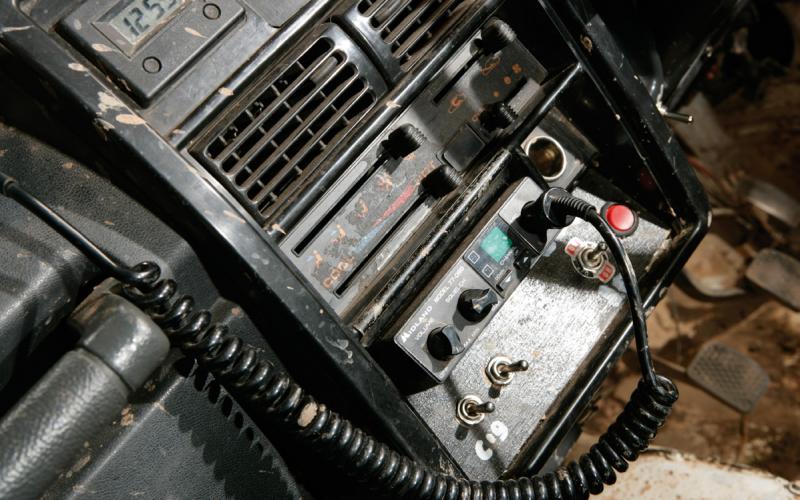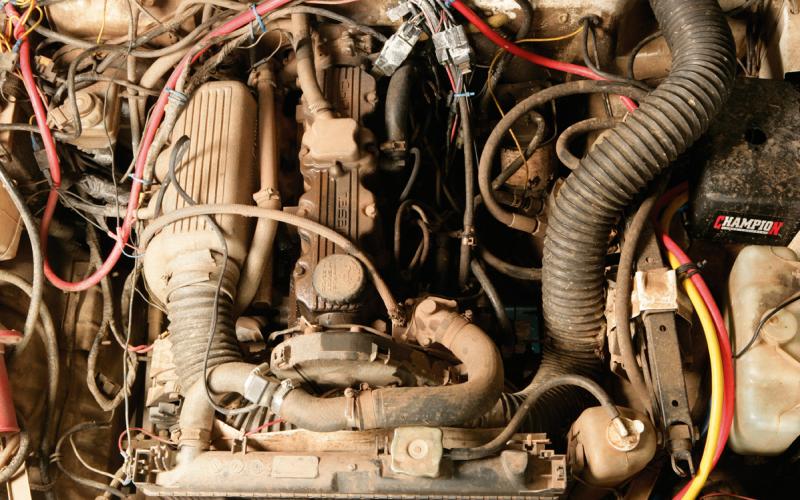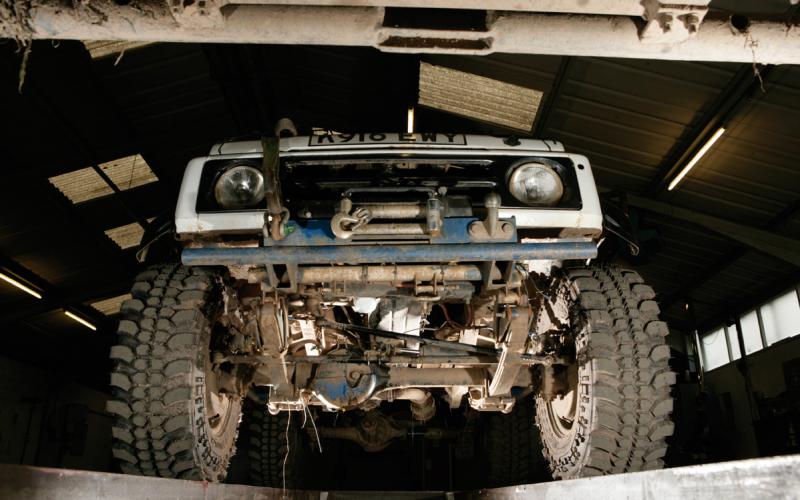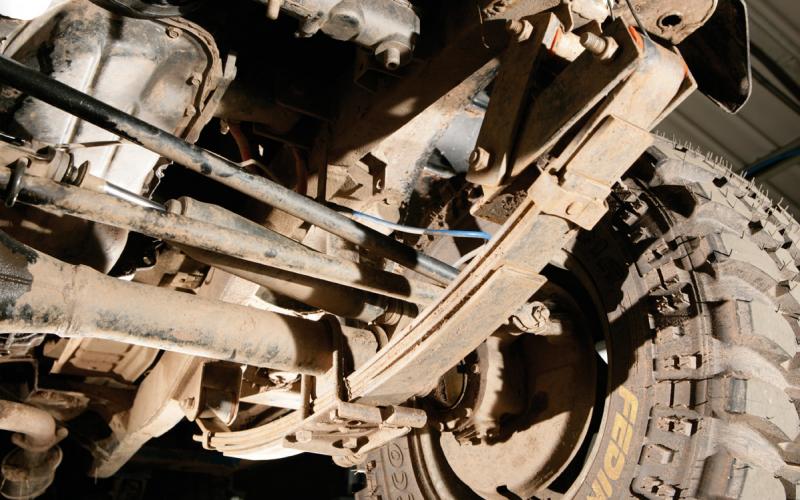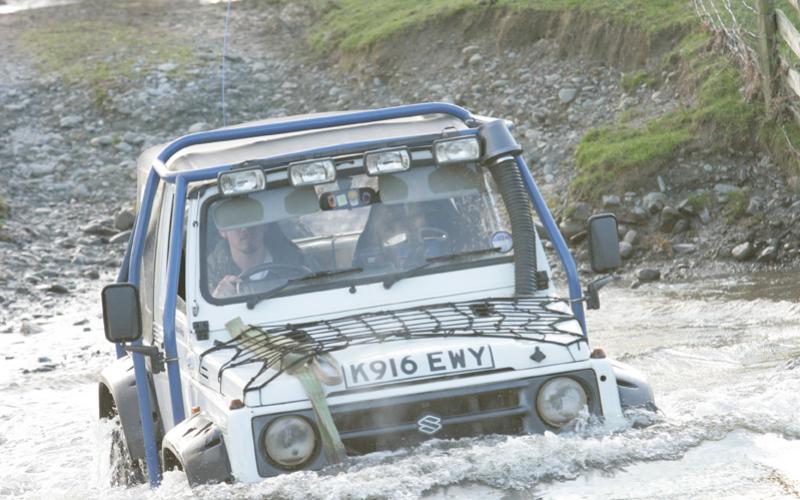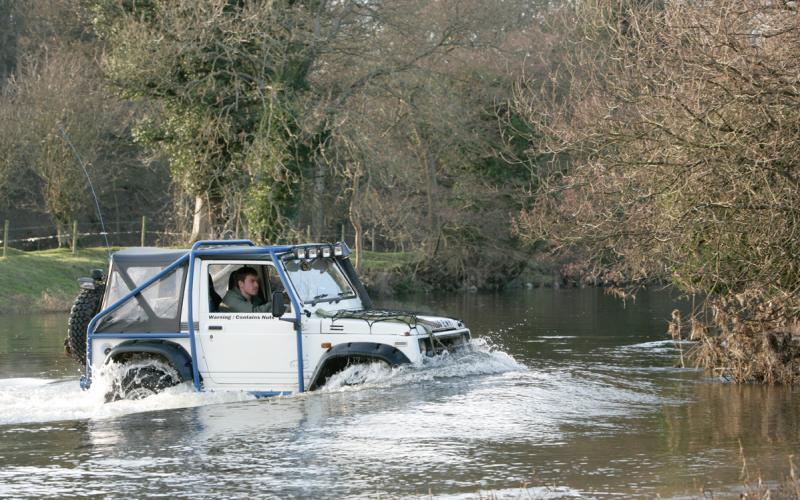 <
>
Mike Hatton's interest in off-roading was spawned by a game called 'extreme parking.' But the Suzuki he's built as a result is a lot more than just a show-off's shopping cart…
One of the great truths of the 4x4 market is that the vast majority of people who buy an off-roader do so not because they want to go off-road, but because they want to tow. That's the case for almost every vehicle, though if there's been one exception in the entire history of 4x4s, it would be the Suzuki SJ. Not where Mike Hatton's is concerned, though. You wouldn't guess it to look at the vehicle now, but three or four years ago it was a standard SJ – and Mike's brother bought it specifically to tow an inflatable boat the two of them own.
'He used to break it, I used to fix it,' says Mike. He learned how to do this from his dad, who's always dabbled in mechanical matters, and is now at the stage where he can do most things apart from the more complex engine and gearbox work.
Mike's dad played a fairly central role in encouraging the next stage of the Suzuki's development, too. 'He used to have a Trooper, and his mate had a Sportrak. They dabbled a bit with off-roading. They used to play at extreme parking… if you could leave your vehicle with one wheel about three or four feet in the air, park it up like that and go shopping…'
No surprise, then, that Mike soon started exploring the Suzuki's off-road abilities. Based in the Wirral, he's handily placed for some of Britain's best sites, including Tong – a bit of a drive away, but worth every mile and more.
First time out, with the SJ still in standard form, they met another Suzuki driver whose vehicle boasted various mods including Teraflex shackles, lowered gearing and so on. 'He dragged us round the site, basically! We gave as good as we could, but he dragged us the rest of the way. We had an absolutely brilliant time. We said to him that next time, we'd come back in something a little bit better… Next time we saw the Suzuki, it was a diesel with big tyres and so on…'
The engine might have happened anyway, but its arrival was originally prompted by the fact that the original Suzuki lump was giving up the ghost. It was the cue for a very wide-ranging programme of mods, including the suspension work that allowed those bigger tyres to go on – and the project has continued apace ever since. Mike bought 50% into the vehicle at this point, though since then it's become apparent that he's the only one getting the time to use it, so he now owns it outright.
That's as it should be, because having done so much to it himself, he's stamped a large part of his own personality on the vehicle. So much so that we had to talk him into letting us take the pictures you see on these pages, because he wasn't happy with the front bumper (which is more than likely to have been changed by the time you read this).
And why not? Even if your vehicle's been built for taking the dirt and damage that comes with a lifetime of extreme off-roading, there's nothing wrong with being proud of the way it looks. And Mike has plenty to be proud of. After all, this is a man whose introduction to the gentle art of off-roading came in the form of being able to park with a wheel further off the ground than anyone else…
One suspects that if he wanted to play that game, Mike might find his Suzuki's new-found levels of articulation militating against him. Not that extreme parking is what he's about these days – there is, after all, a whole world out there just waiting to be conquered. And you have to say that given the inclination on the part of its owner, this is an SJ which looks capable of being parked more or less anywhere.
Chassis
Standard chassis strengthened around transfer case
Winch bumper welded to chassis with 10mm spreader plate
The SJ's chassis is famously robust, and aside from the section around the transfer case, has only required a little welding here and there to beef it up. The bumper mounts take the brute force award, though – Mike used 10mm plate as it's what he had lying around, but he has the added bonus of knowing that he won't care if he bends it, because he'll be in hospital.
Protection
Basic rear diff guard
Original tank guard still in place
Cage-mounted rock sliders
'To be honest,' says Mike, 'I haven't really had any problems with it. I don't seem to wipe things off… I don't know why!'
Body
False floor across top of rear arches
Recovery gear and second battery in pick-up bed
Ground anchors and waffles mounted on false floor
Strengthened back door hinge
10-litre jerry can on handle side
Land Rover door mirrors
This is an SJ that's been carefully thought through – and whose current make-up is the result of much experience.
Mike was never happy with the original mirrors, for example, and replaced them with a set from an Isuzu Trooper. But having broken one, he found that they were hard to replace – hence the move to Land Rover mirrors, which he says are ideal as they fold in on arms rather than the actual swivel.
The rear door – 'one of the heaviest you'll find on an SJ' – is original, but the hinge now bolts to the wing as well as a plate from the back bumper. Talking bumpers, the one at the front has a habit of getting dug in, so a Macsport 4x4 unit is on the way to replace it. Mike originally had a Rhino Ray front bumper, but a tree crashed into it…
Recovery
Champion 8000 winch
Steel cable
Dedicated winch battery
One of the things you learn in this job is that it's impossible to find anyone with a bad word to say about Champion. 'I'm very happy with it,' says Mike. 'I'd definitely buy another. It's a good budget winch, and they've got a great reputation for after-sales service.'
While the vehicle does run two batteries, they're not on a split-charge system. The second is just for the winch, and is wired straight through for simplicity and reliability. 'I've winched the entire length of the cable,' says Mike, 'pulling a stricken Landy across a very boggy field, and it was fine.' The standard steel cable is there until it wears out, after which it will be replaced by Plasma.
Engine
1.7-litre GM diesel
Free-flow exhaust
Air-filter on roof
Many people have put many engines into Suzukis, but this is the first we've come across with a naturally aspirated Astra diesel. It produced the same sort of power as the original Suzuki unit, but this is backed up with loads of torque. With no turbo, it's lazy and unstressed, meaning reliability should be excellent.
Fitting the engine is less fiddly than some conversions, though Mike reports that the exhaust runs very close to the steering column. There's also a tendency for it to run hot in the summer, even with a thick-core Vitara radiator in place.
Drivetrain
Opel Manta gearbox
SJ410 transfer box with SJ413 gears
Standard props and axles
The hybrid transfer box, which takes advantage of the difference in size between 410 and 413 intermediate gears, is a popular conversion. It provides proper crawler gears, taking second low down below where first low used to be.
Wheels & Tyres
Offset Mangels steel rims
Fedima 31x10.50R15s
Many off-roaders carry air compressors, but Mike reckons he's found a cheaper alternative. The Suzuki's back end contains a diving cylinder with a regulator, PCL couplings and a tyre inflator, which he says empties and refills the tyres very reliably. And of course, this system doesn't depend on the car to power it. It needs refilling every few months, which costs £12 – and costs less than £100 to install.
Steering
Jimny PAS box
Renault Clio electronic PAS pump
Steering stops removed
Wading
Home-made snorkel built from flexible tubing
Breathers tied in with plumbing fittings and run up behind seats
The location of the breathers is unusual, but Mike has a very good reason for it: 'If something goes wrong in one of the diffs or the transfer case, it gets hotter. You get a good whiff of gear oil, so you know something's wrong.
'When you get to know your truck so well,' he continues, 'you know every squeak and rattle, and you get to know the smells as well!'
Suspension
+3" Ironman rear springs at front
+3" Calmini rear springs
Vauxhall Astra front shocks
Ford Transit shocks on rear
D-Flex shackles
Cage
Six-point cage mounted to chassis
Made from Cubman 500
Weighs less than 80kg
Inside
Bucket seats
Harnesses and seat belts
DIY ROLL CAGE, DIY BUMPER, SJ, DIY SNORKEL, CHAMPION 8000 WINCH, ISUZU DIESEL CONVERSION, ROCK LOBSTER TRANSFER BOX, SUZUKI JIMNY PAS BOX, IRONMAN SUSPENSION, CALMINI SPRINGS
Share this article