Cavalier Attitude
Originally Published: March 2006
Words: Tim Gibson
Pictures: Steve Taylor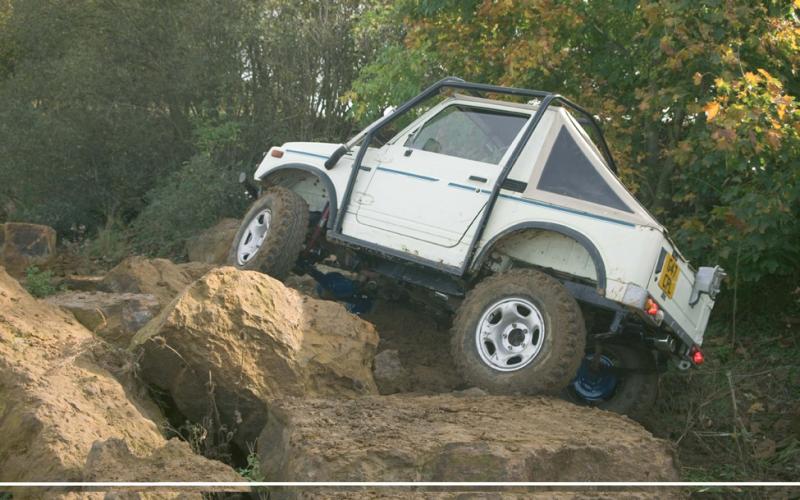 <
>
If budget off-roading is your game, the Suzuki SJ is likely to be one of your favourite trucks. It's cheap, easy to work on and has off-road ability in spades – especially if you equip it with a 2.0-litre performance engine from a Vauxhall Cavalier…
Everyone who is interested in off-roading knows all about the Suzuki SJ. It is the archetypal giant-killer, capable of traversing terrain that makes even a Land Rover 90 look ordinary. It's also loved for its budget credentials – £1000 is enough to get you going in an SJ, and that could include the cost of the vehicle as well as a few basic performance-enhancing modifications.
The trouble is, because SJs have been around for such a long time, many examples are beginning to look rather tired. Production ended in the nineties, so even the best example you can find is likely to be well over a decade old.
Just because there are a few old hacks doing the rounds, however, it's wrong to assume that all SJs would be better off in the scrap yard. TOR prides itself on unearthing the very best examples of all types of off-road vehicle – and Pather Cannon's truck is certainly near the top of the SJ tree.
He bought the vehicle, which is a Spanish-built Santana, in spring 2005 and his intention was always to turn it into an extreme off-roader. There is not much of the original donor car left nowadays, and Pather has done all of the work himself. He's an HGV mechanic by trade, and working on 4x4s is his release from the daily grind. 'It's a real pleasure to build a custom off-roader,' he explains. 'You've got complete freedom to do what you want with it.'
This freedom can be a burden as much as a blessing. Much of what you see on the SJ is the result of a lengthy process of trial and error. During this time, Pather found it necessary to revise his plans and develop solutions to unforeseen problems. It is testament to his practical skill that this didn't hold things up, and he finished the project within eight months. In fact, the build went so well that when we caught up with him, he'd already secured a buyer for the car… which had only been out of the workshop a couple of weeks.
The basic vehicle is an SJ410, but Pather replaced the original axles with units from an SJ413. This is because he planned from the start to install air-lockers, and ARB doesn't make components for the smaller axles. The 413 axles are stronger, anyway, and therefore better suited to life on an extreme 4x4.
The uprated axles are also able to cope more effectively with the 120bhp that is generated by the vehicle's 2.0-litre Vauxhall Cavalier SRi engine. This lump fits neatly into the engine bay, which came as something of a surprise to Pather. 'I was expecting it to be a bit large,' he reports, 'but it slotted in without any bother. I didn't even need to cut a hole in the bonnet to ensure it would close!'
Quite apart from its lack of power, the original 1.0-litre engine that came in the SJ410 used a carburettor with a bad habit of cutting the fuel supply every time you put it at a funny angle. With this in mind, Pather decided to keep the injection system that came on the Vauxhall lump, even though this necessitated further work on the car's auxiliary components. He is pleased with his decision, and has been impressed with the strength and durability of the Cavalier's power plant.
It goes without saying that the four-speed manual gearbox that came with the vehicle needed replacing as a result of the engine upgrade; Pather opted for a three-speed automatic box from a Vauxhall Carlton. Utilising transmission from the same manufacturer as the engine certainly made things more straightforward, as Pather could be confident that the two would complement one another.
All the same, the decision to fit an auto box was not one that he took lightly. 'I always wondered about their suitability for serious off-roading,' he explains, 'because I didn't think they'd give enough control on steep descents.' A number of extreme off-road enthusiasts swear by them nowadays, however, so Pather decided to give the set-up a try. Needless to say, he hasn't looked back, and can't believe he was so negative about auto transmission in the past. 'You get so much control with just two pedals to worry about,' he remarks, 'and the absence of a clutch means the car has one less consumable component to wear out.'
One of Pather's favourite pastimes is rock crawling, and the SJ's gearbox comes into its own in this environment. When drive is selected in low ratio, the vehicle has just enough grunt to clamber across slippery rock surfaces without Pather needing to do much work with the throttle. This suits his driving style perfectly, because he likes to take things steady rather than going for all-out power. This of course makes it less likely that he'll cause unnecessary damage either to his truck or to the land upon which he drives – a commendable approach, and one which should be encouraged among all off-road drivers.
Pather's down-to-earth approach to his hobby is evidenced throughout the SJ's design. When quizzed about the manufacturer of the car's 235x85R16 tyres, he admits to being uncertain about the answer. 'They provide a good amount of grip without being too aggressive,' he asserts, 'and to be honest that's all I'm bothered about!'
Don't be fooled into thinking he's a complete purist when it comes to modifications, however. Take the SJ's rims, for example – a set of 16-inch alloys from a Suzuki Grand Vitara, these don't provide any tangible benefit in terms of the car's off-road performance. In fact, they were chosen for the simple fact that he thought they would enhance the SJ's cosmetic credentials. Whether he was right or wrong is one of those things you'll have to judge for yourself…
A set of 30mm Pro-Comp wheel spacers are utilised in combination with a two-inch suspension lift, which was fitted in conjunction with a spring-over-axle conversion. The spacers ensure that the vehicle's track remains wide enough to compensate for the increased ride height – something which can lead to instability, especially on a vehicle as narrow as an SJ. The basic rule of thumb is that if you go higher you should also go wider, and spacers are one way of doing this.
Another reason for fitting them is that they improve steering lock, which is of course reduced by the use of over-sized tyres. Although the SJ has power steering as a result of the engine transplant, the spacers nonetheless play an important role in keeping the turning circle within the bounds of acceptability.
Large tyres also impact upon a vehicle's gearing, but this is offset on the SJ by retaining the standard 410 transfer case – whose ratios are higher than a 413's, thus compensating for the effect of the taller rubber. Along with the increased power of the 2.0-litre power unit, this ensures the gearing remains similar to they way it was when the Santana first rolled off the production line.
Gearing will be even less of an issue on Pather's next vehicle. This truck is designed for high-speed off-roading such as comp safari racing and will feature a 2.5-litre V6 petrol lump taken from a Vauxhall Omega. 'I want to produce something that can be used at speed,' he reports, 'and the Vauxhall engines are so easy to work on that it makes sense to use another larger one. Besides, I've got used to them now!'
Of course, all this lies in the future. When we met him, Pather was busy preparing the SJ for life with its new owner and seizing every opportunity to enjoy it off-road before completing the deal. It looked set to be an emotional farewell from man to machine – but it's only a matter of time before the next project reaches completion and Pather can get out in the mud again.
What this demonstrates, of course, is that the SJ brand is far from dying. In fact, while enthusiasts such as Pather are prepared to devote time and energy to building complete one-offs like this, Suzuki's diminutive legend is not merely surviving… it's positively thriving.
Winch bumper
Among many home-brewed highlights on the SJ is its front winch bumper with integral A-bar – the result of Pather's own handiwork, and a design that lends the vehicle a high degree of individuality. Made out of three-inch steel tube, it also incorporates a steel bash plate to protect the steering components.
The bumper, which is adorned with an 8000lb REW winch, was designed to sit high in relation to the bonnet. This reduces the amount of front overhang, helping give the vehicle an approach angle that's crucial to its off-road prowess.
The winch bumper also has built-in recovery eyes, which can also be used as jacking points if the need arises. When Pather produces his next truck, however, he intends to keep the jacking points separate from the recovery eyes because he thinks this will be more user-friendly. 'The design is in evolution,' he explains, 'and as with anything it is likely to improve as time goes by.'
Roll cage
Like the winch bumper, the SJ's roll cage was also designed and built by the vehicle's owner. It too is made out of steel tube, although in this case Pather used two-inch material rather than three. Again, the cage is one stage in a developing process – Pather will learn from the experience of building this one and put those lessons into practice when producing the next.
Three-inch rock sliders are welded into the roll cage in order to enhance the vehicle's structural integrity. These provide valuable protection for the sills and doors, and are also sturdy enough to be used as jacking points or towing attachments.
How much?
You can spend a fortune on modifying a 4x4 – or you can do it this way. Pather may be a qualified mechanic, but he reckons anyone with a bit of technical know-how could get similar results with a bit of patience:
• The donor vehicle cost just £50
• Another £50 was enough to buy the engine and gearbox
• Various mechanicals came from scrapyards, including Nissan Bluebird vents, a Vauxhall Carlton battery, Cavalier alternator, fan and seats and a Volvo 480 radiator – chosen simply because it was small enough to fit into the SJ's engine bay!
• A rear-mounted fuel tank was built for £10, as was a stainless steel snorkel
• Tyres and alloys were the most expensive part of the project. Use steels and budget rubber, and you'll be laughing 
Buying and modding
• £750-1000 buys you a good low-mileage SJ – but shop around and you'll find something decent for less
• Rust is the big killer for all SJs, so check carefully for signs of it having set in
• Beware vehicles with a short MOT – a tidy body can disguise a proper basket case
• Few 4x4s are cheaper and easier to modify – and there are loads of specialists out there
• £500 is about enough for a modest lift, some decent mud tyres and a pair of rock sliders
DIY ROLL CAGE, DIY BUMPER, SJ, VAUXHALL CAVALIER ENGINE CONVERSION, SJ413 AXLES, VAUXHALL CARLTON AUTO GEARBOX
Share this article