Tough Tops for Working Trucks
Originally Published: November 2013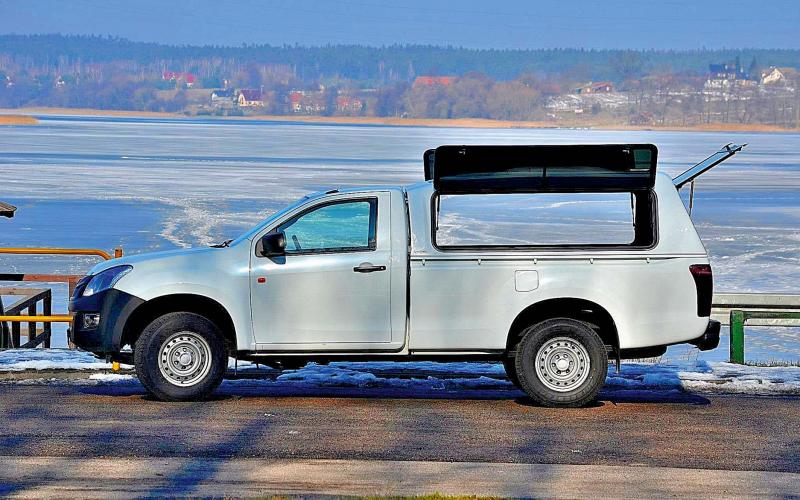 <
>
Amid all the glammy stuff that's gone on in the pick-up world over the last decade and a half, it's pleasing to see that the aftermarket hasn't lost sight of what these vehicles were designed for in the first place. Up-Country has recently introduced the Bac Pac for Isuzu's excellent 2012-on D-Max, for example, and it's everything a professional-quality hardtop for a work truck should be.
Made by German outfit Road Ranger, the Bac Pac is made from compression-formed GRP and comes with a two-year warranty. It has solid sides as standard, though you can also order it with lift-up side access doors in your choice of a solid or glazed finish.
A front window and glazed tailgate, the latter with an aluminium frame, mean your rear-view mirror still has a purpose, and a white-finished interior with its own courtesy light means you shouldn't struggle to find stuff. Going back to that tailgate, it has one-handed operation and opens high for bulk loading, and of course it's fitted with a double-sided lock and high stop light. The whole lot is supplied colour-coded to match Isuzu's own palette, so no need for spraying up once it's fitted.
If you still need to carry more, optional side-to-side roof bars are available with a load capacity of 45kg. Take advantage of all that, and throw on the sort of trailer the D-Max was built to pull, and you've got yourself a rig to reckon with. The Bac Pac starts at £1679 plus VAT, which is definitely expensive but might well qualify as reassuringly so, and chapter and verse is available from Up Country at www.upcountry4x4.co.uk.
Also new at Up-Country is Road Ranger's Suncab for the VW Amarok, which includes vehicle key-fob remote locking and a heated rear screen. Like the Bac Pac, it's made in GRP using a compression process rather than by hand, and again you get a two-year manufacturer's warranty.
Other standard equipment includes sliding, tinted glass windows with built-in fly screens, a high-opening frameless glass rear door, LED interior lighting and easy-clean interior carpet headlining. Dog owners are going to love this almost as much as their dogs do.
Supplied colour-coded to your individual vehicle, the Suncab costs £1349 plus VAT (optional roof rails add another £159). Once again, www.upcountry4x4.co.uk is the place to go next
UP-COUNTRY AUTOPRODUCTS, HARD-TOPS, ISUZU, BODY
Share this article