Lava Rock Heat Shields
Originally Published: August 2013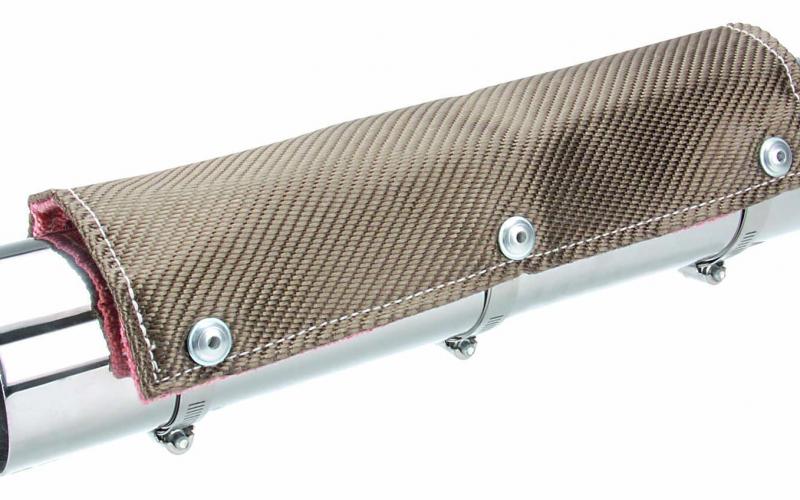 <
>
Exhaust heat shields aren't exactly the stuff of off-road legend. But when your engine's giving it everything while you crawl forward at half a mile an hour on the end of a winch cable, keeping on top of the temperature under the bonnet is definitely the stuff of reality.
DEI's new Titanium Pipe Shield offers protection up to 732°C, which you'd like to think should be enough. Despite its name, it's not made from titanium – it is, however, made from lava rock, which you'd think would have made for an even cooler moniker while at the same time not confusing anyone, but never mind.
Pulverised and stranded lava rock fibres are woven tight to make up the outer layer of a 2-ply construction, while the inside's constructed from an 89% silica fabric that'll withstand temperatures of 176°C more than glassfibre can cope with. The whole lot's mounted on DEI's own shield standoff bracket, creating an air gap that allows for maximum cooling and heat dissipation.
The shield can be used wherever heat protection is critical, such as near transmissions, brake lines, wiring, floor panels, fuel system components and of course exhausts. It's installed using rivets and pipe clamps and can be had in three sizes: 6 x 12" (152 x 305 mm, 6 x 24" (152 x 610 mm) and 6 x 36" (152 x 915 mm). A visit to www.designengineering.com will tell you the rest.
DESIGN ENGINEERING, ENGINE ACCESSORIES, HEAT PROTECTION
Share this article