Devon Diff Defence
Originally Published: May 2013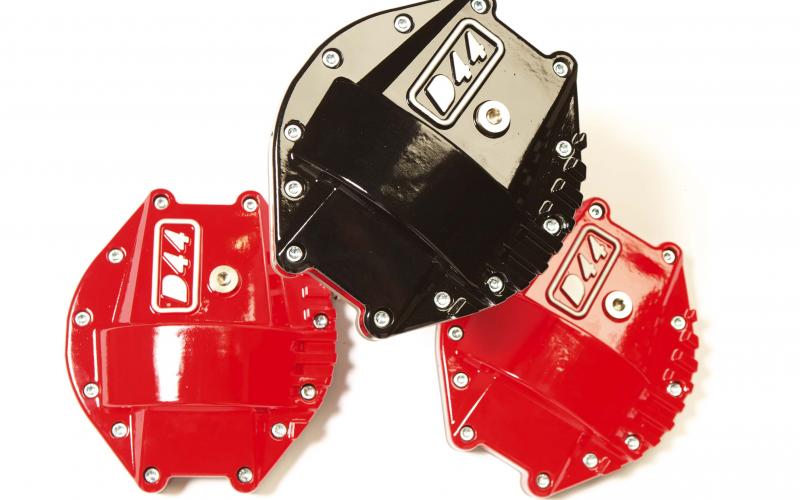 <
>
Tree stump or rock: which one is it going to be? Oh, the agony of choice…
Truth is, both are tremendously capable when it comes to bashing the brains out of a standard diff cover and wrecking the delicate stuff inside. Not good when you're risking all in the heat of competition, which is exactly where the D44 heavy-duty diff pan for Rover axles earned its spurs.
There's a lot of choice when it comes to diff guards, but D44's is a bit different to the traditional bolt-on type. Simon Buck and his team reckon it's better to replace the diff casing altogether, and you certainly won't find any mud and wet leaves collecting behind their design and setting the rust monster loose.
Installed in place of the standard diff pan, the D44 unit is made out of 17-4ph - a super-strong stainless steel. It's available in black or a natty bright red, and comes with a weld-on adaptor ring that fits to axle itself. The casing bolts on to this ring, meaning it can easily be removed for an internal inspection of the diff when the need arises.
All the parts needed to protect the diffs on your Land Rover Defender (or Disco 2) are included in the kit, which costs £205.46 including VAT. Alternatively, Devon 4x4 can fit the components to your truck in its South Molton workshop – something that's well worth considering if you own a Disco 2, as we're told the rear kit in particular is a challenge to install on these vehicles. Want to know more? Go to www.devon4x4.com and you soon will. 
UNDERBODY PROTECTION, DEVON 4X4, DIFFERENTIAL, LAND ROVER DEFENDER, LAND ROVER DISCOVERY, LAND ROVER
Share this article