The Rack Is Back For Safety Devices
Originally Published: June 2013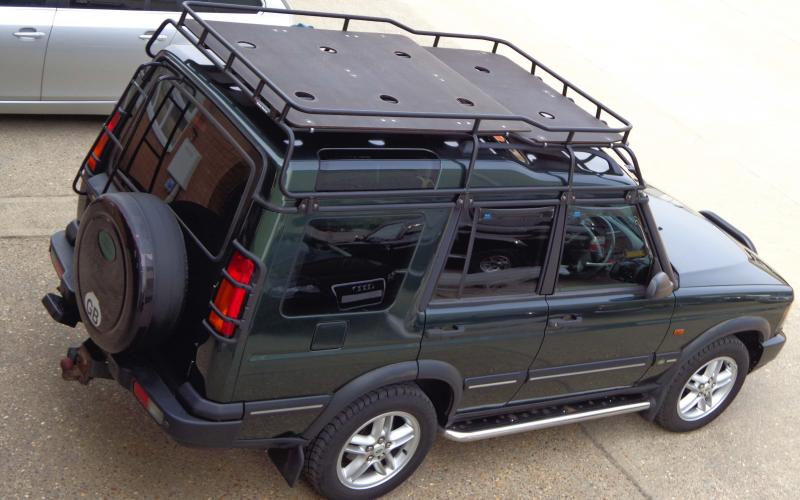 <
>
Safety Devices had recently announced that its Highlander roof racks for the Discovery 1 and 2 have gone back into production. The racks were withdrawn from sale some time ago, but the Suffolk-based roll cage specialist started testing the market for potential demand last year and asked customers to vote for their favourite configuration. The choice was between Highlander racks for Discos with and without roof rails.
Now, having established that plenty of Discovery owners still have an appetite for a model-specific full-length roof rack, Safety Devices has relaunched the range – including, as it turns out, both roof-rail and non-roof-rail versions. The company made a handful of pre-production racks earlier this year, and is now selling installation-ready units through its dealer network.
Alternatively, customers can buy a rack direct from Safety Devices and have it installed at the company's premises in Newmarket, or they can opt for a DIY installation. Safety Devices says the rack takes two people between 30 and 45 minutes to install, and full fitting instructions are provided.
The Highlander is made of mild steel, which is grit blasted and primed with a zinc-enriched powder undercoat for durability. It is then finished with a high-quality black powder coat, giving a smooth appearance and a great deal of protection from even the most exacting of off-road and on-road conditions.
Most Safety Devices approved dealers will fit the rack as well as supplying it, but the company states that there is a four-to-six-week lead time on all orders. So don't turn up expecting to buy your rack and have it fitted on the same day.
Your patience will almost certainly be rewarded, however, because the Highlander is a perfect way of compensating for the Disco's rather compact boot. First-generation versions of the vehicle are particularly impoverished in this area, and the Highlander roof racks add a handy amount of extra load-carrying capacity to a truck that is in every other way ideally suited to life as an overlander.
Racks for the Disco 1 have an RRP of £800 plus VAT, while for the Disco 2 it's £830 plus VAT. In each case, add £10 if your vehicle is fitted with factory roof rails.
Made-to-measure marine ply flooring is also available for the Highlander racks, providing a solid base on which to load your expedition gear. It costs £140 plus VAT for Disco 1 versions, with racks for the Disco 2 costing an extra fiver. To find out more about the Highlander range of roof racks, and about the rest of Safety Devices' product line-up, visit
www.safetydevices.com or call 01638 560 524.
LAND ROVER DISCOVERY, LAND ROVER, SAFETY DEVICES, HIGHLANDER, ROOF RACK
Share this article