New JK Bonnet Is Cool In Every Sense
Originally Published: December 2013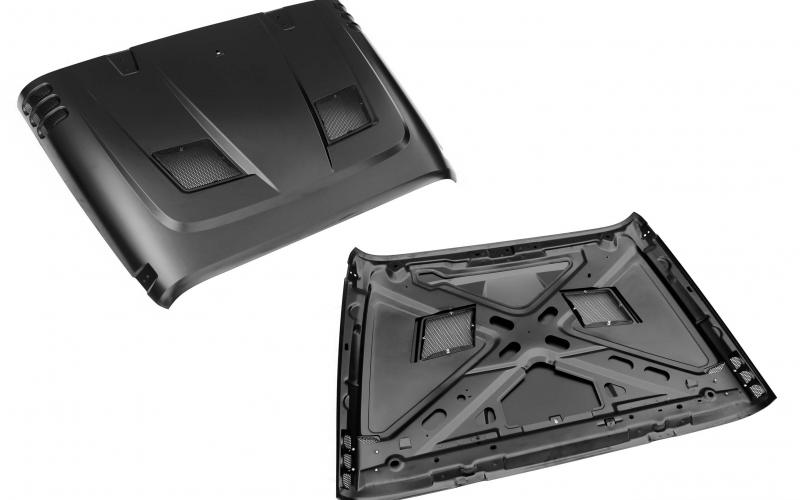 <
>
If you're modding a current-model Jeep Wrangler and finding yourself running into problems with overheating, Rugged Ridge has just introduced a solution that ticks every box we can think of. Available for all JK Wranglers from 2007-on, the Performance Vented Hood is a retro-fit bonnet with extra ventilation areas – allowing a claimed increase in ventilating surface of at least 50%.
This might be more of an issue when you're crawling rocks under a New Mexican sun than when you're breaking ice on the Tong mud-troughs this winter, but we all know what happens all too easily when we're pasting our engines while doing fractions of a mile per hour. Inspired by the Jeep's own super-funky SRT designs, the Rugged Ridge unit promises to let heat escape more quickly from beneath it, taking some pressure off the radiator and aiding engine efficiency along the way.
'The design was created to be an attractive way of eliminating the heat that can build up during tough off-road situations,' said Chris Van Buren, Design Engineer at Rugged Ridge's parent company Omix-ADA. 'We wanted to give Jeep owners a great quality hood at an affordable price that included an easy installation and a factory fit and finish.'
On that last point, the bonnet is made from stamped steel over a factory inner core, assuring it fits as well as the original it replaces. You can order it ready for painting, or pre-painted to match Jeep's factory colours from any Rugged Ridge authorised retailer.
These include a number of British outlets as well as a range of US dealers who'll ship to the UK on request. Rugged Ridge pointed us in the direction of Outback Automotive, who you'll find at www.outbackautomotive.co.uk, so we'll return the favour and suggest you start your shopping there.
BONNETS, RUGGED RIDGE, JEEP, JEEP WRANGLER, OMIX-ADA, OVERHEATING
Share this article