New Halfshafts To Sort Out Jeep Axles
Originally Published: October 2014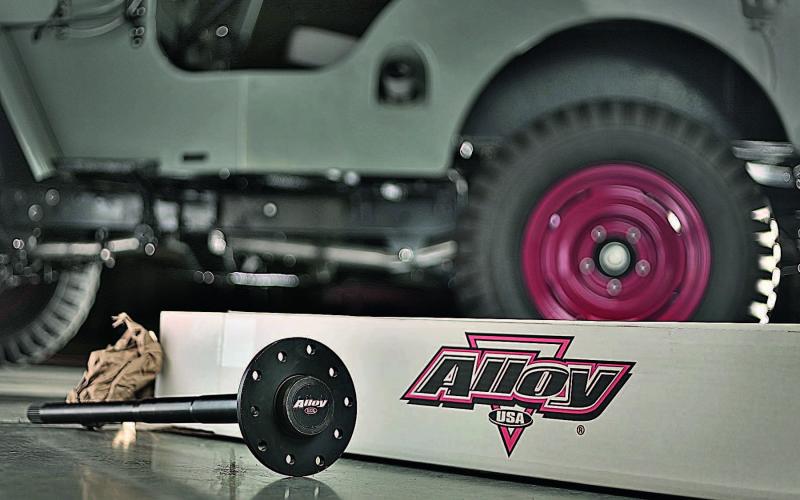 <
>
If your off-road ride of choice has a Jeep badge on its bonnet, there's a decent chance that you might be in the market for stronger halfshafts. The Dana 30 and 35c that went under Cherokees and Wranglers of old aren't famed for their strength: they're actually much tougher than keyboard warriors on rock-crawling forums would have you believe, but if you want to push one of these vehicles to the limit, it definitely pays to upgrade the metal inside its axles.
The latest option for doing this comes from Alloy USA, a company that specialises in performance drivetrain products – which it says are 'designed, engineered and tested to hold up to the toughest abuse.'
Alloy USA's latest halfshafts are CNC-machined from high-strength 4140 chromoly steel, then heat-treated, tempered and induction-hardened. The company also uses the latest cold spline rolling technology in order to prevent stress points which can lead to fracturing.
The upshot is a range of shafts which Alloy USA says are 'incredibly resilient,' and after all that they ought to be. The company claims its components are 'up to 35% stronger than the stock axles found in most vehicles' – and just to be sure, each unit is magnaflux inspected for irregularities then coated in a tough black anodised finish before leaving the factory.
Of course, each of these processes costs money, so you needn't expect these axles to be cheap. A pair of halfshafts for the Dana 35c found in the back end of an XJ Cherokee will set you back about $440 before you ship it to the UK – though that's a much better use of your money than shelling out for new standard ones every other time you go off-road (plus fitting, which is no small job), which could be what happens if you're asking a lot of your Jeep.
Your cash also buys you a 10-year warranty, which ain't bad going. 'Our extensive line of rear axle shafts are strong, precise and reliable,' says Henk Van Dongen of parent company Omix-ADA. 'Our axles give owners the confidence that their vehicles have the extra strength to conquer any on or off-road activity.'
A lot of UK buyers will head straight to www.alloyusa.com to go looking at the company's range of axle shafts, diff kits and other wantable metalwork. Its global dealer network does include Kent-based Outback Automotive, however, which you'll find at www.outbackautomotive.co.uk.
AXLE UPGRADES, HALFSHAFTS, JEEP, ALLOY USA, OUTBACK AUTOMOTIVE
Share this article