Rhino 4x4 Bumpers: Sexiest Metal Ever?
Originally Published: June 2014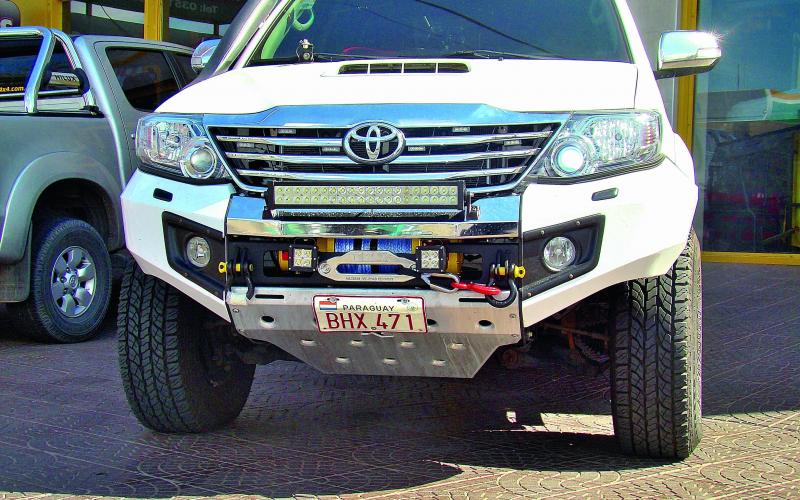 <
>
Some bumpers are large. Some are lairy. Some even make a big deal of being discreet. But it's been a long time since we saw a pick-up truck looking as funky, cool and downright rude as those wearing Rhino4x4's Evolution bumpers.
Excellent news, then, is that Xtreme Sales has started importing the Rhino range to the UK. They're mainly available for one-tonne pick-ups like the Hi-Lux, Ranger and Amarok at this stage, though more models will be coming on-stream as the year progresses.
The bumpers are made up of three separate pieces but, once mounted, the front section appears as one piece, neatly fitting the shape of the truck. The two side pieces come with gaps provided for fog lights, while the middle part holds a winch mount and tow hooks. A front skid plate, attached to the middle section, protects the lower front of the vehicle and is included with every Evolution bumper.
The bumpers are made of 3mm thick steel, while the skid plate uses 5mm thick aluminum. An anti-corrosion undercoat is applied to the bumper before being powder coated to give it a more durable finish.
Because of the bumper's three-piece construction, the parts can be replaced separately should one of them be damaged. All models are compatible with the vehicle's airbags system, too – no small issue for all sorts of reasons.
The bumpers come as standard in a choice of black, white or chrome finishes, but on request they're available painted in any colour to match your vehicle. If you really want to stand out, you can order each of the three pieces in a different finish. The phrase 'gilding the lily' comes to mind, but each to their own.
The Evolution bumper is designed as a direct replacement for the original without any cutting required. So if you decide to change your truck, you can return it to standard without any hassle at all.
Naturally, a product this cool won't be cheap. At £1767.77 including VAT, though, depending on which vehicle it's going on, the price is more realistic than some we've seen. And let's face it, anym product this glorious has got to be worth a premium.
Want to know more? Pay a visit to www.xtremesales.co.uk and prepare to do some proper lusting.
FORD RANGER, FRONT BUMPER, XTREME SALES, PICK-UPS, TOYOTA HI-LUX, VOLKSWAGEN AMAROK, RHINO 4X4
Share this article