The Shock of the Old ♦ Group Test: Mitsubishi Shogun vs Toyota Land Cruiser ♦
Originally Published: January 2013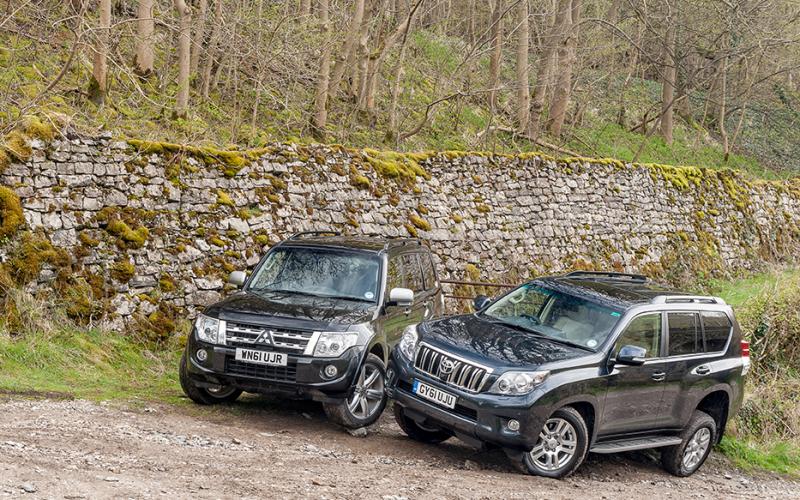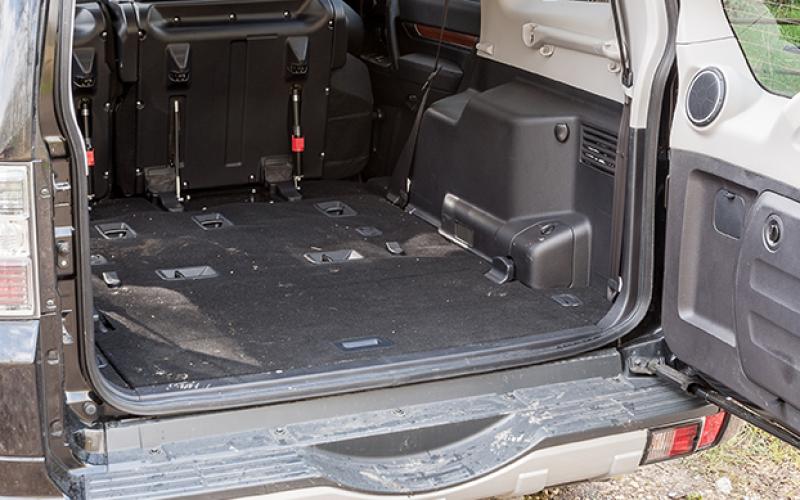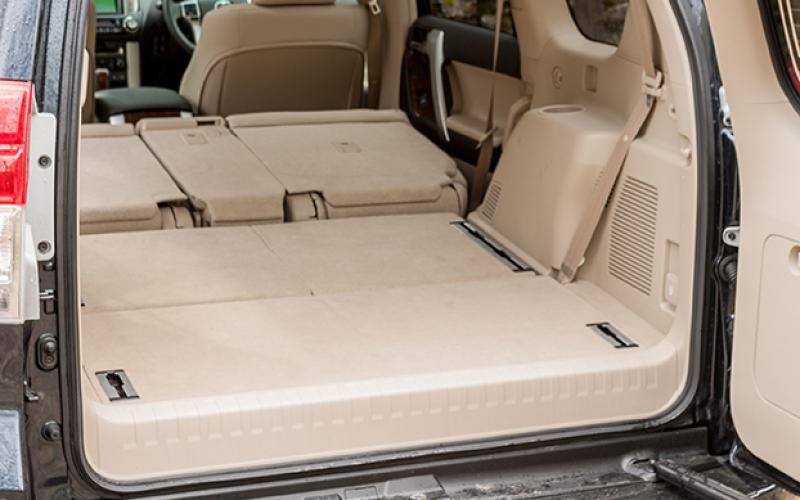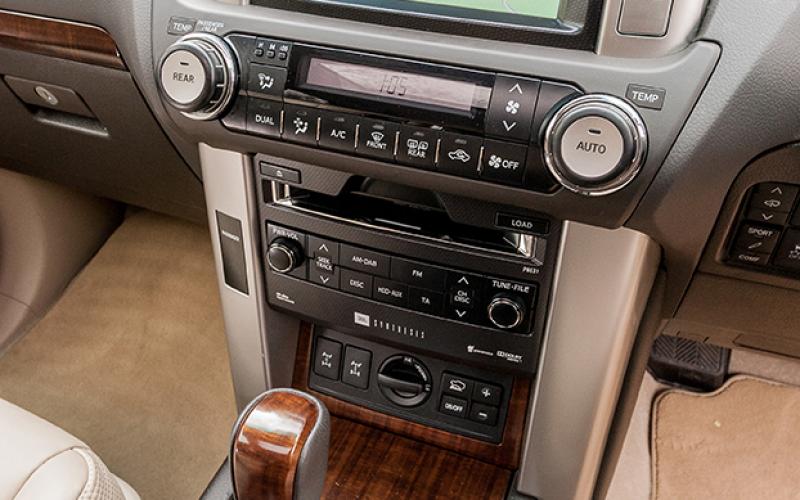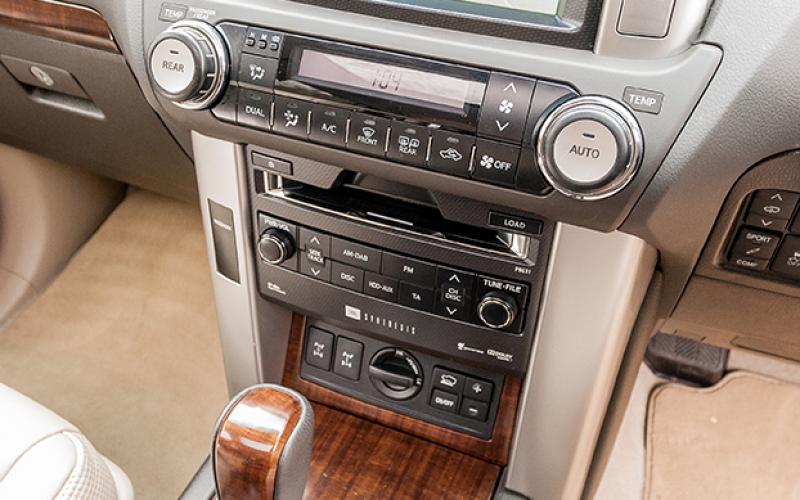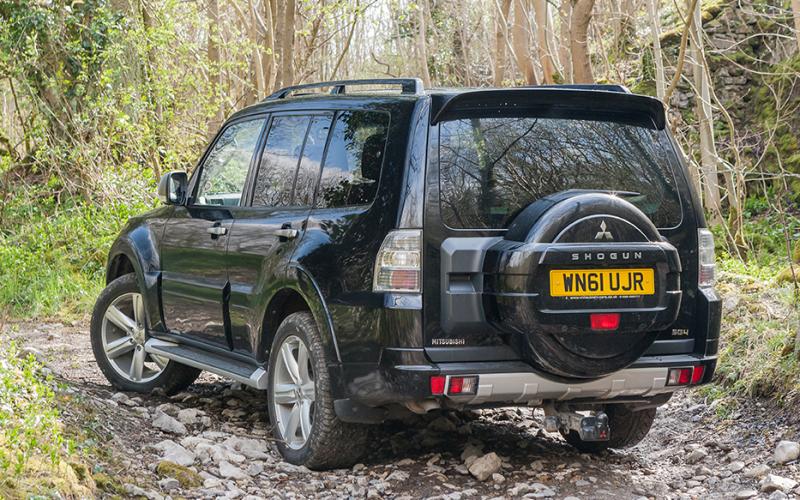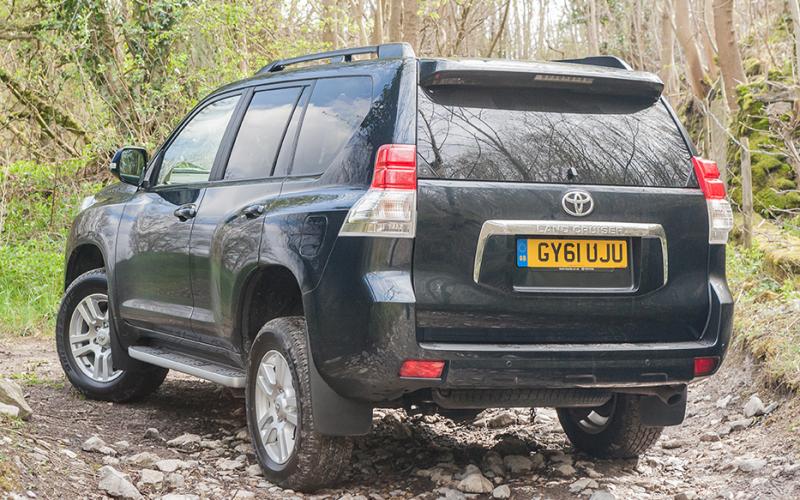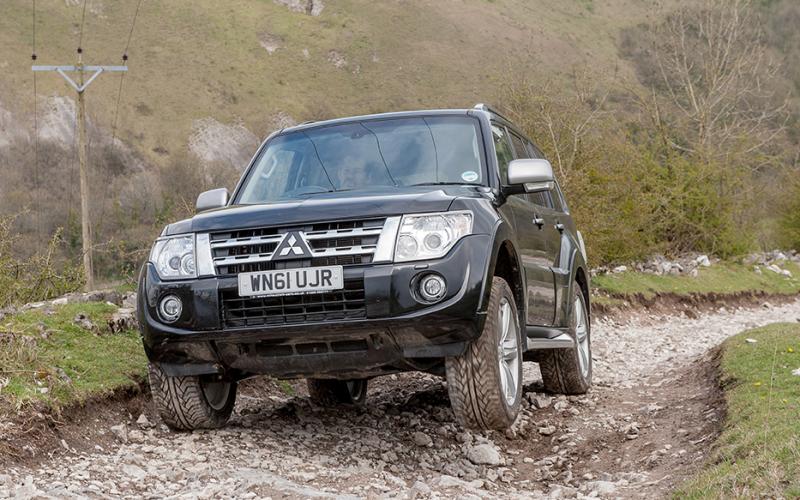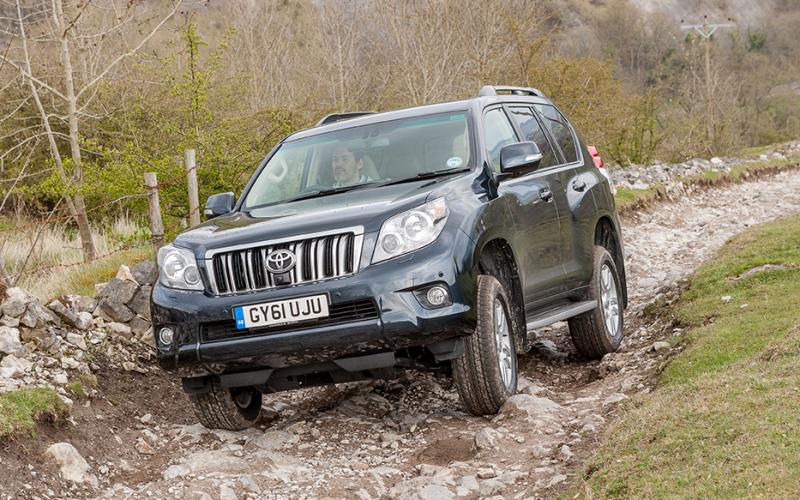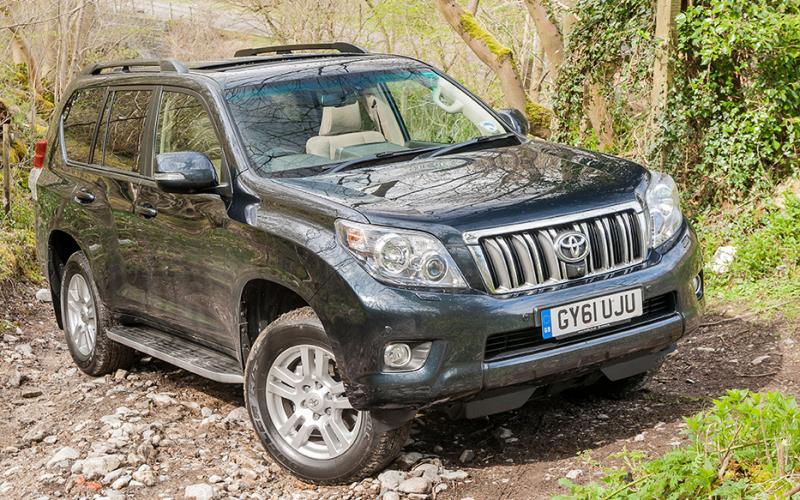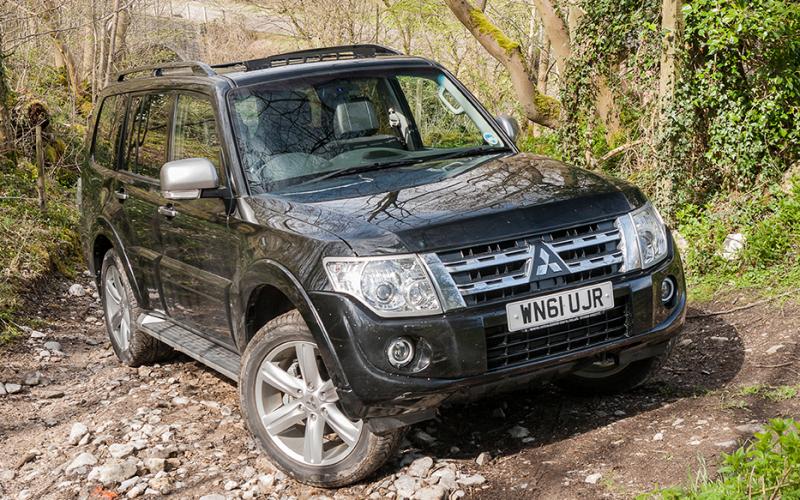 <
>
In a world of soft-roaders and 4x4s that claim to be at home in the city, it's a shock to come across a couple of real old-fashioned off-road family trucks. But the Mitsubishi Shogun and Toyota Land Cruiser are exactly that. Not that they're short of new-fangled technology themselves, of course – so which of these old warhorses does a better job of combining its off-road heritage with the needs of today's 4x4 buyers?
It's twenty years since the original 4x4 boom. How many of the names that were around then do you think can still be found on sale now?
Land Rover has the Defender, Discovery and Range Rover. Mercedes has the G-Wagen, and the Jeep Wrangler had just about arrived by then. Over and above that, however, the two vehicles you see here fly the flag for the old ways pretty much alone.  
The Mitsubishi Shogun and Toyota Land Cruiser have been through a lot of changes since then, of course. But they both remain fundamentally the same as they were two decades ago: traditional 4x4s for which style, luxury and on-road skills, important though they may have been, ultimately mattered less than delivering authentic off-road capability.
Looking at today's Shogun and Land Cruiser, and in particular at their prices, it's hard not to conclude that at best, these principles have been watered down. And yes, the combination of big alloys, extensive electronics and all-pervading creature comforts does fly in the face of using a vehicle off-road – as does the sort of price that goes with being a showy piece of driveway jewellery with a kit list as long as your arm.
This top-spec Shogun lists at £40,999, which feels like a lot for a truck. It has been updated for 2012, though, with a more efficient engine and noticeably better quality interior.
And the Shogun looks like a positive bargain compared to the Land Cruiser. Again, this is the range-topping model, but £51,820 gives you the right to expect something special.
The Land Cruiser is priced to compete with the Discovery, which says much for its place at the premium end of the market. Mitsubishi describes the Shogun as 'comprehensively equipped, reliable and cost effective' – though the SG4 model tested here serves up a hearty portion of bling to go with its doughty truck-like character. Just as it did twenty years ago, indeed.
IN THE CABIN | Remarkable similarities highlight remarkable differences
The difference between these trucks and the soft-roaders most manufacturers offer instead is obvious as soon as you climb aboard. Each has a bluff, upright dash and the high-up seating position of a true off-roader. 
It can be hard for a 4x4 with this kind of underlying design to avoid feeling like a work wagon, and doing so by adding garnishes and shiny electronics can backfire all too easily. Mitsubishi in particular learned that the hard way with old versions of the Shogun, and these days it's a bit more restrained.
In the cabin, the overwhelming impression is of solidity. The dash has a robustness that's at once reassuring, with stout, functional controls that promise still to be working after the odd quarter of a million miles. If you're an off-road traditionalist, you'll like the fact that it has an actual physical transfer lever, too.
Look a bit harder, however, and although the layout is all nice and tidy the positioning of some of the controls is a bit random. The fog light buttons, for example, are grouped with those for the electric mirrors and positioned in front of your right knee.
Another criticism might be for the wood trim on the floor console. It crops up on the dash and door panels, too, and looks plasticky in each case.
The Land Cruiser has similar wood accents in exactly the same places, but they're darker and a bit less unconvincing. We found the Toyota's cabin a relief after the Shogun, if for no other reason than the lighter colour scheme on this particular vehicle.
There were other areas too in which the Toyota scored higher, though. The Shogun's build quality is a strong suit – but the Cruiser's is overwhelming. Its materials and its construction are superlative, achieving a blend of robustness and elegance that remains the envy of the entire industry. It's not just trading on its reputation, it's building on it.
These days, however, the Land Cruiser is a tremendously complex machine with a huge number of controls. One result is that the dash is an eyeful to behold, with buttons everywhere. There are off-road controls at the base of the centre stack, in front of your left knee and on an electronic menu operated from the steering wheel, for example.
Thus the Land Cruiser is a 4x4 you need to learn your way into. There'll never any doubt in your mind, however, that it's going to be worth it.
PRACTICALITY | Two different seven-seat solutions
The Land Cruiser is a newer design than the Shogun, and that's quickly apparent in the way its seats are arranged. The second row slides, the third drops down at the push of a button and the whole lot folds to leave a long, flat cargo floor with just a slight step in it.
With the seats up, you can arrange them to carry seven adults in acceptable comfort. There'll still be a little room for luggage, too. In five-seat mode, meanwhile, the sliding second row means that even with the fronts fully back you can carry a couple of six-footers behind them without anyone feeling cramped.
The one drawback of this set-up is that to give the seats somewhere to disappear into, the rear floor has to be set rather high. This means you've got further to lift the stuff you put in it, and limits the height of the cargo you can carry.
The Shogun by comparison feels like a van, with a very low floor giving it an almost cubic cargo bay. The floor and sides are clumsily shaped, but you can't argue with it for sheer volume.
It could be so much better, however, if the second row didn't have an ancient fold-and-tumble mechanism which robs about eighteen inches out of your cargo length. The third row is very clever by comparison, albeit more than a little Heath Robinson, with a pivoting mount that lets it disappear beneath the floor without taking up a huge amount of room.
In terms of places to put your odds and ends, neither vehicle shows a lot in the way of imagination. Each has a fair sized glovebox and cubby (in the Land Cruiser's case, the latter is also a fridge) along with small door pockets, but none of the creative stowage solutions of the sort so many modern SUVs can boast.
As well as that fridge, an unusual bonus for the Land Cruiser is that it has a 100W mains socket in its boot wall. It also has rails for a cargo management system, whereas the Shogun has four plastic lashing eyes instead.
ON THE ROAD | Both truck-like, but Land Cruiser is more composed
The Shogun feels the more like a truck of these two, so it might come as a surprise to hear that it's the one with fully independent suspension. The Land Cruiser on the other hand has a live rear axle, but with air suspension on this model its ride is as controlled as you could ask for.
Its tall stance means you do still have to drive it with some sympathy, however, if you want to avoid giving your passengers an uneasy time. Considering the forces of nature with which it's coping, the Land Cruiser rides and handles remarkably well, but its weight and centre of gravity means there's bound to be an element of body roll and rebound in corners.
Imperfect road surfaces rarely upset it, however, with the impacts being kept at arm's length when you do find a pot hole. The Shogun looks after you here, too, despite being on much lower-profile tyres.
The other main technical difference between these vehicles is that the Shogun has the option of two-wheel drive when you're on the road. We soon left it in 4x4 mode, however, where it felt a lot more sure-footed.
That's not to say that there was any lack of grip with the transfer lever in the 2H position. But the Shogun's suspension is bouncy enough for the extra reassurance of four-wheel drive to be very welcome.
Again, it's a case of there only being so much you can do in the face of physics. Looking at the two, the Shogun appears to have a lower stance, thanks to its body design and larger alloys, but its quoted ground clearance is actually a touch higher than the Land Cruiser's. Thus a certain amount of body roll is to be expected, and indeed forgiven, and even if you do abandon the 2wd option pretty quickly the fact remains that it's a trustworthily sure-footed vehicle on the road.
It's very willing, too. This latest Shogun has a far cleaner and more fuel efficient version of the familiar 3.2-litre turbo-diesel engine, but with the five-speed auto box that's standard on all but the entry-level five-door model it's as good at making noise as it is at pulling you along.
It is, however, very good at pulling you along, with stacks of torque to back up a useful power output. It needs revs to do its best work, but shifting such a big lump takes some doing and it's done very well.
The Land Cruiser's engine is a lot more refined, despite being smaller and giving away a useful amount of both power and torque. Once again, it wants a few revs to get it on the boil, and here too you get a five-speed auto as standard, but while the Toyota is actually the heavier vehicle of the two its engine delivers near-identical performance while making much less of a fuss. It's a lot less noisy at idle, too, whether you're sitting in the vehicle or standing next to it, so it's the more refined by some way.
BUYING & OWNING | Pricey to buy and run, but you get a great return
The most obvious fact to note here is that the Land Cruiser costs ten grand more than the Shogun. You can get strong discounts on both by shopping around, bringing the real-world price down by around 10% in each case, but the difference between them stays the same.
The Land Cruiser is, however, a world-leader when it comes to holding its value. Not that the Shogun is any mug here either, and of course the more expensive a car is, the more it has to lose, but if you can afford the Toyota in the first place, you'll reap the rewards come sell-on time.
Depreciation is the biggest element of any vehicle's running costs, so that's a big point in the Land Cruiser's favour. Elsewhere, it's hard to see a lot of daylight between them.
In terms of fuel consumption and emissions, 33.2mpg and 224g/km for the Shogun loses narrowly to 34.9 and 213 for the Land Cruiser. Both are in band K for tax, and the Cruiser is in insurance group 33 compared to the Shogun's 34. So you'll save a few quid a year by buying the Toyota, but you'll pay more in the first place – before getting it all back when you sell it.
Your monthly bills will be big with either of these 4x4s, but the Land Cruiser's iron-clad residuals carry the day. The Shogun can tow 3500kg, though, while the Cruiser will only haul 3000, and for some buyers that will matter more.
OFF-ROAD | Two old hands showing the world how it's done
If you want a 4x4 you can use off-road, within the context of what they are these two are right up there with the best. They're not the kind of vehicle you modify for hardcore use, but they're exactly the kind you'd trust to take you across the desert in showroom-fresh condition.
The Land Cruiser is the first choice among those who work in the world's harshest terrains, though it's fair to say that few of them would go for the LC5 model. Yet this version has more off-road technology than ever.
You get crawl control, with a choice of speed settings; height-adjustable suspension; a terrain management menu with settings for various ground types; and a set of cameras acting as an in-car spotter watching in front of and around you.
There's the expected traction control, too, which is also found in the Shogun. But here's where the vehicles differ. The Shogun used to have a rear diff-lock, but now it has traction control instead. The Land Cruiser has all that stuff, and a rear diff-lock.
Leave it all switched off and just use the rear locker, and the Land Cruiser is a supreme off-roader. The high-tech toys do help, particularly to countering the effects of a long wheelbase and auto box, but it's the locker that makes the difference. We toiled up rocky hills in the Shogun with the traction control working non-stop, before the Cruiser walked up at tickover.
Ironically, we've not even mentioned the Toyota's live rear axle here. It offers a little extra travel, but we found its taller 265/60R18 tyres, which compare to 265/50R20s on the Shogun, made a bigger difference. The tyres alone say much about the vehicles' intent, and that's backed up by the way they perform.
---
VERDICT | Two pricey trucks: each gives you what you pay for. Land Cruiser is more expensive, but worth the extra outlay if you can afford it
Both these trucks can boast high spec levels, true seven-seat ability, excellent build quality and a strong blend of abilities both on and off-road. Yet for all their similarities, they are very different in character.
The Shogun has long had a reputation for being showy. And on its 20-inch alloys, it's hard not to conclude that it's still trying hard to be seen.
But the improvements made for 2012 are obvious. Visits to the pump are less frequent, and the materials in the interior are noticeably better. Basic build quality comes across as the best ever in a Shogun, too, and the seats are a cut above what we remember from previous model years. A truck has to be good to get away with a £40,999 price tag, but this Shogun does do enough to justify it.
At £51,820, the Land Cruiser has even more to prove. But the sky-high build quality for which it has always been famed is as evident as ever. And that shines through in its residual value: if
any car can be considered an investment, this is it.
Both these vehicles are true seven-seaters, but the Land Cruiser's interior is far more modern in its practicality. Add in the array of technology this range-topper gives you, and the difference in prices adds up. Whether it's all necessary is another matter, but it does help make this a vehicle that builds on the legend rather than just trading on it.
The Shogun is an admirable 4x4, and well worth the money. You won't regret buying one.
The Land Cruiser is beyond admirable: it's world-class, with quality writ large in everything it does. Not only will you not regret buying one, you'll forever congratulate yourself for finding the extra cash.
SECOND PLACE | Mitsubishi Shogun 3.2 DiD SG4
3/5
For most, this will be the best-ever Shogun
+ Strong engine, much improved interior quality 
- Dated interior layout, clumsy on-road dynamics
Click here for an individual review of the Shogun and here to see it undergo our towing test
FIRST PLACE | Toyota Land Cruiser 3.0 D-4D LC5
4/5
Expensive, but worth it for so many reasons
+ Supreme build quality, great ability in every situation 
- Strange styling, high price for this model
The Land Cruiser gets its own close examination here
Share this article