Saviours of the Earth ♦ Group Test: Compact SUVs ♦
Originally Published: January 2012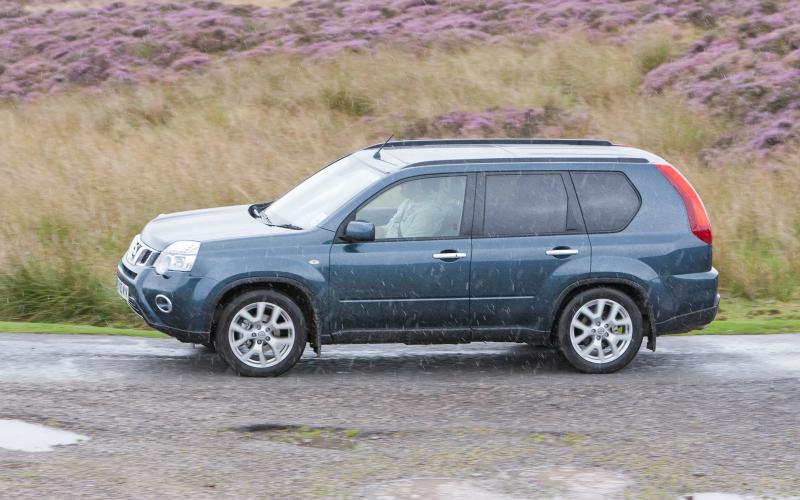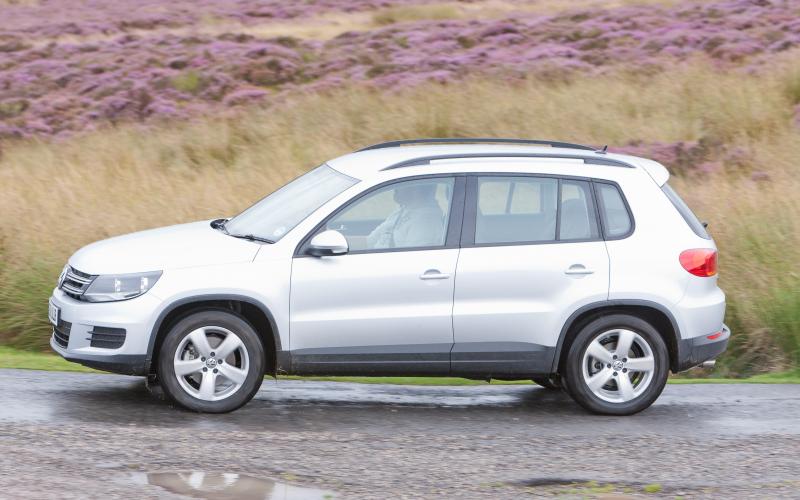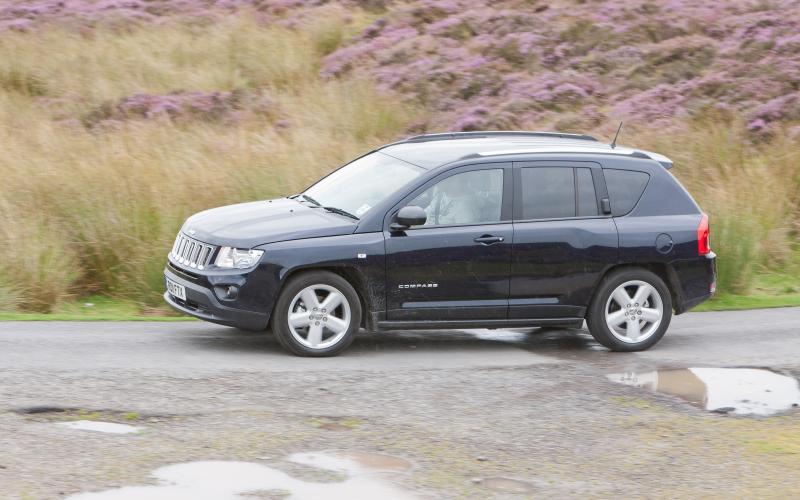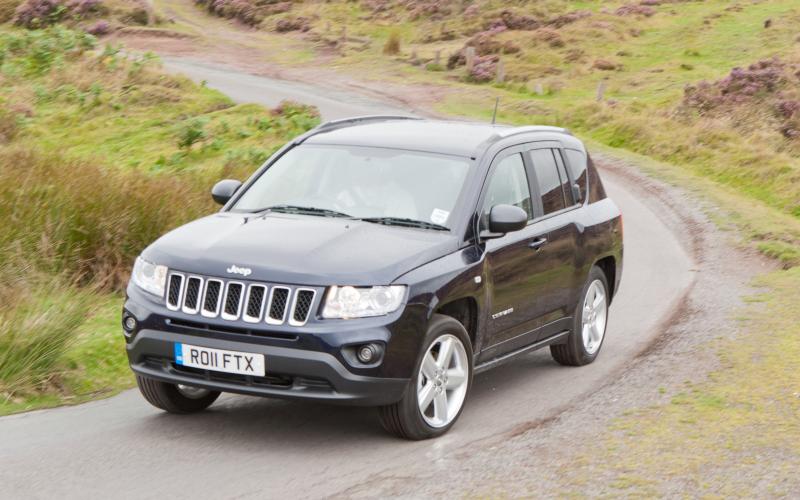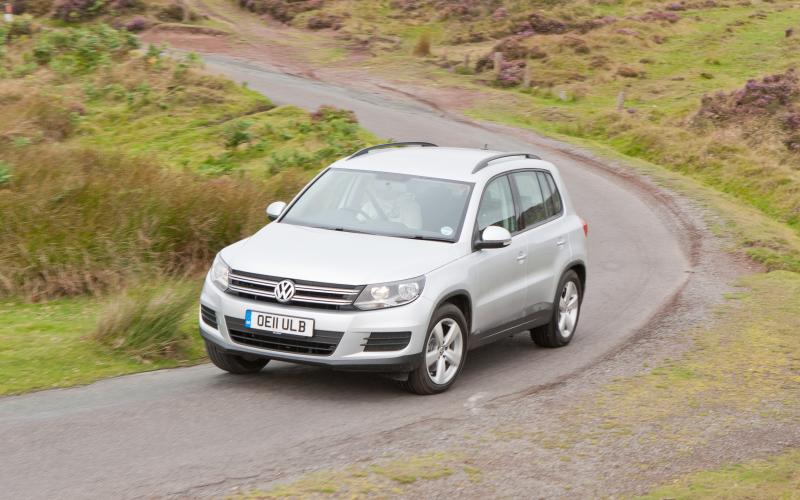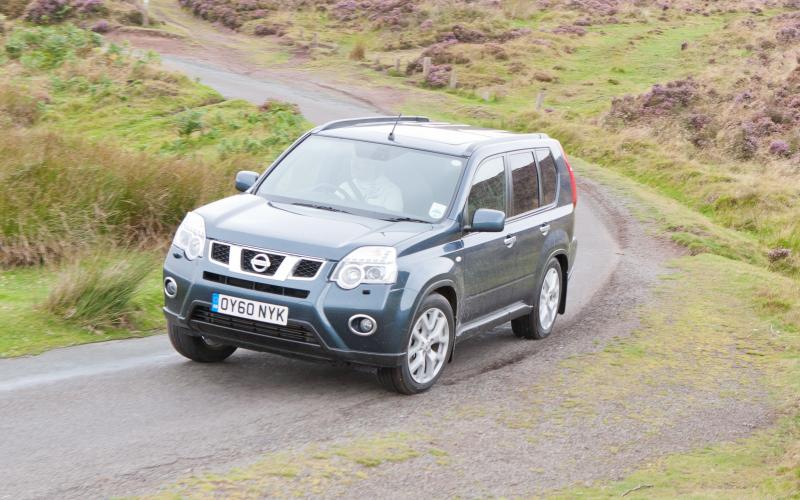 <
>
The latest small SUVs offer wallet-friendly running costs while keeping your family safe and sound when winter closes in. The heavily revised Volkswagen Tiguan and Jeep Compass are new to the game – while the Nissan X-Trail is an old master.
The world is ending. Scientists tell us we're heading into a new ice age and economists tell us we're going to be poor for a generation. It's all rather bleak, really.    
Whether or not you believe the stories about us being on the verge of a 30-year ice age, when winter gathers its forces Britain starts thinking about 4x4s. But when Britain starts thinking about 4x4s, it quickly follows this by thinking about fuel costs. Which is why more people don't do the sensible thing and have one as their year-round car in the first place. 
The latest generation of small SUVs aims to solve that. Truth to tell, actually, with a new micro-SUV niche growing fast perhaps we should be calling them 'medium' instead, but it's a familiar tag for a familiar style of vehicle.
This is the part of the 4x4 market where the biggest sales are. So it's no wonder it's so crowded, nor that the manufacturers are constantly working to keep their vehicles up to date.
Economy matters here, and so do safety and practicality. It helps if a vehicle is good to drive, obviously, though few customers will even get as far as looking at that if it doesn't tick the right boxes for their family.
The Nissan X-Trail has been ticking those boxes for ten years now, and remains a hugely popular choice thanks to its chunky design and old-style 4x4 appeal. Where once it was available in a range of thousands, now there's just one engine, a couple of spec options and a choice of gearboxes; the model here is the higher-grade Tekna, with a 2.0dCi diesel engine and manual transmission; its list price is £29,580.
The X-Trail was updated just over a year ago. But such is the pace of change in this market that it already has several newer rivals; the Volkswagen Tiguan and Jeep Compass rivalling it here have both been substantially revised for the current model year.
The Compass bears next to no resemblance to the vehicle that went off sale in 2010 during Jeep's financial upheaval. By the time it came back, it had revised styling inside and out and gained a new 2.2 CRD diesel engine. The model tested here is another range-topper, the Limited, priced at £23,595.
The Tiguan is the most recently revised of this trio. Its styling has been updated, as have most of its engines, and there's a new set of high-tech driver aids. Our test vehicle has the 2.0 TDI 140 diesel, carried over from the previous model, that's expected to be the highest seller in the range. In entry-level S trim, it lists at £23,280.
BEHIND THE WHEEL | Each does its own thing well enough to satisfy
The Tiguan is the only vehicle here which doesn't have top-spec kit like leather as standard. This means there's no sat-nav to fit in to the dash, which helps it to look tidy – though with no controls on the steering wheel, it also appears rather sparse next to the others.
It needs to be said that we're comparing an entry-level Tiguan to a pair of range-toppers, so read these comments with your eyes open. Fact is, though, that while the X-Trail is far more expensive, the Compass costs almost exactly the same as the Tiguan, even with all its extra kit.
The difference is there to see in the quality of VW's dash materials and solidity of build. This is where your money goes, and while the seats are only fabric trimmed, they want for nothing in terms of comfort and support. There's a good range of useful places to put your bits and pieces, too.
Going back to the Compass, by no means is it all just about the toys. Its dash plastics are hard to the touch, and its controls only feel adequate, but overall it's a country mile ahead of the old model. The steering wheel feels good in your hands, and the big, wide, squashy leather seats are surprisingly supportive.
Like the Tiguan, the Compass gives you plenty of places to stow your odds and ends. The glovebox and door pockets are on the small side, but there's an imaginatively conceived range of other options besides. Between the seats, a deep cubby box has a lidded tray above it that doubles as an armrest, though this does feel rather flimsy.
With a slab-shaped centre stack protruding out of a simple, upright dash, the X-Trail feels noticeably more truck-like than the others here. Its materials are a bit of a mixed bag, with a nice soft-touch dash, hard plastic centre console and slightly cheap feeling leather on the seats and steering wheel – though the seats themselves are wide, soft and very comfy.
Another way in which it feels like a truck is the sheer size of its glovebox, and there's also a large lidded tray on top of the dash as well as missile-tube cup holders. It feels robust rather than crafted, but what it lacks in styled subtlety is more than made up for with usable space and equipment.
In this way, the X-Trail and Tiguan are at opposite ends of a scale that has the Compass somewhere in between. A lot is down to personal preference, as each has its own strengths. 
SAFETY | X-Trail has best view of the road ahead 
That is one of the primary reasons for buying an SUV. The Tiguan scored five stars in the EuroNCAP test to the X-Trail's four; the Compass hasn't been tested, but scored well to the extent that it's been assessed by the NHTSA in America. 
All three have ESP and brake assist, as well as on-demand 4wd. The X-Trail has the best view of the road, however, which makes it least likely to get involved in a shunt.
The Tiguan counters with high-tech options including a fatigue detection system that warns you of changes in your driving style which could mean you're starting to lose concentration. It also offers a lane monitor that warns you if you start drifting off line on the motorway.
Both also have the full set of measures like seatbelt load limiters and pretensioners, setting them ahead of the Compass. Even this is a good, safe vehicle, though, with multi-stage front airbags and, unlike the Tiguan, rear curtains as standard.
SPACE & PRACTICALITY | All are good, but X-Trail is outstanding
The X-Trail has long been seen as a champion in this area thanks to its flexible luggage space, and even in the company of two newer vehicles it still impresses as one of the most practical SUVs in any class. Its rear seats don't fold with the most modern of operations, but once down they create a long and totally flat floor with a stout, waterproof surface.
In addition, the section rear of the seats can be removed to drop the height of the boot floor. When it's in place, the void below becomes a handy hidden stowage area, complete with a full-length pull-out drawer.
Add in a big tailgate aperture and low loading height, as well as a variety of hooks and rings for securing luggage, and you've got a practicality champ. It's good at carrying people, too, with impressive rear legroom and reclining back seats to keep your passengers' heads out of the roof lining. It's no use having lots of space if you don't use it cleverly – and Nissan has used it very cleverly indeed.
An example of this are the 40:20:40 seat backs, with the centre section dropping down for through-loading. Compare this with the Compass, which doesn't have any such feature; that's the kind of thing the extra money buys.
Not that the Compass does badly here, with a very simple one-shot folding mechanism on the rear seats creating a near-flat load floor. There are spaces which could have been used more creatively, though, such as a void behind the nearside inner arch blister; little touches like a net or bin here, or indeed a 12-volt socket in the boot, something both the others have, could have made a big difference. Still, the Compass does have a drop-down speaker in its tailgate for beach parties.
It also does a good job of carrying people in the back, with ample knee room. There needs to be, though, because the seat-back in front of you is hard and unforgiving. You won't want for headroom, however.
The Tiguan puts plenty of air above your head, too, and its rear seats slide fore and aft with a 60:40 split to let you trade knee room against cargo space. There's plenty of both, and a drop-down armrest also functions as a hatch for through-loading of long items.
Folding the rear seats shows off the Tiguan's modernity, as the squabs fall away to let the backs drop near-flat in a simple one-shot action. The resulting boot floor is carpeted for grip rather than waterproof, but the cargo area is impressively long and accessed through a wide tailgate with a nice low lip.
None of these vehicles will leave you feeling short-changed for carrying passengers, and all make a decent fist of hauling luggage at the very least. Each could teach more expensive SUVs a thing or two. But it's the X-Trail that continues to impress with its configurable boot and wipe-clean practicality.
PERFORMANCE & HANDLING | Tiguan feels brisk and light on its feet 
Each of these vehicles has a turbo-diesel engine whose aim is to provide strength and fuel efficiency in whatever blend. The Tiguan is biased closest to the latter, with a lower powered unit boasting the company's full range of BlueMotion gadgets to help it achieve a best-on-test 48.7mpg (with emissions to match). The others aren't far behind, though, and both have significantly more power.  
It still pulls eagerly enough, however, though relying too much on its torque can lead to hesitancy at lower speeds. It wants to be revved, and a smooth, precise gearbox with a light clutch action ensures that doing so is never a chore.
The figures show that the Tiguan is the slowest here, but experience confounds them as it feels lightest on its feet. The Compass actually weighs less, but there's a deftness to the VW's suspension that makes it by far the easiest vehicle here to drive quickly, and the most rewarding. It leans considerably in hard corners, but with precise steering and loads of grip it's in a class of its own for driving pleasure.
The X-Trail feels truck-like by comparison, despite having a much better power-to-weight ratio than the VW. It too pulls very strongly, but by contrast it's at its best when left in gear and driven on torque.
That's no criticism of its six-speed manual box, which snicks nicely into each gear and is linked to a lovely light clutch. It's best when short-shifted to make the most of all that torque, though the engine is equally willing to rev if you want to push ahead.
Do so and the X-Trail's body will stay remarkably flat, especially at the front, as you push it into corners. Its steering is rather blunt at low speeds, and we found it wanting to follow the camber in the road surface if left to its own devices, but it turns in smartly enough when asked and there's certainly no shortage of grip. Interestingly, though, our testers all assumed that this was the heaviest vehicle of the three by a long way, whereas its kerb weight is a mere 5kg greater than the Tiguan.
It's the Compass that's the lightest of the lot, but once again it feels heavier than the Tiguan on anything but the best-surfaced roads. Its steering doesn't have as much feel and its body is well balanced so as to avoid wagging its tail in corners, but imperfections in the surface set up a bouncy ride that's enough to affect its handling.
The 2.2 CRD has plenty of power, though, and its torque is delivered from very low engine speeds to let it pull like a train whether you're staying in gear or stirring the six-speed manual box. This isn't as slick as the others, and the clutch feels heavier; it's not bad, though, just not as good.
The Compass doesn't feel as truck-like as the X-Trail, but both trail the Tiguan for road manners. It might not be the quickest vehicle here – but it certainly feels it.
RIDE & REFINEMENT | 
Tiguan is quiet and deals best with awkward roads
The Tiguan scores well here, once again thanks to the same feeling of being light on its feet. It's not immune to picking out holes in the road surface, but it does so without turning each impact into a shuddering blow.
It's least impressive at low speeds, where the typically pot-holed urban street sends bumps and shudders through the suspension and into the cabin. They stop short of being harsh, though, with enough damping to take the edge off.
Out on the open road, even badly broken surfaces are dealt with very well. You feel the wheels crossing them, but it doesn't interrupt the dynamic flow at all and the body stays poised. Corrugations on the motorway set up a small amount of fidgeting, but it's very distant and easily ignored.
So too are the gentle rustle of wind and muted road rumble  which are all that interrupt the calm at a fast cruise. Here, the engine is totally hushed – as you'd expect, as its note is never intrusive even when it's worked hard.
The X-Trail's diesel note is more apparent, both in town and at A-road speeds. It settles on the motorway, but here there's a lot of road noise by the standards of this class, making it less civilised than the Tiguan. Surprisingly, though, given its upright stance, there's no wind noise at any speed.
Once again, the X-Trail feels heavier than it is on bumpy or uneven roads. Its body stays remarkably flat, suggesting that its suspension is actually dealing very well with the surface, but there's a lot of thumping as the wheels pick up on the pumps. For this reason, if you're moving over to a compact SUV from a more traditional style of off-roader, the X-Trail is the one you'll feel most at home in, but this means it's also the least car-like in the way it rides.
Talking of traditional off-road vehicles, the Compass is a Jeep for people who don't want to do the things a real Jeep can. It's heavily biased towards tarmac, but that doesn't mean it feels sufficiently at home on typically poor-quality British roads.
Whereas the X-Trail's body control is achieved at the cost of feeling heavy, the Compass is very bouncy – so much so that when carrying passengers, we found ourselves slowing down from the legal speed limit on major A-roads. As we've already mentioned, it blends good grip with well balanced cornering, but its ride is uneven enough to upset its handling on bad roads.
Even on the motorway, the Compass needs a very smooth surface to be truly settled. It's the least refined of these three, too, thanks to a lot of rumbling from the suspension which, in combination with wind noise, upset the peace in the cabin.
In the real world, all of this is drowned out by the stereo, and conversation is never strained in any of these vehicles. The difference between the best and worst of them is, however, still very clear.
OFF-ROAD | 
X-Trail deals masterfully with rough terrain
Low range is normally seen as the key to off-road skill, and it is indeed a handy guide to whether a vehicle is serious in its intent. None of these three are so equipped, but one of them lays claim to being possibly the best off-road performer in the whole of the 'soft-road' market.
That vehicle is the X-Trail, whose skills date from when the original model was launched in 2001. Nissan's All-Mode system allows you to lock in 4wd, ensuring positive drive to each axle, or to let it choose for itself when to engage the rear wheels in support of the fronts. It's supported by a range of driver aids including downhill assist and traction management to help prevent the relatively short stroke of the independent suspension from compromising traction on rough terrain.
Nothing unusual there, and while ground clearance of 210mm is the best here, it's not by much. Just as the Tiguan goes beyond the numbers to dominate on the road, though, the X-Trail does the same in the rough. Not just on gravel tracks or slithery surface mud, either; it can survive and, indeed, prosper on the sort of terrain that would leave the others marooned in the car park.
The Compass is no slouch in this department, and has a similar system allowing the driver to lock in 4wd. There's less flexibility in its suspension, though, and while traction is excellent on slippery surfaces it's less capable on terrain that provokes wheels into lifting.
The Tiguan, too, deals well with low-traction surfaces, but its lower ground clearance is evident in ruts. For off-road use, there's a specially tuned model with enhanced driver aids accessed by an 'off-road' button and a unique front end providing a better approach angle. This test is about more than just off-roading, which is why we chose a standard model, but the Escape version could be expected to get much closer to the X-Trail in this area.
VERDICT | 
New Tiguan's all-round talents carry the day
 | Manners, dynamics and practicality just beat X-Trail's old-fashioned 4x4 appeal
The same, only different. That sums up these three SUVs in a nutshell. Their similarities only serve to highlight their differences – and vice versa.
The Compass and Tiguan are very close in terms of price, but one is a range-topper while the other is an entry-level model. The X-Trail, meanwhile, costs more by far – but while reasons for this do show themselves, it doesn't feel as out of place as it should in the company of two much cheaper vehicles.
Nissan looked to its off-road heritage when it designed the X-Trail, and it shows when you take these three vehicles away from tarmac. None are duffers, but next to the others it feels like a mini-Patrol.
That's not the purpose of this test, though, else we'd have put it against the Escape version of the Tiguan. And we'd expect a very hard-fought contest. No, what we're looking for here is an all-round family car. And we got a very hard-fought contest.
Where the X-Trail excels, it really excels. Its off-road skills may or may not be relevant to you, but the flexibility of its boot and rear seat arrangement certainly will be. It's very, very well thought through for family life. The way its seats fold has become outdated, but the effect it achieves once they're down is as admirable as ever.
The Tiguan's strengths, by contrast, run as wide as they do deep. It doesn't change the game the way the X-Trail did, but it's exceptionally competent all-round. There's nothing it doesn't do well, and little it doesn't do very well. 
In particular, it'll appeal to buyers who appreciate quality. Our test vehicle might have lacked a lot of the kit the others had (of course, you can get it all and more if you have the budget), but its cabin still felt classiest. None of these SUVs are showy here, but all are good. And the Tiguan is excellent.
It's also in a class of its own for on-road dynamics. Neither of the others is bad; each has its own shortcomings, which can be forgiven, but with the VW there's nothing to forgive.
Revised for the new model year and almost unrecognisable from the old version, so great is the improvement Jeep has wrought in it, the Compass is more like the Tiguan than the X-Trail. Not just in its approach, but in its consistency. Whereas the Tiguan does everything well, however, the Compass merely does nothing too badly.
Though its bouncy ride does let it down, the Jeep has plenty of power, adequate quality and enough practicality to satisfy. More than anything, though, it has loads of equipment, giving you a range-topping kit list at a price which only buys you the entry-level Tiguan.
This is the Jeep's strongest suit, but it lacks the Tiguan's finesse and the X-Trail's clever practicality. As an all-rounder, it does a good enough job, but against these two merely good enough is not good enough.
There's a sliver of daylight, if that, between the Tiguan and X-Trail. The latter does some things brilliantly, but VW knows how to do everything well. And here, that's just enough to nudge it over the line first.
---
THIRD PLACE | Jeep Compass 2.2 CRD Limited 
3/5
Commendable range of talents at a bargain price
+ Powerful, stylish and very well equipped
- Unruly ride, unimaginative use of space
SECOND PLACE | Nissan X-Trail 2.0 dCi Tekna
4/5
A true 4x4 with a lovable old-school character 
+ Immense practicality, hugely capable off-road
- Truck-like road manners
For an individual vehicle test of the Nissan X-Trail, click here
FIRST PLACE | VW Tiguan 2.0 TDI S
4/5
An excellent all-rounder that's great to drive 
+ Build quality, dynamics and all round skills
- High price when adjusted for spec level
USED OPTION | Land Rover Freelander 2.2 Td4 HSE
'09/59, 22,000 miles, £22,500 
The Freelander remains the benchmark compact SUV in the UK. For the same price as the Tiguan or Compass tested here, you get a top-spec HSE auto with average miles and some warranty still remaining. Definitely food for thought.
COMPACT SUV, X-TRAIL, GROUP TEST
Share this article