Opinion of Differences ♦ Group Test: Nissan Navara Double-Cab vs Jeep Wrangler Unlimited ♦
Originally Published: January 2013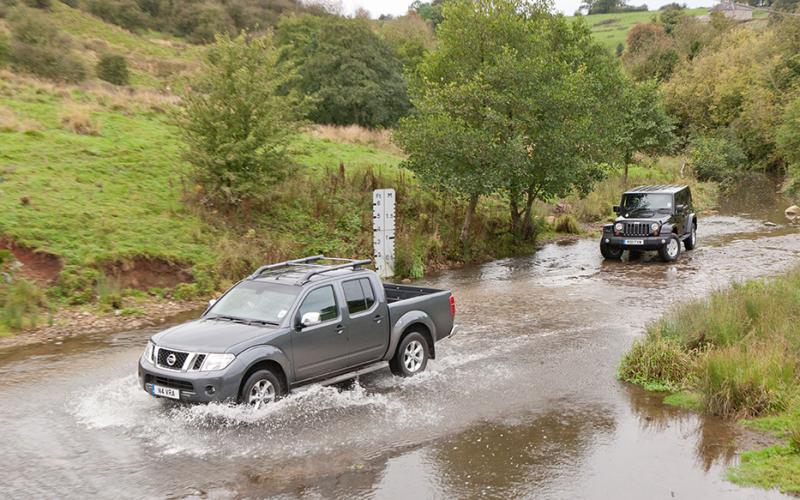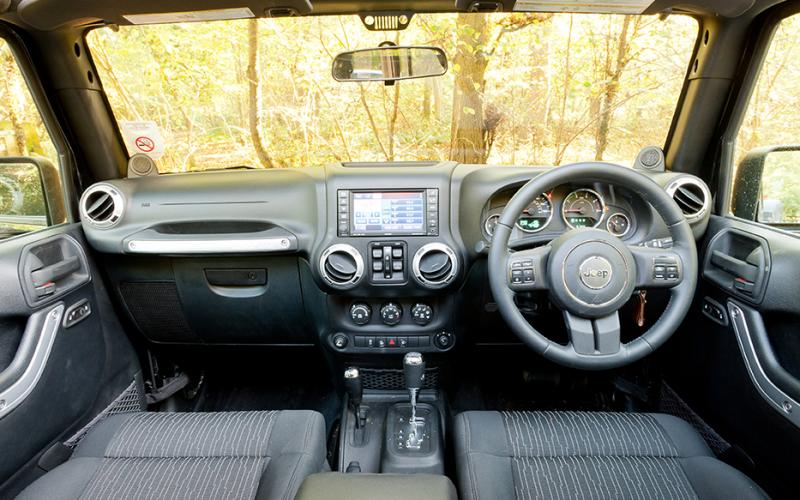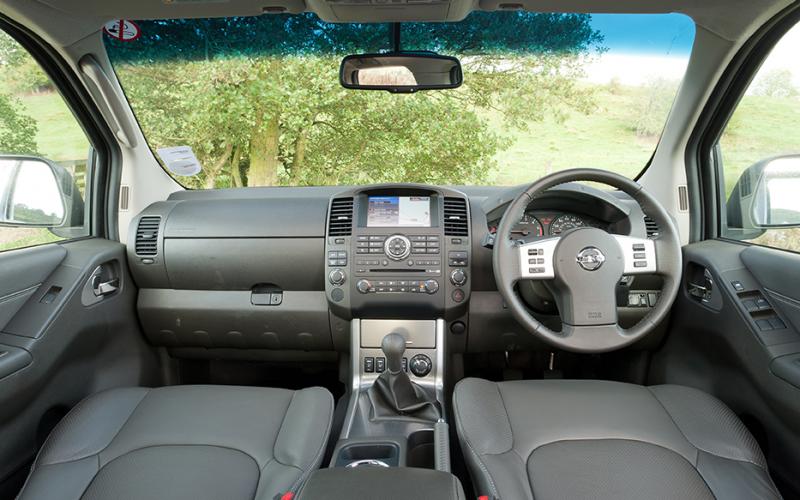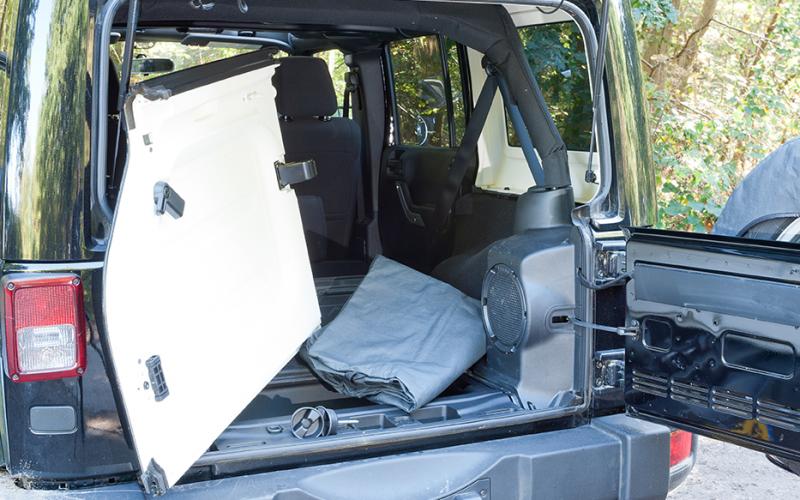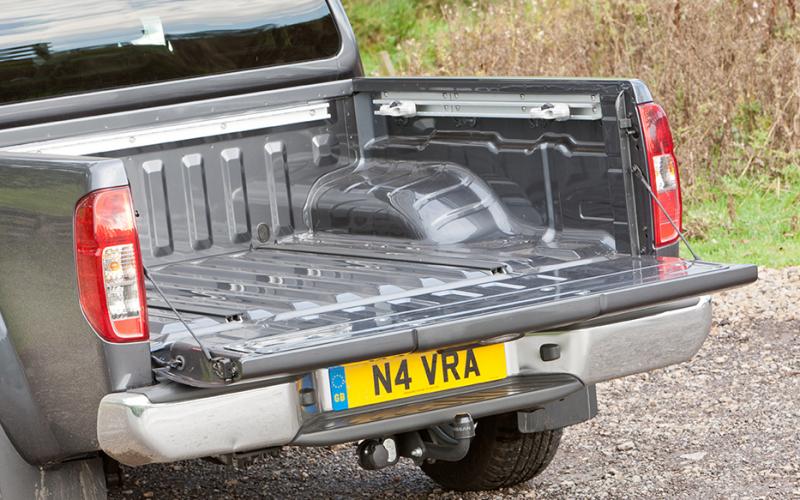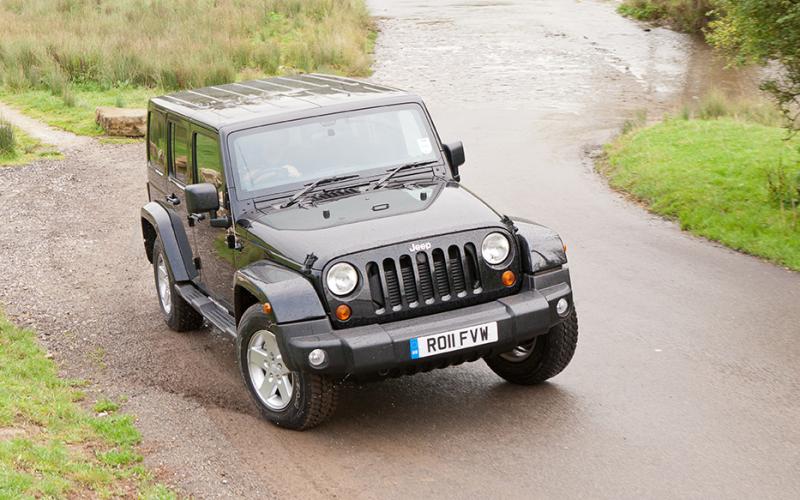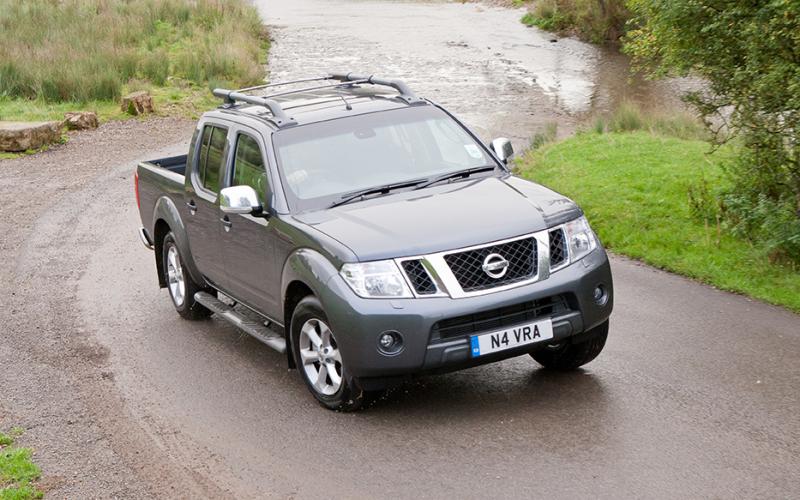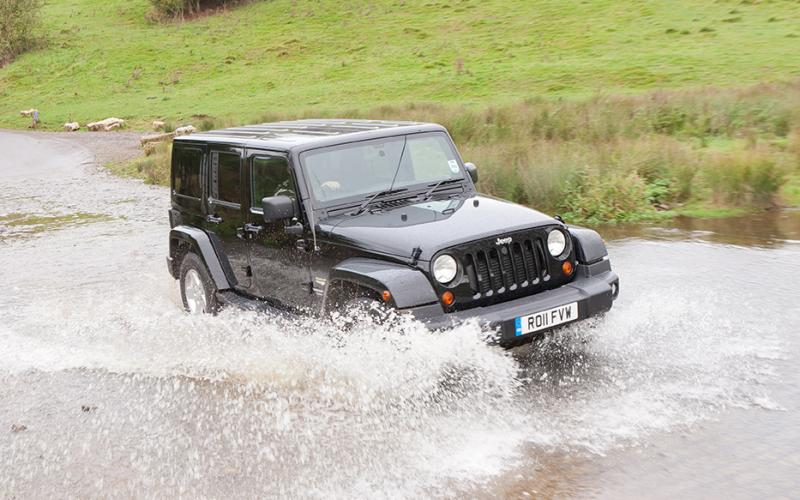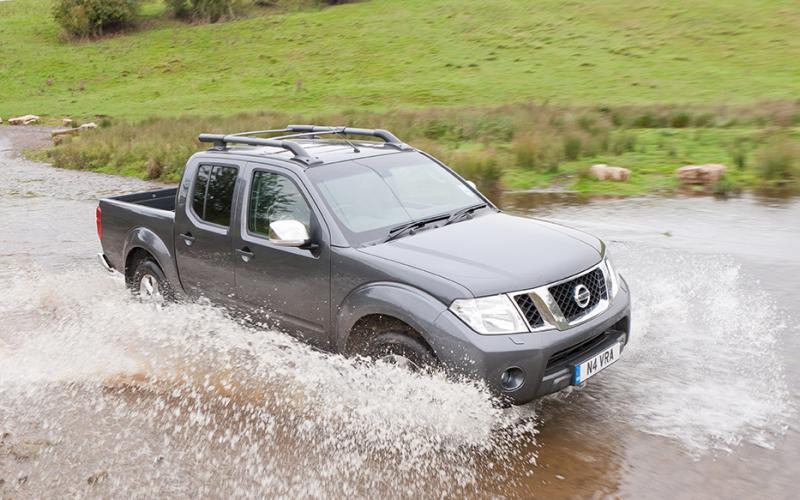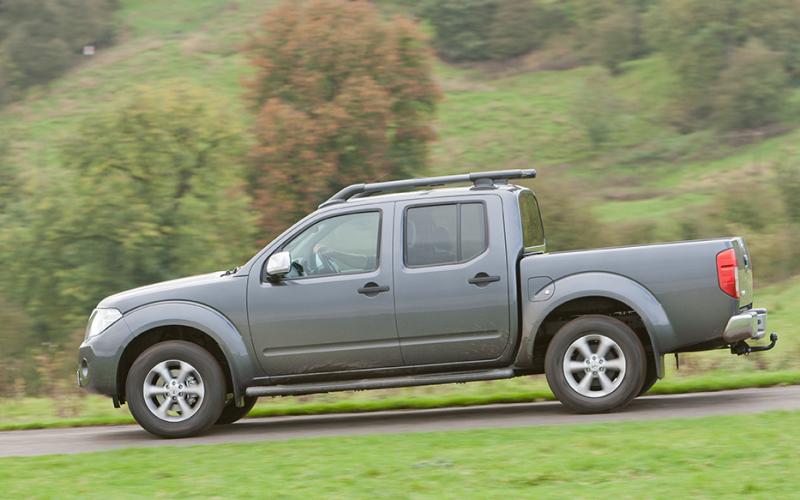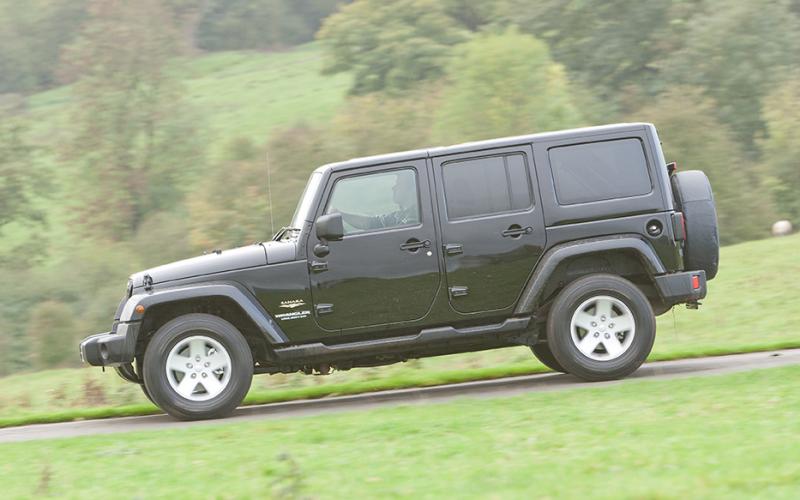 <
>
The Jeep Wrangler Unlimited and Nissan Navara Double-Cab are both big, tough trucks built to perform off-road. But they're two very different kinds of vehicle. So, aside from the fact that one's a pick-up and one's a station wagon, how do you go about choosing between them?
When the Jeep Wrangler first came to Britain, every 4x4 was a proper off-road vehicle. Even the 'all-roaders' of their time had proper live axles and dual-range transfer boxes controlled by little levers next to the gearstick.
Nowadays, the Wrangler is among the last of the old breed. It's commonly said that the only thing you can compare it to is the Land Rover Defender, though despite their technical similarities they're actually quite different in a lot of significant ways – especially now that the Jeep has been revised with a more car-like dashboard. 
Problem is, most Defender buyers would sooner chew their own arm off than even consider driving anything else. And besides, there's another kind of vehicle you could say is a rival to the classic Jeep.
Going back to when the Wrangler first arrived, the double-cab market was still in its infancy. They existed in Britain, but were limited to personal imports. Now, of course, they're a very big deal. And if you want an alternative tough truck, well, they don't come much tougher than the Nissan Navara.
So, here we have two vehicles which are very different on the surface but maybe not so underneath. In five-door form, the Wrangler is a vehicle whose off-road character has had the wick turned down a little in return for more practicality, while like any double-cab the Navara is a pick-up whose stuff-shifting ability has been reduced so as to carry two rows of passengers. More importantly, what we've got here is a pair of trucks with real chassis, real axles and real four-wheel drive. 
Real off-road machines, then. One, a toy turned serious, the other a workhorse turned family wagon. As always with these comparisons, we're looking to find out which is the better option. First, though, we need to understand whether they really are comparable at all.
IN THE CABIN | Loads of room no substitute for clever use of space
Wrangler 2/5
Navara 4/5
As we've mentioned, the Wrangler gained a new dashboard for the current model year. This is less truck-like than before, and the steering wheel is now basically the same as the Grand Cherokee's, but it's still not in SUV territory. Many would call this a good thing, because the Jeep's unpolished charm is what gives it its character.
And character is something it surely does have. The centre stack is a picture of bulges, dials and buttons, all of them big and exaggerated. Half close your eyes, and it's like looking at a toy robot from the 1970s. An enormous pair of air-con vents with chrome-effect rings around them are repeated at the outside edges of the dash, and a pair of speakers poke up at the base of the A-posts like something from a rave.
Elsewhere, the door stops are just big pieces of very visible fabric, the passenger's grab handle is held on by conspicuously exposed bolt heads and there are miniature cargo nets in place of door pockets and in front of the gear levers. These are as good as useless for actually stowing things (a deep tray on top of the dash is far better for that), but they don't half look cool.
Looking cool is something the Navara does well, too. It achieves this by laying on more kit than any commercial vehicle has a right to include – a convenient by-product of its close relationship to Nissan's big SUV, the Pathfinder. Among the treats on our test vehicle were leather seats, and pretty nice they were too, though what's more important is that the seats themselves are very supportive.
Despite being the range-topper, our Wrangler didn't have leather. The tough fabric on the seats could even be considered preferable, though – but they're not as welcoming as the Navara's nor as comfortable on a long journey.
In the back, the Navara has enough space for one six-footer to sit behind another with neither feeling hard done by. Knee room is only restricted with the front seat fully back, though headroom is poor and the view out through a small side window is less than brilliant.
The Wrangler, too, will take a full set of adults, but none will be particularly happy. The driver will have to give up a little space, and there's not that much to give, and despite there being excellent headroom in the back, passengers in the outside seats sit with a massive great loudspeaker right in front of their eyes.
PRACTICALITY | Two very different forms of utility
Wrangler 3/5
Navara 3/5
We've mentioned some of the Wrangler's quirks when it comes to oddment stowage, and they don't end there. How does a glovebox that's too small to take the vehicle's handbook sound? The good news is that it does fit in the centre cubby box, though at the expense of about half the storage space in there.
The Navara, on the other hand, has two gloveboxes, even if the upper one is just a slot for the handbook. There's a big, deep bin in the centre stack, as well as a decent cubby box and excellent door pockets. Bit of a walkover thus far.
When it comes to carrying cargo, obviously we're no longer comparing like for like. If it's a big load of firewood or a ton of pea shingle, or you're taking the toxic remnants of a garage clearance to the tip, any pick-up will beat any station wagon. Going on holiday with your kids and a family-sized collection of luggage, on the other hand, is definitely better done in a vehicle with a secure cargo bay. 
Leaving that to one side, the Navara makes the most of what it's got thanks to a clever multi-function rear seat. You can fold the base upwards, whereupon it clicks into place to reveal a very useful tray hidden beneath it, or tip the seat-back down so that it lies totally flat. Both these actions can be done with a 60:40 split, so there's plenty of flexibility there to combine cargo capacity with passenger space.
The Wrangler's back seats also have a 60:40 split, and they fold down beautifully easily to leave a long and totally flat floor. Behind it, the traditional Jeep tailgate arrangement with a flip-up glass panel and side-hinged lower door mean you get a huge loading aperture that's as wide as it is tall.
Something that's unique to the Wrangler is that when you lift up the boot floor, it reveals stowage points for the roof panels and door hinges. Definitely a form of practicality you don't see every day…
ON THE ROAD | Standard auto box does Wrangler no favours
Wrangler 3/5
Navara 3/5
There's a strong element of compromise in each of these vehicles' on-road performance. The Wrangler is built for full-on off-road excellence, and like all trucks the Navara is designed to carry a tonne in the back, whether on tarmac or not.
Something that's not a necessary compromise is that the four-door Wrangler comes with an automatic gearbox as standard and no manual option. It's only a five-speed unit and, though the 2.8 CRD engine has loads of torque from very low revs, you get a lot of fuss from under the bonnet when you go for it on the throttle.
That's not to say it doesn't pull hard. But it feels rather ponderous as it does so, whether you're letting the auto do the work or controlling it in manual mode. Each upshift comes after an anxious crescendo of revs, and a 0-62 time of 13.5 seconds illustrates that it's every bit as sluggish as it feels. In previous years, the five-door Wrangler was available in manual form, with a time that was almost two seconds faster.
The Navara is available in auto form too, but at least there's a manual option – and as well as saving you a grand and a half, it combines perfectly with the strong, smooth 2.5 dCi engine to put you in command of the vehicle's performance. There's no need to over-rev it, with ample torque never more than a squeeze of the throttle away, and the slick six-speed gearbox is a pleasure to use.
With an extra gear to play with and a nicer engine note when the revs do climb (it's a snarl rather than a moan), the Navara is more refined in general and particularly on the motorway. But the Wrangler gets the better of it in terms of dynamics – and while the inevitable ride quality woes that come with having a leaf-sprung rear axle and one-tonne payload do play their part in this, they're not the whole story.
Driving the two vehicles back to back, it's remarkable how much sharper the Wrangler's steering feels. It turns in very sharply, so you can always tell exactly where you're putting it. The Navara by contrast feels vague and even nose happy; it never threatened to actually break away, but there was a lack of feedback that meant we always felt uncomfortable when pushing it into corners.
Once it's on its way through, on the other hand, the Navara's body stays well controlled. Give it too much on a wet road and the fact that it's only part-time four-wheel drive will teach you all you need to know about power-on oversteer, but when driven sensibly it's impressively stable.
The Wrangler has part-time four-wheel drive too, but aside from one tyre-smoking incident while pulling away on a damp hill, it too never felt close to breaking away. Its body control isn't as tight as the Navara's, though, with lots of wafty leaning movements, especially from the back, as you push it through corners.
BUYING & OWNING | Either option will cost more to run than average
Wrangler 3/5
Navara 3/5
You can shuffle options back and forth to your heart's content, but to cut to the chase these are two vehicles which will leave you not a lot of change out of thirty grand. Neither is cheap, then, though when you consider what you can pay for a distinctly average junior SUV nowadays, each represents a great deal of truck for your money.
Running costs will be broadly similar, too, with fuel consumption and emissions as near as makes no difference in the real world. Neither vehicle can be relied upon to hold its value particularly well, especially once they're out of the main dealer network, yet the big discounts you might be looking for to offset this are harder to come by than you might expect. We've seen brokers promising impressive savings on the Navara, but Nissan's main dealers tell a very different story, while the low numbers in which the Wrangler sells means Jeep's network is under little pressure to seal deals.
Neither manufacturer has had an unblemished reliability record over the last decade or so, but either of these vehicles should prove tough and dependable in everyday use. Of course, a lot of people will buy this kind of truck for the sort of driving that's pretty much the opposite of what most would call everyday, but even then they should respond to proper maintenance by keeping on coming back for more.
OFF-ROAD | Jeep is in its element
Wrangler 5/5
Navara 3/5 
This is another area in which we're quite clearly not comparing equals. For one thing, we've got a pick-up against an off-roader. For another, we've got a Jeep Wrangler against, well, just about anything.
The Wrangler's focus lies here, and it's no surprise that it feels in its element as soon as you leave the tarmac. Its suspension was made for rough terrain, its drivetrain for dealing with low traction surfaces, and while its long wheelbase makes it less agile than the more traditional two-door Jeep, it's still very sure-footed over uneven ground.
Not that the Navara is any mug here either. Its independent front end leaves the rear axle to do most of the work, and here you rely more on a limited-slip diff than any great flexibility in those leaf springs, but given the traction it'll keep moving well after you'd expect the laws of nature to take over.
Ultimately, though, the combination of less flexible suspension, lower ground clearance and more vulnerable bodywork will find it out. The Wrangler can get across really tough ground without damaging itself, which is no small thing when you're talking about a vehicle worth this much money, and though the Nissan is a worthy adversary, Jeep does have the edge in terms of traction. 
The Navara feels as though it will carry a ton of sand on to a grubby building site ten times a day all life long without complaining, and that's certainly an important off-road skill for a truck to have. Ultimately, however, the Wrangler feels as if you could quite happily conquer the High Sierras in it – which is because, as many do, you can.
---
VERDICT | Two different vehicles: neither is beaten here. Horses for courses, but Wrangler would win but for its lack of a manual gearbox
To some extent, what we've proved here is that yes, we are indeed comparing two vehicles which can't be compared. The Navara has strengths and indeed weaknesses that are down entirely to the fact that it's a pick-up, while the Wrangler's character is defined more than anything else by its status as a full-house off-roader.
So, is the contest null and void? Of course not. Two vehicles whose prices are within a few hundred quid of each other will always compete for sales, even if they're a lot more different to each other than these two.
Even so, that doesn't necessarily mean there's a clear winner. The Wrangler is better off-road, the Navara performs more smoothly but neither rides or handles very nicely. The Navara's cab is more spacious and better thought out, but the Wrangler is more usable as an everyday vehicle, especially if you have a family. Neither is cheap to run, but each in its own way is laden with character.
Where would our money go? It really does depend. We're a magazine that loves modifying, and there's no vehicle more ripe for this than a Wrangler. But we love double-cabs, too, and there's still no UK truck that's more beguiling than the big, badass Navara.
Ultimately, it's the lack of a manual option that costs the Wrangler a win here. It would be a better truck to drive, and cheaper to both buy and run. As it is, though, the balance of pros and cons means we're calling the contest as a draw. These are two very fine vehicles – whichever you buy, so long as you've done so for the right reasons we don't think you'll regret it.
JOINT FIRST PLACE | Nissan Navara 2.5 DCi Tekna
4/5
Still the closest pick-up to the character of an SUV
+ Excellent drivetrain, comprehensive kit list
- Truck-like ride, stodgy steering
JOINT FIRST PLACE | Jeep Wrangler 2.8 CRD Sahara 4dr
 4/5
A family car like no other
+ Huge off-road potential, massive interior space
- Witless auto box, poor use of all that space
The Navara undergoes our towing test here
NAVARA, NAVARA DOUBLE-CAB, GROUP TEST
Share this article