Toyota Land Cruiser ♦ Vehicle Test ♦
Originally Published: August 2012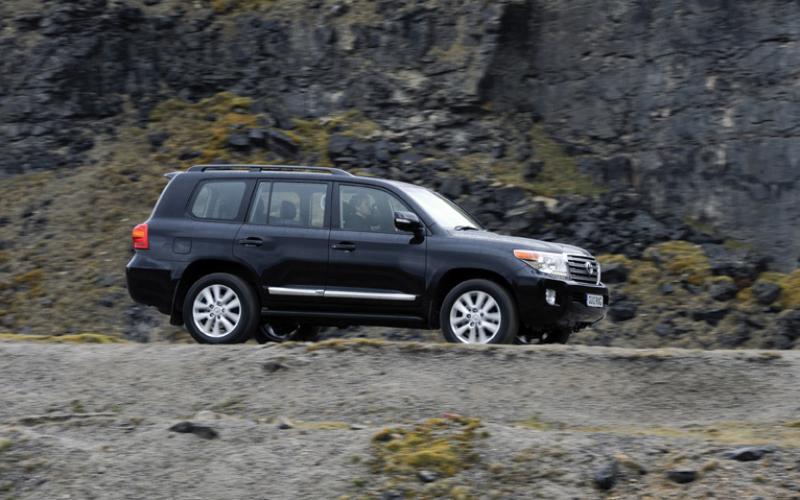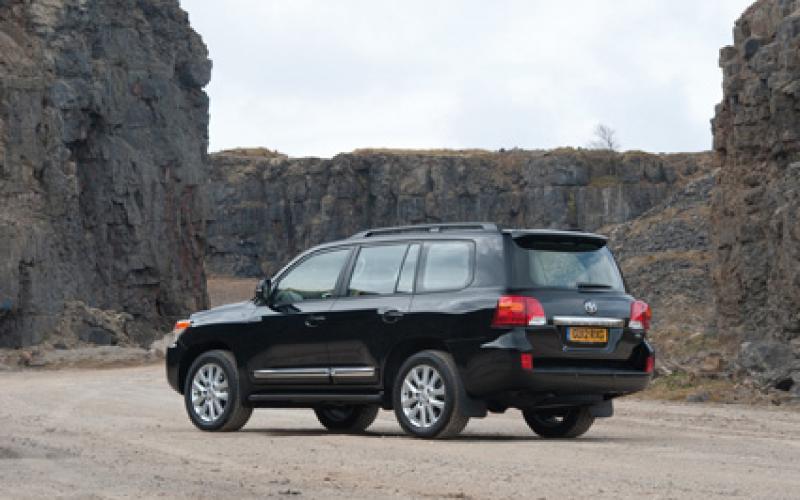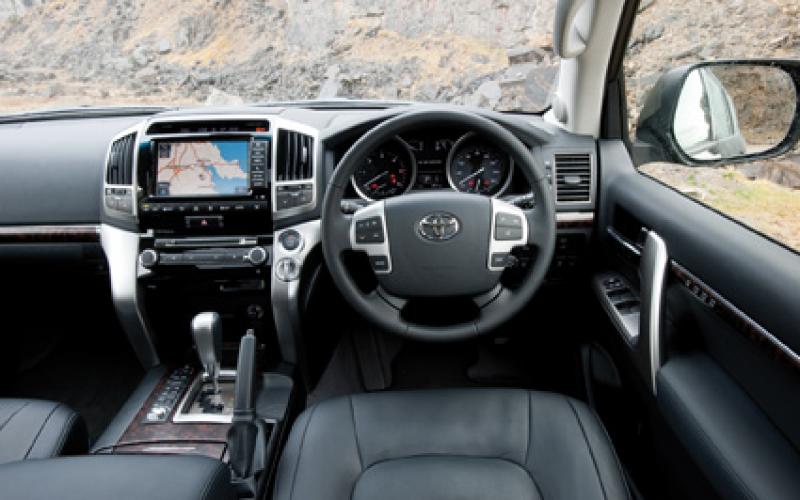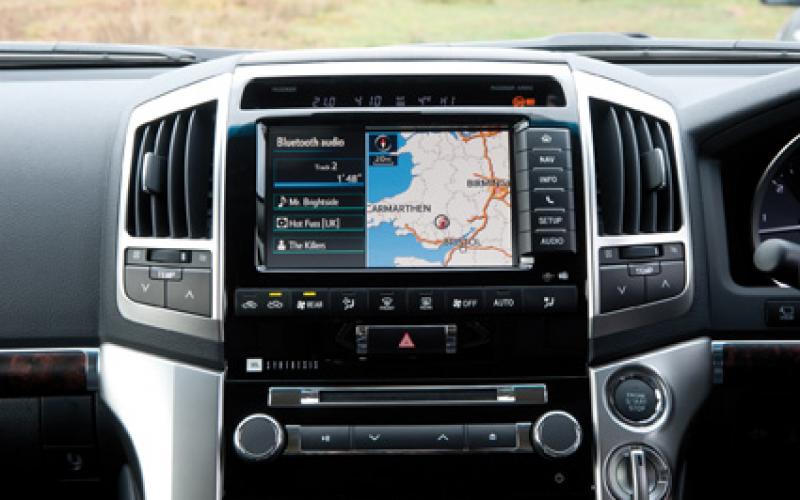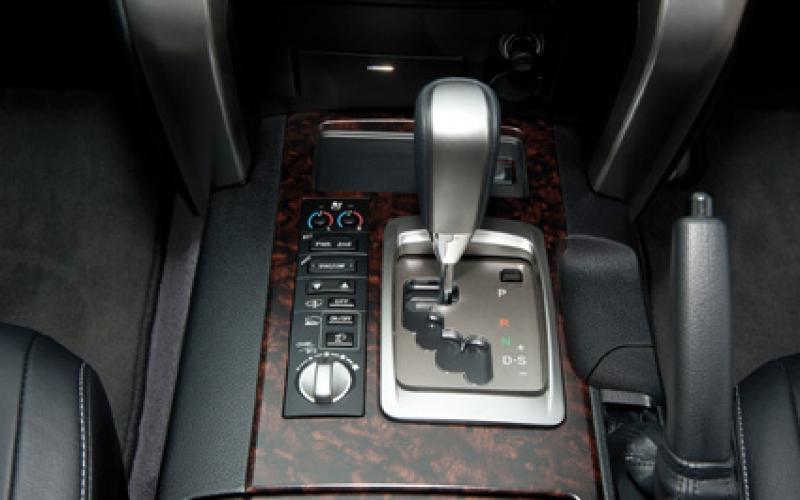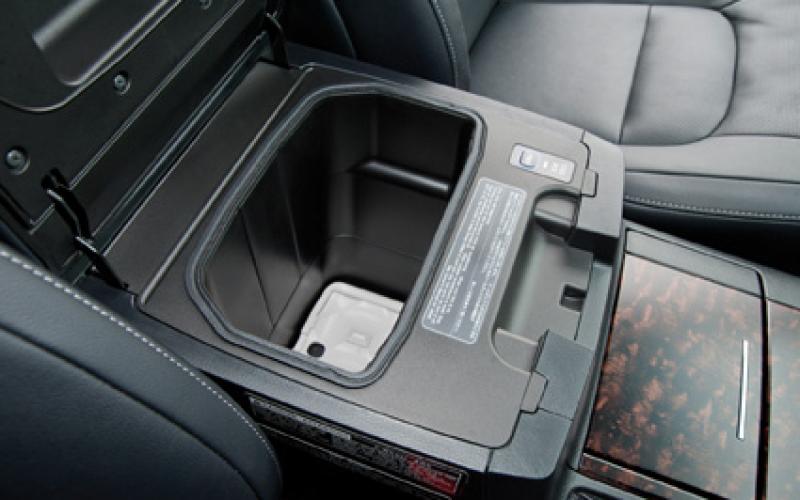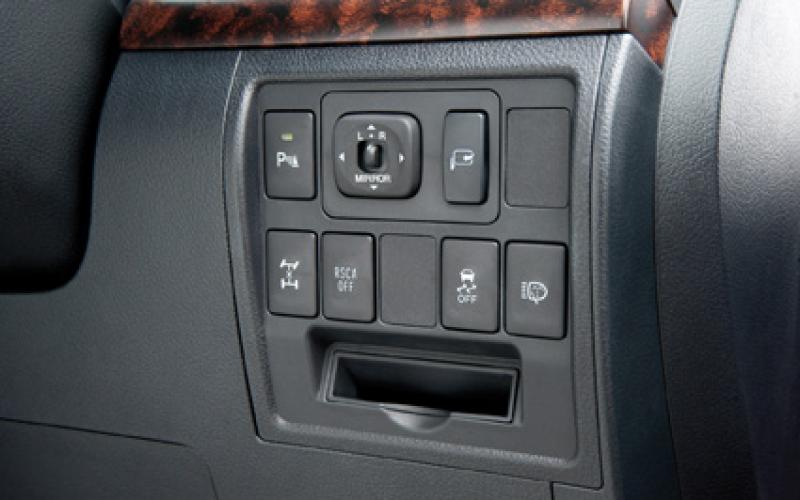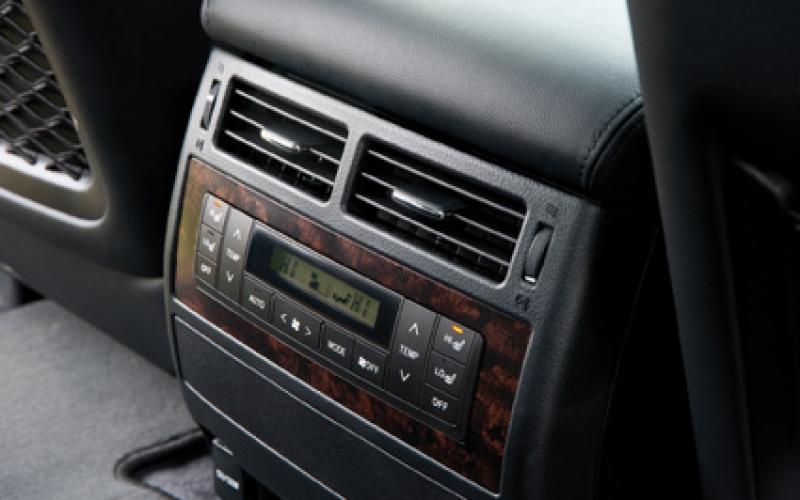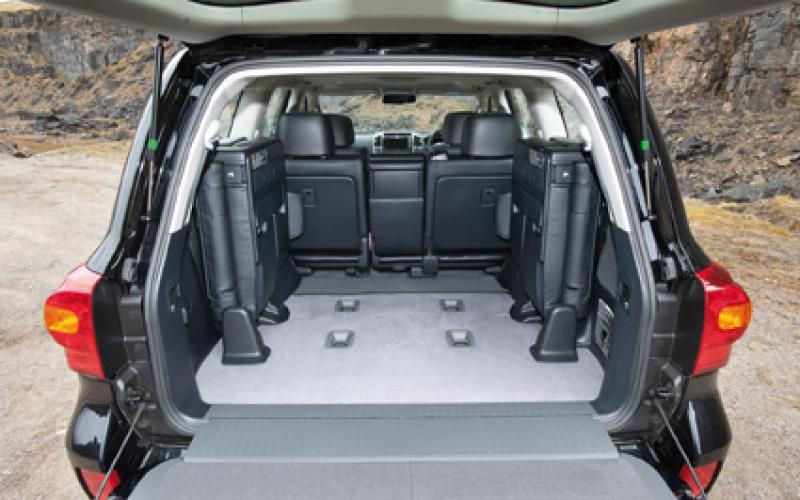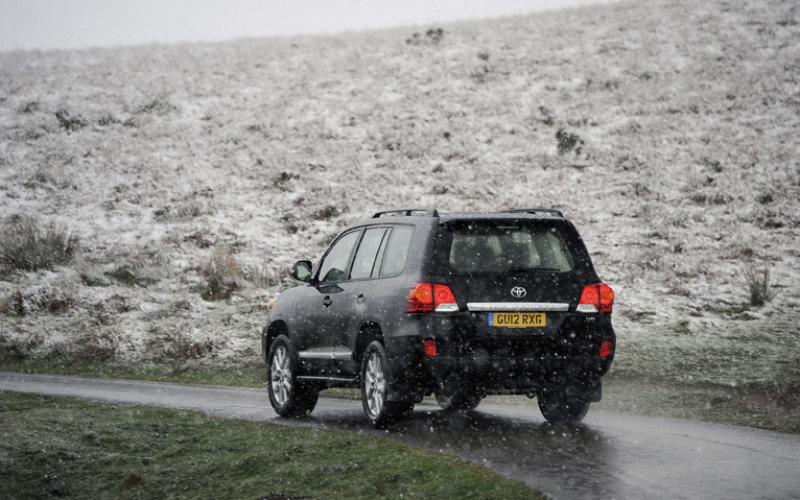 <
>
Big Land Cruisers have always been at the exclusive end of the 4x4 market. In the days before soft-roaders, the old 80-Series and early Amazon were about as luxurious as it got; today, there's a lot more around in the way of premium alternatives, but if you want a proper truck there's less to touch it than ever.
Whether that makes it a relic of the past, or a welcome reminder of how it used to be, is down to personal choice. What's not in doubt, however, is that it's very, very big, and that with a ladder chassis, live rear axle and dual-range transfer box, the engineering on which it's based is as sound as it comes.
On top of that basic old-tech layout is a whirlwind of electronic gadgets that makes your head spin. Along with  lashings of luxury, these go some way to justifying a price of £63,910.
Even by modern standards, that's a lot of money. It makes the Land Cruiser more expensive than all but the top models in the Cayenne, X5 and M-Class ranges, for example. So the facelifted version tested here, which was launched this spring, has a lot to live up to.
At the heart of those revisions is an updated 4.5 V8 diesel engine, with much improved emissions and fuel consumption. Power drops a little to 268bhp, but with 479lbf.ft from 1600rpm you wouldn't notice, and 29.7mpg on the combined cycle is little short of miraculous for a truck of this size and weight.
Further changes include a more premium interior spec than ever, tweaks to the frontal styling and yet more electronic off-road aids. The latest world-first here is Turn Assist, which brakes the inside rear wheel under cornering to help slew the vehicle around – just like the fiddle brakes you see on triallers and comp safari cars, but without any ugly metal levers sticking up out of the floor.
Cabin and practicality
4/5 
If the very best in cabin materials is at the top of your must-have list, the Land Cruiser isn't for you. The softest-touch dashes, supplest leathers and most convincing wood and aluminium effect trim plastic are found elsewhere.
It is, however, still immensely impressive inside, and not just because of its huge proportions. The materials are still very good quality, in a no-nonsense sort of way – you may indeed conclude that they make the pampering you get from a premium soft-roader feel kind of prissy. And the sheer amount of the controls on the dash and floor console makes it feel like you're piloting a high-tech spacecraft.
So too does the view you get from up high in the driver's seat. This is more like a chair, and with electric adjustment and three levels of both heating and cooling, it's very easy to get comfortable in. Combine this with your commanding vista of the road, and it's a supremely relaxing vehicle in which to cover the odd thousand miles in a day.
Your passengers won't complain, either, with a similarly lofty view and all the head and leg room a person could want. The third row is better for kids, but it'll take a couple of six-footers if needs be.
These two rear seats fold up against the side of the rear cabin, which robs a good chunk of cargo volume. But there's still a lot of room in there. You can't help but feel, though, that the sheer enormity of space in there has been used as an excuse not to bother with the sort of clever seat-folding solutions we know Toyota is capable of. If the second and third rows disappeared into the floor the way they do in the smaller Land Cruiser (or, still at the top of the game, the XC90 and Discovery), what a stunning load-shifter it would be.
That's doubly frustrating because there are so many clever practical touches throughout. The cubby box is a fridge (a proper one, not just a blower of cold air) and as well as the usual 12v outlets there's a mains socket in the wall of the rear cabin. It's a very, very usable vehicle in so many real-world ways.
Behind the wheel
4/5
As we've suggested, the first thing that strikes you about the Land Cruiser is its utterly dominant driving position. Surveying all around you, the road is your manor, you the master in your huge, unstoppable wagon.
That no doubt sounds crass, but with such a vastness of torque surging through the six-speed auto box, the V8 really does urge you forward. At times, particularly around town, you find yourself having to hold it back on the brakes.
Yet it never feels like a handful. Its steering is light and surprisingly accurate, and though the vehicle's sheer weight and live rear axle mean you feel the bumps, it takes a lot for any impacts to come through harshly.
It doesn't ride as plushly as some on the motorway, though, where any imperfections the back axle finds in the surface come thumping through into the cabin. It doesn't so much glide as rumble along, though wind and engine noise are well muted at this kind of speed.
On the open road, massive grip and surprisingly good body control mean you can hurry it along way better than you'd expect. It's much nicer, though, if you adopt a relaxed style of driving, because the feeling of a massive weight shifting is never far away and, while you can get over that as a driver, when you turn to grin at your passengers expecting them to nod with appreciation at your skills behind the wheel, you'll see them scowling back at you as cling on to the nearest grab handle.
If you're on your own, however, taking two and a half tonnes of metal along for the ride never felt more effortless. The engine really is that assured, and the gearbox gives you complete control whether in auto or manual mode. The latter is very effective, though in a vehicle of this nature it feels a little out of place; more relevant is the welcome fact that the brakes are unstintingly excellent at checking the sort of momentum you can build up in a truck of this weight.
Off-road
5/5 
The Land Cruiser is built to do absolutely anything without suffering undue mechanical stress (Toyota says that the engine is 'engineered to perform faultlessly in temperatures from -30 to +50°C'). That doesn't necessarily mean it's ideal in every off-road situation, but so long as its size and weight don't kick the ladder out, it has the basic structure to go anywhere with confidence, and the clever tricks to do so with finesse.
Ultimately, the depth of its low-range gearing and flexibility of its live rear axle would be enough to make it a winner. But every iteration of the Land Cruiser seems to yield yet more gadgets, and this one's no different. Of particular note is the Turn Assist system which, when engaged by the driver, brakes the inside rear wheel on the way round corners. The idea is to help slew the vehicle around, thus tightening its turning circle; we could see it working when we tested it, though how significant a difference it actually makes was less obvious.
That's something you could say about many of the high-tech toys on this and other modern off-roaders. This latest Land Cruiser has surround cameras to show you the terrain you're in and even project your path on to it based on where your tyres are pointing, and of course there's a menu of set-up options to optimise it for various types of ground.
Are any of these things a substitute for learning to drive off-road? With some 4x4s, you wouldn't bother asking the question. But the Land Cruiser has so much ability deep down, it deserves to be handled by someone who knows what they're doing. It's tractable, poised and agile in the extreme, making a mockery of its size and bulk the way nothing has since the halcyon days of the old 80-Series.
Buying and owning
4/5 
At this sort of money, buying a V8 is very much a case of being rich. Even a cheap finance deal would cost you well over a grand a month, and the tax and insurance are going to be as heavy as the vehicle itself.
Discounts do exist on new and nearly new examples, but with the vehicle being so rare and desirable, they're not very exciting. Depreciation is pretty slow, too – though this does mean you'll get an excellent return when you come to sell it, if you can ever bear to.
We mentioned that emissions and fuel consumption have been improved, and they certainly have. At 250g/km, it still puts out a lot of CO2, but that's a lot cleaner than vehicles of this nature used to be. And 29.7mpg is a step in the right direction; the Land Rover 90 we tested last month was almost a tonne lighter, had an engine half the size of the Land Cruiser's and still managed to be worse for both emissions and fuel consumption.
Add in a five-year warranty, and this is a vehicle whose running costs aren't as high as you might expect – especially if you factor in depreciation as well. It's a big initial investment, whether you buy new or used, but the returns are very good.
---
Verdict
4/5 
The big Land Cruiser has always been magnificent, and in many ways this latest one is more so than ever. It's not radically different from previous model years, but the updates have improved it significantly, making it better to drive and cheaper to run – and, given that gadgets clearly are at the heart of what Toyota thinks it's about, cleverer than ever off-road.
We've said it before, but we'd love to see a more modestly specced Land Cruiser on sale in the UK. Based on its pricing in countries where this option is available, a version optimised for off-road use would cost £40-45,000 here, which is still an awful lot, but what a truck it would be.
Toyota has always said the demand simply isn't there, so that's never going to happen. But if you've got the resources, the V8 is a superb off-roader, and a superb car. The best, in fact, since that 80-Series. And praise doesn't come much higher than that.
Share this article