Thrown In At The Jeep End
Originally Published: August 2007
Words: Gemma Askham
Pictures: Steve Taylor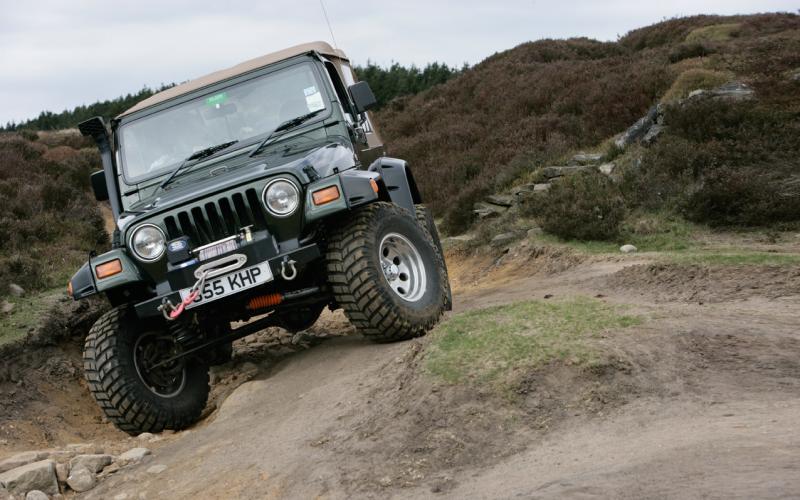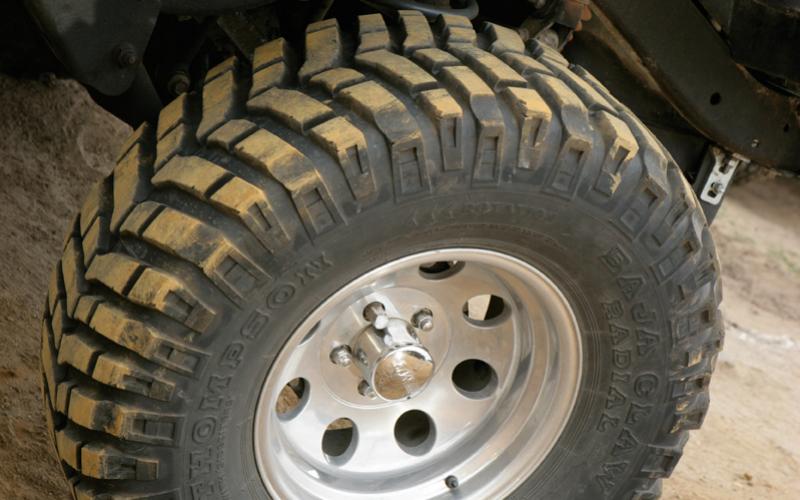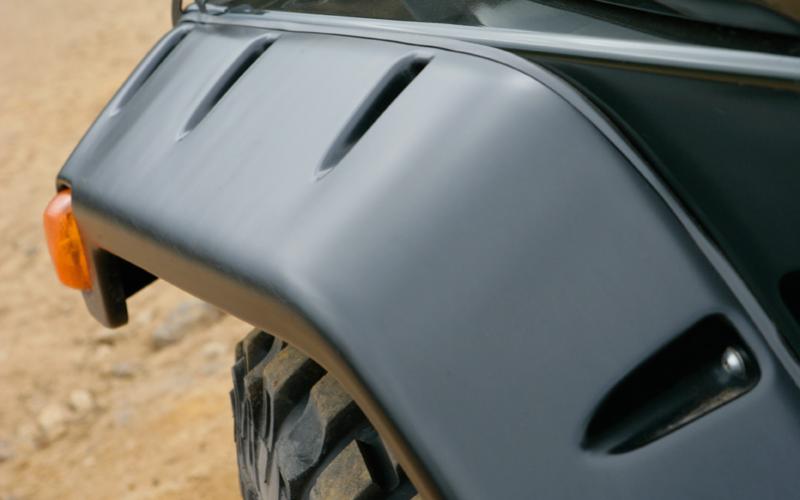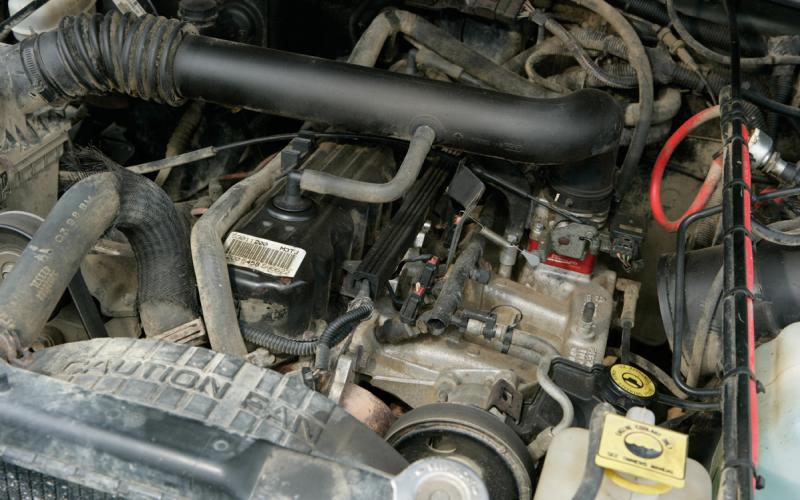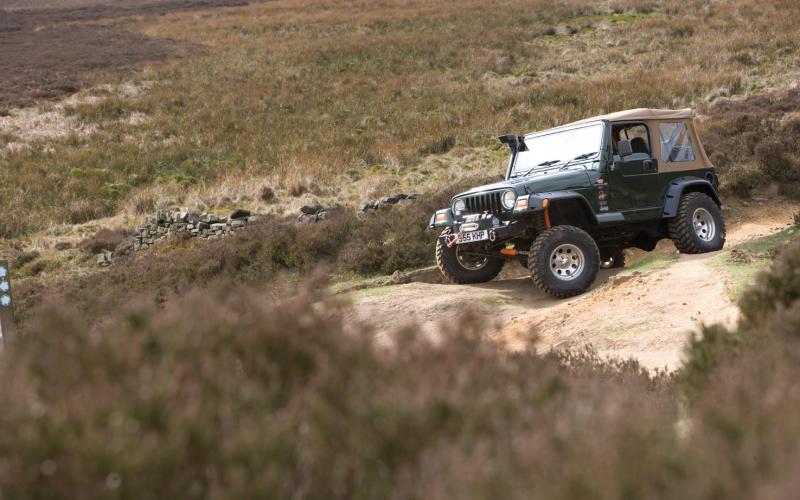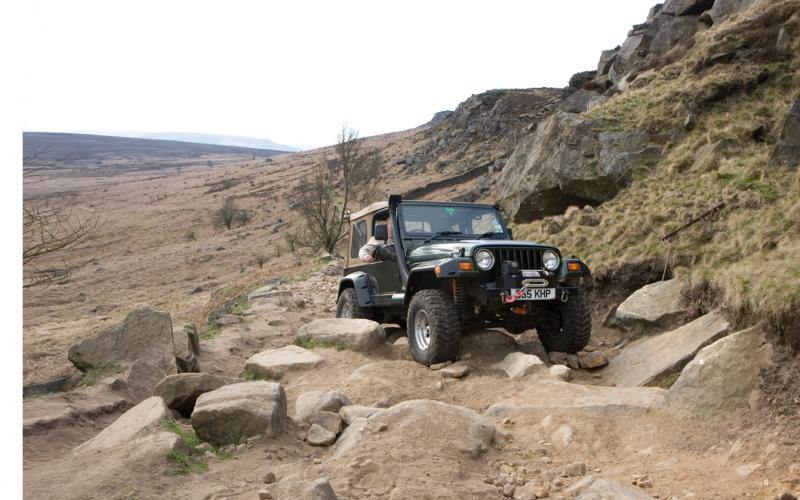 <
>
When Karl Pearson's wife bought him an off-roading holiday for his birthday, little did she know what she'd started. But when Karl began to make the ultimate TJ Wrangler, he soon discovered that starting was the easy part - it was knowing when to stop that was the problem...
As anyone who's ever mistaken their losing lottery numbers for winning ones will know: sometimes that dream ticket isn't quite as good as it seems. All too often our dream holidays become hell-idays thanks to those 24-hour nightclubs sadistically positioned below hotel rooms; your dream wedding turns into your dream divorce as it's not Claudia Schiffer standing next to you but greasy Vera from the chip shop; and your dream car is just that... until your mate gets a bigger, more powerful one. So when Karl Pearson set out to build his dream Jeep, he didn't leave anything to chance. Careful planning, well-sourced parts, expert craftsmanship and a whole lot of off-roading bottle were the ingredients. And the result? 'It's my absolute dream vehicle that I've wanted for years and years and years, and I've finally got around to doing.'
What makes Karl Pearson's TJ Wrangler extra special, however, is the fact that it represents his first full-on foray into off-road fabrication. And what's even more unusual, is that he has his wife to thank for it. If it weren't for his partner Helen whisking him away on a surprise off-roading holiday to Clyro as a birthday present back in 1990, Karl might never have enjoyed the sweet taste of making a muddy mess.
'I'd always liked the big, chunky look of 4x4s, but I'd never owned one,' he explains. 'But shortly after I came back from that birthday trip I just had to go out and buy one. I've been completely hooked on off-roading ever since – and my wife can't moan about it!' On returning home, Karl invested in a string of different 4x4s which he treated to minor modifications, such as new wheels and a few 'home-made odds and ends,' before hastily selling them on. However, in the same way that there's a book inside every aspiring author, so there's a build inside every makeshift mechanic; and when Karl decided he wanted to own the ultimate off-road toy, it was time to take a Jeep of faith in his DIY skills. 'A lot of thought went into every modification: I mean, if you're going to do it, you want to do it right. But I love getting my hands dirty and this was my dream.'
After deciding on a TJ Wrangler because of its 'good looks and superb off-road performance,' Karl sourced a completely standard model from a private seller in Sheffield and set about turning his mucky fantasy into reality. The Jeep would never have to play a dual role as Karl's everyday on-road vehicle, so his goal was simple: to create a lean, mean playday machine that was as capable as it was good-looking. And so for the last eighteen months, Karl has invested his evenings, weekends and over £10,000 into a project that has taken him from a green green laner to an experienced engineer and mud plugger. 'Wizard Autocraft fitted the four-inch suspension lift because I wanted to make sure the alignments were spot on, but I've done all the rest myself,' he reveals. 'I started with the small bits first, like adding small mud terrains and a raised air intake. Bigger wheels went on after the lift – and then it just went silly after that!'
And by the sounds of things it's still going silly because Karl has no plans to call time on his mods. 'I've got quite a few more plans actually!' Karl jokes. 'It needs re-gearing for a start, but if I'm doing that then I may as well put diff locks in. Although I'm still a bit unsure whether diffs are a good idea – I do think they take some of the skill out of driving.'
For Karl, driving is what this build was all about, and now the Jeep is (nearly) finished he's not one for sitting around admiring his pristine handiwork. 'I've just come back from a winch challenge on the Isle of Man with the J33P Club. I got in some sticky situations – my winch was out every two seconds! – but everything worked very well,' exclaims Karl. 'In fact, with the lift it's like a Billy Goat – it will go anywhere!'
But this is one story where it's not just the vehicle that's made a journey. For Karl Pearson, this TJ isn't just a good off-roader, it's the good off-roader that he made… and he's damn well going to enjoy it. 'It's a fantastic vehicle; the noise the engine makes is just unbelievable. I'm not ever going to sell this one, ever,' he enthuses.
And while for now his mind is busy contemplating the next modification, come Sunday's playday he will be reaping the rewards of months of hard work. 'It might look very clean and tidy, but I can assure you it gets some proper use. I always go for it – you've got to!' And who said you couldn't make your dreams happen.
Engine
Original 4.0-litre, six cylinder petrol
Throttle body spacer
Raised air intake
Karl's kept the TJ's standard 4.0-litre petrol engine, but he's added a raised air intake and a throttle spacer which give it a bit more mid-range torque. 'This is one area I'm not planning on making any more changes to,' he says. 'It's thirsty enough as it is!'
Transmission
Despite having a totally standard transmission, Karl hasn't experienced any problems at all; partly due to the fact that it's a very low mileage vehicle.
Axles
The axles are entirely standard, although diff guards are the next big thing on Karl's off-roading wish list.
Bodywork
+6" wheel arches for wider tyres
Along with several products used on the build, Karl sourced the 6" wheel arches from American Jeep parts specialist, www.quadratec.com, because 'its products can be up to half the price of the same items sold over here.'
Brakes
Karl is looking to add a rear disc brake conversion and is currently trying to source the appropriate parts. 'I've found a way of doing it where you don't need to buy a full kit: it's just a case of tracking down the right components.'
Suspension
Pro Comp +4" Stage Two Lift Kit
ES9000 dampers
Quick disconnects
Karl had the 4" suspension lift kit professionally fitted at Wizard Autocraft in order to make sure the alignments were correct, and he's been particularly impressed with the results. 'It's working very well and the quick disconnects make one hell of a difference – by disconnecting the steering stabiliser from the axle you get a lot more articulation. You can then put them back on when you're driving on-road and the vehicle's not like a big wobbly jelly.'
Wheels & Tyres
Mickey Thompson Classic 2 Alloys
Mickey Thompson Baja Claws – 33/12.50-15
Karl bought the Mickey Thompsons based on personal recommendations and he hasn't been disappointed with how they've performed. 'I'm very pleased, they are a very good tyre; but it doesn't bear thinking about how much they've cost me!' he exclaims. The alloys were mainly chosen for their striking looks, but they perform well, too – although Karl admits that he wouldn't opt to buy them again. 'The alloys are terrible to keep clean and have started pitting already, but obviously they're made for America so they're not really suited to this climate.'
Protection
Skid Row fuel tank guard
Standard roll cage
Replacement, raised spare tyre carrier
The fuel tank guard was essential underbody protection because the petrol tank in the Jeep TJ model is located so low down. 'It seems silly to have the fuel tank right at the back – when you're going up and down hills it always seems to catch,' explains Karl. 'Once you've got a lift on it's not so bad, but it's still quite vulnerable. I also need a diff guard. It needs all sorts of protection really!'
Karl changed and raised the rear tyre carrier to prevent it from catching, but this is still proving to be problematic so he plans to move it up even higher.
Recovery
Superwinch EP9 winch
Plasma rope to replace steel
David Bowyer winch mounting plates
Pro Comp bumper on rear, along with 2" receiver hitch and two shackles
Recovery is one area of the vehicle which is not standard at all. For safety reasons Karl replaced the steel rope on the Superwinch EP9 with a plasma version, and he's fabricated a mounting device with the help of a David Bowyer winch plate and 'some home-made bits and bobs.'
Inside
Rear seats removed
CB radio
Seat covers
Karl admits that he's only made limited alterations to the inside, the main change being to remove the rear seats and add a home-made box to put recovery gear in. He's contemplating putting in bucket seats, but worries that they would make it even trickier for the driver to get in and out of the vehicle.
TJ, PRO-COMP SUSPENSION, MICKEY THOMPSON BAJA CLAWS, SUPERWINCH EP9, PRO-COMP BUMPER
Share this article