You Can't Say Fairer Than This...
Originally Published: October 2013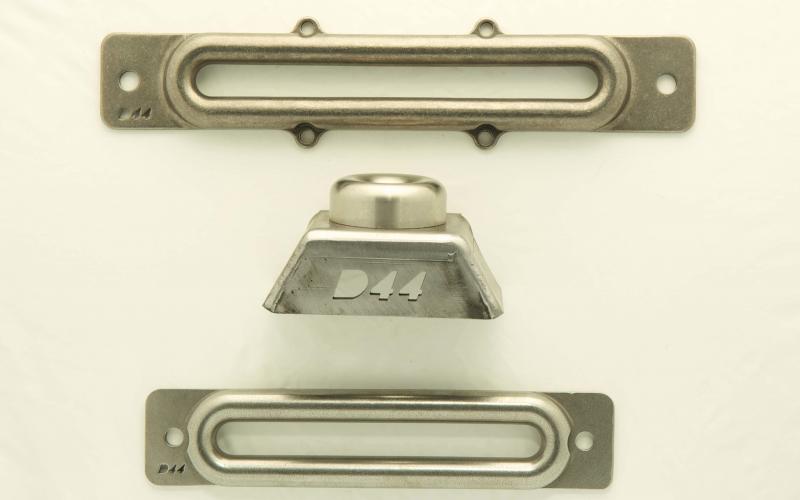 <
>
It's pretty obvious that one of the things a hawse fairlead has to do is be smooth and slippery. Not a big ask when it's brand new, but after a few hardcore recoveries have seen a gritty, muddy winch rope dragged over its surface under enormous tension, it would take something pretty stout to remain unscathed.
Something like Devon 4x4's range of D44 stainless steel fairleads, for example. Made from high-nickel 316 marine-grade stainless, these one-piece units have no sharp edges or pinch points and will resist damage and corrosion about as well as is possible.
As most people in the off-road scene are well aware, Devon 4x4's reputation has been built to a great extent on the long-term successes of the company's owner Simon Buck in winch challenges at home and abroad. So it won't come as any surprise to hear that the range of fairleads on offer puts them fair and square in the competition category of aftermarket kit.
The 'standard' unit, for example, which retails at £102.45 including VAT, is offered in two separate forms – one for low-line winches and one for, let's not beat about the bush, the Warn 8274. Then there's another version to suit winches with a +3" drum, such as those offered by Gigglepin with the competition market firmly in mind; this time, the price is £130.68.
That's your front and rear winches taken care of, but what about the one in the middle? If you've even got one, you're in the top 1% when it comes to taking winch challenges seriously, and you'll know that what this unit needs to do is be able to pull your truck in absolutely any direction at all. Hence the 360-degree fairlead in our pictures, which is made from the same top-notch stainless steel as the others.
Unlike the front and rear fairleads, this one comes in two parts. One is a weld-on bracket for the vehicle's roll cage, allowing you to place the unit wherever suits its purpose on your truck, and the other is the fairlead itself, which simply bolts on to it. The cost this time is £98.66, again including the VAT.
You don't need to look far to see many different solutions when it comes to routing winch cables, from custom spaceframe extensions to hacking a synthetic rope to death in a rusty old roller. Among all the good ideas, though, this is gold-standard stuff which definitely lives up to Devon's reputation. To place your order or just find out more about it, head for www.devon4x4.com.
RECOVERY, WINCHING ACCESSORIES, HAWSE FAIRLEAD, DEVON 4X4
Share this article