Major Improvements to Warn Winches
Originally Published: February 2013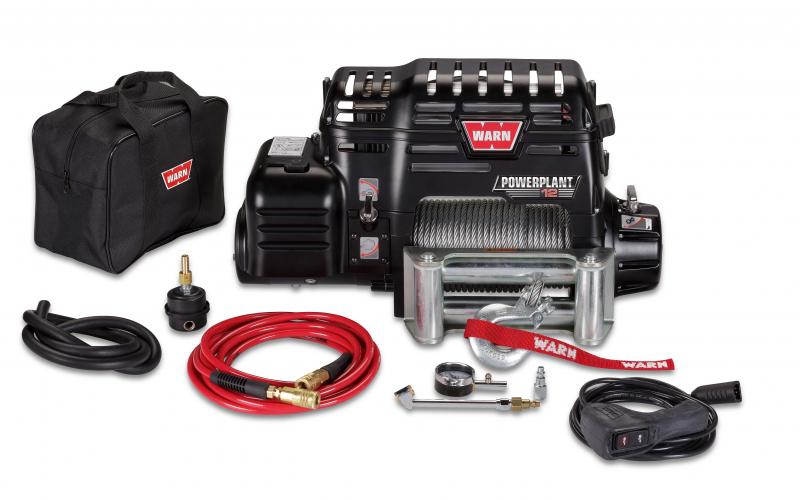 <
>
Warn's UK importer, Arbil 4x4, has announced the arrival of its new 24-volt Zeon range in stock here, along with a revised version of the PowerPlant combined winch and air compressor. The Zeon is available with two levels of pulling capacity, while the updated PowerPlant promises 'even greater performance and reliability' than the original model.
The new Zeons will be familiar to everyone who knows the range of old, with the same distinctive styling. With a new 24-volt motor and contactor, however, Warn says it's now unrivalled for speed and strength alike whether in 10 or 12,000lb trim.
Prices for the Zeon 10 and 12 are £1097.82 and £1185.65 respectively, in each case including the VAT. Premium prices for sure, but these are premium products built to commercial standards and, in Warn's words, 'packed… with all the performance features off-roaders said they needed most.'
It's fair to say that when Warn first introduced the PowerPlant, not many off-roaders had thought about a built-in air compressor being one of the features they wanted on their winch. But with on-board air being near the top of so many people's must-have lists it actually makes a lot of sense to combine the two.
Warn describes the PowerPlant as a 'multi-tool,' combining as it does a heavy-duty winch with a compressor capable of running air tools and fully inflating a 35" tyre in eight minutes. As before, there are two models in the range – the HP and HD have been replaced by the 9.5 and 12, with the names referring to their pulling capacities in pounds.
'The new winches go one better than their predecessors,' says Warn. 'Not just in power, but also with new additions such as stainless steel fasteners, a new pressure switch, revised contactors and a new air hose.' You also get a tough carry case for the ancillares, which is good because there's plenty of them.
The PowerPlant is part of Warn's 'Heavyweight' series, and you could certainly see it getting action on the bumper of a work truck or adventure wagon. At £1927.33 and £2023.69 respectively for the 9.5 and 12, it's priced more like a competition unit than the average playday slugger, but if off-roading is something you do for work rather than play it might well be the smart choice among the investments you can make.
That being the case, www.arbil4x4.co.uk is your next port of call. You'll find both the revised PowerPlants here, along with the new 24-volt additions to the Zeon range and all Warn's other winches besides. Cool kit all of it. 
WINCHES, WARN, ARBIL, AIR COMPRESSORS
Share this article