Goodwinch Goes 2up for 'Ultimate Winch'
Originally Published: January 2015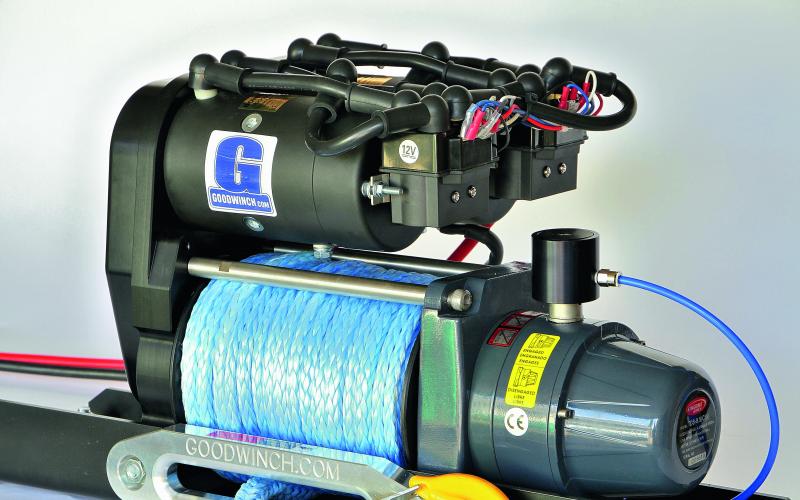 <
>
The winch market was once a pretty sleepy place, with only a small number of players in it and very little innovation going on. Ever since the rise of challenge-style off-road competition, however, this has been turned on its head – these days, a winch is much more than just something you fall back on every once in a while when you mess things up and get stuck, and the market has developed to reflect that.
David Bowyer, he of Goodwinch fame, has been in the winching business since way before anyone ever thought of putting a load of punches in a forest and challenging people to reach them. His company has become well known not only for its keenly priced recovery winches but also for the motors it sells – and now he's combined the two to create what Goodwinch calls its 'ultimate' winch.
This is a new version of its TDS-9.5 Goldfish featuring not one but two of the company's hugely popular Bowmotor 2s. These are installed using a 2up adaptor, which are made in New Zealand and imported to the UK from another A-list name in the winching business, Gigglepin 4x4.
Machined from a solid aluminium billet and black anodised for maximum resistance to corrosion, the 2up adaptor uses a toothed belt to drive the winch's drum from both motors' output shafts. Once the drive plate is installed, these are shrouded beneath a high-density ABS plastic cover. Goodwinch says the whole of the adaptor is made to the highest quality standards and competition-proven in the harshest conditions.
The resulting twin-motor TDS can be combined with a variety of the other upgrades from Goodwinch's existing range to create your own version of the ultimate winch. If you just want to buy a pre-assembled, bench-tested machine with the company's own cherry-picked features, on the other hand, £1999 plus VAT and delivery will get you the 2up TDS Goldfish complete with two Bowmotor 2s, a large drum conversion, an air freespool actuator, 125 feet of Dyneema Bowrope and an aluminium hawse fairlead.
The twin-motor winch runs 12v electrics as standard, but you can also use it with Goodwinch's Turbo2 power controller to over-volt it on demand, further increasing its abilities. Depending on the specification you've already gone for, Goodwinch also offers a choice of Lodar wireless remotes, with two functions (in and out) or, if you want to add freespool operation and 12/24-volt toggling, four.
Other options include an entry-level build (if a twin-motor winch can ever be called that) using two Bowmotor 1s and the TDS unit's own sealed solenoid. Nothing at all wrong with that, of course, though the bigger model upgrades to a pair of Bowright solenoids with larger silver contacts.
If you want to build it up yourself, you can also order the 2up conversion kit on its own. Supplied with two pairs of long motor bolts to suit either the Bowmotor1 or Bowmotor2, this is priced at a frankly rather sinister sounding £666.
Fortunately, that will change to something rather less demonic when you add carriage and VAT. Other prices you might be interested in include £299 for the Turbo2 controller, £99 for the air freespool kit on its own and either £179 or £275 for the Lodar remote, depending on how many functions you want it to have.
'Now that's what we call the ultimate winch system!' says Goodwinch, which might not be very modest but it's certainly not something you'd argue with unless you're packing some serious pulling power of your own. The company is to be found at www.goodwinch.com, and its winches are to be found, well, everywhere.
Share this article