THE SAVVY GRILLE…
Originally Published: November 2016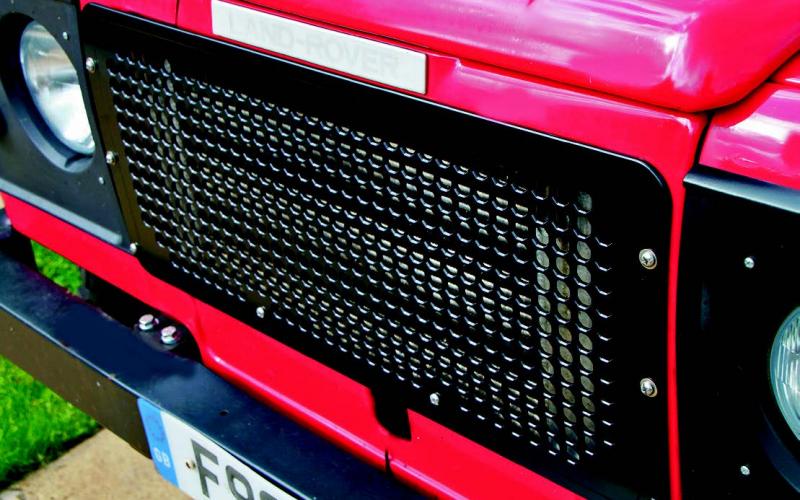 <
>
THERE ARE NUMEROUS COMPANIES out there that specialise in providing parts and accessories for Land Rovers, but Series Defender Outfitters may not be one you've heard of previously.  The company is based in the United States and has been slowly growing the amount of different trimmings it offers for Landies. Here, for example, we have the company's replacement front grille for the Defender.
This is a sturdy piece of kit, made from CNC-milled aluminium to give a 4.7mm thick metal guard that provides a more robust option to the
factory-fitted plastic unit.
From a styling point of view, the octagonal design gives it a neat appearance that's finished off in black powder-coat. But this isn't just a pretty accessory. Series-Defender Outfitters claims that 'you could drive a golf ball into this grille at highway speeds and it would barely even dimple it.' We suggest you don't try this at home on your own drive, though, as you could be looking at a new windscreen or house window, or indeed a lawsuit from your next door neighbour.
Fitting your new and hardened grille is a simple job; ten minutes should do it. All that needs doing is to loosen the current screws in the old grille, apply the new grille and twist it back in using the same screws. Right-hand or left-hand drive, it doesn't matter. But what does matter is that there are two different grille types: one for vehicles with the in-cabin bonnet release and one for the manual 'finger-through-the-grille'
type.
To really give your Defender the frontal treatment, a selection of badges are available including the modern black and silver Land Rover badge, plus the same in green and gold. Or you can go old-school and get a historic Solihull badge.
The grille costs around £350 and the badges are a further £50-£70, depending on your preference.  For more information, and to view other products from Series-Defender Outfitters, pay a visit to www.seriesdefender.com.
Share this article