Much-Needed Thermal Protection for Jeep Engines
Originally Published: December 2016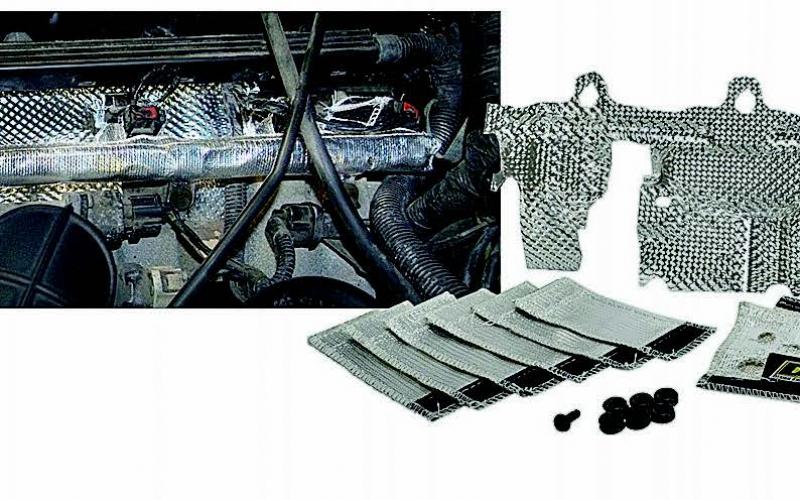 <
>
THE 4.0-LITRE STRAIGHT SIX engine fitted in the Jeep Cherokee and Wrangler was a bit of a legend. Not just for its cheerfully revvy power, nor indeed for its equally cheerful willingness to consume petrol, but for the fact that it's one of the most reliable units ever fitted in a 4x4.
But it's also noted for generating a lot of heat. Which, when you're working it hard at low speeds (not difficult, given the amount of slack
in the auto boxes of the time), could leave you in fear of heat soak affecting the fuel rail and injectors.
This can result in a lumpy idle, or awkward restarting when the engine's still warm. Neither of these is a good thing. But Design Engineering (DEI) has come up with a very good thing, in the shape of its new thermal Fuel Rail and Injector Cover Kit. This is suitable for all 1997-2004
Jeeps fitted with the straight-six engine. It's one of those clue-in-the-name products – it simple reflects heat away from the sensitive areas,
reducing the fuel temperature in the rail and injectors to combat the danger of vapour lock. DEI promises more efficient performance from the injectors, giving you a more consistent response from the throttle.
The kit includes one manifold heat shield, one fuel rail heat cover, six fuel injector covers and twelve original-equipment specification
replacement O-rings for the injectors themselves. The heat shield and fuel injector covers are made out of a high-temperature-rated glass fibre material which is bonded to a heat-reflective aluminised outer side, and the latter is suitable for use with original spec or replacement
injectors alike.
DEI says the kit is quick and easy to install. With a bit of luck, buying one shouldn't be too much hassle either, as DEI has five dealers in the UK. To find out who they are, pay a visit to www.designengineering.com.
Share this article