Isuzu Suspension Upgrades From SuperPro
Originally Published: June 2015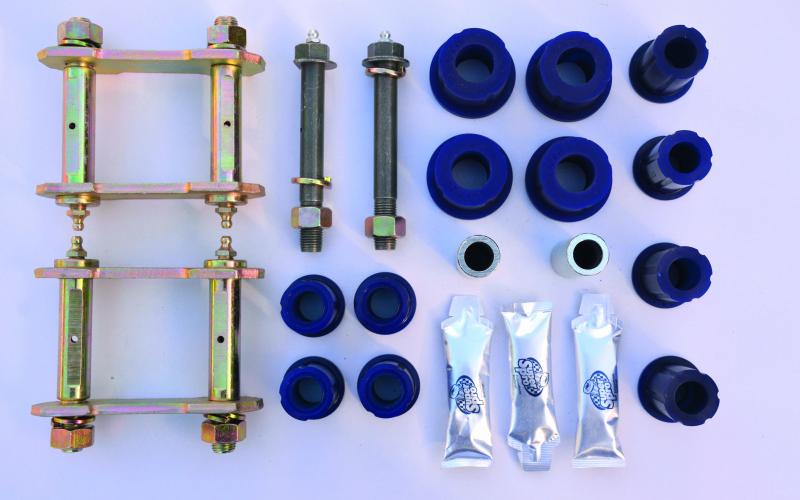 <
>
SuperPro is known for its bushes, but the Australian company has just gone a step beyond that – by launching a combined bush, shackle and pivot pin kit for the Isuzu D-Max and Rodeo.
The D-Max is already one of the most capable trucks on the market, both on and off-road – and the Rodeo that came before it was no slouch either. These kits are designed to keep it that way, by extending the life and improving the performance of the rear leaf springs fitted to all Isuzu Rodeo and D-Max models from 2003 to the present day.
The kits are aimed particularly at trucks that get used hard (they were developed in Oz, after all). The principle they work on is that spring failures are mainly caused by degraded bush movement – so if you prevent that, the springs will live a long and happy life.
'For the spring to operate efficiently,' explains SuperPro, 'free pivoting of the spring eye and shackle top bushes is essential. Suspension movement and heavy payloads cause the spring to extend and compress – movement which is allowed by the rear shackle. If this movement is restricted, the loads on the springs themselves are increased, contributing to compromised performance and early failures.'
To combat this, the SuperPro kits include shackle and pivot pins with integral grease nipples, as well as high-performance polyurethane bushes. 'Lubricating the pins at each service will ensure free movement and protect against corrosion,' says the company, 'while the long life and high levels of resilience of the SuperPro polyurethane bushes will keep everything working perfectly with greater precision.'
As well as giving your springs a longer life, SuperPro says a truck with this kit in place should deliver a more involving drive. Better news still is that Isuzu UK agrees – because they'll be available as approved accessories from all the company's UK dealers.
Prices quoted by SuperPro are £105 for the Rodeo and £125 for the D-Max, both plus VAT. To find out more, go to www.superpro.eu.com.
POLYURETHANE BUSHES, SUPERPRO, SPRINGS, SHACKLES, PIVOT PINS, ISUZU D-MAX, ISUZU RODEO
Share this article