Volkswagen Tiguan ♦ Vehicle Test ♦
Originally Published: January 2013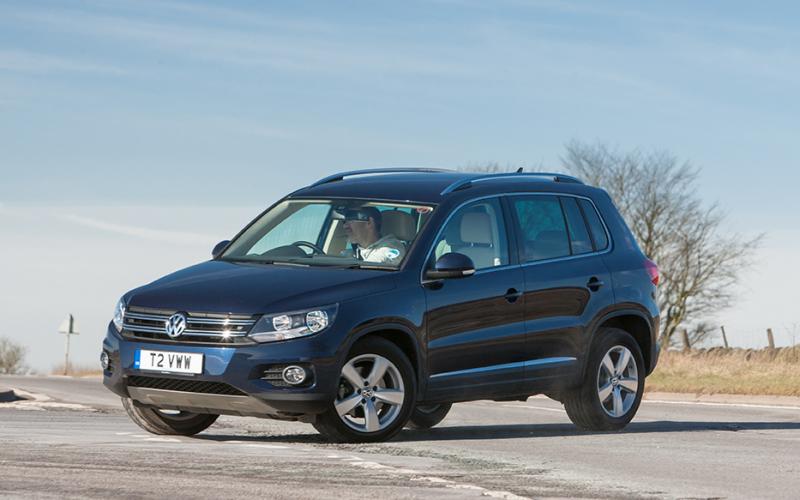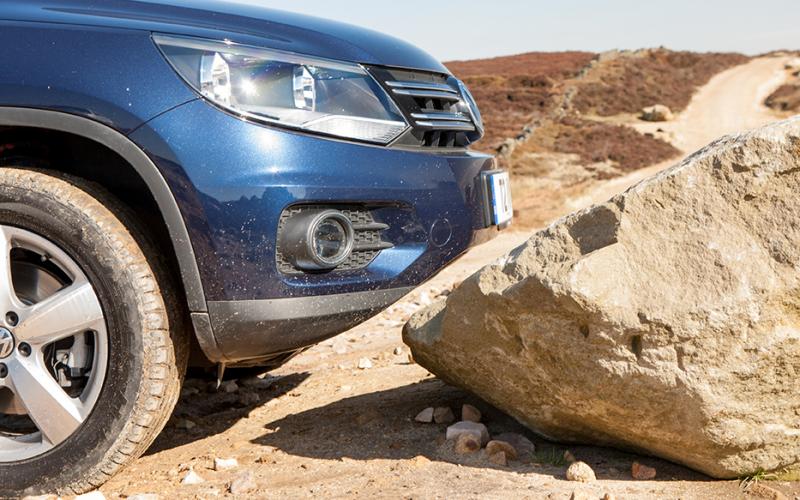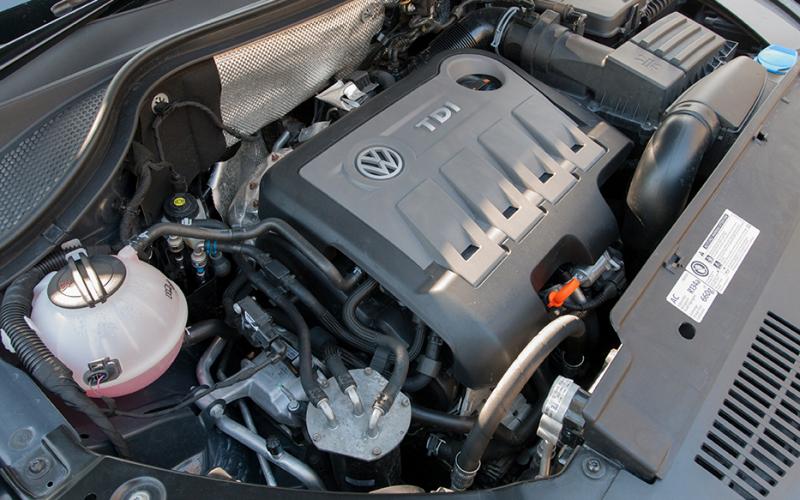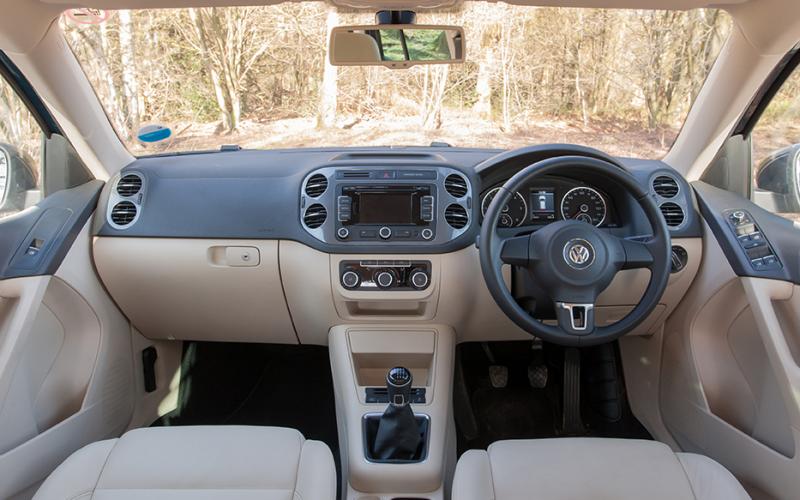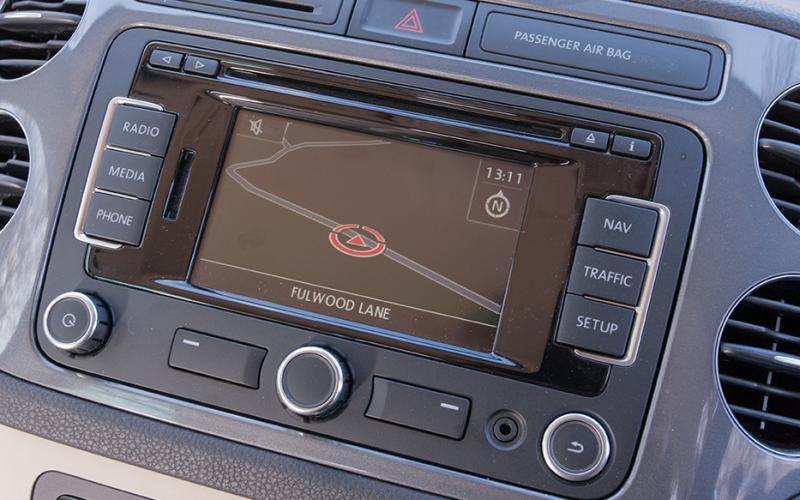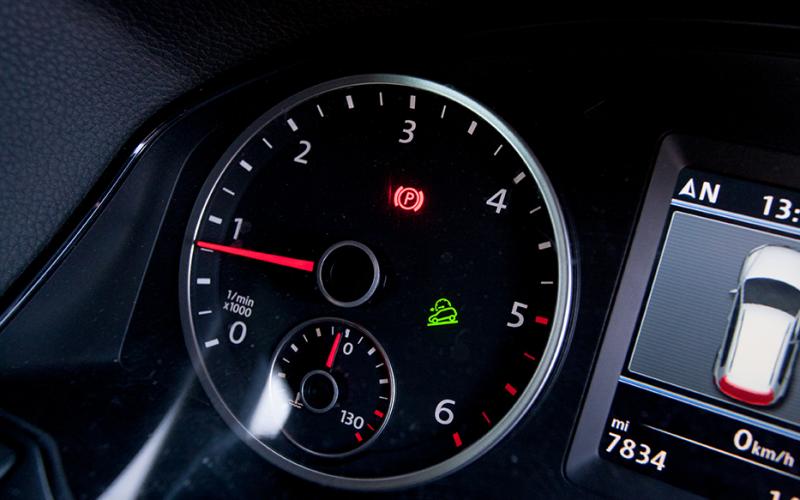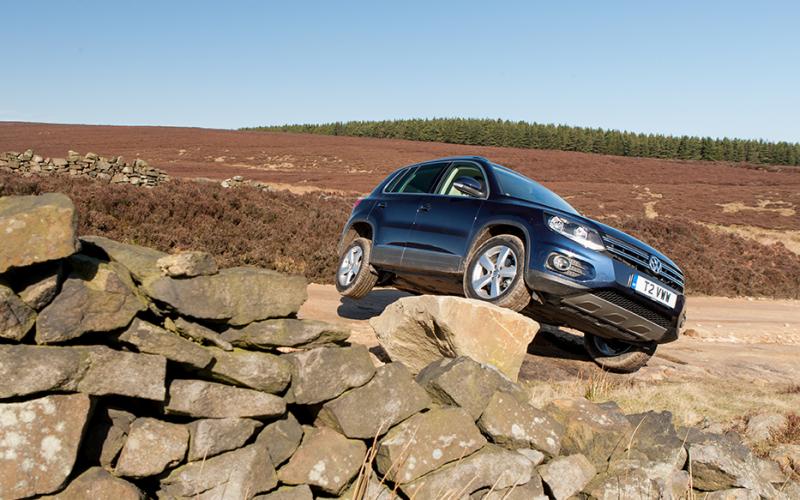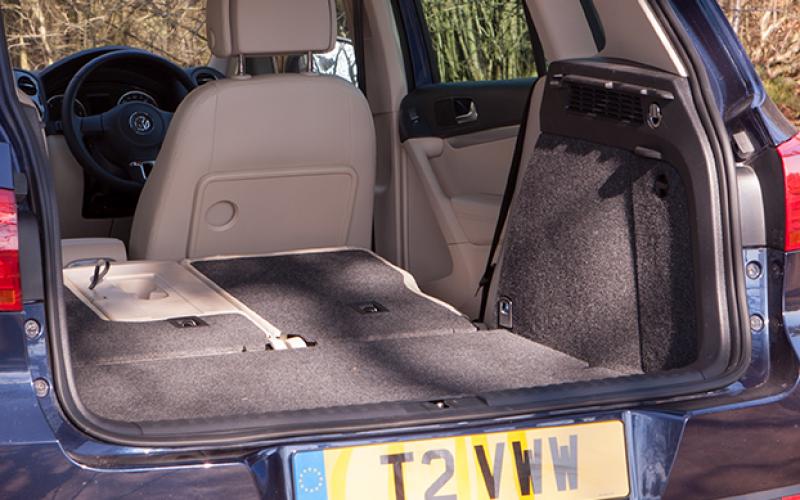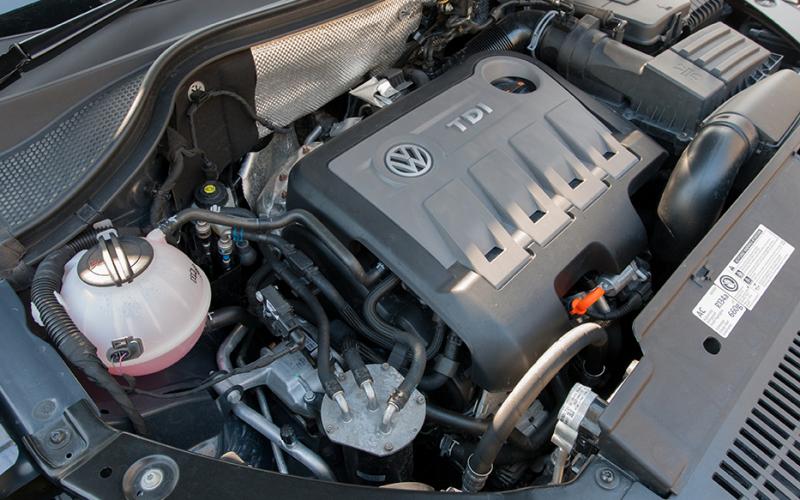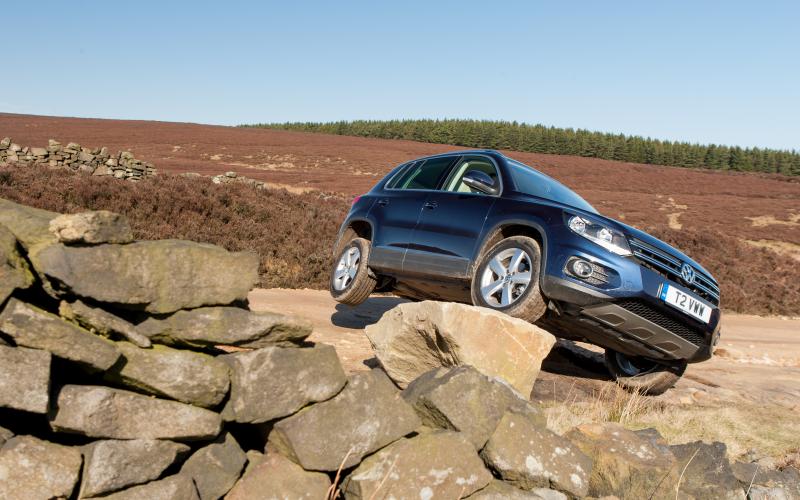 <
>
Volkswagen's small SUV offers a unique body shape to aid its off-road ability. Sounds like a gimmick... or a stroke of genius?
Price £28,865 | Engine 1968cc turbo-diesel | Power 138 bhp | Torque 236 lbf.ft | 0-62mph 10.2 secs | Top speed 116 mph | Economy 48.7mpg | CO2 150g/km
Soft-roaders have risen to become the highest selling kind of 4x4 by an absolute mile. That's a fact that gets lamented by many a purist, but the laws of demand and supply mean these vehicles have blossomed – pushing out more traditional off-roaders on the way.
Volkswagen is a manufacturer that came to the 4x4 market well after the move away from off-roaders began. It hasn't ignored the importance of off-tarmac ability, though.
The Tiguan Escape illustrates this. It's a Freelander-sized SUV, but unlike the rest of the Tiguan range it's tuned to do more than just bump up the odd kerb outside the school gates.
There's been an Escape model in the Tiguan line-up from the moment it arrived in the UK at the start of 2008. The model was revised last autumn, however, and among the changes were updates to its four-wheel drive system which make it more responsive to traction loss than ever before.
Also new are four of the six engines in the range, though these don't include the 2.0 TDI 140 unit in the Escape. Unchanged from the previous model, this is the highest seller in the Tiguan line-up and is available with every trim level. In S, SE and Sport form, an entry-level two-wheel drive option is available, but on the Escape it's mated as standard to the Haldex-driven 4Motion system. 
As with the rest of the TDI 140 range, though, four-wheel drive means the option of a six-speed manual or seven-speed DSG semi-auto gearbox. It's the former we're testing here; list price is £25,865, though with the options added to the model in the pictures, this climbs to £28,530.
Design
What makes the Escape model unusual is that whereas the standard Tiguan has a deep front spoiler, this one has a back-swept under-bumper adding a massive ten degrees to its approach angle. Thus the vehicle is able to negotiate obstacles that would inflict instant damage on the everyday model.
This is in addition to a set of electronic driver aids which are engaged as one using an off-road button in the cabin. These include a hill descent assistant, which uses the ABS in lieu of low box to prevent the vehicle from running away, as well as a hillclimb system to remove the need for damaging clutch slip when first gear isn't deep enough. 
There's also an electronic diff lock, which uses the brakes to divert torque away from wheels left spinning. The settings on the accelerator are altered, too, to allow finer engine control, and the action of the ABS is softened to encourage loose material to build up in front of the tyres during the skid phase.
The 4x4 system itself is an updated version of the familiar Haldex set-up. The control module in the back diff normally sends 90% of drive to the front axle, but will engage the rear wheels progressively as required until almost all the engine's effort is going to the back. 
What's new about it is an electric pump which keeps hydraulic pressure fully charged. This means the multi-plate clutch responds instantly to changes in traction at the wheels, without needing for any of them to start slipping. 
Cabin

3/5 
Volkswagen's cabins are famed for their no-nonsense build quality, and the Tiguan's delivers exactly the combination of solidity and conservative design that you'd expect. There's a useful level of surprise and delight, though, thanks to dash materials that feel so soft-touch and pliable that you could take a handful of them. Combine this with the light, airy feel created by our test vehicle's optional beige leather interior, and the cabin feels like a pleasing and quite opulent place to sit.
You'll pay £1630 to add this treatment to an Escape model, though, and the leather doesn't feel as supple as it looks. A classy, tidy dash layout is standard, though, with excellent ergonomics and a solid feel to all the controls.
Irrespective of what's covering them, the seats are wide enough and, on our model, had plenty of lumbar adjustment. We found ourselves getting a little restless on long journeys, though.
That wasn't for the want of fresh air, though, with no less than eight vents in the dashboard and two more for the back seats. The Escape has air-con as standard, but not climate control; that costs an extra £510, but we think it's fine the way it is.
Practicality 
4/5 
Some SUVs blow you away by cleverly re-inventing one of the classic stowage areas to provide unbelievable amounts of space. The Tiguan doesn't do that, but with three useful slots in the centre console, a drop-down bin by the steering wheel and a slide-out tray beneath the passenger's seat (the driver's has one too on models with standard seats), it makes up for it with the sheer number of options it provides in addition to the usual glovebox, centre cubby door pockets.
In the back, the seats fold down with a simple one-shot action and click into place. They don't go as flat as we'd like, though, but an added bonus is that the front passenger's seat back drops down to let you load long items through the entire length of the cabin.
For carrying people rather than cargo, the rear seats slide back and forth. Even as far back as they'll go, however, fitting one tall adult behind another is a squeeze, and hard picnic tables on the seat-backs means there's no give for your knees. It's definitely aimed at families with kids up to a certain age – and with a nice low waistline meaning you don't need to be scraping the ceiling to see the world go by, it's very well suited to them.
Performance
3/5 
The 2.0 TDI engine remains one of the best diesels in the world. It's available with a wide variety of outputs; the 140 PS version in the Escape has traditionally been the highest seller, and though it's not the most powerful of the options in the range it's well suited to the vehicle.
The real story, at any rate, is the hefty 236 lbf.ft of torque the engine cranks out from a pleasingly deep 1750 rpm. Our Tiguan was fitted with the standard six-speed manual box, and it's a very fine coupling of engine and transmission, pulling eagerly in every ratio with a linear, purposeful smoothness.
You're unlikely to want for grunt from the engine in any sort of real-world driving situation. We found that perhaps it wants for a touch of top-end oomph when pushed very hard, but you'd have to be asking an awful lot of it to come up short. It's brisk enough from a standing start, certainly, and without being a speed machine it's as assured as you'd ask for when overtaking.
Braking is very confidence-inspiring, too, with no drama at all as it pulls up from any speed. Being a BlueMotion model, this Tiguan has regenerative brakes which help charge the battery under use, but this has no appreciable impact on the way it drives.
Dynamics & refinement 
4/5 
Assuming you don't thrash it as described above, the 2.0 TDI is very quiet and civilised around town and out on the open road. We'd expect the automatic option to provoke a little more in the way of gruffness, but in the manual form tested here it was impressively refined.
Ride quality is as it should be, too, with suspension that follows the contours in the road surface well without getting over fussy when they become harsh. It deals well with pot holes and rough patches, but isn't soft enough for body control to go haywire if you happen upon severe undulations at speed. 
As this suggests, it's pretty well planted in corners. Body roll isn't totally absent, but it's kept in check by a well judged combination of spring and shock rates controlling the multi-link rear, so it feels fluid through the bends at any speed.
Off-road 
3/5 
This is where the Escape gets to show off in front of lesser Tiguans. You're unlikely to find any being used by farmers who've given up their Defenders or Hi-Luxes to see what a Volkswagen soft-roader with electronic skills and a sharper nose can do, but those skills do give it a set of party tricks the rest of the range can't match.
Something the Escape does have in common with the standard model is its suspension, whose stroke and ride height remain unchanged. Thus you can safely assume it won't have a lot in the way of articulation, and sure enough it's the electronic traction aids that do most of the work over rough terrain.
The so-called electronic diff lock is key here, using the brakes to prevent drive from spinning out via whichever wheels have least ground pressure. No difference to most other soft-roaders there but, with the extra sensitivity it gets when the off-road button is pressed, it does allow the Tiguan to keep going even when wheels are lifted way off the deck.
Terrain that can do this can also wipe out vulnerable bodywork, and we did experience some gruesome sounding impacts while driving in ruts and breaking over crests. The sills remained intact, however, as did the rear overhang, and the raked-back bumper meant we reached the end of a day's hardcore off-road action without doing any damage at all.    
Buying & owning 
4/5
The Escape probably won't be the most cost-effective Tiguan to own, as its low volumes mean there'll be less demand when the time comes to sell it on. Despite this, we'd expect it to hold its value well enough and still be fairly easy to move on when the time comes.
The ever-popular 2.0 TDI is one reason for that, and near-on 50mpg along with a sensible level of carbon emissions makes it one of the cleanest and least thirsty ways of putting a genuinely viable off-road vehicle on your drive. Servicing costs won't be as cheap as they might be, but reliability should be top-drawer.
On the minus side, a lot of the kit you're likely to want is only on the options list. The leather, sat-nav and metallic paint on our test vehicle bumped its price up by 10%, and there was plenty that it still lacked. Needless to say, you won't get that investment back come sell-on time.
So much for cost: what will the Tiguan be like to live with? We found the stereo pretty irritating to try and use (we could have read the instructions, of course, but it's certainly not intuitive), but overall it's a well sorted family SUV whose affordable running costs are out of all proportion to what you can do with it off-road.
Few Tiguan buyers will ever explore their vehicles' limits. But on the Escape, those limits are much more distant than you'd believe. It's not a traditional off-road vehicle, this – but it gets the tried and trusted basics right just the same.
---
VERDICT | Genuine off-road ability from an unexpected source
4/5
You needn't expect the Tiguan to match a Discovery off-road; that would be to take it out of context. But considering what it is, this is one of the most convincing junior SUVs on the market.
In Escape form, the distinctive looking Tiguan has the skills to perform every bit as well as you've a right to expect. That's on top of a fine engine and on-road dynamics, excellent build quality and family-friendly practicality. 
We'd like to see more standard kit at this price. But for a genuine all-round 4x4 hero, it still makes perfect sense.
We set the Tiguan against two other compact SUVs; to see which came out on top, click here
Share this article