Isuzu D-Max ♦ Vehicle Test ♦
Originally Published: January 2013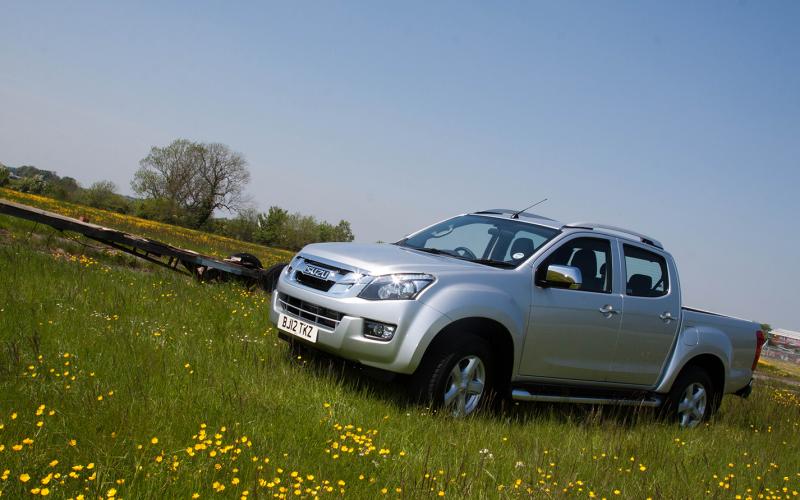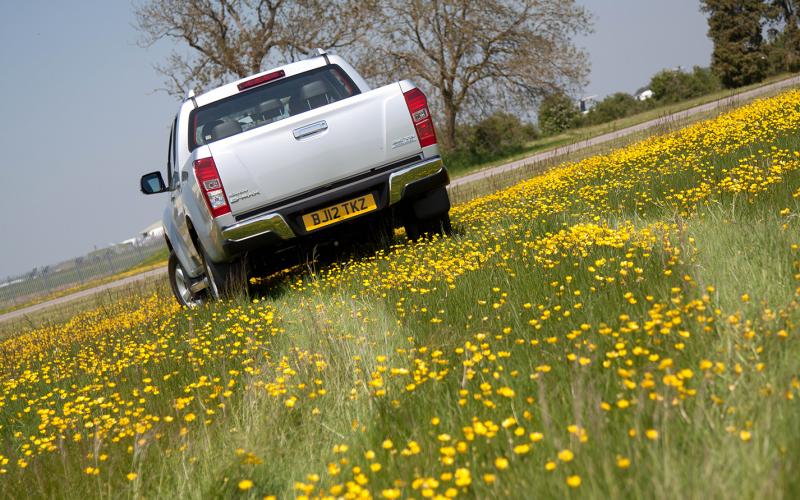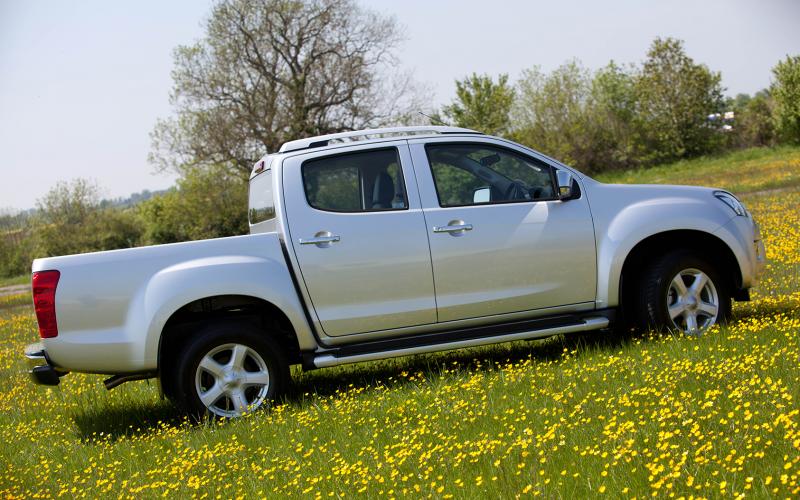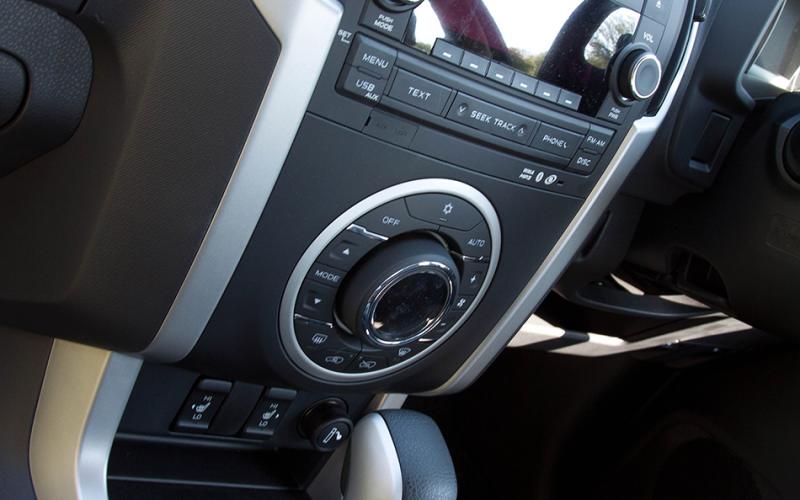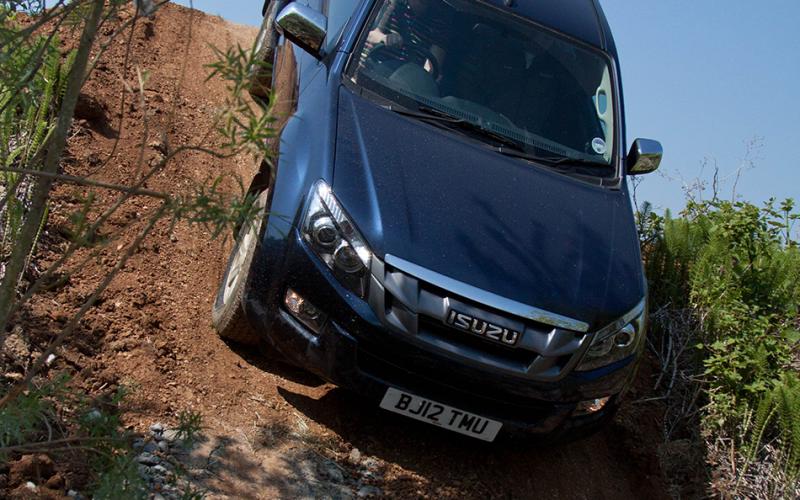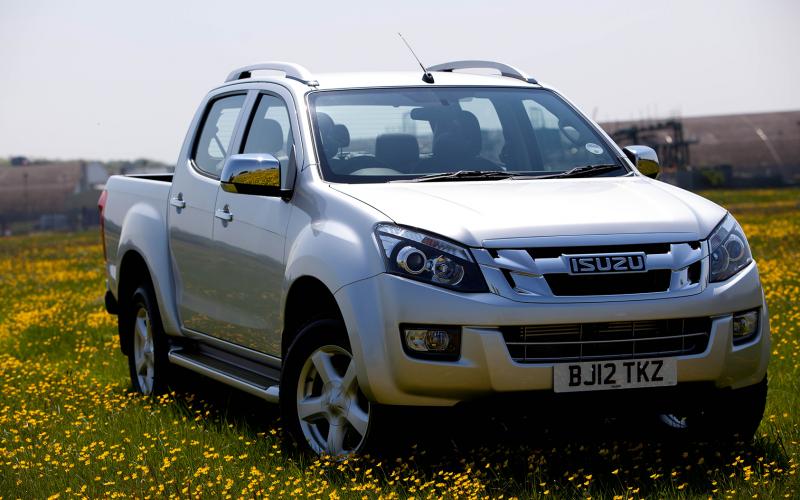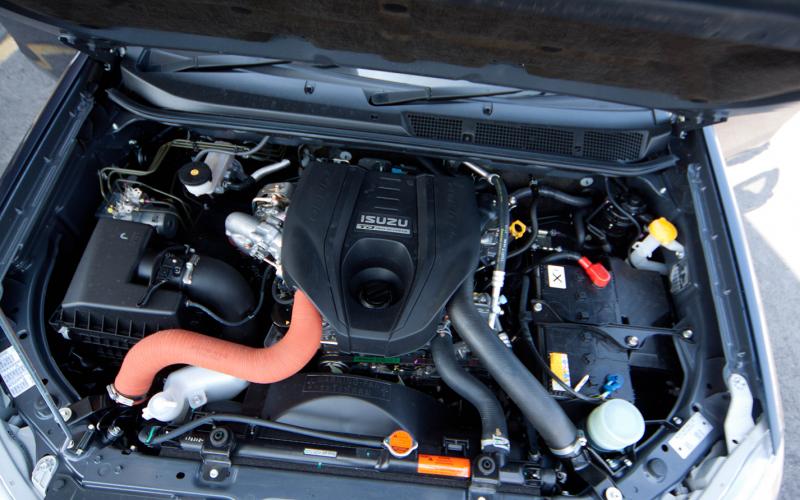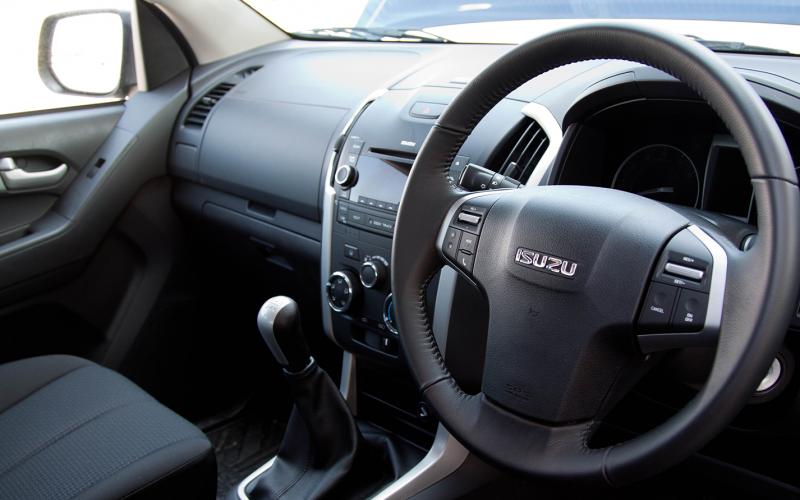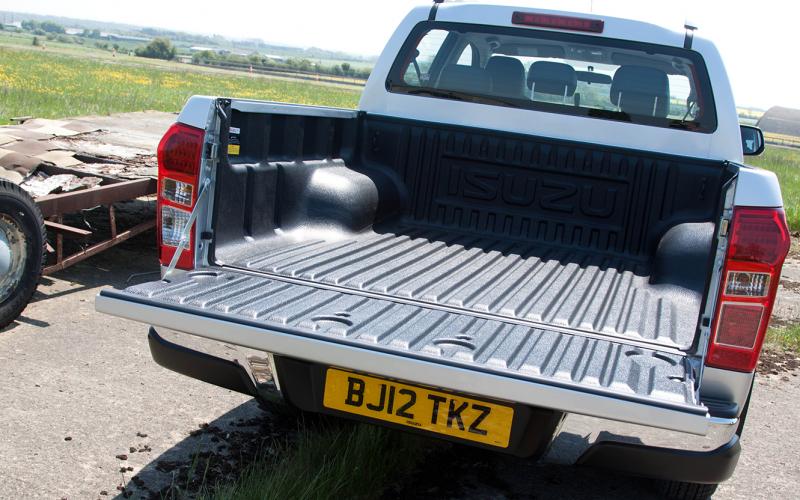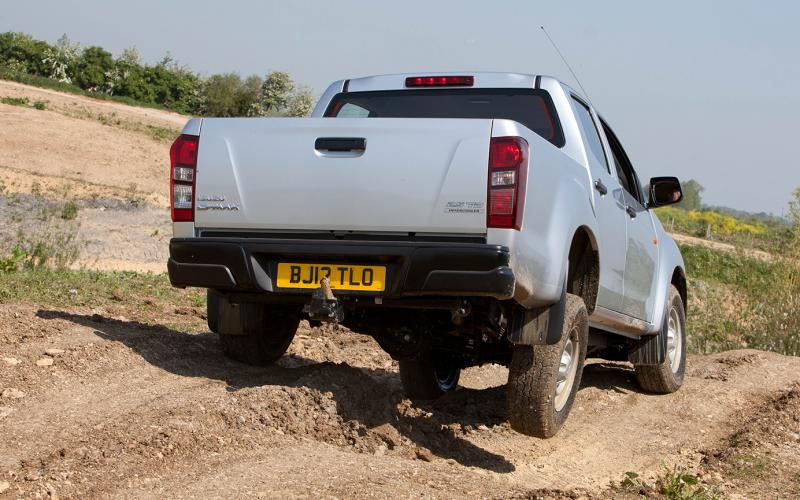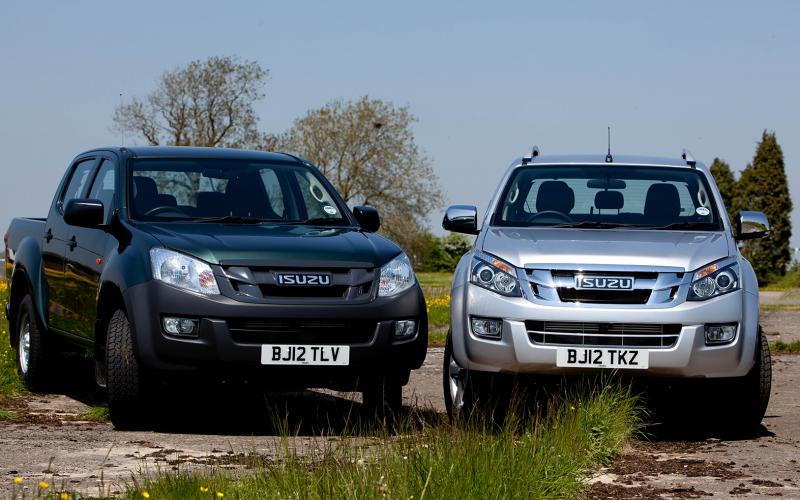 <
>
Isuzu has a plan. Five years from now, it intends to be selling more pick-ups than anyone else in Britain. Anyone. 'We're really serious about taking this market and shaking it,' says UK boss Paul Tunnicliffe.
Unlike its competitors, pick-ups are the only thing Isuzu sells. It's using that fact to its advantage to get its trucks into commercial vehicle and agricultural machinery dealers, and it's about to embark on a major push for fleet sales.
Oh, and it has just launched Britain's first five-year warranty for a pick-up truck. Five years and, if you don't mind, 120,000 miles. When Tunnicliffe says that 'this year, Isuzu will assert itself as the major developing brand in the sector,' you feel inclined to nod.
That's not just because he's a nice bloke with a good line of patter. He's also got an all-new vehicle coming – and those dealers should be rubbing their hands, because the difference between it and the model it's going to replace is huge.
The D-Max, as it's called, is totally new from the ground up. Its name might make you think otherwise (D-Max was also the global name for the truck that was known as the Rodeo in the UK), but don't be fooled. It's so new, in fact, that after Thailand, where it's made, the UK is only the second market to get it.
On sale at around the same time as this magazine, the D-Max is in many ways a traditional pick-up. It has a ladder-frame chassis, part-time four-wheel drive and independent front suspension with a leaf-sprung live rear axle. You can get it in single, extra or double-cab guise, and there's a choice of four spec levels. All are powered by a 2.5-litre diesel engine, with an auto option available on some.
So, this isn't a mould-breaker. Instead, its virtues must lie in how well it does the simple things pick-ups have been doing for decades.
Cabin and practicality
3/5 
Whichever model you go for, the D-Max has a tough interior made from robust plastics. Only the base-speccer is hose-out, though even this has fabric seats; the rest gain carpets and, at the top of the range, an unusual brown leather treatment.
It would be generous to say the chocolatey hide feels as good as it looks, but the seats themselves are nice and wide and legroom is never a problem. That goes in the back, too – even with the front seats adjusted for the biggest, tallest, greediest driver possible, a six-footer can sit behind him, maybe not in total comfort but certainly not in total agony, either. Headroom is excellent, too, as is the view over a nice low waistline.
Adding a measure of practicality, the rear seat back will fold down to create a flat bench. Alternatively, the bases can be folded up to create space for tall, bulky cargo. There are stowage holes in the floor below, but they're tiny.
Much better is a very usable double glovebox, and as well as an adequate cubby and door pockets there's a lidded tray on top of the dash and enough cup holders to keep you hydrated all the way to Timbuktu.
All models get air-con, electric windows and a CD stereo, and the full set of airbags is standard across the range. Move up from the entry-level D-Max to the second-tier Eiger, and the list grows to include remote central locking, 16" alloys, a USB stereo with Bluetooth, body-colour bumpers and various bits of chrome.
Next up is the Yukon, which adds cruise, side steps, a leather-wrapped multi-function steering wheel, 17" alloys and more speakers, while the top-spec Utah gives you climate, roof bars, parking sensors and that full leather upholstery, as well as front seat heaters and electric adjustment on the driver's side.
The auto option, which costs £1000, is available on all but the base-speccer. This, however, gives you the choice of single, extra or double-cab layouts, while the rest are double-cab only. Price walks between the various models are erratic, but from the bottom to the top adds £2750, and from single-cab to double-cab at the start of the range adds £1500.
Behind the wheel
4/5
The new vehicle's engine is a distant relative of the 2.5-litre unit from the Rodeo, but with sequential twin-turbocharging its performance is entirely unfamiliar. So too is its refinement, which impresses all the way from low revs to motorway speeds.
The raw figures say it develops 161bhp at 3600rpm and 295lbf.ft at 1400rpm, while putting out 194g/km and returning 38.2mpg combined in manual form. So that's as much power and more torque than the old 3.0-litre Rodeo, along with less CO2 and 10% better fuel economy.
It sounds good on paper. In reality, it's not good. It's great. The engine pulls effortlessly, with overwhelming in-gear shove meaning you rarely have to exploit its willingness to rev.
That's good news because the six-speed manual box isn't the smoothest we've ever met. There's a mechanical accuracy to it that makes it satisfying to use, all the same, but this is a truck in which the case for the auto option (a five-speeder with sequential override) is stronger than normal.
We drove the D-Max double-cab both laden and unladen (maximum payload for this version is quoted at 1080kg), and there's very little difference to the way it pulls. It never fails to feel strong; towing limit is 3000kg, and we'd expect it to be well in charge there, too.
A ton of sand in the back does help settle its rear suspension, but to be honest it was already very commendable in this department. It's not like driving a car, but first impressions were that it rides as well as any pick-up we've driven. It doesn't bounce around unladen, and while there was a trace of pitching with a load in the back, by no means was it enough to disturb our progress.
Up front, the old model's torsion bars have been replaced by coil-sprung wishbones. The effect of this, presumably backed up by more modern shock technology, is evident; rebound damping is now bang-on, and body control is excellent in all conditions. It's a pleasure to steer, and while some inevitable roll does remain, it happens without any slop. 
Off-road
4/5 
This was one of the Rodeo's strongest suits, and Isuzu has once again brought its experience to bear to make the D-Max every bit as agile in really extreme ground. Its wheels articulate pretty well front and rear, and despite its size it can still negotiate tight obstacles with confidence.
We did find it prone to spinning out in axle twisters, however. There's no rear locker or LSD in the spec list, and the traction control didn't seem able to cope with two wheels at opposite corners losing so much ground pressure. One of Isuzu's demo drivers suggested that it was because we were giving it too much gas, so we watched a series of other drivers tackling the same obstacle using various techniques to no greater effect. The good news is that once the D-Max arrives in Australia, it'll only be a matter of months before ARB is doing an Air-Locker for it.
There's plenty of traction there for scaling very steep hills, and engine braking on the way down the other side is excellent. We drove the manual and the auto off-road, and the latter has to be controlled in sequential mode if you don't want it to take off like a scalded cat first time the nose of the vehicle points down the way, but over the piece it's very effective indeed. We'd almost say it offers more precise control over the most technical, crawling-speed terrain, though that might be because we drove it second and had learned what to do by then.
Buying and owning
5/5 
The cheapest 4wd D-Max costs £16,249 plus VAT, while the auto double-cab will set you back £21,499. That puts it among the best-value trucks on the market; you can argue all you like about comparative spec values, but it's a lot of truck for your money in anybody's book, especially when its sensibly manageable running costs are taken into consideration.
As well as its cleanliness and lack of thirst, the D-Max boasts an affordable insurance grouping and promises to hold its value quite well. There shouldn't be any rude shocks when it comes to routine servicing, and of course there's that five-year warranty, which is fully transferable – in turn meaning the vehicle should be a breeze to sell on.
---
Verdict
4/5 
All-new pick-ups don't come along very often, but the D-Max is the third to arrive in Britain in the first half of this year. The others (the Ford Ranger and Great Wall Steed) are both enormously significant in their own ways but, if Isuzu is to be believed, this is the one to watch.
Our first impression isn't so much that the D-Max pulls off any clever new tricks, but simply that it does everything well. On top of that, it offers a purchasing proposition that threatens to give the opposition a bloody nose indeed.
Dislodging the Hi-Lux, Navara, L200 and Ranger from the position they enjoy as the pre-eminent pick-ups of our time will take some doing. Isuzu intends to do just that, however, and it has the business plan to do it. For the first time, however, it now has the vehicle, too.
Share this article