Nissan Terrano ♦ Vehicle Test ♦
Originally Published: July 2004
Words: Alan Kidd
Pictures: Steve Taylor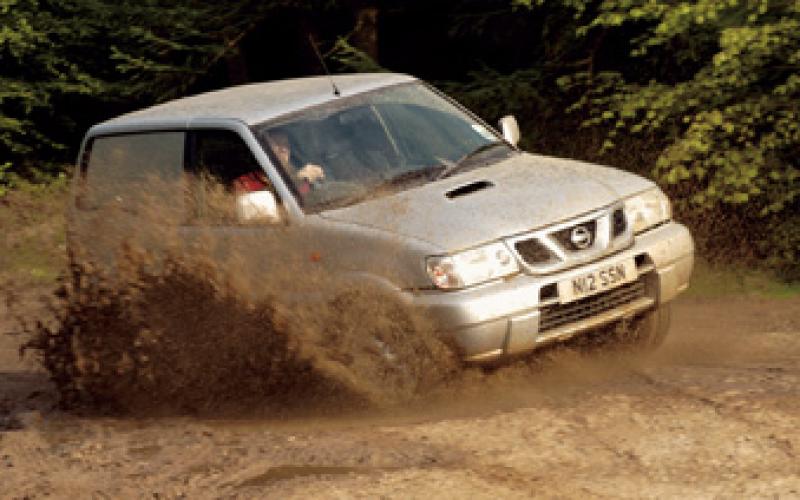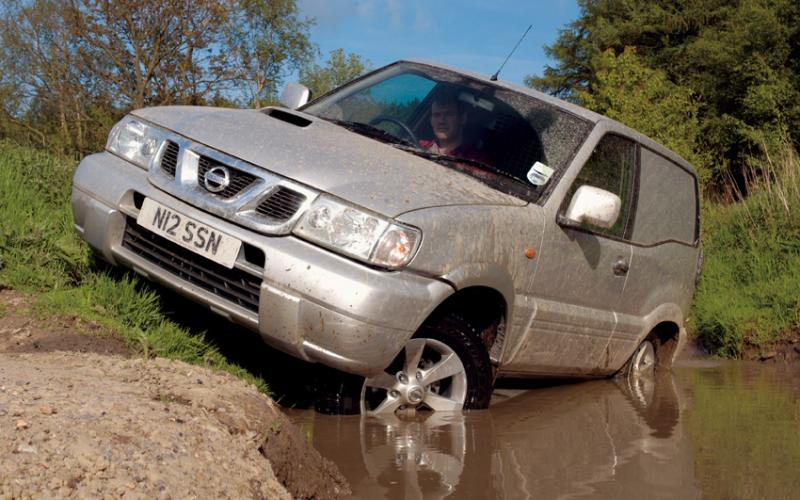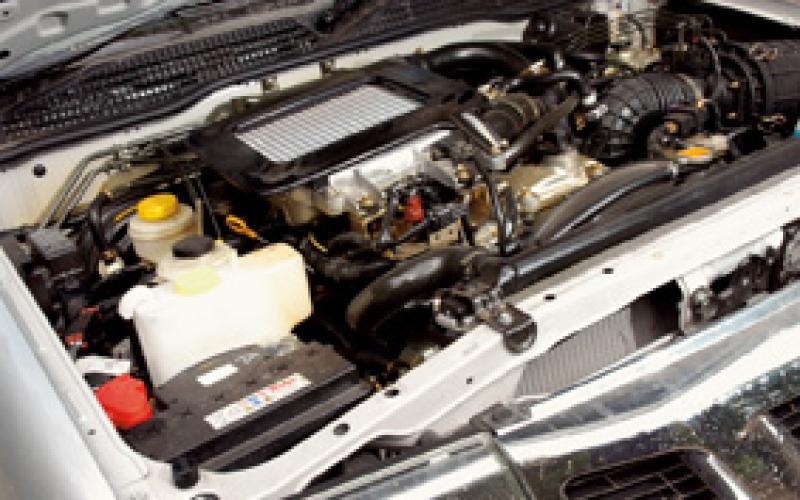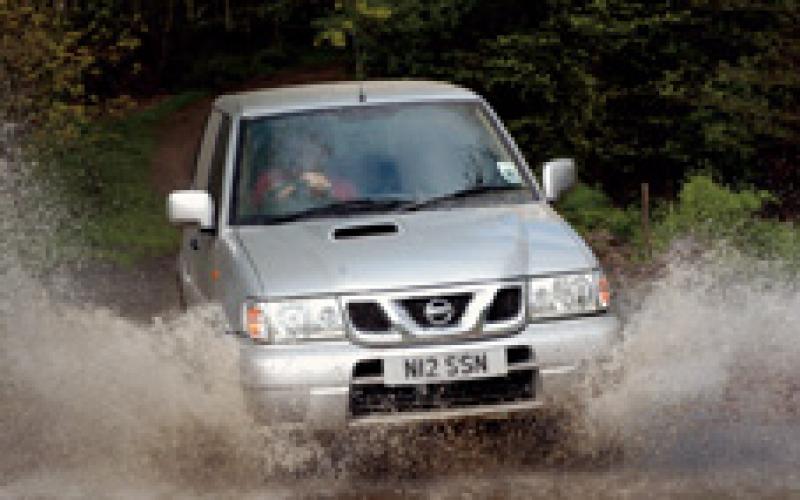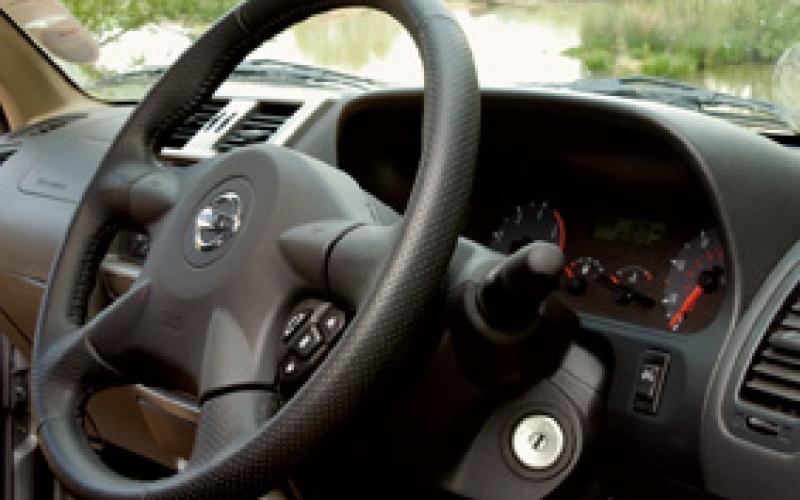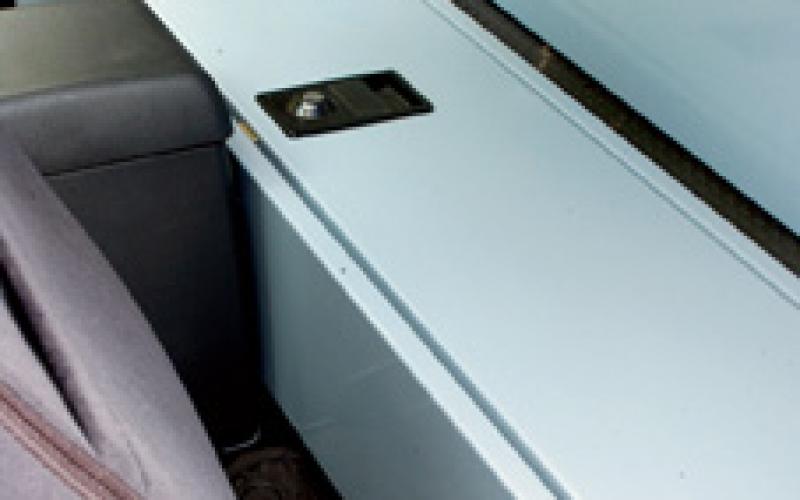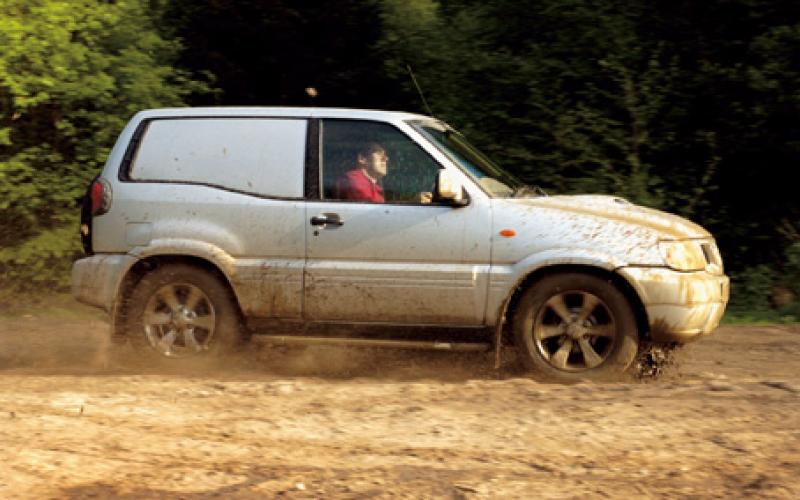 <
>
The Nissan Terrano has always been a 4x4 that appeals to people who know what they're talking about. In commercial form, it appeals more than ever – especially when you consider how hard it's going to be for the Chancellor to worm his tentacles into it.
You might have heard of Car magazine. It's one of those cast-of-thousands, budget-of-millions glossies for which spotty virgins have an unhealthily voracious appetite, and it contains this vast great listing called The Good the Bad and the Ugly. This is 'the best A-Z of Britain's new cars,' if you don't mind.
Well, on page 169 of the April issue, just before some adverts for ringtones, personal number plates and soft-porn mobile phone wallpapers, is the verdict on the Nissan Terrano: 'Britain's worst car.'
On this basis, we at Total Off Road think we can confidently rate Car as Britain's worst motoring magazine.
The Terrano is, and has always been, one of those 4x4s that appeals to people who know what they're talking about. It's one of those undemonstrative, no-messing sorts of truck which do their job so well, and with so little fuss, that you simply can't help but be impressed. While no-one has ever expected a Terrano to knock their socks off, few have ever driven one without it being a lot better than they expected.
Here's a little anecdote to illustrate the point. Back in 1993, when the Terrano was new, it was entered in Off Road and 4 Wheel Drive magazine's annual 4x4 of the Year test. Back then, you could also get it badged as a Ford Maverick, so in fact there were two examples among the 16 vehicles tested – and, to everyone's amazement, they ended up being placed third and seventh. 'I thought the Land Cruiser VX or Discovery would have won my vote,' said Editor Graham Scott, 'but when I totted up the figures the Ford Maverick won by a short head. The result seemed puzzling, but the Maverick is so competent at everything, and is so good ergonomically, and is so excellent on the road and is so practical, that it got the nod.'
Times come and go, and the Maverick has long since gone by the wayside (in fact, it's gone by the wayside and been replaced, and now the replacement's gone by the wayside too), but the Terrano continues to be much as it always was – a 4x4 that impresses the experts, whatever people who read Car might be led to think of it. And while Ford's version of the vehicle was getting ever further from the point, Nissan's was developing apace – to the point at which you can now get it in a variety of trim, engine and wheelbase options including, heaven be praised, a just-revised range of vans.
When it comes to commercial 4x4s, most people think of pick-up trucks and leave it at that. But off-road panel vans have been around since well before the craze for double-cabs took hold, and they'll probably still be with us long after the government's impending tax changes have chased the new breed of truck driver back into their sad little Mondeos.
The good news, however, is that although there have been rumblings about so-called 'luxury' vans, it's going to be a whole lot harder for the Treasury to stick its knife into vehicles like the Terrano. Even in the range-topping 3.0Di SE trim we have here, this is still demonstrably the same vehicle as a version without the air-con, alloys and metallic paint your extra £1225 is worth – a straightforward two-seat panel van with absolutely no potential as a family car. It's not unfeasible that Whitehall's army of money-grubbers could try and tax you for the extras, even if the basic vehicle keeps you safe from harm, but an added bonus is that if it's this 3.0-litre model you want, you can only get it in SE trim – and sir does need the extra 200kg of towing weight the bigger engine allows, doesn't he?
Further good news is that if you do indeed go ahead and order a Terrano Van in 3.0-litre form, you're going to find yourself behind the wheel of one of this year's unlikeliest street sleepers. The 3.0Di engine, which originally came to Britain in the Patrol, has powered the Terrano for a couple of years – and the combination of 154bhp at 3600rpm, 224lbf.ft at 1600rpm and a stripped-out rear cabin make it possible to blow the quoted 105mph max speed and 13.3 seconds 0-62 time right out of the water. Add to this the outstanding seating position, in a pleasingly spacious cabin, which comes from the Terrano's old-style off-road architecture, and you've got a vehicle which can keep pace with far more overtly performance-oriented brethren on country lanes.
Unlike with some 4x4 vans, there's no real payoff for this in terms of the Terrano's civility on the road. Being a traditional off-roader, with a proper chassis and a live rear axle, it can no longer claim to lead the way in terms of refinement, but the inevitable thumps that do come through from the back are well damped by the thick, rubberised loadspace cover, and sound-deadening fabric on the side panels stops any of the drumming you get from more sparsely equipped commercials. There's absolutely nothing tinny about this vehicle.
In terms of road manners, the Terrano is pretty composed through fast corners, allowing you to take advantage of its impressive power-to-weight ratio without torquing yourself into trouble. Despite the lack of ballast above the rear axle, there's no sign at all of tail-happiness, at least not on dry roads – we didn't get to try it in the wet, but the standard limited-slip rear diff kept its back in check during some committed attempts to unnerve it, leading us to conclude that unless you're really, really trying to throw it out of control, even an unladen Terrano Van is going to be a docile companion.
Poor road surfaces do present more of a challenge to its shocks, especially at the sort of speeds the 3.0-litre engine allows. The front wishbones can be caught out if you carry any sort of pace into a series of potholes, leading to the feeling of being tossed around that will be familiar to many 4x4 veterans. The back follows suit, though obviously anything approaching the vehicle's 685kg payload would help keep its body in check as its wheels attempt to launch it into the air.
Off-road, the Terrano's front suspension may now be more than ten years old, but it still serves as an illustration of how good an independent system can be. Unlike many more modern vehicles, it doesn't flinch and quiver at the sight of ruts – quoted ground clearance is actually less than the Freelander's, which just goes to show how absurd raw data can be. Its agile chassis, with a trim 96.5-inch wheelbase, allows it to cope admirably with really rough terrain, too, although the side steps that come as part of the SE package would have been bin fodder as a matter of some urgency if we'd had our way. More than once, they compromised the vehicle's ability by grounding out when the wheels still had traction, forcing us to stop for fear of damaging them.
That the Terrano can get itself into such extreme situations is the result of its compliant suspension and that rear LSD, which really does have an effect on its tractability. Driving it through a sea of bottomless mud would have been pointless, given the standard road tyres on which ours was running, but we kept trying to mount impossible obstacles to see how far it would go before spinning out – only to find that we had to back off, because it was still moving forwards beyond the limits of our bottle.
In higher-speed off-road conditions, the Terrano's lack of weight means uneven tracks can get a bit bouncy. Once again, a decent load in the back would damp these tendencies right down, both by taming the effects of your right foot and giving the springs something to bite on, but without this you do notice a difference between it and the passenger-carrying version. It will still handle well, however, with precise cornering and plenty of feel through the steering wheel a characteristic of its performance both off and on the road.
What didn't have a lot of feel in the test vehicle were the pedals, thanks to the carpet around them constantly getting in the way. The floor hooks for the standard-fit rubber mat were ineffectual, too – we were putting it back in place after every trip.
That apart, our Terrano's interior was the usual pleasing mixture of form and function. It doesn't feel all that spacious when you get aboard, but once settled in you're not cramped in any way and the excellent driving position means you can cover a lot of distance without getting fatigued. The absence of any unwanted racket from the load area obviously helps here, meaning you don't have to turn the CD player up to eardrum-bashing levels to drown it out, though the 3.0Di is a fairly clattery unit by today's standards, and wind noise at motorway speeds is very pronounced. The highish-spec Primera your company fleet manager wants to push you into for the same money will be a lot more composed, but none of the alternative 4x4 vans we've tried are likely to leave you more refreshed after a long stint behind the wheel.
That's only partly down to the extra equipment the SE model offers – most of which is about show, if truth be told. Yes, remote central locking is handy, an alarm is worth having, side airbags and active headrests have got to be a good thing and air-conditioning should nowadays be considered an essential in a new vehicle, but it's not these that make the Terrano such a fine 4x4. It's the sound basic engineering that underpins everything about it, combined in this case with an engine you can't help but fall in love with.
When it comes to basic working 4x4s, Nissan showed everyone the way forward last year when it launched the 'farmer-spec' Patrol S. Taking the VAT into account, the Terrano Van 3.0 SE is about five grand less, which doesn't actually sound like all that much, and we reckon the company would be doing well to pull the same stroke with this model.
Lose the alloys and metallic paint and all that sort of stuff, keep the air-con and safety gear and see if the price can't be squeezed down to fifteen plus the VAT… With the same engine, that would be a phenomenal piece of kit for towing, off-road work and play, and general tarmac duties. And our chum in Downing Street would be even less able to go through your pockets for having the temerity to drive it.
Even as it stands, however, the 3.0-litre engine in this Terrano makes it one of the most sorted 4x4s on the market, further enhancing Nissan's position as the brand with the firmest grip on the off-road zeitgeist. It's fine as a van, fine as a car and fine as an all-round off-roader – and best of all, it's exactly the sort of vehicle the GTi-loving hordes who read Car absolutely hate. For that reason alone, 'Britain's worst car' is actually one of its best.
---
Verdict
In 3.0Di SE form, the Terrano Van illustrates how a creative approach to packaging can keep a vehicle fresh well into old age. Who'd have thought the engine from the Patrol would end up powering a mid-sized three-door commercial – and that the vehicle in question would offer more standard kit than the first top-spec passenger-carrying Terrano? This is a lively, willing workhorse and, despite not being as civilised as the normal model, a well equipped form of personal transport that will give you all the off-road ability and towing capacity you're ever likely to need. And best of all, it will give the Chancellor an absolute nightmare.
+ Lavish equipment, serious off-road ability, huge towing capacity for its size
- Limited cargo area thanks to SWB layout, basic models have bigger payloads
Share this article