Extreme 4x4 Adds New Shock Options
Originally Published: July 2014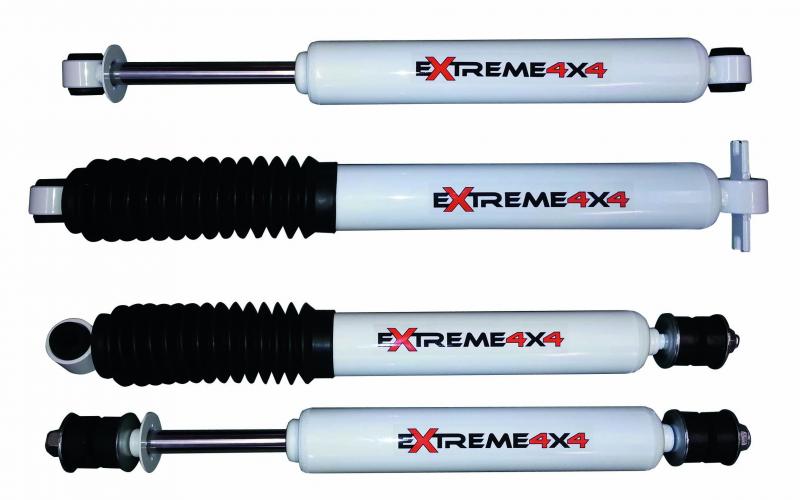 <
>
Extreme 4x4 has recently launched a series of new and improved products, including a wide range of dampers for off-road as well as fast road use.
At the heart of the range is the Challenge unit, which sits on your vehicle's standard shock mounts – making it nice and easy to swap in. The dampers are available with a range of pin, ring and double-shear mountings, and come in a choice of standard and +2" lengths.
Other features include a solid 20mm S45C steel shaft, which is chrome plated for extra long seal and shaft life; a twin tubed 46mm bore with 52mm diameter outer case; Hallite seals; and a Teflon piston seal.
These race-proven shocks are finished in a white powder coat. They're available for the Defender 90 and 110, Discovery 1 and 2 and Range Rover Classic, and cost from £39.99 each plus VAT.
Moving up the range, the Competition unit again features a solid 20mm chrome plated steel shaft, Hallite seals and a 52mm outer case. This time, though, a 600mm stainless steel braided hose runs to a 52mm steel remote reservoir, and the chamber is nitrogen charged to 200psi.
These shocks are available in two configurations – standard ride height or 2.5" lowered. Yes, lowered. Think comp safari racing – or more likely, at £189.50 plus VAT per corner, international cross-country rallies.
Either way, the Competition shock is available for the 90, 110, 130, Discovery 1 and Range Rover Classic. And whether you're after this top-end option or just a set of Challenge units at what looks to us like a very good-value price indeed, the place to go is www.extreme4x4.co.uk.
LAND ROVER DEFENDER, DAMPERS, LAND ROVER DISCOVERY, RANGE ROVER CLASSIC, EXTREME 4X4
Share this article