Full Bestop Range Hits UK
Originally Published: March 2013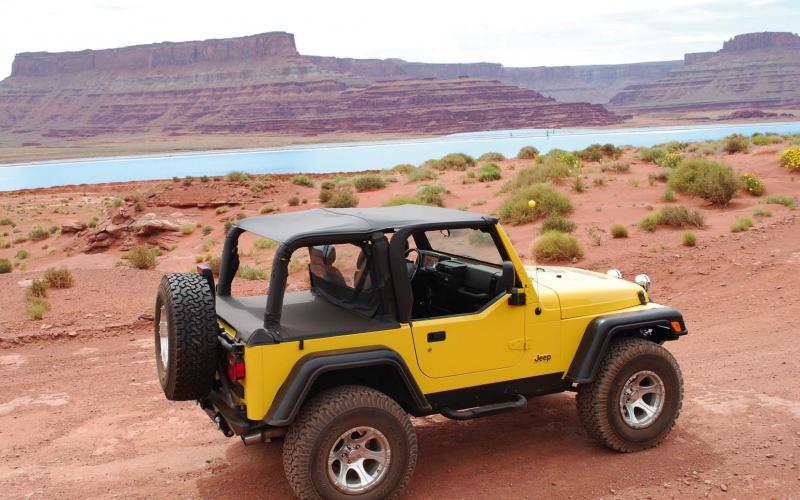 <
>
There's never been any shortage of parts available for modifying the Jeep Wrangler, but the range we get to choose from in the UK isn't what you'd call extensive. It's just become that bit bigger, however, thanks to the appointment of Derby-based Travall as a key stockist for the Bestop range.
Bestop's name is most commonly associated with soft-tops – it's the world's largest manufacturer, producing almost 200,000 a year. The company is Jeep's own original-equipment soft-top supplier, and has also provided factory-fit canvas hoods and accessories for Suzuki, Isuzu and Toyota.
It's no one-trick pony, however. The company also manufactures bumpers, seats, windows, steps and tubular doors. Not necessarily the 'big stuff' like trick suspension and drivetrain mods that you'd associate with a Stateside-style rock-crusher – but if you're building one of those anyway and want to give it that authentic straight-from-the-Rubicon look, Bestop knows how.
'We're all very excited about this new venture,' said Travall's Commercial Manager Paul Rowden, 'and to be part of the European off-road community, many of whom we hope to meet when Travall visit some of the larger off-road events later this year, including the European Jeepers Jamboree in France and Abenteuer und Allrad in Germany.
'We believe that our great advantage is the fact that, with a European Distribution Centre, we can offer customers next day delivery for products which were previously shipped all the way from the States. So keen Jeepers will not only be getting quality accessories from a world-leading manufacturer, they'll benefit from considerable savings on delivery costs.'
Speaking to Total Off-Road, Rowden added that the Bestop initiative is just the beginning of a major new line of business for Travall. 'We want to become Europe's dominant force in Jeep accessories,' he told us.
And though the Bestop range may not include backbone mods from the oily side of the car, items of that nature could be included in the expansion the company hopes will follow. 'I'd need confidence from what we're doing first of all,' says Rowden. 'But I wouldn't limit myself – nor would I keep it to just one brand of car.'
For now, Bestop's full range is available on a dedicated UK website. You'll be able to find its products there for the current JK, as well as many older YJ and TJ Wranglers and even classic Jeeps from the CJ era – get yourself down to www.bestop.co.uk and find out for yourself. 
JEEP WRANGLER, TRAVALL, BESTOP, JEEP, SUZUKI, ISUZU, TOYOTA
Share this article