Ring Lighting Options Illuminate Defenders
Originally Published: December 2014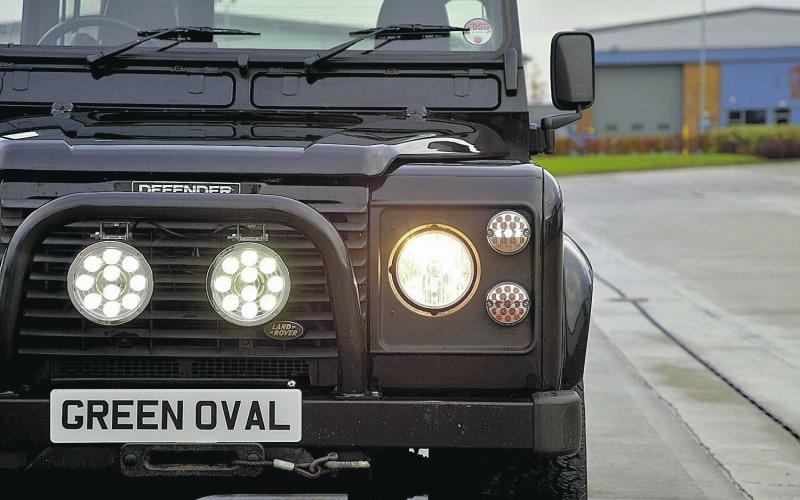 <
>
The list of things people like about Land Rover Defenders goes on and on and on. It contains a lot of things. But 'headlights' doesn't tend to be among them.
Hence Ring's new 7" Complex Surface Reflector headlamp, which is available as a simple upgrade. The bulb directs light towards the back of the headlight, which is then reflected and concentrated into a beam pattern providing better visibility.
To improve the light output even further, the lamps come fitted with Ring's award-winning XenonUltima performance bulbs. These produce 120% more light compared to a standard bulb, helping you pick out road signs more easily – and, indeed, spot hazards if night-time off-roading's your thing.
The crisper and whiter light coming from the headlamp helps modernise the truck's look as well. Ice Blue sidelight bulbs have also been added, so as not to produce an ugly yellowish light.
The headlamp units come as a pair, as you'd expect. Both have the XenonUltima bulbs and Ice Blue sidelights fitted and have full dip and main beam functions. The headlights come with a three-year warranty and carry a RRP of £69.99, and you can find out more by paying a visit to www.ringautomotive.co.uk.
Also new from Ring is a range of 95mm signalling lamps designed as an upgrade for Land Rover Defenders. These use LEDs to provide longer-lasting and more efficient lighting – and being 20mm wider than standard, they'll be better at catching the eye of the guy behind you, too.
Despite the extra size, Ring says the lamps are easy to fit – you just use a 95mm surface mount base.
The reason for creating the 95mm lamps is that recent Defenders now have reverse and fog lamps of this size. To stop them from looking mismatched, the company made all the other tail lights in this size, too.
The range of lamps includes units with red and amber reflectors, specifically for brake/tail and indicating. And if you're after a more uniform style, the range also includes all the signal functions with clear reflectors. The 95mm lamps can be used as front indicators, too.
Suggested retail prices for the 95mm range start at between £8.99 and £9.99. Definitely an interesting alternative to going down the NAS route; again, www.ringautomotive.co.uk is the place to go.
LED LIGHTS, LAND ROVER DEFENDER, HEADLAMPS, RING AUTOMOTIVE
Share this article