Modified Standard
Originally Published: July 2005
Words: Anthony Singer
Pictures: Anthony Singer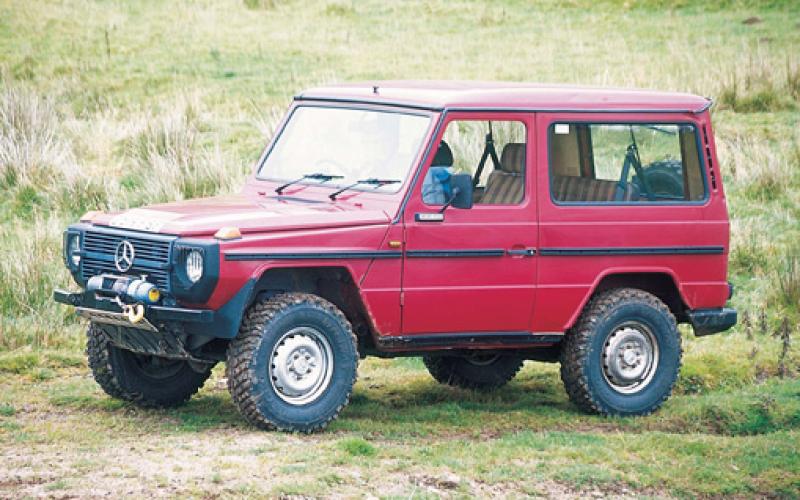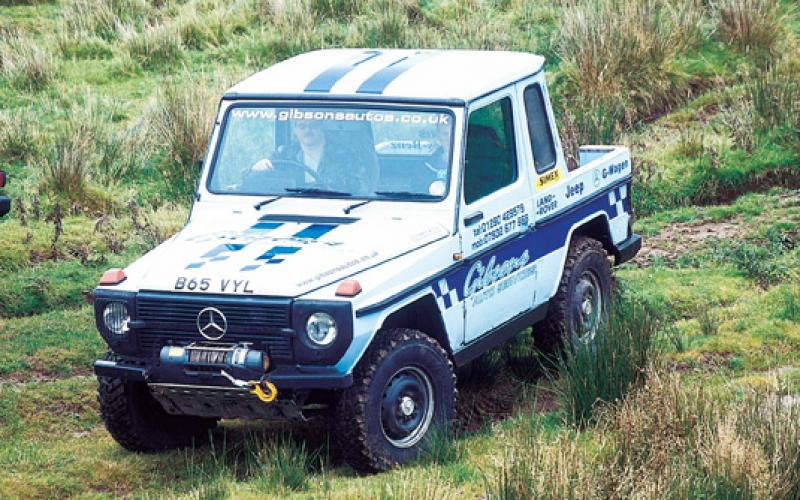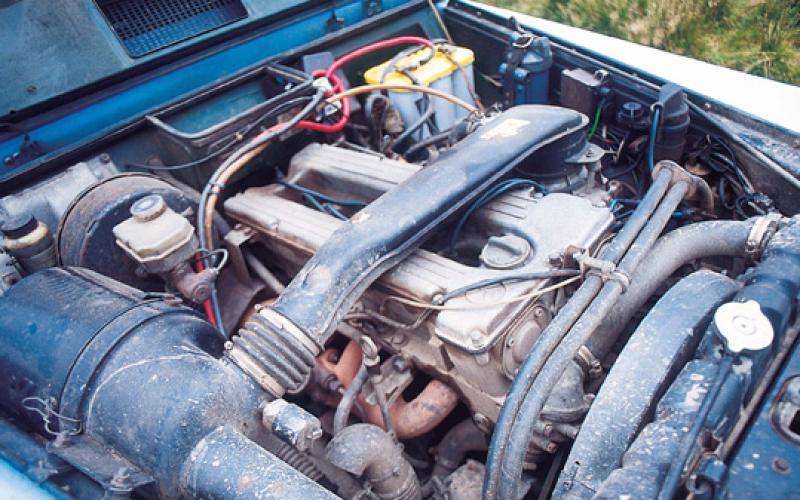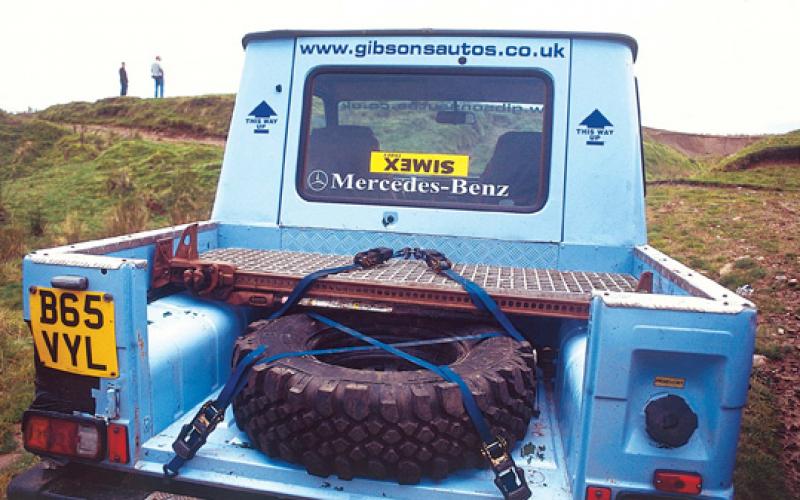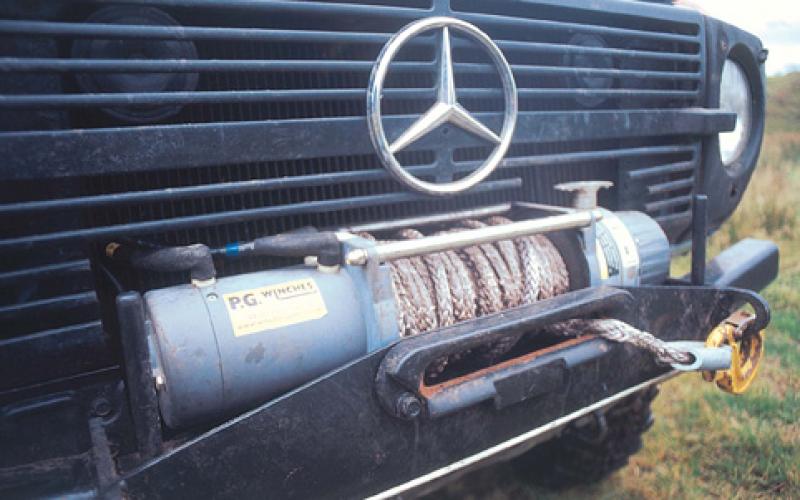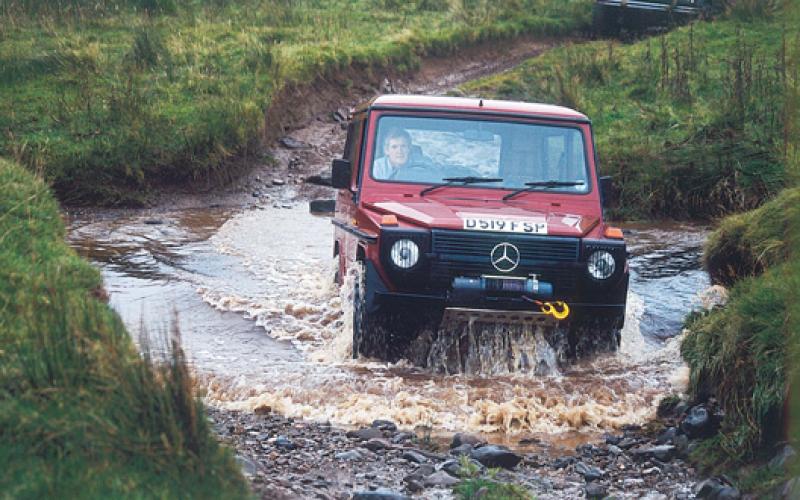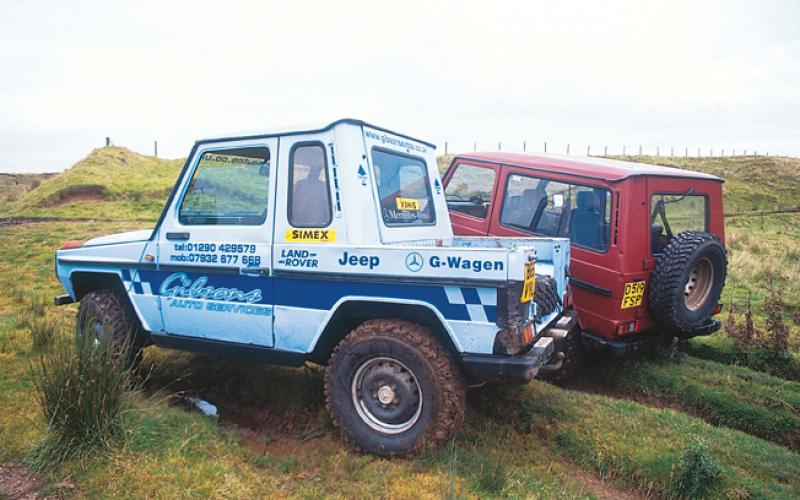 <
>
When diff locks, bash plates and roll bars come as standard, you're looking at the novice challenge driver's dream. That's what Allan Gibson and David Johnston think of their G-Wagens, anyway – and the results seem to speak for themselves.
'I could have bought a Defender,' says Allan Gibson. 'Then I'd have had to buy a steering guard, uprate all the steering, probably buy an axle guard as well, replace the stupidly thin track rods, add diff guards front and back, deal with a rotten chassis, deal with gearbox issues, cage it, not be able to afford a 200Tdi…'
Allan is the proprietor of Gibsons Auto Services, which deals with 4x4s of every kind. That inevitably means many of his customers drive Solihull vehicles – and as a client of both Allmakes and Britpart, he knows more than most the amount of parts that go into keeping an army of ageing Land Rovers and Range Rovers on the road.
Even before getting into the business, Allan had always been interested in off-roading in all its forms. Along with his neighbour David Johnston, he took an active role in road and stage rallying, and since the establishment of Gibsons Autos he's become more and more involved with 4x4s. It was the experience he gained of Defenders along the way that convinced him to try something else.
As it happened, someone local had a G-Wagen and didn't mind letting Allan crawl all over it. And it didn't take long before his mind was made up. 'I decided I would live with the extra weight of the chassis to get the over-engineered quality that comes with a Mercedes.'
A good example of that over-engineering came in the shape of a short-wheelbase 280 GE which had been laid up in a garden for a year and a half. Allan bought it for a grand and got it back on the road for not much more than half that. 'I started using it, started realising how well built it was, and started thinking about modifying it – if indeed there was anything about it that could be made better.'
Meanwhile, David was looking on with interest. 'When he saw what I was doing with mine, he decided he was going out to get one for himself.' The two vehicles started becoming a common sight at Ae 4x4 Club RTVs, but even then Allan had his mind on bigger things.
'We started wanting to get winches on to them, having watched the Bulldog Trophy at Drumclog years ago. We kept an eye on things through the internet and through magazines, and we decided this was really the kind of event that we wanted to do. We were getting a bit fed up with some of the trials… basically, they weren't hard enough!
'We were doing it on a very limited budget, but we decided to get some winches and fabricate our own bumpers for them. We made them up with MDF templates then got the profiles properly laser-cut, so it looks like a professional job.
'We did a little event organised by the Ae Club, and our near-standard G-Wagens on remould tyres finished second and third. That was enough to convince us it was definitely what we wanted to do. Then after that our next event was last year's Argyll Forest Challenge – so we kind of threw ourselves in at the deep end!
'At the end of the first day, we'd done four sections. We thought that was okay, as we were still finding our feet – my winchman's Ian McLue, and David alternates between Robert McCubbin and Brian Wotherspoon, and we were all just trying to remember when to take what straps and shackles rather than doubling up and wasting time.'
At the end of one stage, they actually went back to watch Neil Redpath's team tackle the same ground in their Ibexes.
'A section we'd taken three hours to get through, they did in 35 minutes! But they had the same problems in the same places we did – it was just that they had the vehicles and the teamwork. We were still at the self-preservation stage.'
On the subject of self-preservation, Allan had turned up to the event with a vanload of spares, welding kit, a generator and so on. 'And then all we needed was cable ties and some tank tape to repair some body damage on David's G-Wagen!'
And there, ladies and gentlemen, is the primary reason for choosing Stuttgart's tank over something more subtle. Elsewhere on these pages, you can read about what's modified and what's not on the team's brace of G-Wagens – and you'll rapidly begin to discern that deep down, they're really not much different to when they left the Mercedes factory.
Why would they need to be, when they come as standard with front and rear diff locks, indestructible bash plates and a built-in roll hoop? The steering guard and diff covers are thick enough to withstand anything, and the internal hoop is supported by A- and B-pillars which are even webbed at the corners. 'I've seen G-Wagens that have been rolled,' says Allan. 'There's one in the local breaker's yard that's been rolled badly at 70mph on the motorway… and all the doors still open and shut! The roof's hardly damaged.
'You can see where the strength is in the shell,' he continues. 'One conversation I had was that you could almost hang the axles directly on to the body rather than the chassis, and that's nearly right!'
Said axles contain a set of diff locks which, when viewed against the cost of adding them to, say, a Land Rover or Jeep, save you a very useful four-figure sum. And that's before you start talking reliability and ease of use. 'I think a few of the very, very early ones from 1980 only had a back diff lock,' says Allan. 'But just about every G-Wagen you'll get in this country will have the front and rear diff locks. They're operated by two hydraulic levers, meaning you can engage each one independently. So you can knock the back one off and still have the front one on.
'The new model's gone to using a sequential, electric vacuum-operated system, which necessitates using the centre diff lock first, then the rear, then the front. But sometimes I've found that taking the back one off helps, so I prefer the older system.'
Now, you get all this as standard, the vehicle's virtually unbreakable and buying one costs a fraction of what you'd spend on an even vaguely comparable 90. Nothing's ever that simple, of course, but there are some compelling arguments there for anyone getting into serious off-roading – especially if they don't want to pour all their money into spares and accessories and spent every free second with a spanner in their hand Allan puts it succinctly.
'It was never a case of "let's go and buy a Land Rover, and put diff locks in it, and then upgrade the halfshafts, and then upgrade the CVs, and then the propshafts and everything else with it, and gearboxes…" It was more "let's go out and buy something with really string propshafts, really strong axles, good build quality…" And it really has proved itself.' 
Mean and Roofless
The G-Wagen Allan dragged out of a field is a 460-model 280 GE, with Merc's M110 12-valve petrol engine mated to a five-speed manual box and part-time transfer case. 'It's a very strong engine,' he says, 'but the Achilles' heel is its torque. It's at 4250 – way too high – so you end up using first gear a lot.'
When he bought the vehicle, it had cheap aftermarket shocks on the back axle. These had rusted badly, and sheared their shafts first time out. 'We were bursting out laughing all the way home,' recalls Allan, 'as we got showers of sparks from the shafts digging into the body. But at least it gave me plenty of axle articulation at the event!'
The front shocks, meanwhile, were those fitted at the time of manufacture – not bad for 170,000 miles, including a lot of severe off-roading. All have now been replaced with original-spec units; the shocks are matched to springs giving an extra inch of lift, though Allan is currently waiting for a set from Germany which will raise this to two and a half inches.
The space beneath the wheelarches is filled by a set of 235/85x16 Greenway Machos, bought to replace a set of Grizzly Claws which 'didn't work as well as I thought they would'. The tyres are mounted on standard 5.5-inch steels, G-Wagen alloys being very hard to get hold of; at the time of writing, Matt Lee was working on adapting his ultra-popular Mach 5 design to fit the Merc hub, which would be the ideal answer. Another future plan involves one of the various Simex copies now appearing on the remould market, which would take the vehicle to another level altogether.
With the standard G-Wagen being so well suited to extreme off-roading, the biggest mod on Allan's motor is clearly its pick-up body. The plan was to make the vehicle lighter by removing much of its rear area, including the heavy back door.
'I attacked it with a reciprocating hacksaw one weekend, moved the rear section of the tailgate and rear quarter sections forward and welded them on to the front section.
'I made up perspex side windows, used the top half of the rear window as temporary infill for the rear section, and a bit of treadplate made up the rest of the back. A wee bit more rolled and folded about the top edge for a bit of protection, then it was just a case of strapping in the spare wheel and sand ladders.'
Sounds easy? So much so that he's on his way back for more. Future plans include removing the roof altogether from door height upwards and forming an external cage in place of the gutters. At present, these bear the brunt of all the trees the G-Wagen rubs against – though in typical Merc fashion, they're so strong they still work and haven't had to be replaced.
The pick-up bed will ultimately also house the fuel tank, which Allan intends to relocate out of harm's way. He's added an aluminium guard beneath it for now – and this is the only real way in which the vehicle has been modified underneath.
That's unless you count the bumpers, which are the same on both the G-Wagens you see here. Working together, Allan and David spent three nights making up a set of MDF templates in a design that would accommodate a winch while not costing anything in terms of approach angle. Their bumper was to use the original mounting points and incorporate recovery points on the same piece of steel – having completed the mock-up, they took the parts to a fabricator who supplied the bumper back to them in kit form, ready to be welded up and bolted on.
A neat touch underneath the bumper is a removable plate allowing access to the radiator. 'One of the problems of the G-Wagen is that the bottom of the radiator clogs up when doing watery, muddy events, says Allan. 'You just remove four bolts, remove the plate and you can steam-clean it from the bottom.'
Also showing some smart thinking are a couple of uprights for winding a winch rope around, so that the navigator doesn't have to either spool it back on or leave it on the bonnet. As Allan says, 'You usually end up going about 4ft then getting stuck again.' In fact, these are due to be replaced by taller, removable units, so that the rope can still be accessed when the front of the vehicle is buried in mud.
Since we're talking winches, let's hear what a challenge competitor has to say about the Come-Up 9000i. 'They're a wee bit slow, but for the money we paid for them, they've been absolutely spot on.
I have to say I did have my reservations. Some people say they're disposable, but for what we're doing, they're brilliant.'
The winch's remote solenoid pack is positioned under the bonnet and wired to a switch on the dashboard. Allan's rationale for this is that it means there are 'no ugly boxes at the front', which is quite a thing to say when you're talking about a G-Wagen…
Sat upon the drum is a 9.5mm plasma rope, 'which I would recommend to anybody', says Allan. It's fed out through one of Ruftraks' aluminium hawse fairleads, as plasma always should be.
Further mods include a straight-through stainless exhaust. 'There was a stupid cross-section silencer underneath the gearbox, which was the first thing to get hit on breakovers, so that's been removed and now it's completely enclosed by the chassis. All the transmission is well up within the chassis rails too, so you can use the chassis to slide it over things without damaging anything.'
Just to be sure, the original sills were replaced with a set of box-section rock sliders. Protection of another kind comes from a home-made snorkel, whose design keeps it within the vehicle's outline so as to minimise the danger of it getting hooked by encroaching vegetation.
It all adds up to a tidy set of mods on a vehicle which, despite everything, is still mechanically far more standard than even some of the Land Rovers it used to compete against in those Ae 4x4 Club RTVs. The process is by no means finished – but already, Allan's decision to use a G-Wagen as the base for his competition vehicle has been more than justified.
Torque of the Town
In contrast to Allan's G-Wagen, which had already seen plenty of off-road action before he bought it, David Johnston's 300 GD was 'totally virgin' before joining the Gibson Autos team. 'It wasn't mint,' says Allan. 'You get a few rusty bits around the tailgate in the early ones. But that was it – there wasn't even so much as a scrape on the steering guard.'
The G-Wagen changed hands for the princely sum of £2300. 'I couldn't believe the condition of the vehicle,' says Allan. 'The way it performed… everything worked. We had to repair the exhaust, but that was the biggest thing – it was a turn-key vehicle.'
Since then, the vehicle has gained several of the same mods as Allan's original. The winch bumper was made at the same time, and the same 2.5-inch lift will, all going well, be complemented by a set of Mach 5s for its 235/85R16 Machos. The same Come-Up winch is controlled using a wanderlead – one of the very few differences between the two, aside of course from their engines.
As engines go, however, the OM 617 diesel unit is more than a little out of the ordinary. A cast-iron five-pot, it's immensely strong (and, once started, will keep running even if the battery is completely emptied by endless winching), and torque delivery is superb. The only problem is that with only 88bhp, it makes for some extremely boring journeys to and from events.
To counter this, David and Allan had started looking at aftermarket turbo kits. Then a 300 GD with a home-made conversion appeared for sale on auction website eBay. This used the Garrett T3 unit from an old Montego, and David started hatching a plot. He'd buy the vehicle, remove the head and turbo kit, swap it for the standard head from his own and sell the donor car back on as a standard 300 GD.
'Basically,' says Allan, 'he chopped the manifold, welded on a flange, blanked it off and put on the turbo, with a drain straight into the sump, oil pressure fed off a switch on a T-piece, the pipework rerouted into inlet manifold and the base setting turned up.' Once again, he manages to make it sound so easy – but easy or not, the conversion has 'transformed' the vehicle, which will not sit problem-free at 65mph without compromising the engine speed at which top torque is delivered.
One drawback of turbocharging this engine, however, is that the five-speed Getrag box wasn't designed to take the extra shove. The same unit was available in turbocharged form on left-hand-drive saloon cars in Europe, but only with a stronger auto box – and the combination is very sought-after now for use in Unimogs and the like.
What David has found is that although the box is still working well, it's starting to rattle. One option is to replace it with Mercedes' own four-speeder, though Allan has managed to get hold of a ZF manual which used to be used in vans. Common consensus is that this is the strongest of the lot, though getting it to fit is something he's yet to tackle.
Even if you don't want to address the issue, however, it's not something that should put you off G-Wagen ownership. The Getrag unit will last forever if you keep the engine standard, and even if it does let go you'll only pay £100 for a good replacement. But the ZF box, if it can be made to work, will also provide a lower first gear, so this is the option the team is trying to work towards.
On the surface, David's G-Wagen might look like a bit of a copy of Allan's. But the two are very much developing in tandem – so much so that Allan is looking at putting the same engine in his before this year's Argyll Forest Challenge. David might have got the idea from his team-mate – but his vehicle is every bit an equal partner in the Gibson set-up.
G-WAGEN, GREENWAY MACHOS, COME-UP 9000 WINCH, DIY TURBO CONVERSION
Share this article