Knocked For Six
Originally Published: September 2007
Words: Tim Gibson
Pictures: Steve Taylor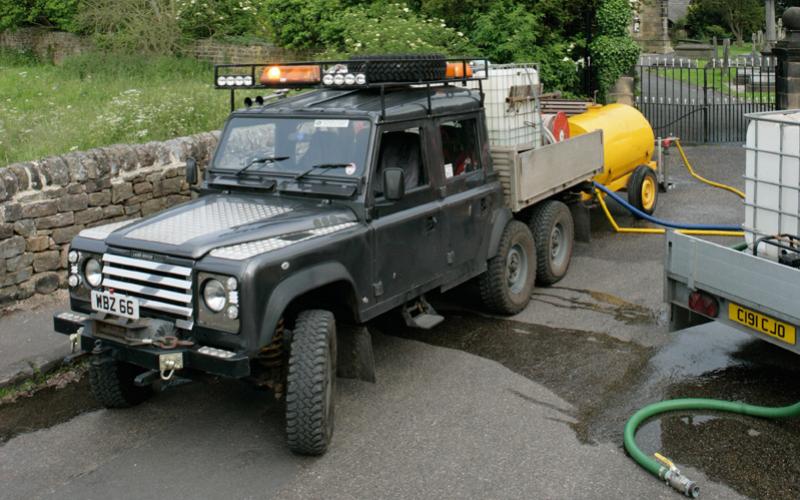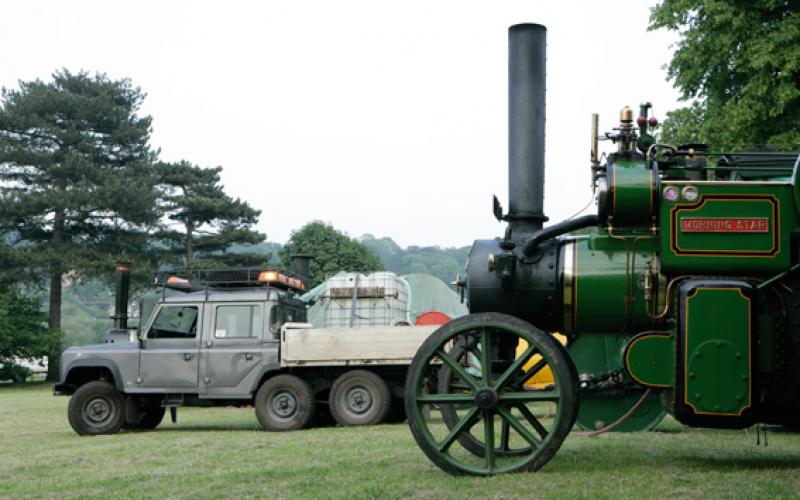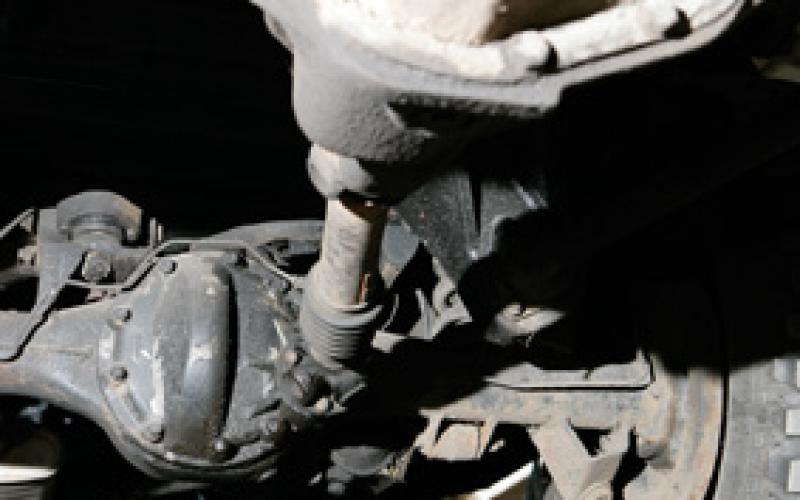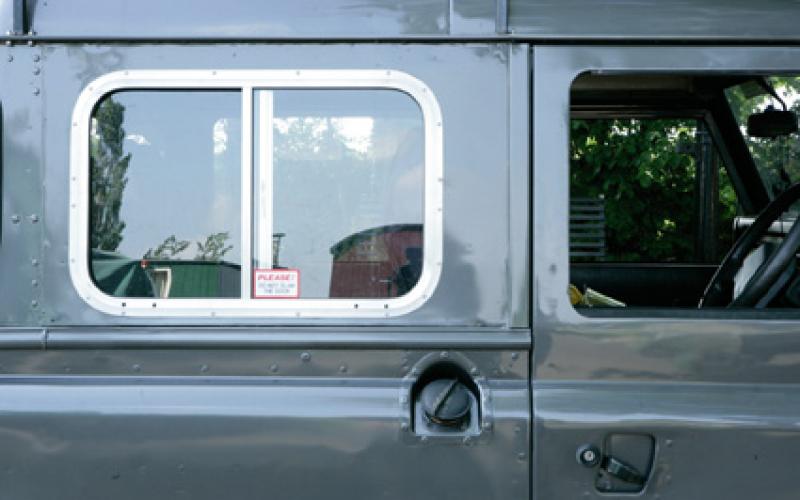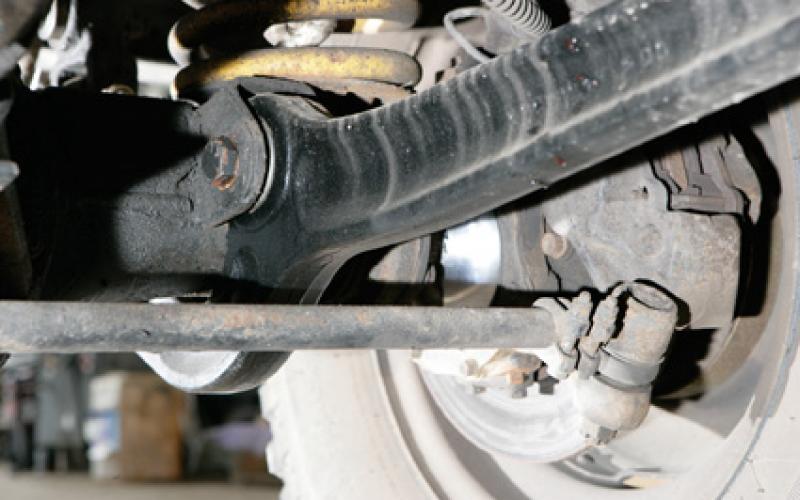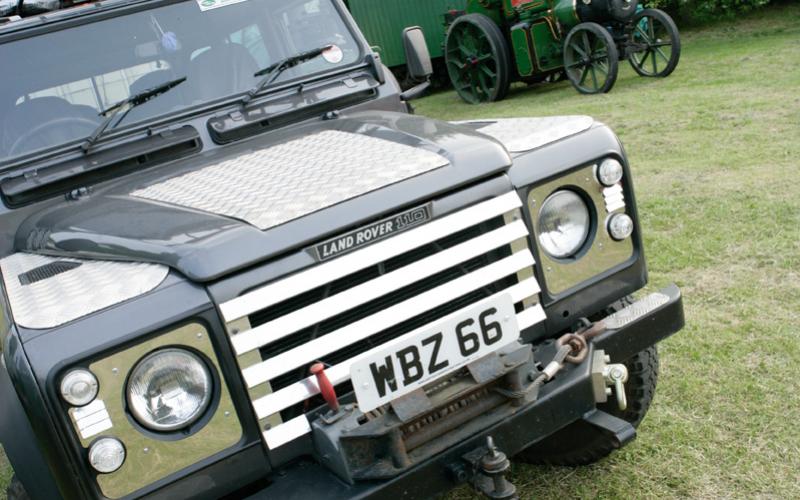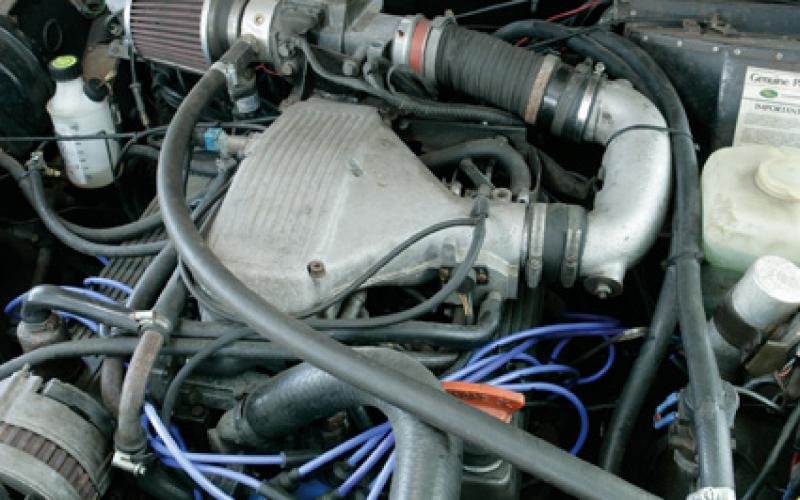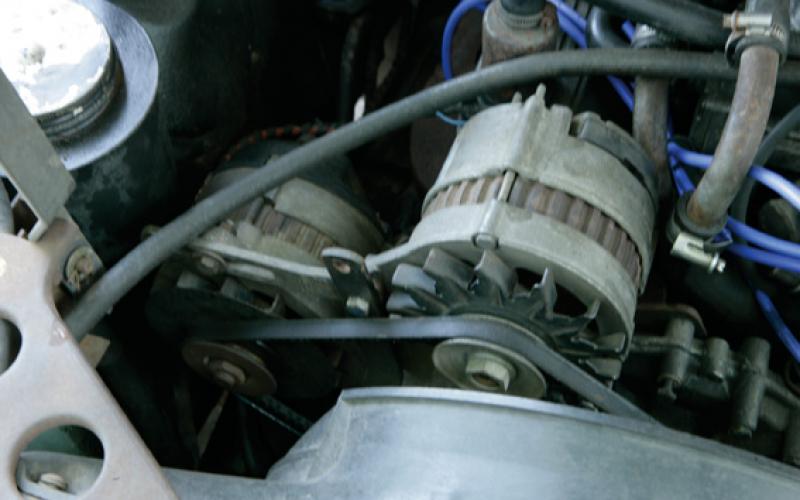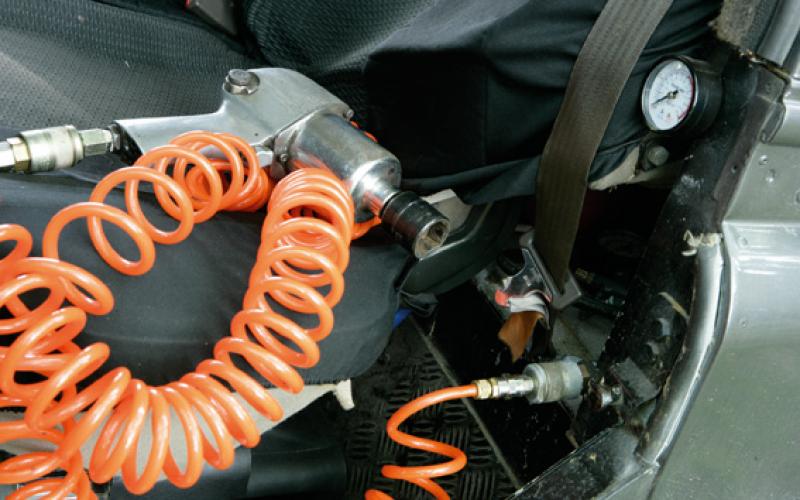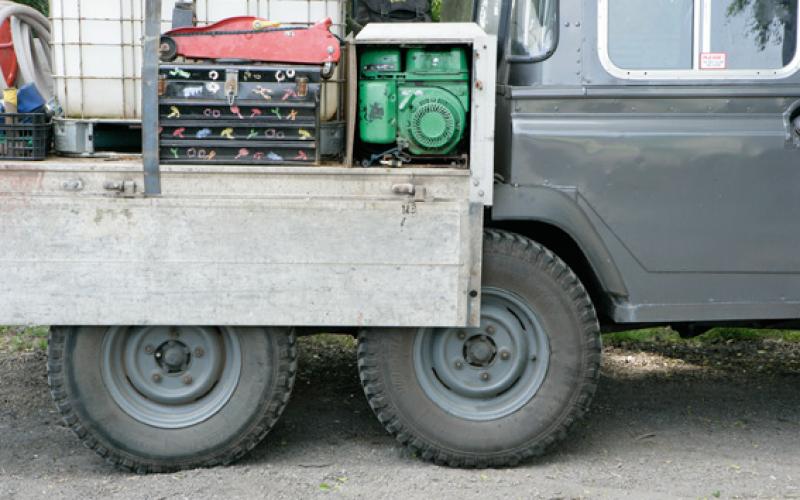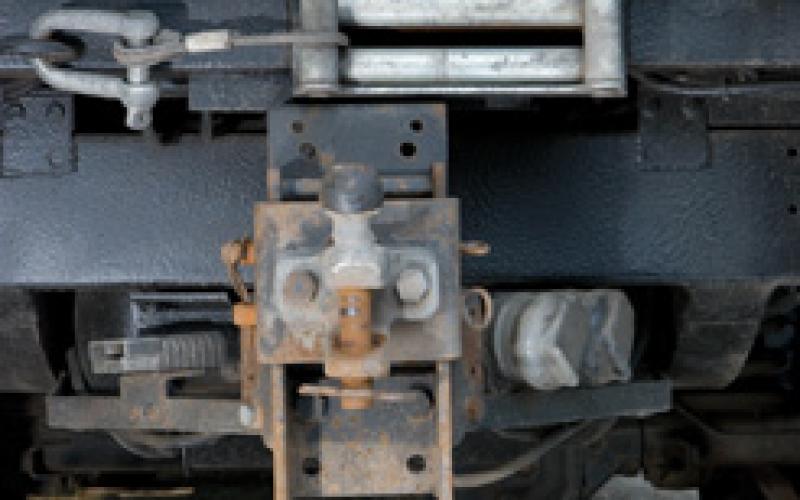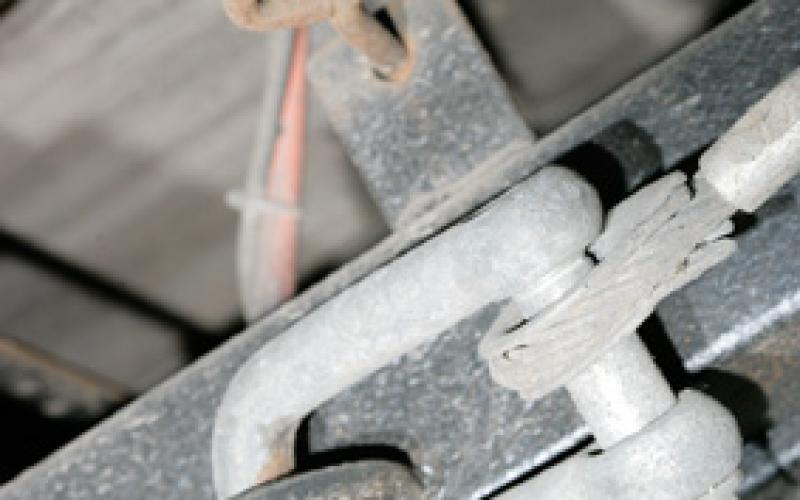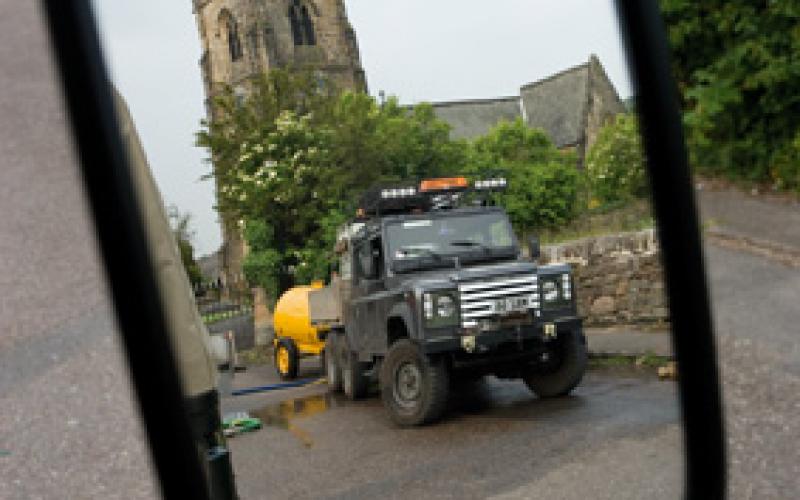 <
>
What do you do if you need to carry a tonne and a half of water across a slippery field? For Andy Webb the answer was obvious, and it lay in a rather imaginative conversion of a classic off-road vehicle…
The serendipitous quality of life means you can never predict how things will turn out. Apparently chance events can, with hindsight, take on significant meaning, and become waymarks on the journey of a person's life.
For truck driver Andy Webb, one such waymark would be the steam fair he attended a few years ago. Andy took his Land Rover 110 Hi-Cap along for the ride and found that he was called to a whole new vocation, which until that point he never knew existed.
A thirsty traction engine was stranded in the midst of a muddy field. With none of the water support vehicles able to traverse the treacherous terrain in order to reach it, Andy's 110 looked like the best option for beating the mud into submission. He duly loaded the pick-up bay with water and headed into the gloopy abyss.
The Solihull legend was more than up to the challenge, of course, and Andy became a hero among traction engine enthusiasts the country over. He was soon as much a part of the steam fair scene as hot-dog vans and polished brass. The Land Rover was part of a team of water-carrying trucks, which included an ex-fire appliance and a couple of Series vehicles.
With the green oval proving its mettle even against the job-specific fire trucks, Andy soon began to hatch a plan to enhance its credentials even further. His scheme hung on the notion of creating a 6x6 version of the 110, which combined epic load carrying ability with the off-road prowess for which the marque is renowned.
'You don't need the kind of off-road ability seen on challenge trucks,' Andy reports, 'because, in essence, all you're doing is getting across muddy fields. But standard fire engines aren't up to that task, whereas the Land Rovers manage it with ease. So it seemed obvious to me that the ideal would be to combine the water capacity of the fire trucks with the 4x4 potential of the 110.'
Just over a year later, Andy's plan had become a reality. With help from a few of his colleagues in the water-carrying business, most notably a man with the appropriate name of 'Swampy', Andy has created a truly unique vehicle. The 6x6 110 is a beautiful example of a Land Rover in all its fit-for-purpose glory; the extra axle really suits the distinctive lines of the long-wheelbase Defender, and any car enthusiast would cross the street for a closer look.
The conversion to three axles was surprisingly straightforward, thanks to a through-drive axle from mechanical engineers Reynolds Boughton. But if that job was simpler than Andy expected, the detailed bodywork modifications were time-consuming and required a huge amount of care. Fortunately, as Andy says, he is 'quite handy in the workshop', and the modifications have been completed to a very high standard. Indeed, a professional mechanic would be proud to call this project his own – and Andy quite rightly embraces the opportunity to show off his handiwork.
'We do a fair number of traction engine shows,' he reports, 'although the quantity has diminished this year because of the rain. I also use the vehicle for family holidays, and the kids love riding in the back!'
The reason Andy uses the vehicle as his holiday wagon is simple… the 110 has a mightily impressive towing capability, and tugs the Webb caravan around the countryside with ease. 'It's always a laugh to turn up at campsites with this outfit,' he muses. 'You get used to the double-takes as people try and work out just what you're driving.'
Being stared at, it seems, is part and parcel of owning a vehicle such as this. But it would be churlish to be anything other than appreciative of the Land Rover. Most people like the idea of driving something that is a bit different from the other vehicles on the road, and Andy's six-wheeler certainly stands out from the crowd.
All of which proves that sometimes you have to go with the flow, and embrace opportunities when they arise. If Andy Webb had decided not to help that stricken traction engine all those years ago, this particular Land Rover would never have come into existence. And while that would have been a massive unexploited opportunity for him personally, it's fair to say that the rest of us would have missed a treat, as well.
The Basics
110 Hard-Top donor vehicle
Land Rover Salisbury axles front and rear
Reynolds Boughton through-drive axle in middle
Crew cab conversion
Pick-up bed from Ford Transit
3.5EFi V8, running on LPG
235/85R16 remoulds, on standard 110 rims
5-speed Santana gearbox/Land Rover transfer case
Water tanks in rear loading bay – total capacity 1.5 tonnes
Total build time: 15 months (finished 2005)
Axles
Reynolds Boughton through- drive axle
Standard Land Rover propshaft from gearbox to middle axle
Second propshaft joins through- drive axle to rear Salisbury
'The set-up is deceptively simple,' says Andy. 'There's no over-engineering involved at all. It's just a straightforward additional link to the drivetrain, and it works a treat!'
Bodywork
Three-door crew cab body style – LPG inlet on panel in place of second rear door
Rear crossmember removed to make room for pick-up bed
Load bay created from Ford Transit drop-side pick-up
Andy and 'Swampy' (David Howell) took the Transit apart and reconstructed the load bay from scratch using the same components, which they thought would be easier than trying to modify the existing set-up. The flat bed sits over both rear axles, obviating the need for rear wheelarches.
'This was the most difficult part of the build,' says Andy. 'But we got there in the end. It was definitely a case of design by evolution.'
Suspension
Standard Land Rover 110 coil springs all-round
Rear axles utilise standard Land Rover A-frame set-up – perfect for low-speed off-road work
Shock absorbers are standard
Airbags inside springs can be inflated to stiffen ride when carrying water
'This is when you remember that the vehicle isn't designed for hardcore off-road use. Standard suspension components, with the exception of the airbags, are perfectly adequate for the kind of work we do.'
Beneath The Bonnet
Donor car had 3.5-litre V8 on carbs
Andy converted to EFi – brings 35bhp increase in output
LPG conversion
90 fuel tank under driver's seat, under-slung gas tanks
'The gas conversion brings helpful economy when I'm driving to shows. I've got a good combination of performance and frugality.'
Inside
Front seats were in 110 when Andy bought it – unknown provenance, but very comfortable
Rear seat from same Range Rover as EFi system
Seatbelts fitted all round for family use
Standard Defender dashboard and instrumentation
Hardware
Six-tonne PTO winch on home- brewed front bumper
Four-tonne Husky mounted just behind cab, exits through fairlead in rear subframe
Water tanks in loading bay, with inbuilt pump
3KVA generator for use at shows
Air compressor
Storage bins for show equipment
'The equipment is there for use at steam rallies,' says Andy. 'It's integral to the design of the vehicle, and means it can do its job with the minimum of fuss.'
Power
Four bog-standard 12-volt batteries
Two alternators, each controlling one pair of batteries
Result is two completely separate wiring systems – one for standard Land Rover electrics, the other for auxiliary equipment
'It's always amusing to finish using the winch for a lengthy recovery job, with the work lamps just dimming through lack of power, and jump into the cab with the engine starting on the button. Onlookers can never quite work that one out…'
The Future
Andy plans to fit rear-wheel steer in coming months
Plan is to use swivels from a Series III Land Rover and system of track rods to create a small amount of movement
Rear steering needs one third of the movement of the front axle in order to assist manoeuvres
'This is the job for the close-season. It should keep us amused for a few weekends!'
The Gang
Land Rover products feature prominently in Andy's water- carrying troupe:
109-inch Series III fire engine
88-inch Series II fire engine
Standard 110 Station Wagon (owned by Swampy) pulls trailer with water tanks inside
DIY BUMPER, LPG CONVERSION, REYNOLDS-BOUGHTON AXLE, 6X6, STEAM TENDER
Share this article