KAM's Monster Axles
Originally Published: March 2014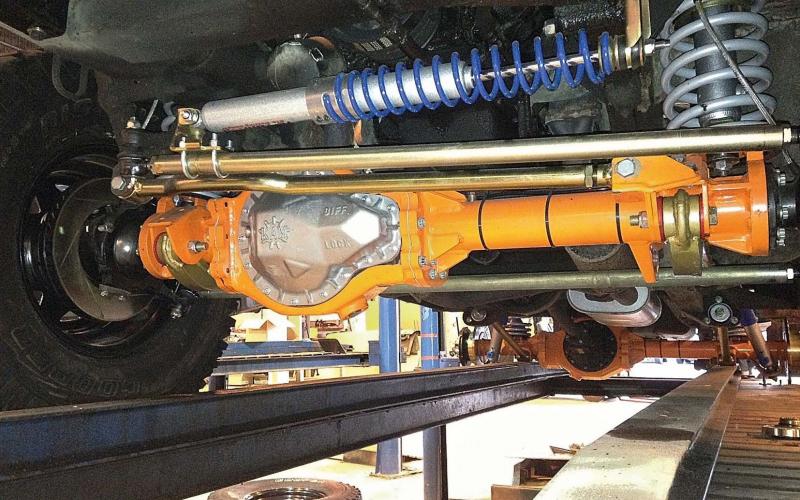 <
>
When it comes to heavy-duty axles, KAM's new 5t units are going to take some beating. In the hands of most of the people who'll ever own a set, actually, 'take some beating' is exactly what they'll do, but seldom has any item of off-road kit looked better prepared to shrug it off.
It won't shock you to learn that the 5t axles are designed with heavy-load applications in mind. KAM talks of armoured Defenders and access platforms, but of course they're perfectly suited to serious off-road use, too.
Built to handle a a five-ton load, the axle casings are every bit as robust as they look. And boy, do they look robust.
Inside, you get a choice. You can buy naked cases and build them up yourself with the diffs, halfshafts, stub axles, swivels and brakes from your existing Land Rover axles, or you can dig a bit deeper and cherry-pick KAM's own range of top-notch internals.
These include aerospace-grade halfshafts and CV joints, plus a choice of diffs: four-pin, limited-slip, locking and combined limited-slip and locking. You can choose from a range of diff gear ratios too and, however you choose to spec them, you can ask for your axles to be supplied either built up or in kit form.
The axles are available for the Land Rover 90, 110 and 130, Discovery 1 and Range Rover Classic, with different rear units to suit the length of the original fitment's diff nose. Prices? Well, this is ultimate-duty kit, so you know what to expect. A front unit will cost you £1299 and a rear one £1250, plus VAT in each case, with the final price depending on your choice from the various internal and build-up options.
Expensive? Oh yes. Reassuringly so, you might say. This is KAM, after all, one of the very few companies in the off-road game who we can honestly say we've never heard a bad word said about.
The definitive example of 'build it once, build it right,' we reckon. At the very least, if you do something that breaks one of these things we don't think you'll be off-roading again. Or breathing. Head for www.kamdiffs.com to find out more about these and the company's many other A1 products.
AXLE UPGRADES, LAND ROVER DEFENDER, LAND ROVER DISCOVERY, RANGE ROVER CLASSIC, KAM
Share this article