New Shock Options As Amada Xtreme Arrives
Originally Published: December 2013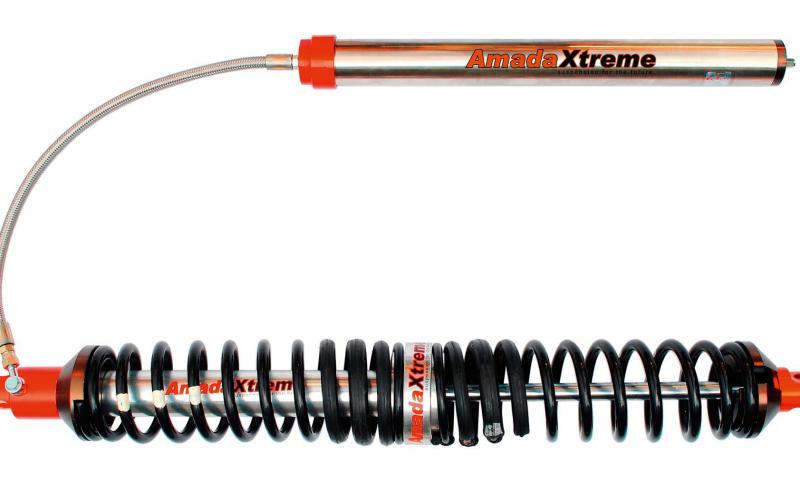 <
>
Amada Xtreme, which has just launched into the UK, will be a new name to a lot of British off-roaders. But the Thai-based shock manufacturer has an impressive heritage at the sharp end, with a series of wins over the last decade or so in events including the Outback Challenge, Borneo Safari and, twice, the Malaysian RFC.
The company, which says its mission is to strive for 'safer and more efficient products,' offers three parallel ranges of premium quality shocks. The Ultra Series 1, 2 and 3 are designed for aftermarket enhancement programmes on upgraded vehicles, while the Explorer and Adventure models are OEM fittings for more than 60 different models across the global 4x4 market.
Starting with the Explorer, these shocks have a 52mm diameter body containing a 20mm chrome-plated alloy steel shaft. That's not what makes them so unusual, though. When Amada describes them as 'OEM ,' what it's saying is that each model is made with the right top and bottom fittings, all polyurethane bushed, for the truck it's made to go on. Thus you don't need to mess about with buying extra brackets or anything – though you do need to find somewhere to put the shocks' (here's where it does get unusual) remote reservoirs.
Nitrogen-charged and pressurised to 200psi, the reservoirs allow the shock to be set up by adjusting the bump and rebound valving. As you'd expect, the units are fully rebuildable – and, also as you'd expect, they're aimed at competition use. 'The lower end of the extreme challenge market,' in Amada's own words.
What if you're after taking part at the upper end? You start looking at the Ultra range, that's what. These are called 'Defender' back home in Asia – can't imagine why they felt they had to change the name here – and cater for the most dedicated off-road competitors. All are built to order; there's a choice of models offering single and double-spring arrangement, as well as remote and integral reservoir options and as much as 44" of travel. As you can imagine, Amada is targeting bespoke builds with this range.
At the everyday end of the scale, the Adventure range is basically like the Explorer but without remote reservoirs. It's not rebuildable the way the more expensive units are, but it promises to be nice and strong – and to cover a huge range of vehicles from throughout the last couple of decades or so. It's where the biggest numbers will come from – the company didn't go as far as to say where its benchmarks lie, but if you're looking for something to compare it to and pick Old Man Emu out of the sky you shouldn't be too far from
the mark.
Being developed in Thailand, these are shocks from people who know what it's like to go wheeling in wet conditions. Might stand them in good stead for UK use, certainly. Amada Xtreme is imported to the UK via France, with an agent here handling English-language markets. You can find out about the product at www.amadaxtreme.com, and get in touch with its British arm by calling 01202 422385.
Share this article