Less Is More
Originally Published: May 2013
Words: Paul Looe
Pictures: Harry Hamm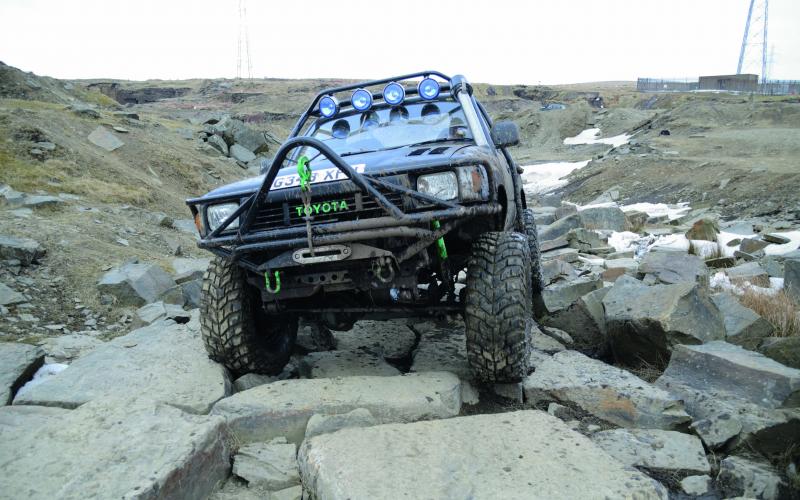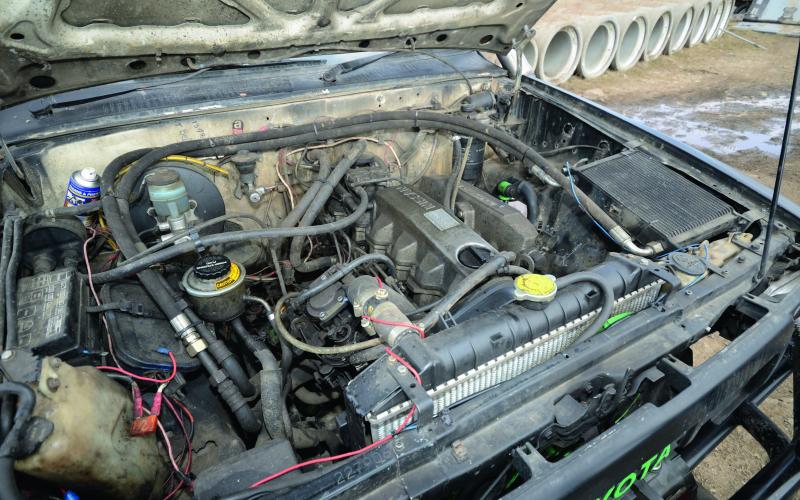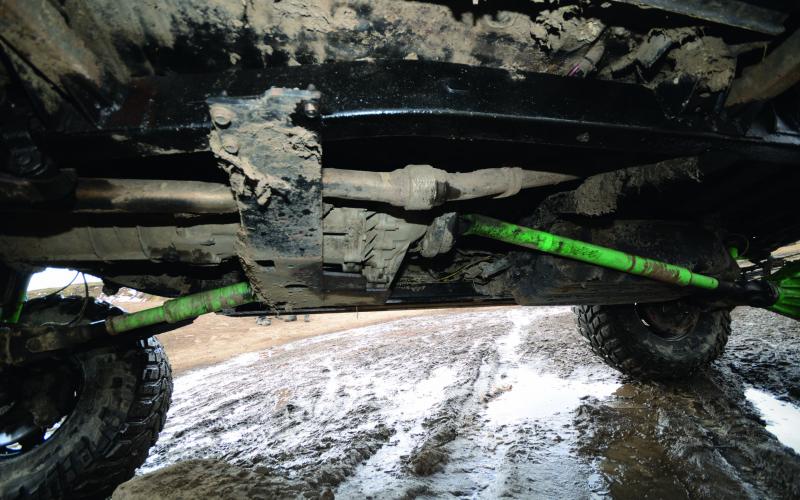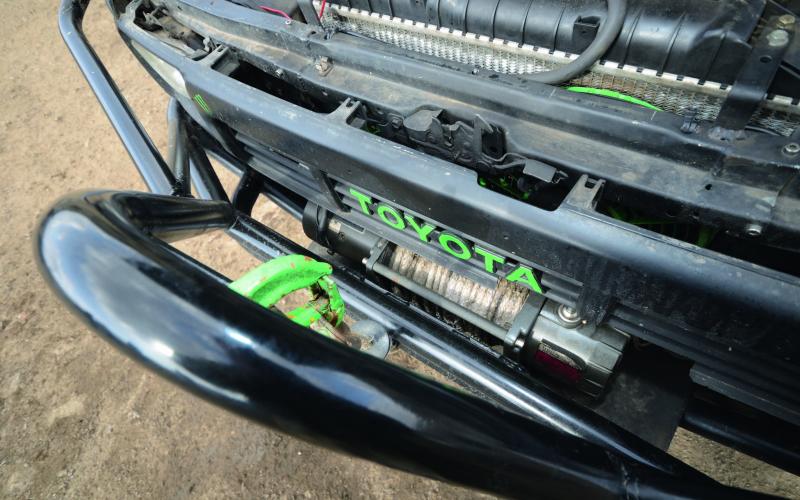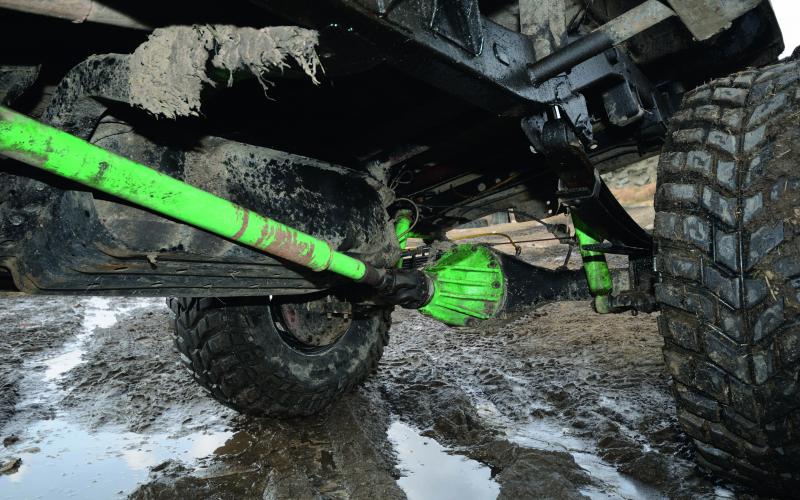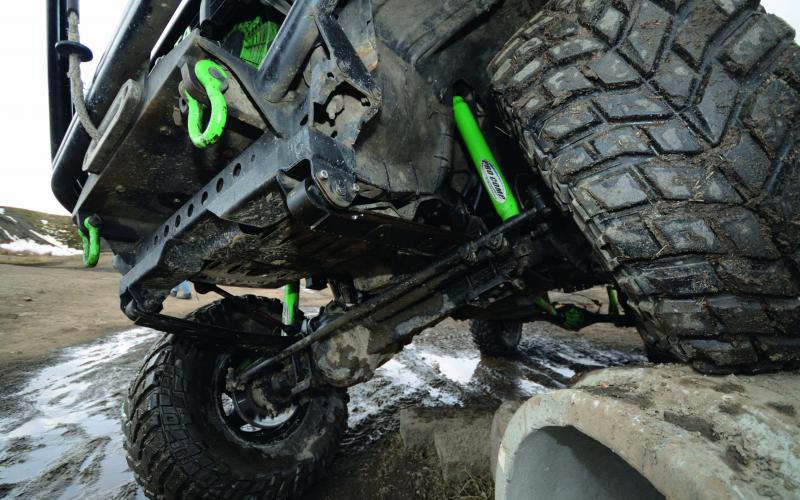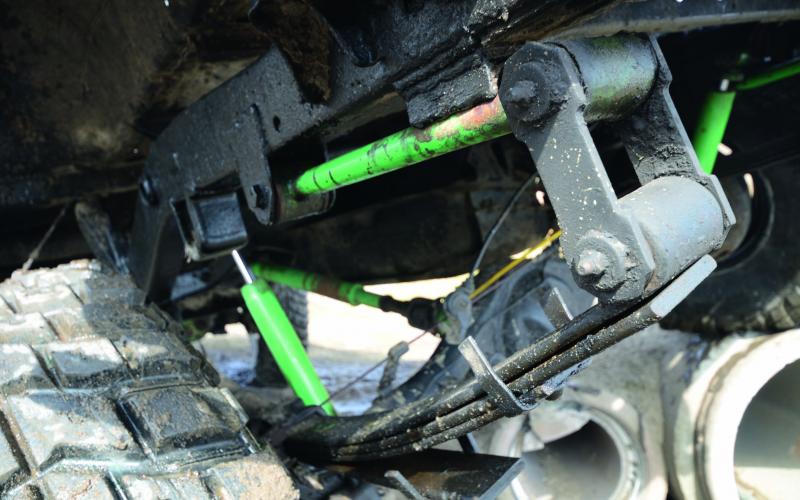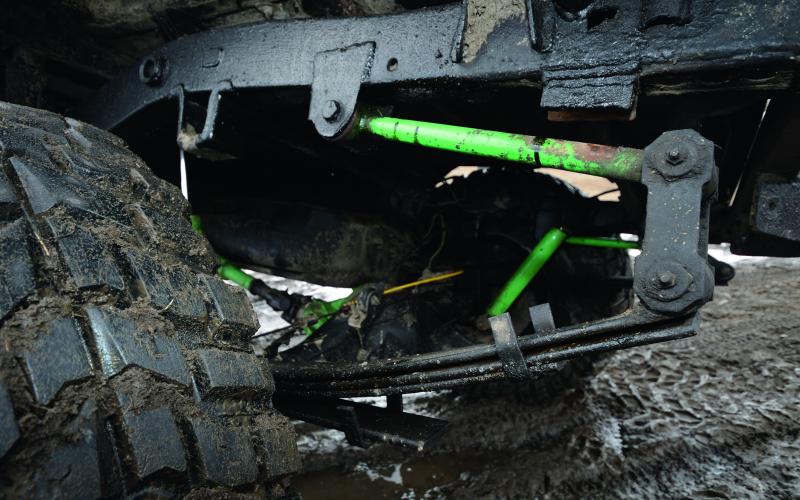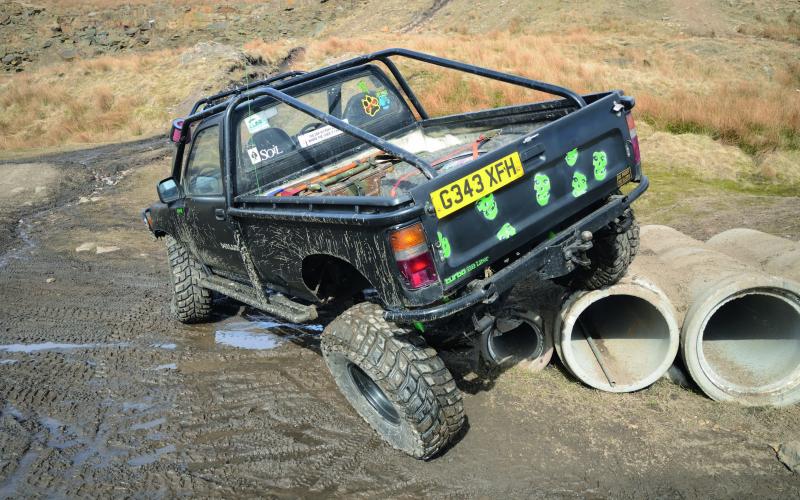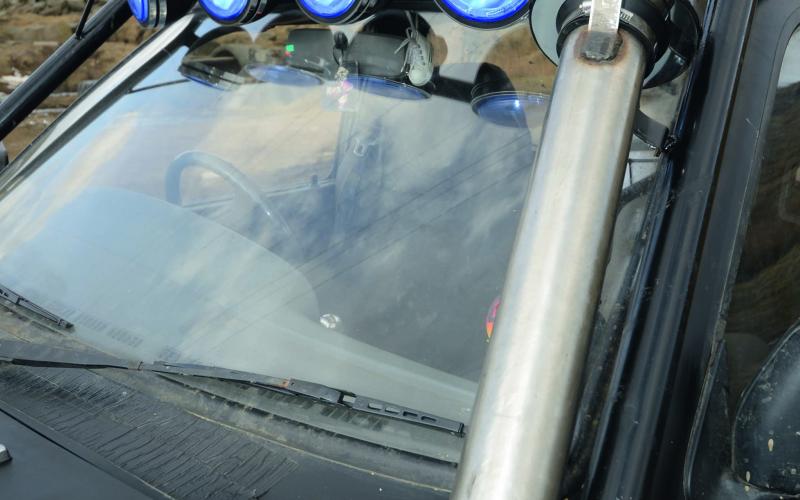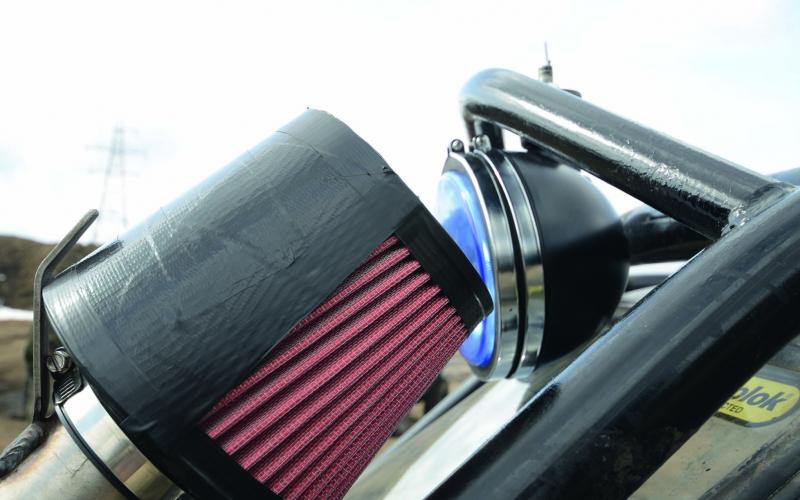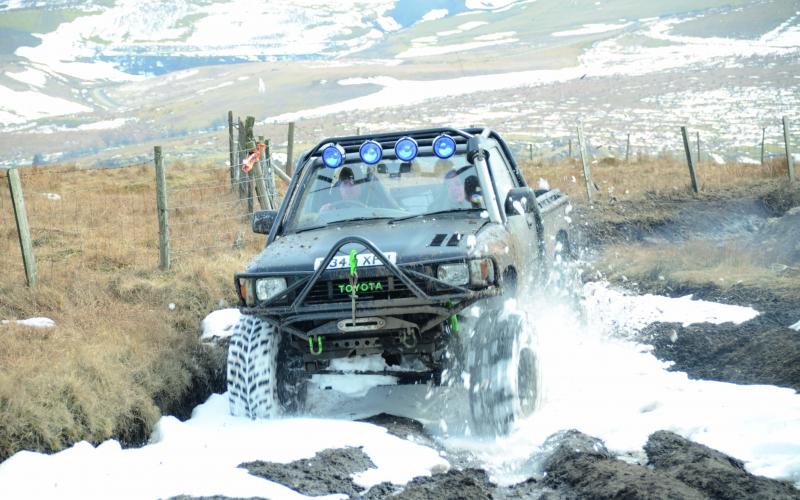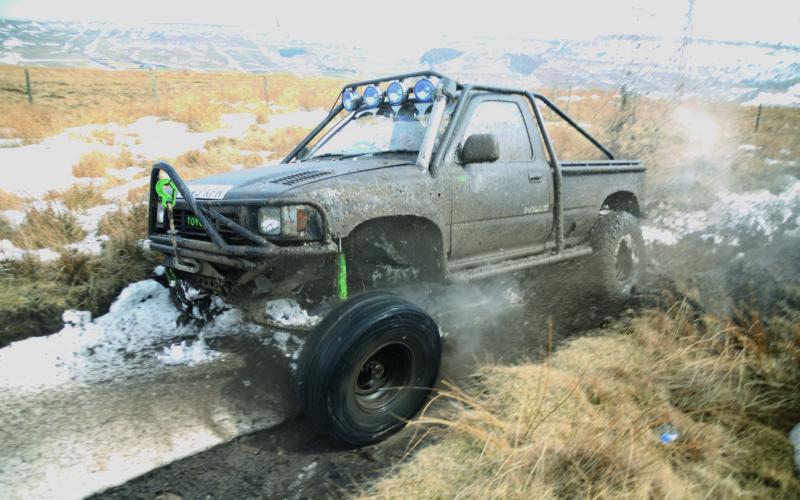 <
>
Three words you're unlikely to think of, when considering a Hi-Lux on 35s with 3" of lift and an exo cage made from steam pipe, are 'light', 'low' and 'fast.' But when Ashley Stimpson compares his Mk3 to the giant Patrol he used to run, he's entitled to think that yes, it's all those things. And it's an even better off-roader for it, too.
It's just over three years since Ashley Stimpson first appeared in Total Off Road. He'd become possibly the first person in Britain to bobtail a Nissan Patrol, which he also lifted to the point where it was rolling on 37" Mudzillas.
This brute of a truck was his daily drive as well as being a hardcore off-road toy, but with the thick end of 3 tonnes tottering around like Zebedee on weed he came to find it lacking in both power and stability. So he put it up for sale, and someone drove a lorry all the way from Romania to take it away.
What do you do when your previous vehicle was heavy, slow and unstable? You buy a nice Mondeo Estate. Or, if you're not quite ready to admit defeat yet, you find a moderator on a Hi-Lux forum who's willing to sell you a Mark 3 trayback on 33s.
This had been shortened by about 18" at the back, though its wheelbase remained standard so it still had plenty of space to be a usable truck. Just what Ashley wanted, because like the Patrol this was destined to be his everyday car. It's a camping wagon, too, and supports a generally active outdoors lifestyle, so he decided to fetch off the tray and replace it with a more traditional pick-up tub.
There's traditional and there's traditional, of course. This one's traditional in the sense that its contents include the rear portion of a six-point roll cage, which also extends to surround it with waist-level tree sliders. So, not very traditional at all, then.
The main part of the cage is made from 2" o/d steam pipe tubing with a 4mm wall thickness, which doesn't sound like a recipe for the ultimate in weight saving. He wasn't just chucking heavy metal at it without a care, though – his aim at the start of the project was to bring it home at under 2 tonnes, and on its most recent visit to a weighbridge the Hi-Lux tipped the scales at a pretty reasonable 1940kg, so job done.
Another radical difference from his old Patrol is that instead of just lifting it and lifting it and lifting it, this time he's tried to keep the centre of gravity as low as possible. The Patrol went over a couple of times, one of them a but-for-the-grace-of-God moment that could just as easily have ended up in a multiple barrel roll – it was just after this that he decided to sell it, funnily enough, and he was determined not to make the same mistakes while building the Hi-Lux.
That's why, in addition to the 2" lift springs it was already on when he bought it, the truck has gained nothing more dramatic than a 1" body lift. Of course, you don't fit 35" tyres underneath many vehicles on numbers like that, so you won't be surprised to hear that instead of going up, his strategy was to be much more savage with the tin snips when it came to removing metal from the truck's wheelarches.
The springs don't create lots of height, but Ashley reckons they do flex well – and with shocks providing 15" of travel up front and 9" at the back, they get every chance to do just that. The rears are aided by a set of buggy links – the leaf-sprung equivalent of dislocation cones, you might say – which Ashley made himself from a set of suspension top links from, you guessed it, a Nissan Patrol.
Not that that's the only Patrol part you'll find on this Hi-Lux. Far from it, in fact. Try the engine, gearbox and transfer case for size. Actually, that's exactly what Ashley had to do, because the straight-six 2.8 diesel is a very tight fit between the radiator and the bulkhead, and much of the transmission tunnel had to be cut away and remade to accommodate it. The props, meanwhile, were home-made with Nissan fittings at one end and Toyota at the other.
After all that effort, you might be surprised to hear that he's happy to stick with the leaf-sprung set-up – especially as many people might see it as a step backwards from the Patrol's coils. But Ashley doesn't see it that way. 'With the leaf springs, there's only eight bushes throughout the truck. The Nissan had three times that. That's three times the effort, and three times the expense.'
So, no plans to ditch the cart springs, then. He does, however, intend to fit rear leaves at the front, which increases the vehicle's wheelbase by 2-3", lifts it a little and, more importantly, makes it ride more comfortably. There's a hi-steer set-up going on, too, and the truck's blunt end will at some stage by treated to disc brakes and a winch.
The most intriguing plan in his list, however, involves the engine. Having heard that the 2.8 TD runs the same block as the early Skyline, he's looking at fitting that vehicle's much bigger turbo – which should push an extra 100bhp or so out of it.
As it is, Ashley reports that the Hi-Lux is no slouch, and with the engine and drivetrain from what was nearly a 4-tonne truck shifting something half that weight, that's as it should be. We won't repeat the details, but suffice to say that where some 4x4 owners simply go flat out all the time just to keep up with the traffic, if he tries that he'll soon be clearing the traffic out from in front of him.
It all makes for a daily driver that might be a bit unusual but certainly is very well sorted. Ashley's not interested in competing (he already does that on mountain bikes), but by the same token he's not interested in shying away from the gnarly bits at playday sites, and this is a truck that'll take 'em on with guts and glory but still come back for more – while getting him to work every day in between.
Best of all, unlike his old Patrol it's every bit as much fun on the road as it is on the rocks. And of course, it's cool as all hell wherever you see it. It's going to be a long, long time, you feel, before Ashley Stimpson gives up his 4x4s for that Mondeo Estate.
We photographed Ashley's Hi-Lux at Cowm Leisure's brilliant moortop quarry site near Whitworth. It's open for 4x4 playdays on the last Sunday of the month, and the combination it offers of rocks, hills and boggy mud has to be seen to be believed. Brilliant place. Check out www.cowmleisure.com, or give main man John Whittle a call on 07970 101879.
HI-LUX, NISSAN PATROL ENGINE, CHAMPION WINCH, DETROIT TRUETRAC, TRAIL-GEAR HI-STEER, OLD MAN EMU SPRINGS, PRO-COMP SHOCKS, BUGGY LINKS
Share this article