Play Station
Originally Published: October 2007
Words: Tim Gibson
Pictures: Steve Taylor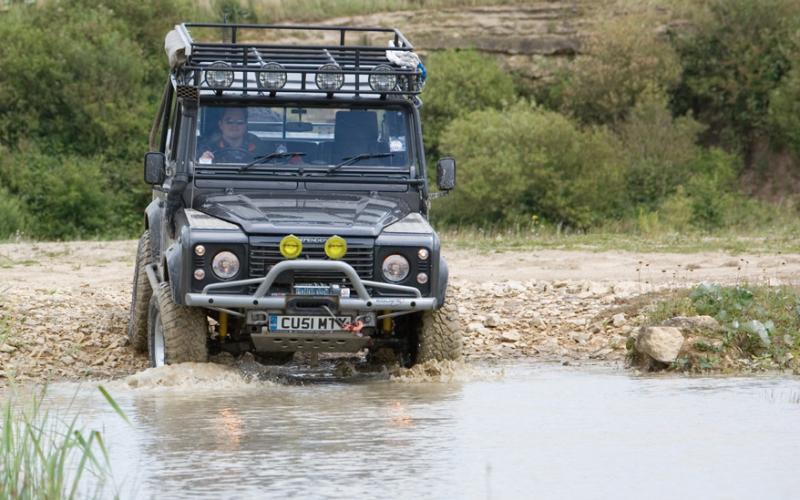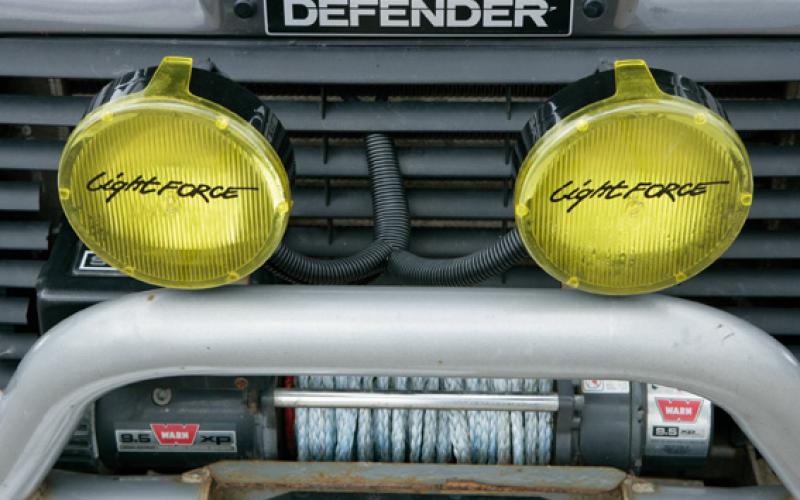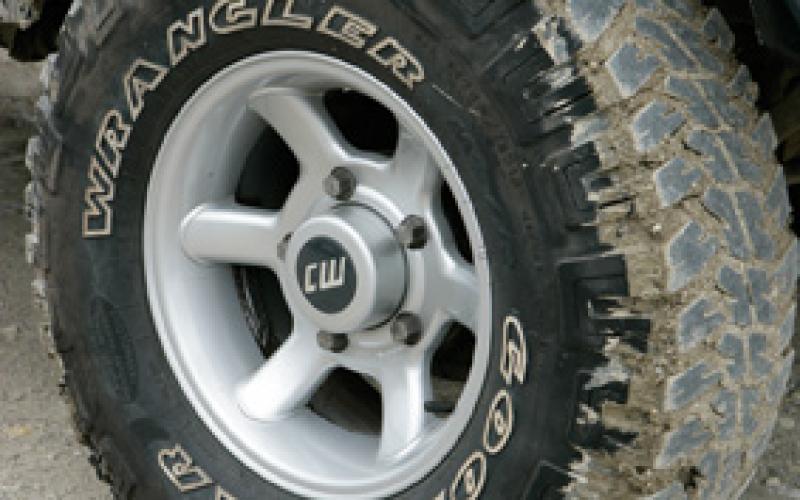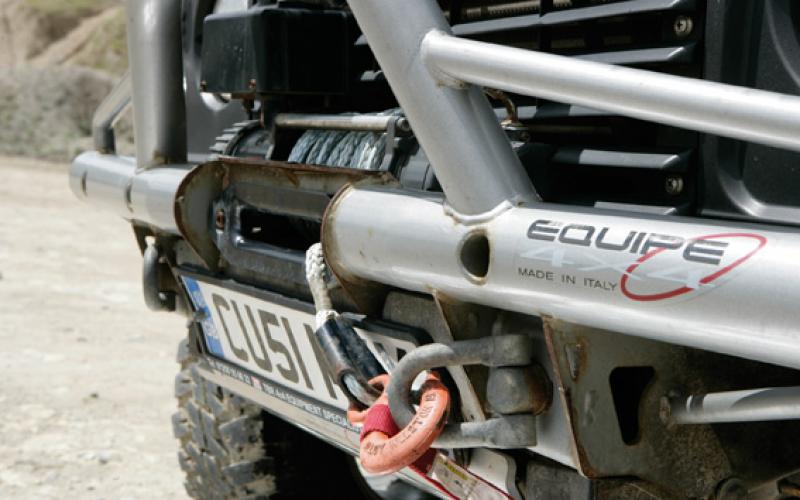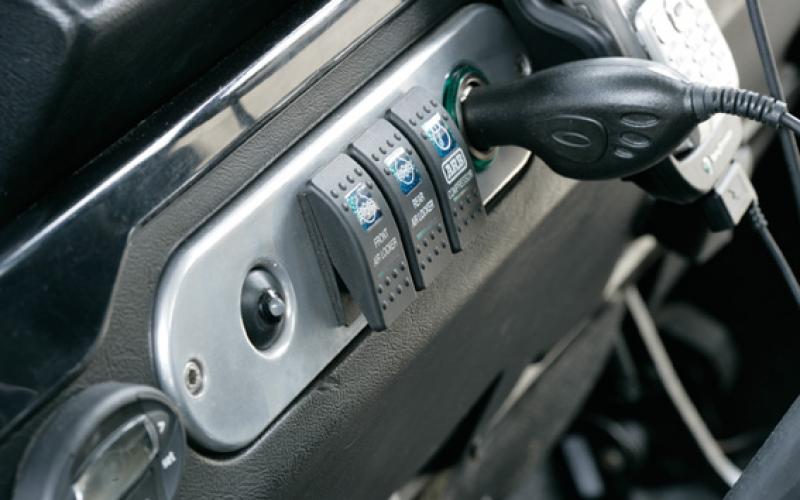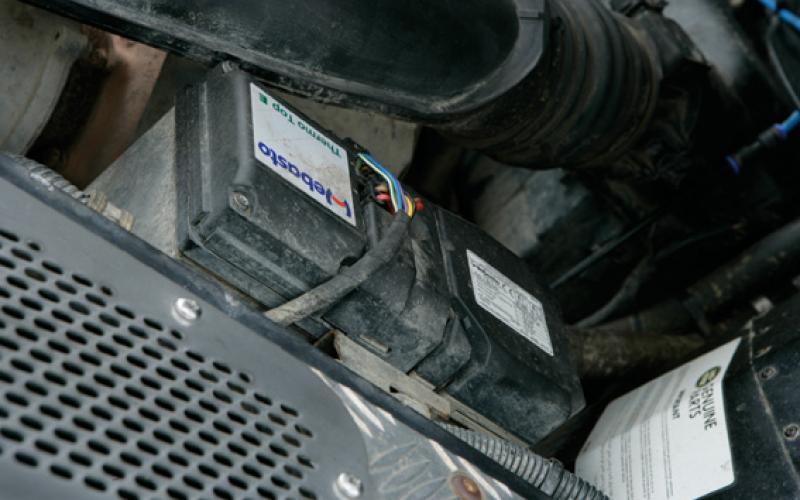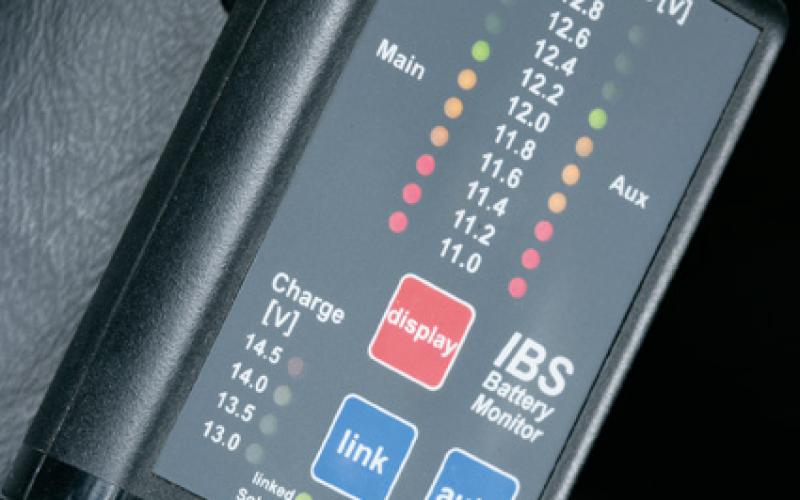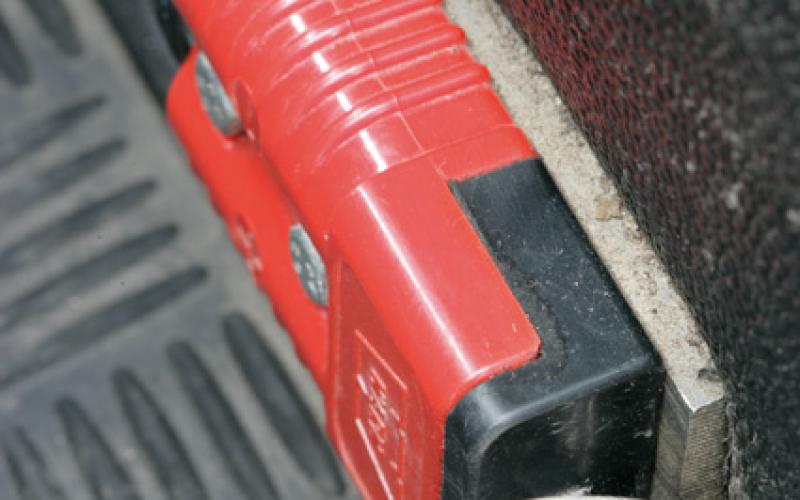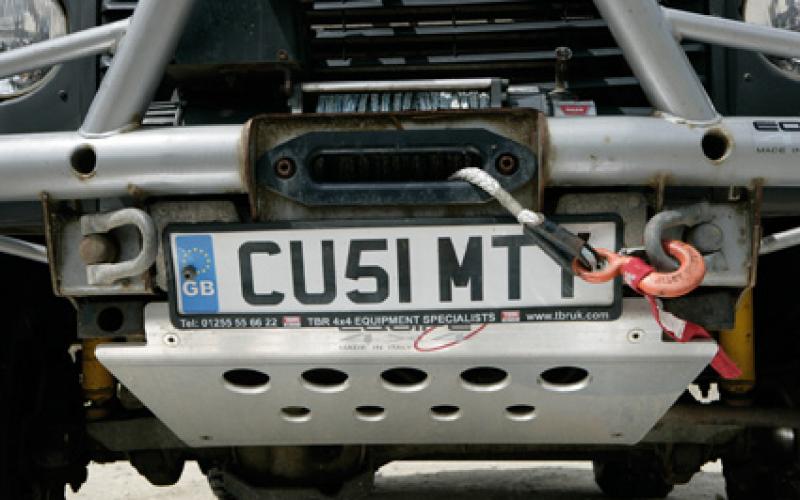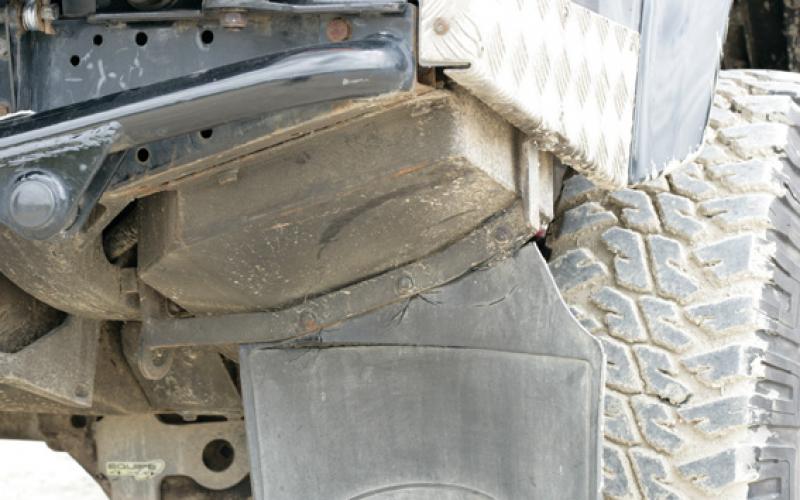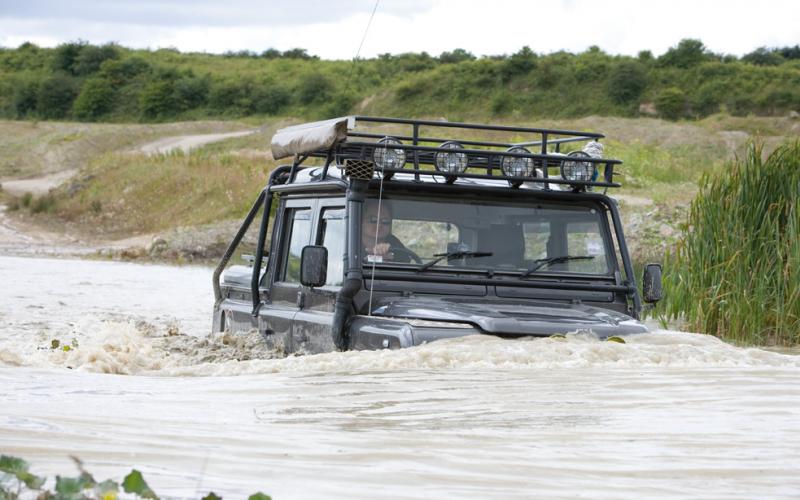 <
>
If you think the Land Rover Tomb Raider is rather lacking in the hardcore off-roading stakes, you've obviously never met Ian Woolley. His example of the marque is one of the most tricked-up Solihull vehicles you're ever likely to see.
Depending upon your perspective, the Tomb Raider special edition Land Rover was either one of the best or worst ideas to emerge from Lode Lane at the turn of the 21st century. For, while the tie-in with such a massive cultural phenomenon was a major fillip for the manufacturer's sales figures, the model left many diehard Solihull enthusiasts genuinely perplexed.
The widely held assumption was that, in its attempt to cash in on the success of the Tomb Raider movies and computer games, Land Rover would inevitably have sacrificed the characteristics that most Defender lovers hold dear. But it was these very characteristics that made the vehicle such an obvious choice for Lara Croft to drive - and far from losing them, the special edition doublecab accentuated them with a variety of highly desirable factory-fitted extras.
So it was that the stock Tomb Raider came equipped with a Mantec steering guard, a Safari snorkel and front and rear diff protectors. That these items are high on the list of any off-road modifier is an indication of the out-of-the-box credentials of the Tomb Raider models. And, a surfeit of chrome and chequer-plate aside, these vehicles are every inch the real deal when it comes to delivering the goods in the rough stuff.
One green oval enthusiast who knows that only too well is Ian Woolley. His Tomb Raider has pride of place in his fleet of three Land Rovers, and slowly but surely he's turning it into an extreme off-roader par excellence. A couple of memorable outings on the Crosiere Blanche and endless muddy weekend adventures have enabled Ian to prove the vehicle's mettle in challenging terrain. Now he's in the process of maximising its inherent ability in order to take on some even more extreme adventures in future.
A trip to the Arctic Circle is currently top of Ian's list of potential expeditions, and it's hard to imagine a more appropriate vehicle in which to do it. His Tomb Raider, which he bought with just 17,000 miles on the clock two years ago, has been developed with assistance from vehicle dependant travel experts TBR UK. The result is a truck that combines the attributes of a long-distance cruiser with the technical spec of a bona fide mud-basher, and Ian never passes up an opportunity to make the most of both sides of its character.
'It's important to have a vehicle that's comfortable when you're travelling a long way in it,' Ian explains. 'But I don't want to lose too much in the way of off-road performance as a result. The Tomb Raider is versatile enough to give me the best of both worlds.' \
Despite a long held admiration for the Land Rover special edition, Ian is by no means blind to its faults. He didn't like the tubular chrome A-bar and front bumper that were in situ when he purchased the vehicle, for example, so he promptly replaced them with hardier items. In general, however, Ian appreciates the cosmetic details of the Tomb Raider, and he's even decided to forego a roll cage in order to keep the vehicle's distinctive roof rack and light bar.
'Some people describe it as a hairdresser's car,' Ian remarks, 'but I don't think that's very fair. The Tomb Raider is a great utility vehicle, and it's as capable off-road as any Land Rover. With the modifications I've performed, mine is better than most - and I'm not afraid to use it in anger.'
The truth of this comment is evinced in Ian's tales of his adventures in the truck. He regularly attends the TBR off-road training expeditions to Wales, and also enjoys green laning and fun days. 'Lots of people change their mind about the vehicle once they've seen me bash it around a quarry,' he reports. 'I don't take unnecessary risks, but I'm not scared of a bit of rough and tumble.'
The Tomb Raider is a worthy addition to any collector's fleet, therefore, and in the guise Ian has chosen for his vehicle, it is overflowing with playtime potential. It just goes to show... if, like Ian, you're willing to look beyond the bling of Land Rover's most renowned special edition, you'll see the makings of a very sorted off-roader.
Basic Spec
2001 Land Rover Tomb Raider Special Edition
TD5 turbo diesel engine
Ashcroft reconditioned gearbox, fitted after Land Rover unit blew at 50,000 miles
Factory-fitted 'roll' bar/roof rack/light bar
Factory-fitted Safari snorkel
Chequer-plating standard
In tune
Tomb Raider had uprated intercooler and tuned engine when Ian bought it
Ian replaced these items with Jeremy Fearn products
A custom-made three-inch straight-through exhaust is currently in the offing - Ian will source it from Griffin or from TBR UK
Ian is also thinking of installing a larger turbo
GKN overdrive reduces noise levels, and improves fuel economy
'If the diesel engine ever blows, I'll replace it with a V8. I love the burble of Land Rover's high capacity petrol engines... but I'm not so keen on the running costs!'
Interior
Cryotech internal trimmings
Scheel-mann seats offer lumbar support - shortened base creates greater legroom
Webasto heater, with 600-yard remote control, pre-heats engine and interior - perfect for Crosiere Blanche and Arctic circle
GPS runs through PDA, with TomTom - Ian has plans to install a mini-Mac and more complex mapping software
Externals
Tomb Raider styling accessories remain in place, with exception of chromed front A-bar
This has been replaced with a beefed-up winch bumper, made by Equipe
TBR swing-away spare wheel carrier on rear
Hi-lift Jack on wheel mount
Auxiliary lighting and PIAA bulbs in headlights
'I've thought about fitting a roll cage to the truck, but I just love the look of the Tomb Raider accessories. Besides, I'm not sure I'd want to survive if I rolled the car, as I'd be too distraught!'
Wheels & Suspension
50mm Old Man Emu lift kit
OME kit includes long travel shock absorbers
285x75R16 BF Goodrich Mud Terrains
TBR 16-inch offset alloys
Huffman spacers ensure room for snow chains
Super Pro bushes used all round, for on-the-road comfort
'I've got a Gwyn Lewis suspension configuration on my Discovery, which provides huge flexibility. But I wanted on-road manners on the Tomb Raider, so I've sacrificed articulation in the name of comfort.'
The Rough Stuff
Sumo steering bars
Standard Tomb Raider Mantec steering guard replaced with Equipe component
ARB air-locking differentials front and rear
Ashcroft CV joints, end caps and halfshafts on front, to compensate for extra strain of ARBs
Maxidrive end caps and Salisbury halfshafts on rear - Ian plans to replace these with strengthened components, possibly from KAM
TBR Rock sliders
Warn XD9.5 electric winch
One Optima Yellow Top and one Red Top - the latter soon to be replaced by a second Yellow Top
Batteries housed in waterproof box
'I chose an electric winch because I worry about what happens to a hydraulic winch if your engine stalls during a recovery.'
The Long Haul
Long range fuel tank plus auxiliary - total capacity of 160 litres
Sat phone enables Ian to keep in touch with home
African Outback Smart Top - ensures security of loading bay
Smart Top has all-round guttering, meaning space case can be attached to its roof
Smart Top also has remote opening tailgate
Detachable roof tent provides wilderness accommodation
Engel fridge
'The fridge is great even if you're on a daytrip in this country: it keeps fresh meat cool, and it's ideal for beer on a summer's day!'
The Future
Ian wants to install a water tank, preferably plastic
100-litre water tank can fit behind rear bench seat, or a smaller tank (40 litre) can be mounted beneath the rear wheel arch
Once he has on-board water, Ian will fit a shower
A rear winch also features in Ian's plans
Ian might go more extreme with the Tomb Raider's suspension configuration, but he's happy with the OME kit for now
'I love the truck as it is, and I've even had people follow me into motorway service stations in order to admire it. But it's always in development, because I'm always trying to ensure it is completely fit for purpose.'
OLD MAN EMU SUSPENSION, ARB AIR-LOCKERS, 110, BF GOODRICH MUD-TERRAINS, SUMO BARS, SAFARI SNORKEL, ASHCROFT GEARBOX, GKN OVERDRIVE, SUPERPRO BUSHES, TBR ROCK SLIDERS, WARN XD9.5
Share this article