Yellow Fever
Originally Published: April 2006
Words: Tim Gibson
Pictures: Steve Taylor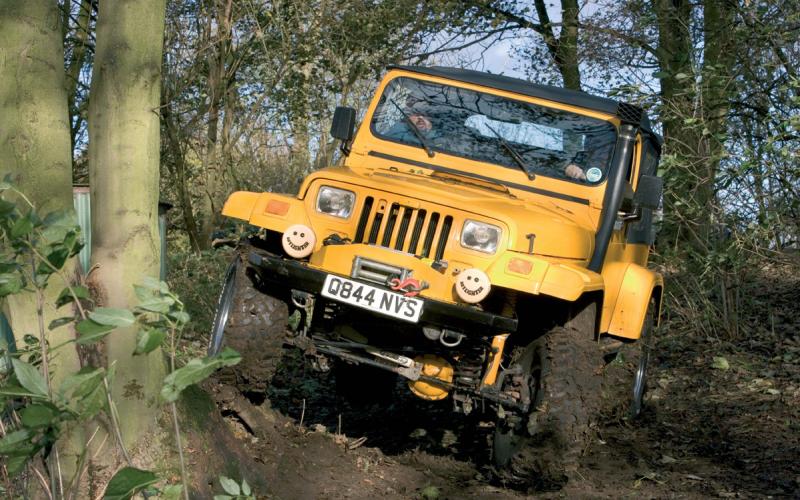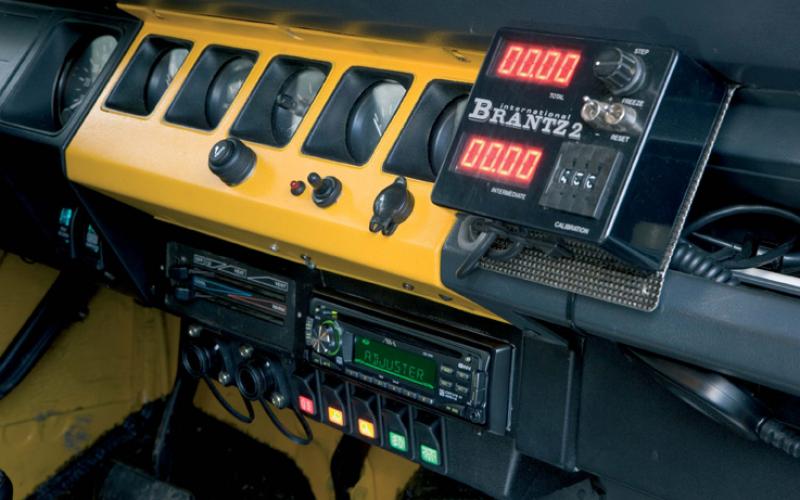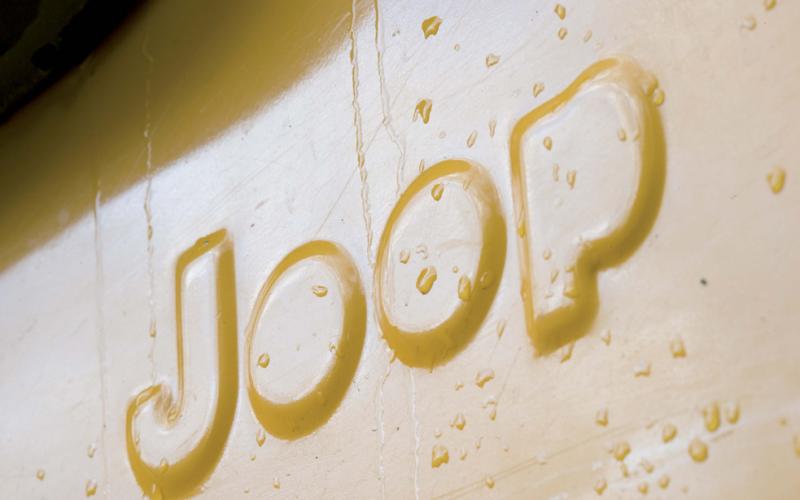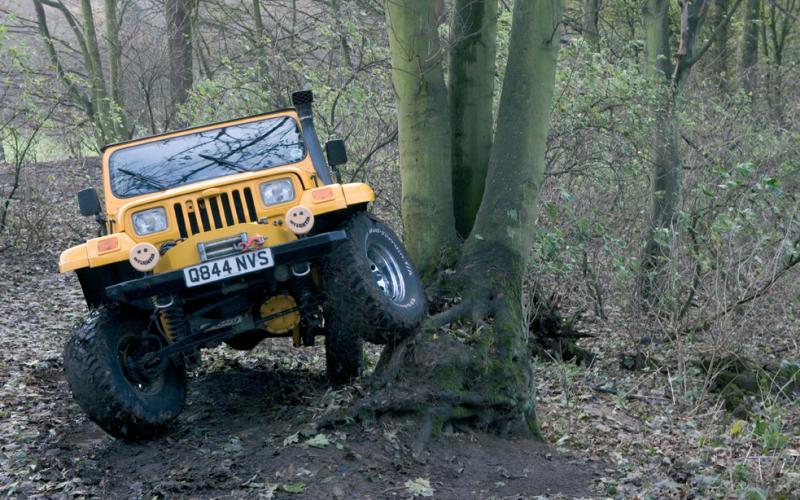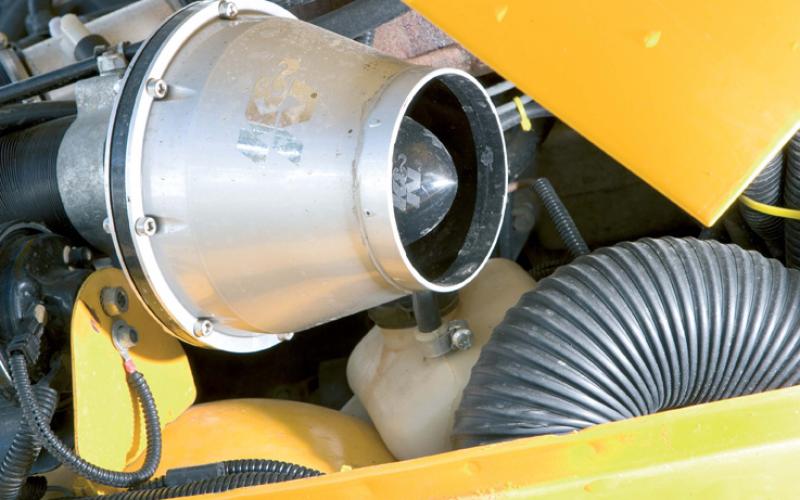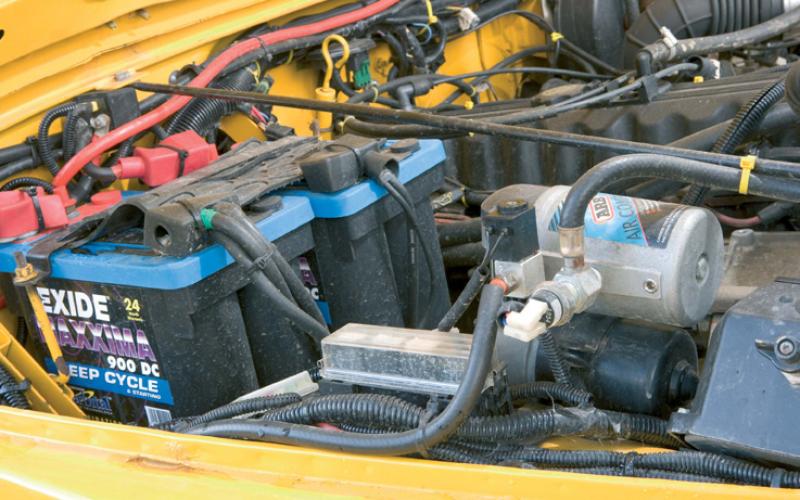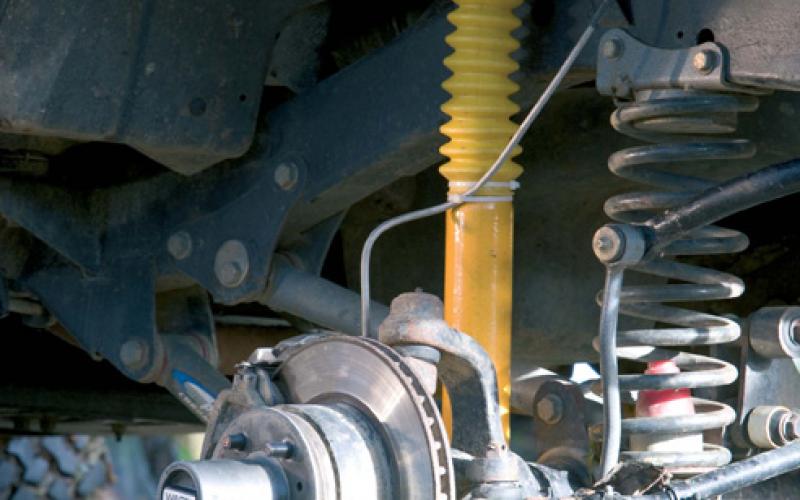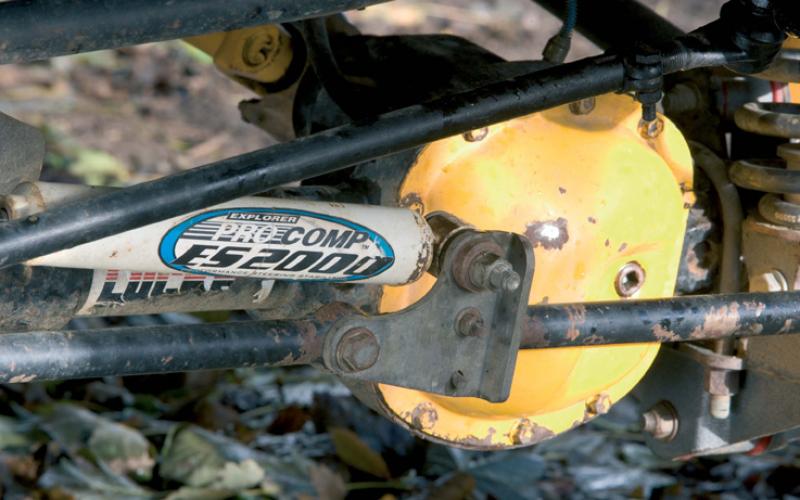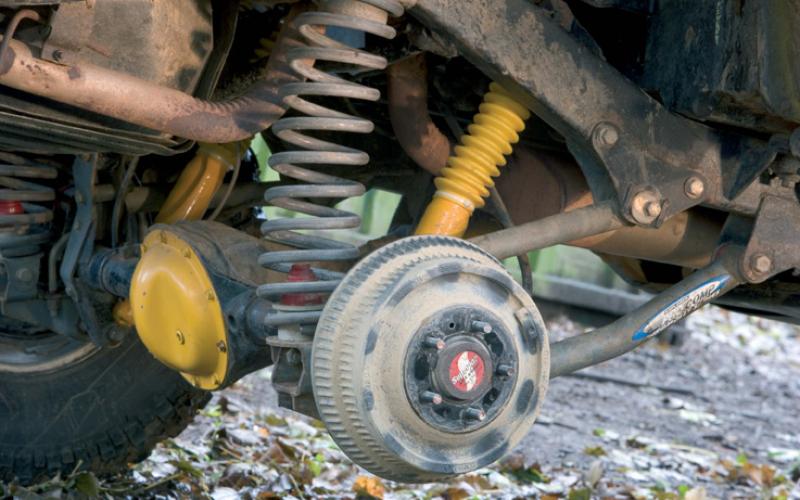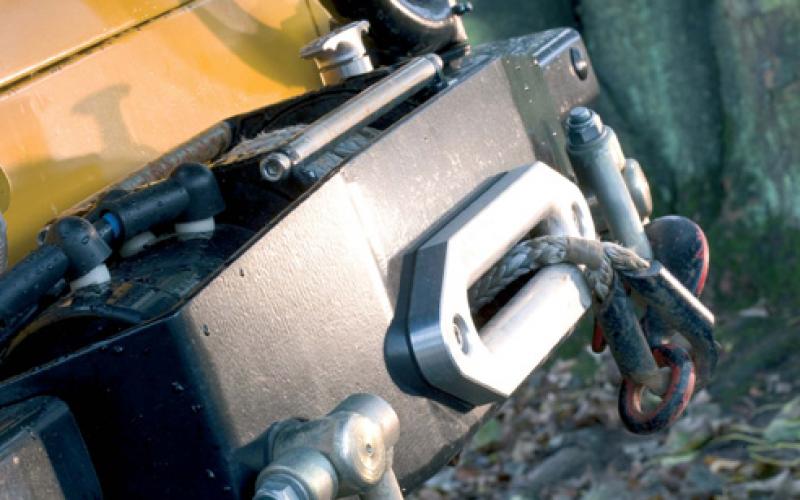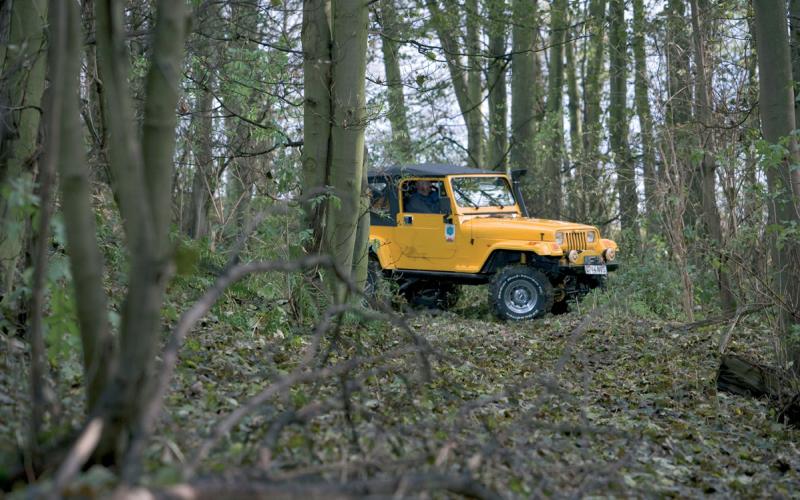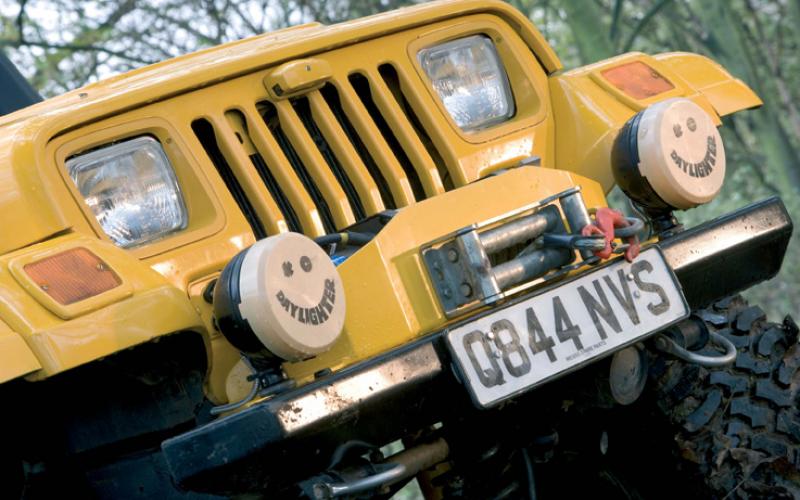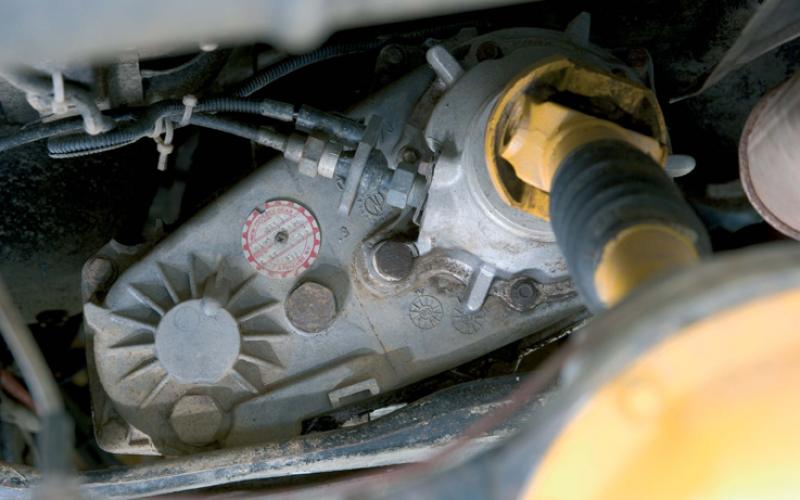 <
>
Ian Daly rebuilt his Wrangler from scratch after rescuing its burnt-out wreckage from a scrap yard. He's done more than restore it to former glories, however - he's created a truly awesome off-roader that features a plethora of serious mods.
'To eat an elephant,' Ian Daly tells us, 'it's best to start with one bite.' He's talking about what he went through to rebuild his Jeep Wrangler, and the proverb seems particularly apposite as he describes the state of the vehicle when he first took ownership of it. 'It was just a pile of burnt-out bits in a scrap yard: you wouldn't recognise it as a car that might one day be driven again.'
Ian saw the wreckage of the Wrangler when he went to dispose of a tired SJ that had seen better days. He ended up swapping the Suzuki for the Jeep, and knew immediately that he had taken on an awesome task. 'I was preparing to stretch myself beyond my skills set,' he explains. 'I'm no motor mechanic, but I've had to learn!'
His love of Jeeps emerged some years prior to rescuing the Wrangler, after a trip to the USA to drive the Rubicon. He started off-roading with the AWDC after buying an SJ (which he still owns) for use as a van for work. It wasn't long before he'd become a regular fixture at club events, and he developed a detailed knowledge of the UK green lane network through regular adventures with his friends. A ski trip to America gave him a glimpse of off-roading US-style, and shortly after his return he was planning the Rubicon trip with his wife and daughter.
'I loved driving Jeeps in the US,' he explains, 'and even at that early stage I had this desire to one day own a Wrangler.' The opportunity to get his hands on the car of his dreams took some time to arrive, however, and even when it did he could have been forgiven for not taking advantage of it. After all, not every enthusiast would be willing to spend countless hours rebuilding a written-off vehicle.
That is exactly what Ian has done, though, and the result is breathtaking. His bright yellow left-hand-drive Wrangler is an extremely sorted off-roader that wouldn't be out of place in the highest echelons of the American rock crawling scene. What is more, nearly all of it is the result of Ian's own handiwork.
The original vehicle was a 1989 Canadian-registered Wrangler YJ, and Ian was required to put the rebuilt truck through Single Vehicle Approval (SVA). This is because it utilises so many different parts that it is not officially regarded as bearing any relation to the donor Jeep. The result is that the car has a Q-registration.
Ian took advantage of the need to replace practically every component in order to source the best possible equipment for extreme off-roading. When it came to the axles, he opted for a Dana 30 unit at the front and a Dana 35 at the rear. The front axle uses Warn alloy halfshafts, which are stronger than the standard components, and Warn hubs. It is equipped with an ARB air-locking differential.
Although externally a Dana 35, the rear axle is more accurately called a Superior Axles Super 35. This refers to its internal specification, which like the front set-up utilises strengthened halfshafts for greater durability. A Detroit locker is also fitted on the rear differential. This is a 'hard' locker, in contrast to 'soft' lockers such as the selectable front ARB, which means that it is permanently engaged and allows for very little slippage between the two rear wheels.
An air compressor for the front diff-lock is located beneath the bonnet, and Ian carries a variety of power tools which can be used in conjunction with it. This provides him with the wherewithal to inflate and deflate the 33x12.50R15 BFGoodrich Mud Terrain tyres at will, and it has proved a real bonus during his extensive green lane trips.
The engine is a standard 4.0-litre straight-six carburettor lump, although Ian has installed an electronic fuel injection system from a Cherokee high-output unit of the same capacity. Because the engine was made in 1995, it escapes the need for a catalytic converter, and this makes it a little easier to work on. The absence of a cat also made development of an exhaust system more straightforward, not to mention substantially cheaper.
Mind you, combining a basic carburettor engine with a modern injection system was by no means straightforward. For a start, the Cherokee utilises a complex ECU which would have been alien to the builders of the Wrangler's original power plant. Installation of the engine management system was of course essential if the injector was to work properly, so Ian found himself sourcing the relevant ECU and attempting to fit it to the older engine. The job was arduous, but ultimately successful.
Of great assistance throughout this process was a USA-based firm called HESCO. This company is based in California and its representatives gave Ian a lot of advice as he wrestled with the engine modifications. The company even supplied a modified flywheel so that a three-speed Cherokee automatic gearbox could be fitted to the Wrangler engine. 'I tended to look to America throughout the build,' Ian explains, 'because the Jeep scene is so much bigger out there. Jeeps are to the US what Land Rovers are to the UK, and it always pays to speak with people who know what they're doing.'
Ian fitted an electric fan in place of the original engine-driven unit. This uses a temperature sensor that causes it to engage automatically when necessary. He has installed a manual override switch in the cabin, which enables him to stop the fan when he is wading to prevent it chucking water all over the engine bay. His enthusiasm for deep water also explains the Safari snorkel and raised breathers.
'I'm glad that I adopted such a hands-on approach to the project,' Ian muses, 'because it's made ongoing maintenance a lot more straightforward. My attitude throughout was that 'if I've built the vehicle, I should be able to mend it', and so far that mantra has rung more or less true.'
Although the original vehicle would have been fitted with leaf springs, Ian decided that coil springs offered greater on-road comfort as well as performing better in the rough stuff. Explorer Pro Comp sells a kit in the USA to convert YJ Wranglers to coil springs, as well as providing six inches of lift, and Ian decided this was just what he required. The kit incorporates a set of extended ES9000 shock absorbers, and Ian has since fitted yellow boots in order to match the car's striking body work.
The Pro Comp suspension configuration has performed admirably, but Ian does not recommend it for owners of right-hand drive vehicles.
'It is designed to work on American trucks,' he states, 'and I think it would need a lot of adjustment for a UK derivative.'
Since installing the set-up, Ian has replaced the rear springs with custom-made components that were manufactured by the Active Spring Company in Thaxted. This alteration was necessary because of the installation of a rear winch and bumper, which caused the Pro Comp coils to sag. Ian was really impressed by the team at Active Spring: he gave them his specification and they fabricated the springs for £85 apiece. As he concludes, 'That seems like epic value to me.'
Like most lifted Jeeps, the Wrangler is equipped with an anti-roll bar - what Americans term a 'sway bar'. Ian regards it as essential to keep this connected during on-road driving, but it can be disconnected for off-road use in order to make the most of the vehicle's potential wheel travel. He bought the sway bar from a US firm called Superlift, which manufacturers them specifically for TJs. Because of the YJ's slightly different track width, Ian asked a local engineer to add a one-inch offset to the component, in order that it could be used on his vehicle. The unit features a quick-release system, which means Ian can disconnect it without needing any spanners - ideal for those occasions when he is impatient to get out in the mud.
Increasing an off-roader's ride height has many advantages. For example, Ian regards the extra ground clearance that results from the suspension lift and oversized tyres as removing the need for any underbody protection. Nonetheless, he's taken the precaution of installing a heavy-duty skid plate over the transfer case, which is, he thinks, the most vulnerable part of the Wrangler's underside.
In addition to the impact it has on handling, which is accounted for by the sway bar, a dramatic suspension lift has other knock-on effects. Ian had to modify the vehicle's propshaft in order to compensate for the increased angle at which it operates. He did this by fitting UJ bolts to either end of the front propshaft (which is otherwise standard) and ordering a new component from America for the rear. The person who produces these - Tom Woods in Mexico - is regarded by US enthusiasts as the king of propshafts, and Ian believes he fully deserves his reputation. The unit fitted to the Wrangler features a CV joint ahead of two standard UJs, and this is able to move in line with the angle generated by the increased distance between the axle and the chassis.
When it came to replacing parts of the Wrangler that were destroyed by the fire, Ian's life was made considerably easier by his discovery of Ray Sooner, whose salvage firm is based in Oklahoma. He provided a 'burns kit' containing every combustible component that would be expected to get damaged in a vehicle fire. Ian had this shipped over from the States for a few hundred dollars, and he found it an extremely helpful resource when it came to the finer elements of the rebuild.
Surprisingly, though, not everything on the original truck was ruined by the fire. 'It was all charred black,' he reports, 'but I got in to the habit of running components through a cycle of the dishwasher to see if they were useable. This often brought them up as good as new, and it certainly saved me a few quid.'
Of course, none of the car's interior was reuseable, and Ian originally restored it to a reasonably high level of luxury. He fitted ONP racing seats with three-point harnesses and adapted the original roll bar in order to provide protection for occupants. He also sourced a new headlining kit as well as the relevant items of trim for the doors and footwells.
Within a few months of serious off-road use, however, Ian decided to strip the cabin back to its bare essentials, and the carpets and surplus trim have consequently been removed. Nowadays, the truck is extremely functional and is designed to cope with muck and grime rather than providing refinement and comfort - evidenced in the rubber particle bed liner that Ian has painted throughout the interior. This is a hardwearing substance that enables him to hose the car out at the end of a long day - much more practical than plush carpets and soft plastics.
The dash incorporates all the dials and buttons you would expect to find in a modified off-roader, including oil pressure and temperature gauges, ARB controls and winch switches. There is also a Garmin 276 GPS system to aid navigation throughout the UK.
Ian's intimate knowledge of the Wrangler is hardly surprising when you remember that he has built the vehicle almost from scratch. He is rightly proud of his achievement, and it makes the satisfaction of finally owning a truck for which he longed all the sweeter to know that he has created it.
Not every 4x4 enthusiast would feel up to rebuilding a burnt-out write-off, after all, and it takes a special dedication to turn it into something as impressive as this particular Wrangler. If eating an elephant starts with a single bite, therefore, Ian Daly must be feeling just about full up by now...
Winches
Ian opted to fit two Superwinch X9s to the Wrangler - one at the front and one at the rear
The solenoids for the front unit are mounted beneath the engine bay
The rear winch is actually an X9+ - which means it has uprated solenoids and a brake
Ian thinks it is good to have a brake on the rear winch, so that it can be used to lower the vehicle down steep slopes
Both winches run with Goodwinch Dynima rope, which is lighter than steel cable
The winches are powered by twin Exide batteries. These utilise a split charge system 
Gearing
The 33-inch tyres necessitated adjustments to the Wrangler's gearing
Ian replaced the New Process NP231 transfer case with an NP401 unit
This reduces the gearing ratio from 1:231 to 1:401
Ian also reduced the gearing in the axles by replacing the differentials
The result? Gearing that is comparable to a standard set-up, and the benefit of oversized tyres 
American Idols
Ian consulted a number of US firms throughout the project
He found them to be extremely helpful, and regards their knowledge of Jeeps as exemplary
Some of his favourite US firms are Sooner's Salvage, HESCO and Tom Woods - the so-called 'king of propshafts'
Locating specialists in the USA involved plenty of work on the web
It was worth it, however, and Ian reckons he saved a fortune on parts
For example, he managed to source brake pads at $15 each - even by the time he'd paid for shipping, these were still cheaper than UK equivalents 
Exhaust
The Wrangler is fitted with a custom-made exhaust
Ian had various exhaust components from the Wrangler and Cherokee engines, but nothing matched in the middle
The system crosses between the engine and the gearbox and emerges on the passenger's side
Ian designed the set-up in cardboard and took it to a local fabricator to be made up before installing it himself 
Living the Dream
Ian has enjoyed some serious off-road adventures in his time
He started out with the All Wheel Drive Club behind the wheel of a Suzuki SJ
He soon got in to green laning, and developed a taste for overseas travel
In addition to the Wrangler and his original SJ, Ian owns a Land Rover 130 camper, which he uses for trips to the Sahara and throughout Europe
Ian is an experienced off-road driver trainer, and used to run courses at a local college
In addition to the Rubicon, he's completed the Trophee Cevenol (in 1999) as well as the Croisiere Blanche (in 1999 and again in 2000)

He's also driven in Malaysia and Borneo - often covering terrain used on the legendary Rainforest Challenge
YJ, WARN HUBS ON DANA 30, PRO-COMP COIL CONVERSION, PRO-COMP ES2000 STEERING DAMPER, SUPER 35 REAR DANA, EXIDE MAXXIMA BATTERIES, BRANTZ 2
Share this article