Seasonal Adjustment
Originally Published: May 2016
Words: Paul Looe
Pictures: Harry Hamm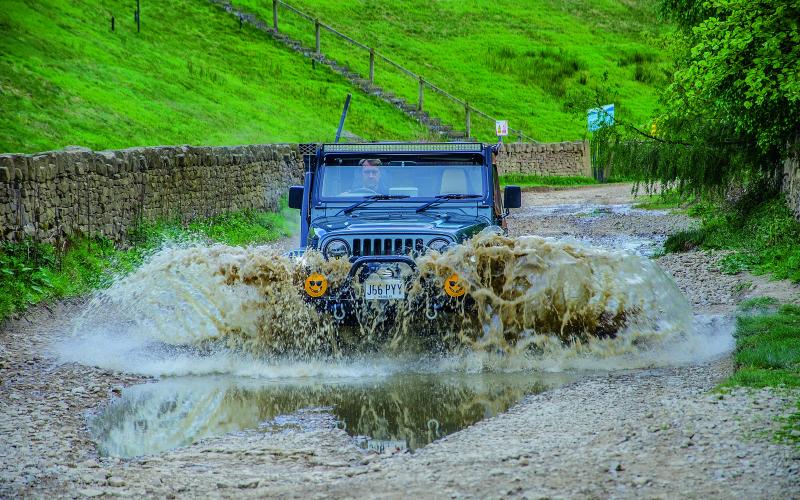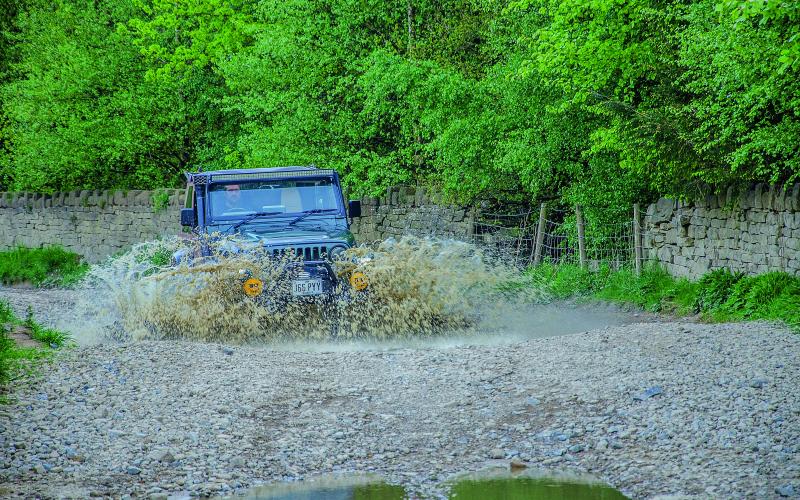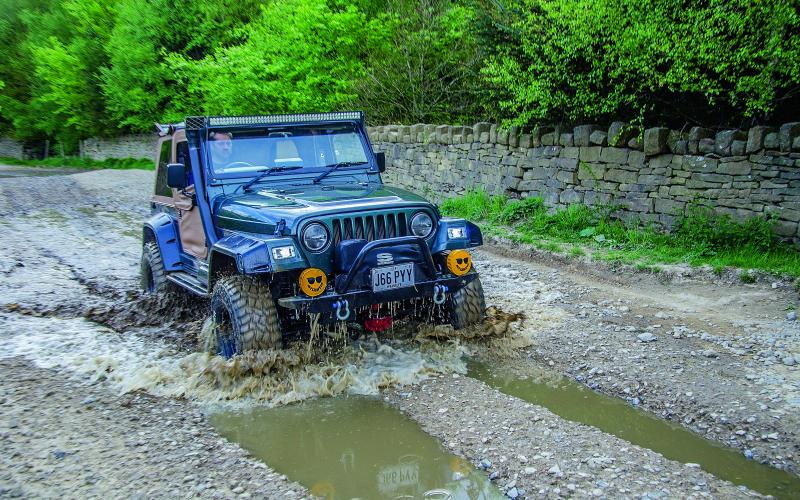 <
>
Jason Pettit's Jeep Wrangler has winter and summer modes – the latter featuring the sort of roof and doors rarely seen in the UK. It's ready to flay the star-spangled banner off-road at any time of year, however – especially if it gives its owner the chance to cause some mischief in the process… 
'I do like to go out playing with the Landy boys every now and then.' says Jason Pettit. You just know there's a wind-up coming, right?
'One Christmas,' he continues, 'we were out playing in the snow. I'd been following them for about an hour in quite bad conditions, and I took a couple of tries to get over a large mound of snow that the Landies had already been over. After I got over it, a couple of them came over to laugh that I had struggled… but their faces changed when I told them I was still waiting for something that needed me to put it into four-wheel drive!'
Such is the stuff of all great off-road banter. It comes and goes between every fan of every marque, and the entertainment it provides us all is endless. As of course is the entertainment we get from our vehicles themselves.
in Jason's case, the vehicle is a Jeep Wrangler TJ. Actually, it's two Jeep Wrangler TJs. One of them is, in his words, an ongoing project, though with LPG and a Clayton long-arm suspension job it's already quite the beast.
And this is the other. Dating from 2002, it's a 4.0-litre Sahara which, when Jason bought it, was already far from standard.
Now it's farther yet. Jason is a mechanical engineer by trade, so he's no stranger to having a spanner in his hand, and indeed he's had a long line of 4x4s that bear testament to his willingness to get in there.
He used to race a Chenowth in the AWDC comp safari championship, for example, and you don't do something like that without having a lot of commitment to the cause. He's also owned a Mk2 Hi-Lux, a Toyota Surf on 33" tyres and, would you believe, a 1971 International Scout with a coil-spring conversion.
Compared to that little lot, the Jeeps he's turned to in more recent times look decidedly conservative. He's owned a 1989 YJ Wrangler, again converted to coils, and was one of the first people in Britain to put a JK on 35" tyres. So the TJ you see here represents a step backwards in time – though certainly not in quality.
This TJ in particular is a fine example of how far you can take a truck without going over the top. It runs 2.5" of suspension lift and 1.5" body spacers, which on a Wrangler creates enough room for some fairly life-changing tyres – yet instead of maxing out on either the size or the tread he uses, Jason has fitted it with a set of 33x12.50R15 Cooper Discoverer STT Pros.
Wrapped around offset steel modulars mounted on 1.25" spacers, these give the Wrangler a distinctly wide-shouldered stance. They live below a set of 6" Bushwacker wheelarch extensions, which do no harm in this regard - hard as it is to believe, this TJ is a full foot wider than when it left the factory.
That probably won't have been the first thing you noticed when you looked at the pictures, though. At least, not if you're used to Wranglers the way we have them in the UK. That's because when we met Jason, the truck was running in summer mode – meaning it was sporting a set of US-style half doors made up of canvas stretched over a frame.
There's something about this look that evokes images of Rubicon campfires and trail rides in the High Sierras the way not even a Wrangler with its doors off and its windscreen folded down can manage. In the case of Jason's TJ, it's augmented by a Bestop NX bowless soft-top as well, and it really looks the part – even when, as is the case with our photos, the trail you're riding overlooks Brownhill Reservoir rather than Lake Tahoe.
In the winter, all this goes in the garage and the Jeep gets back its hard top and standard-issue steel doors. You can't help but feel that it must be a pretty sombre couple of hours' work doing that – kind of like finally admitting that summer really is over now. Though as we established at the outset, Jason isn't one for letting a bit of wintry weather get in the way of his off-road fun.
Talking of which, he's a regular on the scene with both Jeep Club and Jeepey – who he says 'have a great bunch of members that are always good to do some wheeling with.' As for the other kind of 4x4 fun, once the workshop door closes behind him Jason is up for more or less anything.
'I do all my own work,' he confirms, 'and I'm quite proud of how it's turned out. But like all off-roaders it's ongoing and there's always something to change or improve. So I'd like to thank EG Wright Motor Engineering for the great job they did reworking an axle for me, and also Terraclean Denton for the fuel system and engine cleaning.' See, sometimes it's not just what you know, it's who you know.
What he doesn't know much about, on the other hand, is what was done to the Jeep before it fell into his hands, and by whom. 'It had a fortunate spent on it before I got it, it's had a few owners and it's been to many events in the UK' is all he can tell us – which presumably means some people reading this are likely to have seen it out and about and might perhaps even be able to fill in the blanks.
Which in a manner of speaking is what Jason did to the mods after he bought the truck. 'I bought it already partly modified and it's just improved as I've wanted to do more with it. A different lift kit is the only thing I can think of that I'd have done differently – it does quite well, but my next change would be to replace it with one with more flex.'
And what else is in store for the TJ? Actually, a new owner.
'Over the years I've done comp safaris, rallying and trials, as well as on-road circuit and drag racing. I've been into off-roading since I was a kid playing with radio-controlled cars. I've just never grown up – my toys just get more expensive!' And sure enough, a more expensive car is indeed on the horizon, in the shape of a Ford Bronco with a pedigree that includes the small matter of competing in, and finishing, the fearsome King of the Hammers. This means both Jason's Wranglers are currently for sale – though he knows exactly what he'll do if the plan falls through.
'The next step would be to change the lift kit for one with more flex,' he says. 'Although the kit it has already does quite well. Also a slip yoke eliminator and double-cardon rear propshaft, and a tummy tuck transfer tray – which would allow much better ground clearance in the middle of the Jeep.'
So there you are, a Jeep for sale and a ready-made list of things to do to it from a man who knows what he's talking about. If you're ready to trade your way up the off-road ladder, he'd be happy to hear from you – though if what you currently drive has a green oval on the front, you'd better be ready for a bit of banter. You could even invite him out to join you on the lanes and prove what his Jeep can do… if you can find one anywhere that gets him into four-wheel drive.
Share this article