Trepadors Still Available In The UK
Originally Published: February 2013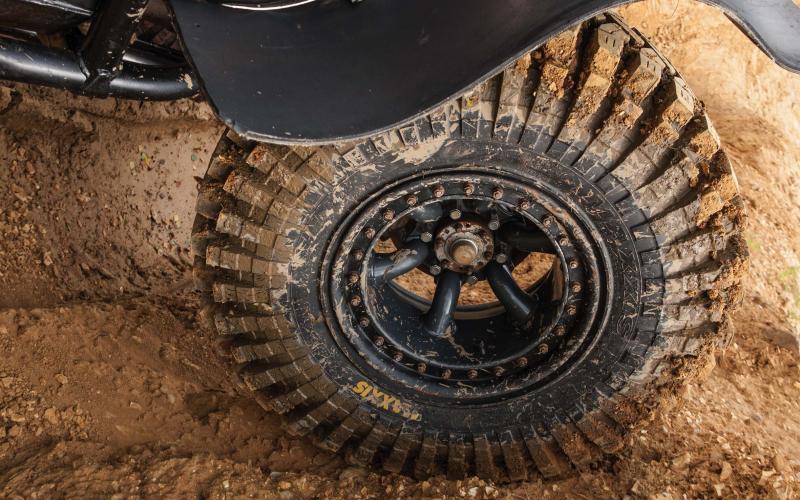 <
>
You can read about Jerry Hunt's challenge truck on pages 44-48 of this issue. It's won him a whole stack of class awards, as well as no small amount of overall medals, and one of the things that's remarkable about it is that it's got pretty big tyres.
As you'll see by taking a look at the article, Jerry runs the Portsmouth branch of SETyres. The Maxxis Trepadors his truck runs aren't part of the company's official product line,
but when he brought them into the country he did so in a batch of a hundred – and with rather less than that on his own motor, the rest have been going like hot cakes.
You might be smelling a rat here, on the assumption that all interesting tyres from the other side of the Atlantic have now been made illegal by Europe's laws on labelling, environmental protection and drive-by noise. However, the Trepador is E-marked for use on EU roads and is made using clean oil, and it's classed as a competition tyre – meaning it's immune from rules requiring S-marking. So, happy days.
At the time of writing, Jerry still had a number of the tyres available. The choice of sizes is limited to 37x12.50x16 and 40x13.50x17, but that should be enough for most people. We'd not be surprised if there's enough demand going around to get Jerry thinking about bringing in a second batch, but don't go making assumptions.
Give him a call on 02392 376007 – and start by telling him how much you enjoyed reading about his truck in Total Off-Road.
Share this article