Volkswagen Touareg ♦ Towing Test ♦
Originally Published: March 2010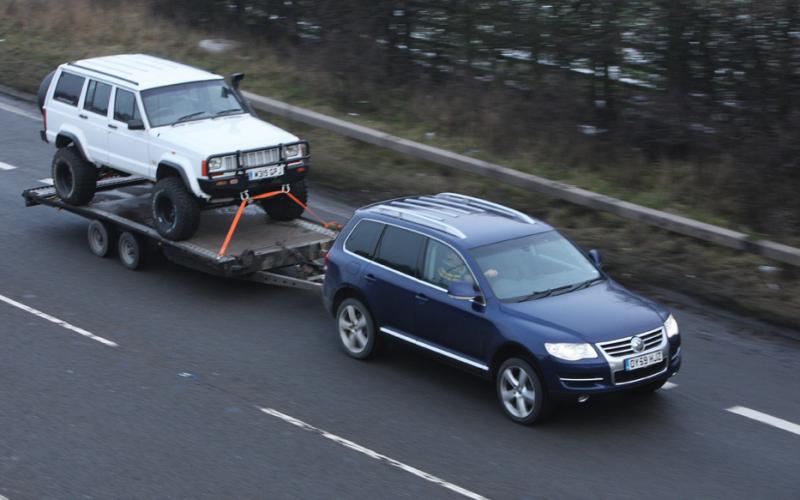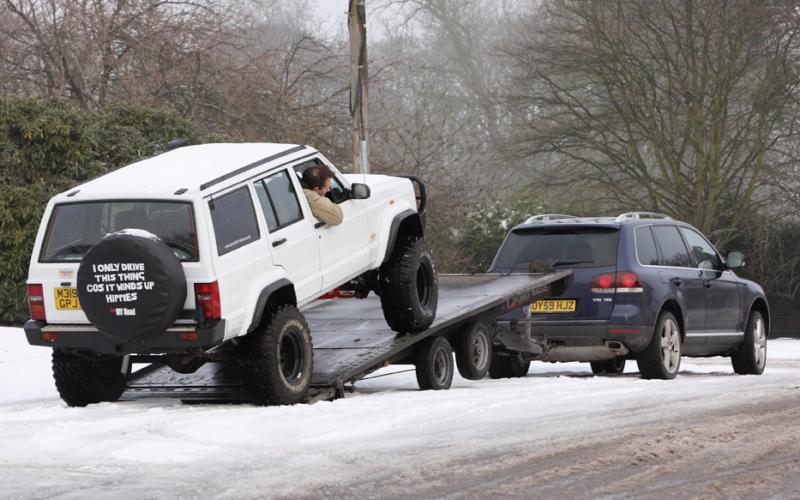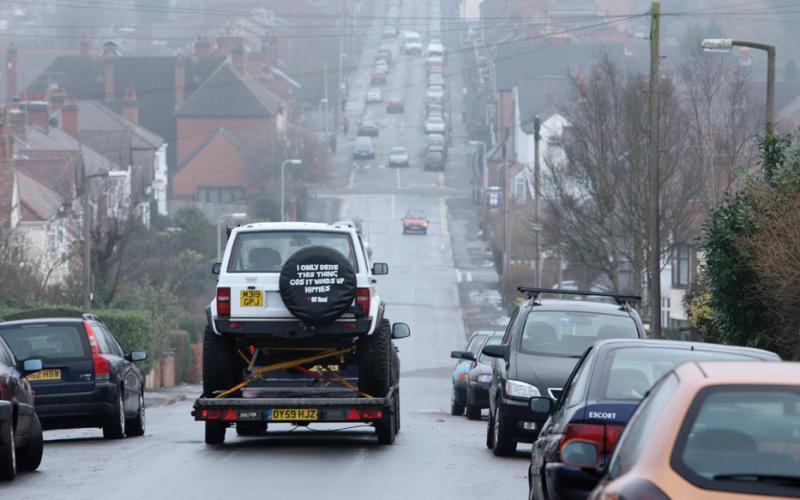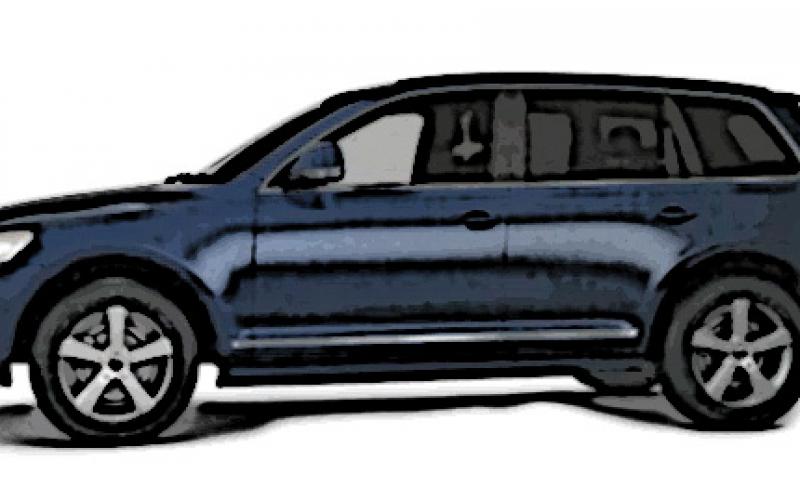 <
>
When the first generation of premium SUVs started coming out, a lot of people remarked on the fact that all of them seemed to be rated at the legal maximum 3500kg towing weight. Traditionally reserved for the heaviest-duty ladder-framed off-road trucks, the 3.5-tonne limit was suddenly being applied to high-tech luxury cars you'd be more likely to see in the Waitrose car park than hauling a comp safari racer to the Nationals.
A prime example of these vehicles is the Volkswagen Touareg. Traditionalists might look down their noses at it, but as well as being a sublime road car and surprisingly capable off-roader it'll sit pretty in front of the same trailer weight as any Defender or Land Cruiser.
Whatever your view on that, Volkswagen is certainly serious about the Touareg as a towing vehicle. That's if the 12 pages of dedicated information in the handbook is anything to go by; this includes general advice and specific material on fitting and using the manually demountable and electrically retracting towballs in VW's own options catalogue, as well as plenty of detail on the operation of clever kit like the trailer stability feature in the vehicle's ESP system.
The Touareg tested here is the 5.0 TDI, famed mainly for its enormously torquey, powerful V10 engine. Equally relevant, though, is the height-adjustable air suspension that's standard on this model; the handbook doesn't say anything about this in relation to towing, save to mention that raising to max height might cause the trailer's tail end to scrape along the ground, but we found it correcting itself while we were loading up. You can lock it in place to prevent this, allowing you to make the most of its 140kg nose weight and get your load sat nicely forward.
Do so and, with the suspension at its standard height, the top of the 50mm ball hitch is a manageable 49cm off the ground. So you start with the trailer at a nice, level angle. Particularly important when you're towing more than the vehicle's kerb weight – which, with TOR's project Skyjacker Cherokee perched atop a large Brian James vehicle transporter, we were. Our load weighed in at around 3100kg, which is about 17% more than the Touareg itself as tested here.
That low towball height means it's easy to hook the trailer up, though there's no eyelet for the breakaway cable so you have to loop it round the towball bracket. The standard electric pack VW fits has three-pin electrics; ours was supplied with a two-way adapter, making it suitable for just about anything you're likely to hitch up to it.
With the Cherokee loaded up, the shape of the Touareg's mirrors meant we had no problem at all seeing round it. That's very welcome, because with the driver's seat in its most natural position for a six-footer, the B-pillar gets in the way a bit when you're checking your blind spot or pulling out at angled T-junctions. 
Pulling away from stationary, the V10 engine is utterly dominant. Hit the throttle hard, and even with three-plus tonnes on the back it barely feels like you've got a trailer on at all. Hardly surprisingly, the same stays true whatever speed you're doing – it needs a bit more of a squeeze to keep it cooking on A-roads, but on the motorway you can find your speed building quite quickly without noticing. Naturally, cruise control is standard on this range-topping model, and we can't think of a better use for it.
Hill starts, too, are an exercise in marvelling at the huge diesel unit. The handbrake holds it in neutral on really steep inclines, albeit right at the bottom of its travel (it's operated by a foot pedal), but put the vehicle in drive on the same hill and, with all the brakes released and the engine idling, it'll sit on the torque converter and not roll back at all. Another clever feature of the traction management system is a hill-hold device, but even without this it still doesn't roll backwards by even an inch. Moving away takes plenty of revs, but with the standard-fit six-speed auto box behind you it's never less than totally smooth.
The other kind of hill doesn't faze it, either. No matter how long and steep, there's enough power and torque in reserve to keep you rolling ever onwards at your chosen speed. You'd not be too impressed by anything less from a 5.0-litre diesel, of course, but with 553lbf.ft from 2000rpm and 309bhp at full chat, the engine certainly can walk the walk.
Going back down again, the first part of the brake pedal's travel doesn't do a whole lot, which is more than a little alarming at first. Once you're through that, however, and the 13-inch vented discs start to bite, it pulls up very well. There's no sign of the ABS coming in too early, even when we simulated running away on a steep, wet road.
Putting in miles on the motorway, once again the huge diesel engine is in charge. We were less confident about the vehicle's relationship with its trailer here, though; the back end felt like it was being jogged over the sort of imperfections that are part and parcel of British roads, and lane changes needed to be very smooth to avoid the trailer's movement rocking the vehicle's body.
This may be an inevitable effect of putting 3100kg on a vehicle kerbing at 2600, or the air suspension could have foxed us into mounting the trailer's load a few inches too far backwards to achieve the correct weight. We'll be testing another Touareg, with standard back springs and the more sensible 3.0 TDI engine, in a future issue, so we'll reserve judgement until then, but at this stage we remain to be convinced that we'd choose it to haul this much weight.
A collapsible spare wheel isn't really what you want when there's three tonnes hitched to your towball, either, and while the 15.6mpg we achieved over our test may not be too bad considering the size of the engine (combined fuel consumption in standard trim is 23.7mpg), it's still an eye-watering amount to spring for over a long distance.
On the plus side, while the Touareg might not scream 'off-roader' the way some of its more overtly styled competitors do, its ability to keep a trailer moving over low-traction surfaces is a perfect example of why you'd buy a 4x4 in the first place. We dragged our three-tonne rig up a hill whose gravel surface was covered in snow and ice, and it didn't miss a beat. Its wide, low-profile tyres aren't what you'd want in mud or on wet grass, but we'd bank on it to match any other standard 4x4 at trailer towing in real-world off-road conditions.
The Touareg is to be replaced by the end of this year, and it's likely that the 5.0 TDI will be discontinued. With a £62,550 ticket price for the vehicle we tested, that's possibly not surprising. But if you can afford one, you'll enjoy every mile of it – and with VW dealers punting out approved used 55/56-platers with average miles for not much more than twenty grand, it might not be as much of a dream as you think.
The fact is that the Touareg's dynamics have been overtaken by more modern vehicles, and so in particular has the practicality of its interior packaging. The new model will address this, we're sure – just as this one set new standards when it arrived back in 2003. It's still all kinds of magnificent, though – whether towing a trailer or not.
---
Verdict
The Touareg's air suspension can confound your efforts to load your trailer right. Once rigged, however, it's masterful, though we'd like more feel in the brake pedal. The V10 engine is complete overkill – it's still one of our favourite guilty pleasures, but we'd choose a (much) cheaper model with the V6 diesel and standard suspension 
+ Supreme drivetrain is completely unfazed by towing 
- Air-sprung suspension over-complicates matters
 Click here to see us put the Touareg to our general vehicle test
Share this article