Bolts From The Blue
Originally Published: August 2007
Words: Tim Gibson
Pictures: Steve Taylor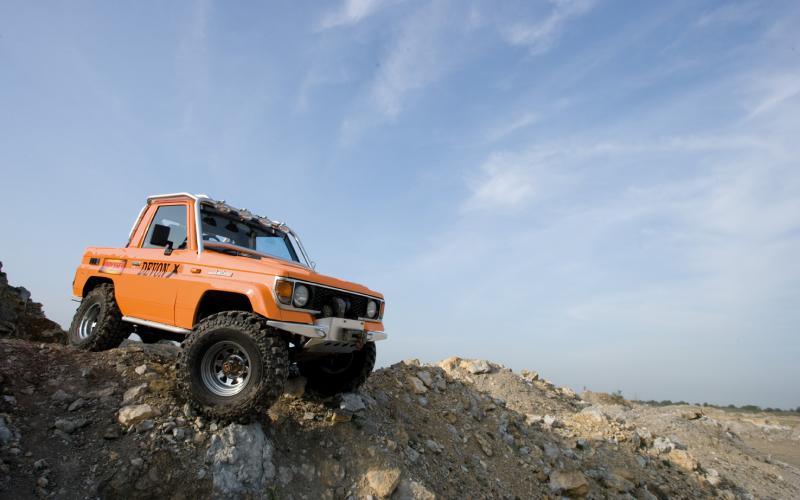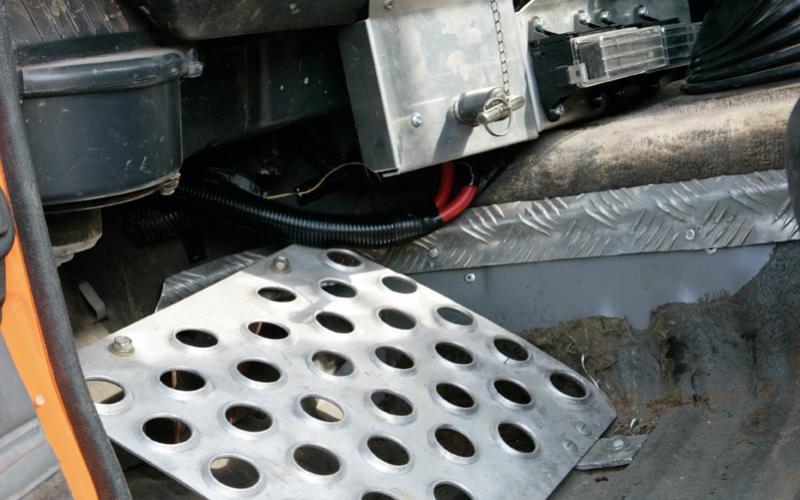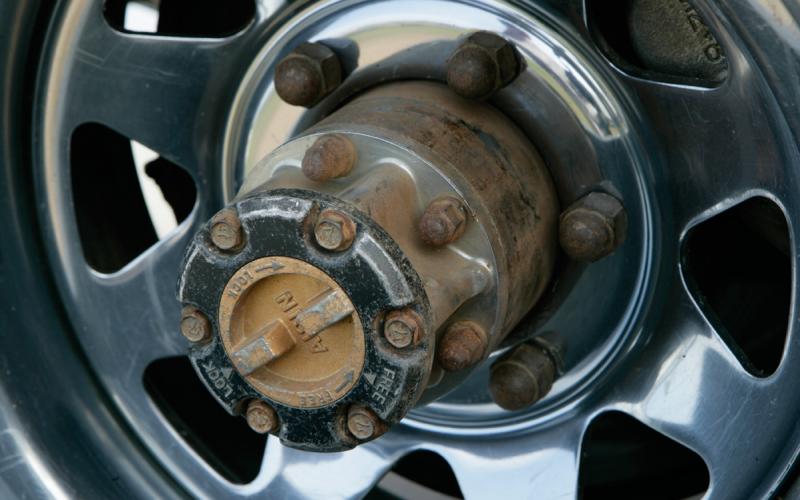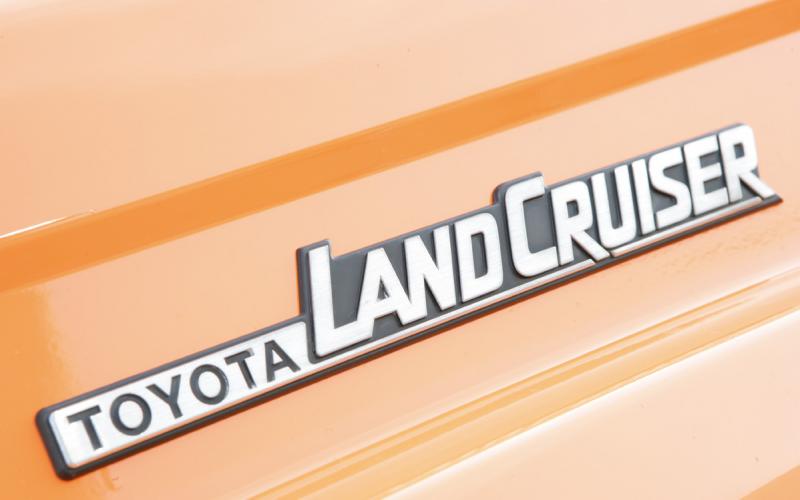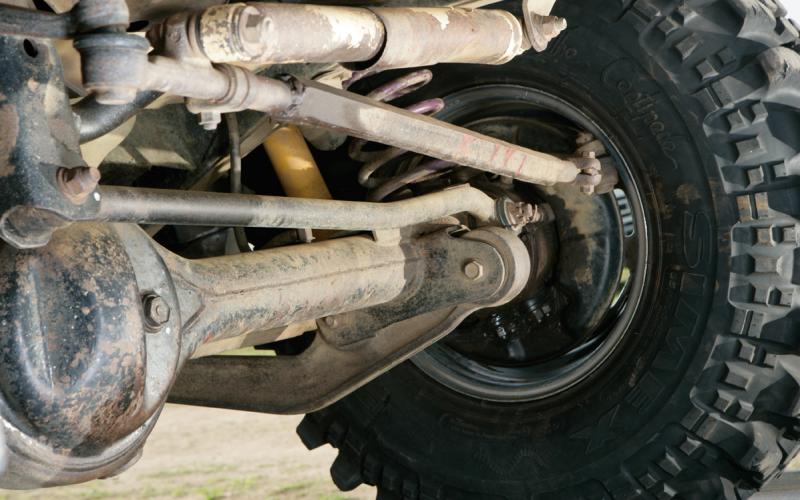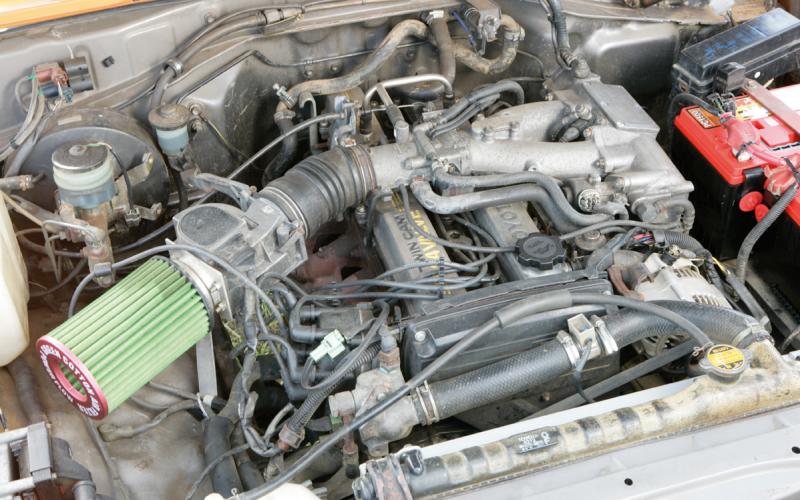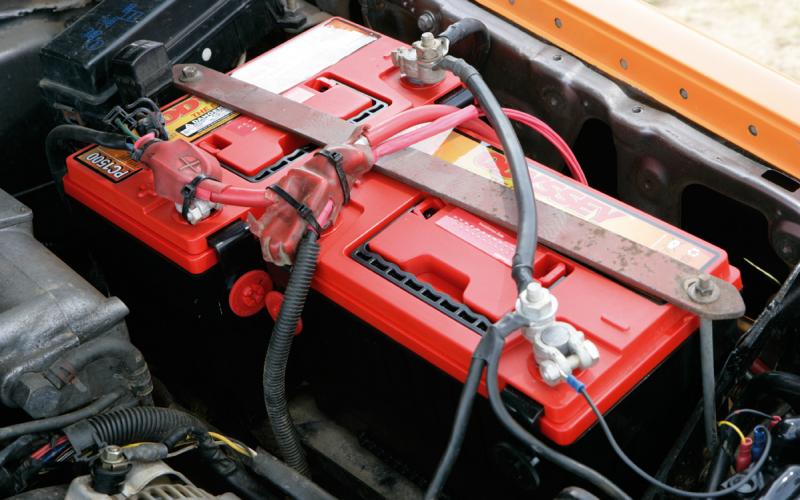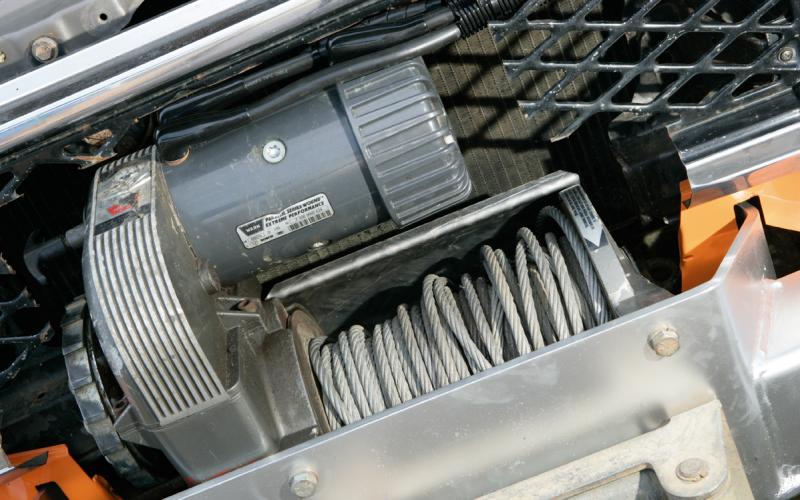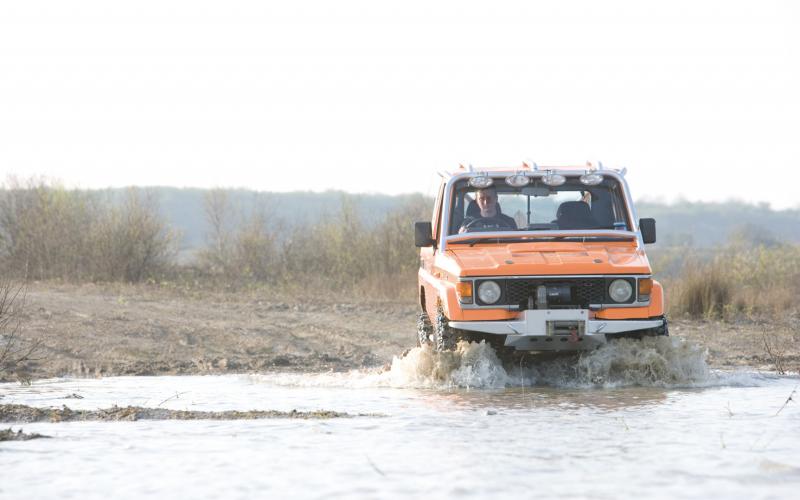 <
>
What do you get if you cross a 70-series Land Cruiser with an angle grinder and a pot of 'ASBO-orange' paint? The man from Total Off Road went to Devon to find the answer and came away mightily impressed by what he saw.
It's fair to say that Nicholas Bolt never really stood a chance. A beef farmer's son from North Devon, he's grown up surrounded by beautiful countryside, and no small amount of vehicular toys in which to explore it. Nick's father, Chris, has owned 4x4s for as long as he can remember, and Nick has always been encouraged to get behind the wheel and learn the skills of off-road driving.
Such an education inevitably inculcated in Nick a passionate love of all things 4x4-related. And the flames of this passion were fanned once Chris became involved in the local challenge scene. Still too young to drive at off-road events, Nick served as his father's navigator, and soon came to appreciate the joys of spending his Sunday afternoons carting winch cables around and getting covered in mud.
The Bolts have long been stalwart members of Challenge South West, which is one of the most active off-road clubs in the UK. Immediately after Nick passed his driving test, Chris proposed a role reversal, putting his son in the hot seat while he took care of things outside the wagon. 'It's amazing how much more you can see when you're not in the driver's seat,' Chris remarks. 'We decided that it made sense for me, as the more experienced off-roader, to be in this position. Besides, it gives Nick a wonderful opportunity to hone his talents behind the wheel.'
Nick's talents have been well and truly honed over recent months, and the Bolts currently lie in a strong position in the standard class of the AWDC Scorpion Racing Challenge Trophy. Two extremely impressive performances in the early rounds set their expectation levels sky high. Despite some frustrations in more recent rounds, the father-and-son team are well set for a podium position in the championship – and that's not bad when you consider that they are comparative newcomers to the country's stiffest nationwide challenge series.
'We were attracted by the Scorpion Trophy because we thought it would stretch us,' Chris reports. 'Our local events are great fun, but once you've been competing for a while you come to know the different sites a bit too intimately. With the AWDC championship, we have the opportunity to compete all over the country. It's doing wonders for our competitive edge!'
Also helping to sharpen this edge is the Bolt's 70-series Land Cruiser. This bright orange vehicle has to be seen to be believed. It is the result of a lengthy build process in which Nick took the lead. Nick recently completed his apprenticeship under Simon and Liz Buck's direction in the legendary Devon 4x4 workshop, and has stayed on to work as a mechanic at this Mecca of off-road modification. You can imagine what Nick's time in the Bucks' company has done for his sense of what is achievable with a challenge truck – so you won't be surprised to learn that his first thought was to take an angle grinder to the Land Cruiser and convert it to a pick-up.
'We got fed up with crashing the rear hard top into trees and breaking the windows,' says Chris, 'so Nick thought it would be a good idea to do away with it all together.' When Chris was otherwise engaged one day, his son duly set to work on their pride and joy, creating one of the most distinctive Land Cruisers you're likely to come across. The first that Chris knew of the transformation was when his son sent a picture message to his mobile telephone. Fortunately, he was highly appreciative of what he saw.
The quality of the work on the truck is extremely high, and bears testimony to Nick's skill as a mechanic. He's made a brilliant job of finishing the cabin, even to the extent of redirecting the rear roof gutters around the truck cab and fitting a sliding window, which is a side window from a hard top 90. Given that all of the work was completed in one of the Bolts' barns, rather than in a fully equipped workshop, you'd have to say that it's an astonishing job. 'I was pretty pleased with the results,' Chris laughs. 'I think Nick is a fairly safe pair of hands when it comes to making modifications.'
That makes the Bolts a perfect team, of course, with the father having the off-road driving experience to keep them on track at events, and the son having the mechanical skills to develop their vehicle and perform running repairs. Inevitably, they are learning from one another all the time, and they are keen to make a good showing in the remaining rounds of the Scorpion Trophy. 'We're using the summer break to make a few tweaks to the vehicle,' says Chris, 'and we hope to come back stronger than ever for the second half of the season.'
The Bolts' competitors in the standard class of the championship may feel slightly unnerved by Chris's bold assertion. The Land Cruiser only emerged from the workshop in February, which means the first half of the season has very much been about bedding the truck in and getting used to its new features. With a long summer recess behind them, and an obvious hunger to succeed, few would bet against this particular pairing appearing at the top of the score sheet by the season's end. Indeed, as far as the standard class of the AWDC Scorpion Racing Challenge Trophy is concerned, it may very well be the case that the future is orange…
Wheels & Tyres
Eight-spoke 15-inch chrome rims
35x10.50R15 Simex Extreme Trekkers
'Most challenge competitors run with Simexes now,' says Chris. 'If you don't have them, you're at a definite disadvantage before you even leave the paddock.'
Suspension
70-Series Land Cruiser has live axles front and rear
Two-inch lift fitted before pick-up conversion
Front suspension sagged under weight of winch
Front coils replaced with 80- Series Land Cruiser rear springs
Front raised by four inches
Weight reduction at rear has increased ride height
The Bolts received Scorpion adjustable shock absorbers after a class win at Slab Common
'The 80-Series springs bolt straight onto the 70-Series front axle. It's a dead easy job, and much cheaper than an aftermarket suspension upgrade,' explains Chris.
Axles
No aftermarket diff-locks in order to compete in standard class
Standard Land Cruiser axles
Chris describes the original Toyota axles as 'pretty bullet-proof' and sees no reason to change them.
Recovery
Warn 8274 on front
Uprated motor for faster pulling speed
Steel cable in photographs
Devon 4x4 plasma, with stainless steel fairlead, fitted since TOR shoot
Devon 4x4 front winch mount
No winch on rear in order to meet standard class rubric
Home-made rear bumper, constructed from 3"x2" box section
'We snapped the steel cable during an event,' Chris reveals. 'So we took the opportunity to give plasma a try. And so far, so good.'
Batteries
Twin Odyssey batteries provided by Devon 4x4
Alternator uprated to 110 amps
'I've noticed the difference with the Odyssey batteries when doing severe winching – they seem to provide continuous power to the 8274,' Nick explains.
Interior
Sierra Cosworth sports seats
Aluminium foot rests from rally car
Interior switchgear based on rally car design
Winch controls in reach of driver
No GPS or CB radio
'Round Six of the Scorpion Trophy is at Walter's Arena. I think we might need a GPS for that!' jokes Chris.
Engine/Transmission
3.0-litre Supra lump
Common swap into Toyota 4Runner (Hilux Surf) in States
Easy fit beneath Land Cruiser bonnet
Land Cruiser manual gearbox replaces auto box
Chris and Nick welded together front half of Supra bellhousing and rear half of Land Cruiser bellhousing
Land Cruiser clutch and fly wheel
Paul Leworthy-built stainless steel exhaust exits through rear bumper
'The petrol engine is a massive improvement on the 2.4-litre diesel that was in place,' says Chris. 'It's a lot more free-revving; Nick can use the gears to get over obstacles. And the engine transplant was much easier than we thought it would be.'
LAND CRUISER, TOYOTA SUPRA ENGINE CONVERSION, WARN 8274, DEVON 4X4 WINCH MOUNT, DIY BUMPER, ODYSSEY BATTERIES, LC70, SIMEX EXTREME TREKKERS
Share this article